PropertyMe was born in the cloud in 2013 to help property managers reduce add-ons, unchain from their desks and automate repetitive tasks for the first time ever.
Today, PropertyMe is Australia's most loved cloud property management software and assists the real estate industry in processing more than $1 billion every month.
Here are just 10 reasons why property managers love PropertyMe.
1. Increase efficiency with automated workflows
There are many benefits to cloud-based software compared to server-based software. One of which is the ability to automate repetitive tasks and processes. These include data backups, software updates and processes like end of month, communications, inspection planning, arrears, maintenance and bill management.
For example, PropertyMe automatically identifies the owners and suppliers due for disbursement on a daily basis. With the click of a button, PropertyMe:
Disburses funds to selected owners and suppliers
Automatically generates messages with attached statements and bills
Updates the relevant Owner Access pages
What would have taken hours on a server-based system can now be completed in minutes using PropertyMe. This has saved some businesses up to 120 hours a month, allowing them to focus on more important matters like nurturing relationships and growing their rent roll.

2. User-centred design
Property managers love PropertyMe for its ease of learning and use. This has allowed agencies to decrease the time and costs outlayed for team training and has drastically reduced the time required to complete day-to-day tasks.
To ensure customer centricity, when designing new features and workflows, we put ourselves in the shoes of our customers and ask three questions:
Is it simple to use?
Does it save time?
Does it solve a genuine problem?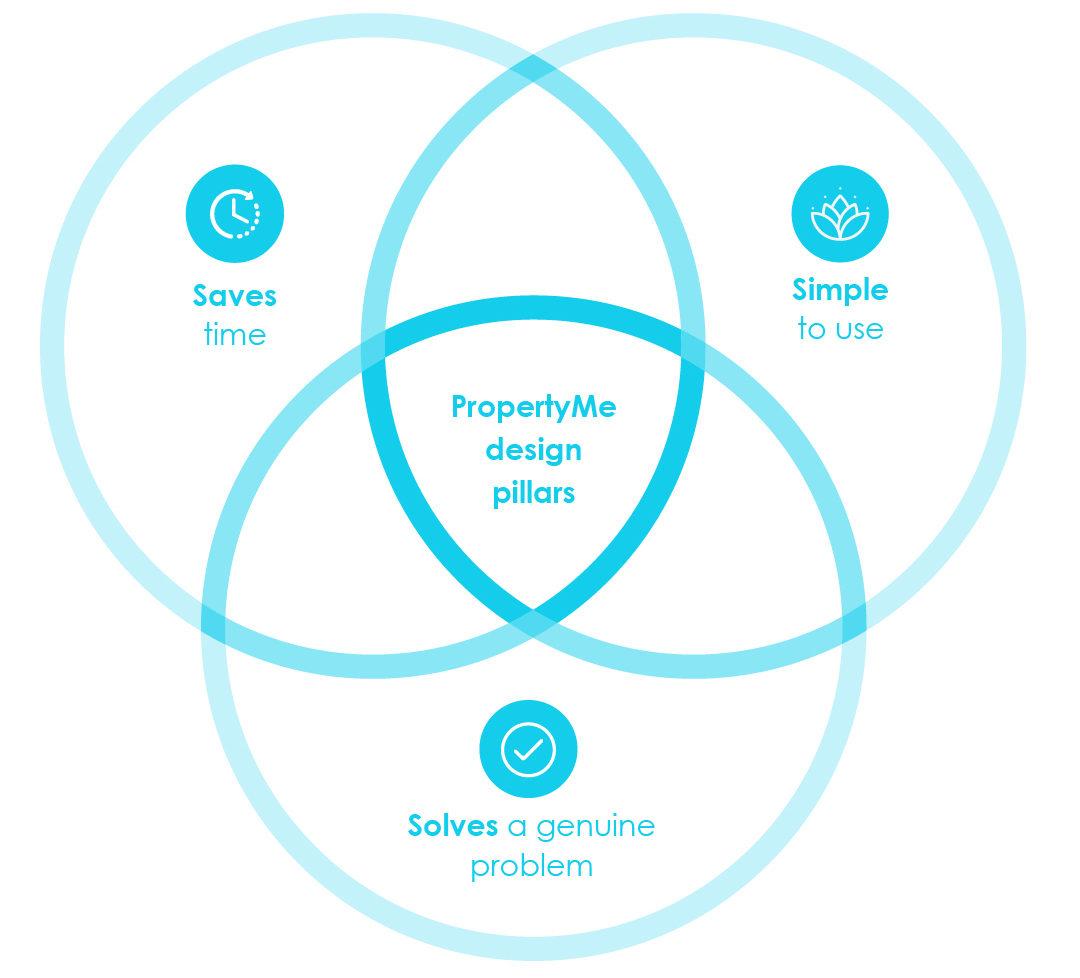 Thereafter, we apply the Design Thinking Process—a structured way to approach design problems and create great solutions, validated by users.
Our first step is to empathise with our customers and understand their needs, wants and objectives. We draw insights from our community and the Feature Requests section of the Knowledge Base. Next, we define the problem from the user's point of view before brainstorming and selecting the best ideas to move forward with.
Subsequently, we prototype, test and iterate to ensure features are always validated by users. Users can join the Test Program to experience early access to beta features. Any feedback will help us shape new features and workflows within PropertyMe.
3. Mitigate human error and compliance risk
Traditionally, property management is riddled with paperwork and manual data entry. This can lead to data entry error, discrepancies due to unclear formatting, loss of revenue and slow turnaround times.
PropertyMe mitigates these risks by eliminating manual data entry. Instead of keying in bill data, simply upload bills and PropertyMe will do the data entry for you. Instead of keying in trust account transactions, import a bank file or use Bank Feeds to automatically pull your bank transaction data directly into PropertyMe for easy reconciliation.
Plus, all audit reports and statements are stored in PropertyMe, creating a clean digital paper trail for your auditor to follow. Ace your trust account audit and review portfolio activity as needed.
Meanwhile, Reminders helps you stay compliant with colourful warning alerts. Easily keep track of smoke alarm and pool compliance as well as more general tasks like knowing when your owner's landlord insurance is expiring.
4. Constant evolution and innovation

Innovation is an ongoing process and those who choose to remain static will only be surpassed by their competitors who are agile and forward-thinking. That's why the PropertyMe team lives and breathes innovation—we believe that there is always a better way to do things.
Drawing from our founders' three decades of PropTech experience and the goodwill, knowledge and generosity of our community, we have delivered more than 1,750 new features and enhancements to genuinely simplify the business of property management.
These features and enhancements have helped thousands of real estate businesses increase their efficiency, differentiate their service offerings and boost revenues. It has also improved team retention, reduced property management stress and positively impacted company culture.
5. You're in good company
PropertyMe is used by more than 3,000 agencies across Australia and New Zealand. These include award-winning agencies such as McGrath Estate Agents, LJ Hooker, Ray White, Belle Property, Toop&Toop Real Estate, Key2 Property, @home property management solutions, Highland Property Group, RE/MAX, Stone Real Estate and many more.
The PropertyMe community is innovative, tech savvy and generous with their knowledge. You can engage with and learn from other members of the PropertyMe community by visiting the Community section of the Knowledge Base or joining the Official PropertyMe Facebook User Group.
6. Enterprise-grade security
With PropertyMe, you can rest easy knowing that your client and portfolio data is always protected. Not only do we invest in the most advanced technology available for online security, but we also built PropertyMe with a layered architecture to safeguard our core systems and fortify your data.
Here are some of the ways that PropertyMe ensures top-level security:
Encryption: We use the same level of encryption that banks and financial institutions use
Layered architecture: Multiple layers of protection to ensure tight control of what services can be reached from within the system
Two-factor authentication: Add an extra level of security to your portfolio using the Google Authenticator app
Sign-in notifications: PropertyMe will send you an alert if someone tries to access your account from an unrecognised device
Sensitive alert emails: PropertyMe will send you an email if sensitive changes have been made
Granular user management options: Customise user access, revoke access, remotely log out a user and more
Automatic lockout: After three failed login attempts, PropertyMe will lock your account for 15 minutes to prevent unauthorised access
Security in the cloud: The cloud mitigates the risk of security breaches that occur as a result of malware and viruses
Security audits and updates: These updates are automatic to ensure your systems are protected from the latest threats
Learn more about PropertyMe security.
7. World class support

PropertyMe has a wide range of support options to help you find the answers you need as quickly as possible. These include:
Unlimited online training: Choose from live training or recorded tutorials
Knowledge Base: 24/7 access to hundreds of how-to articles, video tutorials and more
Email support: Send an email to

[email protected]

at any time
Log a support ticket: Simply click on the blue Help button
Live chat: Instant messaging with our support team during business hours
Answer bot: Type in a question or leave a message
Request a call back: Instead of staying on hold, have us call you at a time that's convenient for you
PropertyMe community: Get help from members of the community
Just last week, we announced that our live chat customer satisfaction rate hit 100% and took the opportunity to ask our Facebook community for feedback. The outpouring of love filled us with gratitude and left our support team feeling over the moon.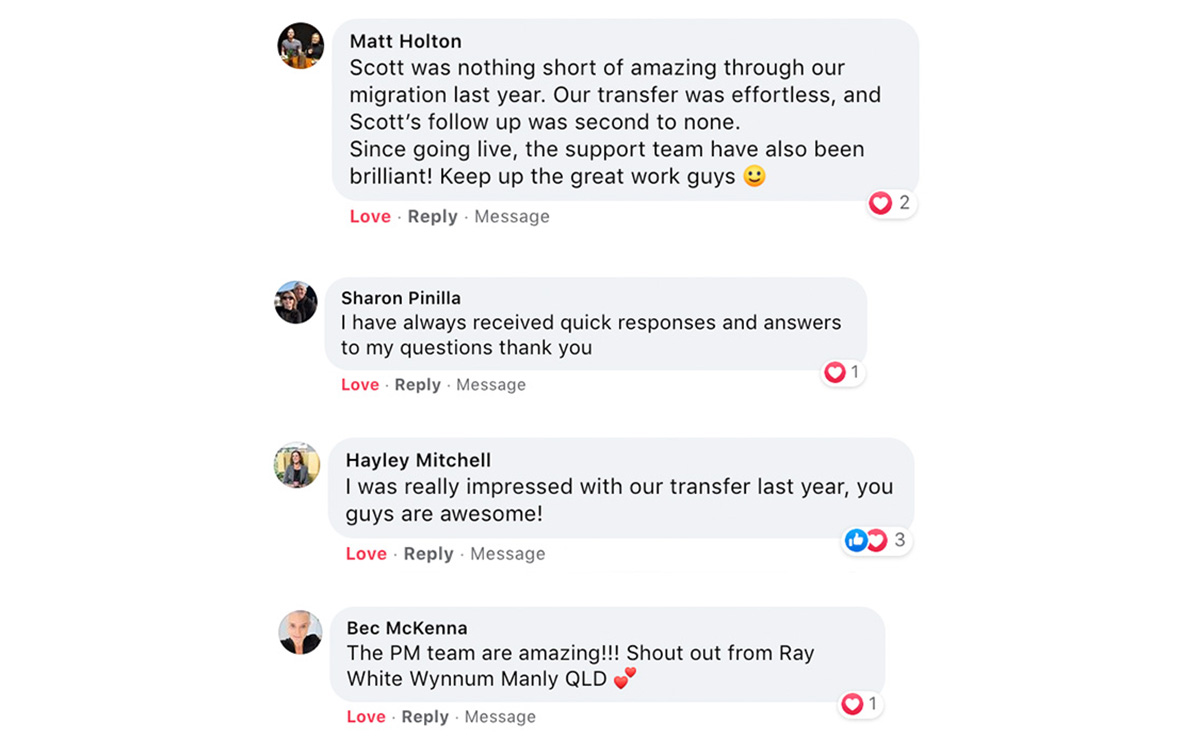 8. Comprehensive network of Integrators and Partners
If you need in-person training or property management, trust accounting or compliance assistance, we have many PropertyMe Partners across Australia who are able to assist you.
Additionally, we have more than 50 public and private integrations at various stages of the integration process. These include connected apps for maintenance, digital signatures, inspections, forms, utility connections and much more.
The founders of PropertyMe have always envisioned a future where customers are empowered by choice—so whether your business requires a single solution or integrated ecosystem, PropertyMe offers the best of both worlds.
9. Unmatched Onboarding Journey

We know that data is the lifeblood of every agency. That's why we created our proprietary data migration tool—MigrateMe—to make your Onboarding Journey simple and straightforward.
You can forget about manual data entry and lengthy periods of business downtime. MigrateMe runs overnight to migrate your data and removes human error from the process. It comprehensively migrates data from Console Gateway, Console Cloud, Console RPO, Rockend REST, PropertyTree and REI Master.
Plus, during your Onboarding Journey, you will have a single point of contact who will provide you with a customised implementation plan, point-to-point checklist and priority support. They will also help you run as many trial migrates as you need prior to going live for complete peace of mind.
10. No detail too small
At PropertyMe, we believe that no detail is too small when it comes to developing an intuitive and innovative software that truly puts the user at the centre of its design.
A great example of this is the messages that appear on the dashboard widgets once the property manager has completed the tasks. These messages are designed to delight customers with an unexpected injection of positivity and humour.

All in all…
While there are many more reasons why property managers love PropertyMe, here are the top 10 reasons why thousands have switched:
1. Increase efficiency with automated workflows
2. User-centred design
3. Mitigate human error and compliance risk
4. Constant evolution and innovation
5. You're in good company
6. Enterprise-grade security
7. World class support
8. Comprehensive network of Integrators and Partners
9. Unmatched Onboarding Journey
10. No detail too small
Book your free demo today to see why thousands of agencies have switched to the PropertyMe cloud. After that, we'll give you a free trial so you can experience PropertyMe for yourself.
Thanks for reading this blog on why property managers love PropertyMe. You might also be interested in:
Let us know your thoughts on 10 reasons why property managers love PropertyMe by emailing [email protected].