While we receive lots of positive feedback on a regular basis, we were completely overwhelmed (in the best way possible) by all the love we received on our recent Facebook post.
We want to extend a huge thank you to everyone in the PropertyMe community who took the time to tell us their favourite feature.
Without further ado, here are 41 property managers with their favourite PropertyMe features:
1. Arrears and invoice management

Keep your arrears rate at a comfortable level with arrears at a glance, message templates and triggered notices. Learn more about Tenancy and Arrears Management.
2. Automated Jobs workflow

The Jobs workflow is designed to keep your owners and tenants in the loop with maintenance requests. Drag and drop images and documents, obtain job quotes and approve jobs in a few clicks.
3. Disbursements in minutes

Perform single or bulk disbursements to owners and suppliers in minutes, not hours.
4. Document storage and mobile app

Store all of your documents online against a property, owner, tenant, task, job and more. Go paperless and have access to all your documents on the go.
5. Time-saving workflows

PropertyMe has everything you need to manage your properties. See how you can increase your efficiency with a free demo.
6. Enhanced communications

With an inbox and outbox, you can send and receive emails and SMS straight back into your PropertyMe portfolio. Learn more about how you can enhance your communications with PropertyMe.
7. User-friendly system and awesome support

Our friendly support team is always happy to help! Check out all our support options here.
8. Drop and drop bills

You can drag and drop bills with barcodes or QR codes into PropertyMe. Bills are automatically allocated against the appropriate supplier and property with the dollar amount.
9. Accounting period

Marie Kondo would be proud of your clean and tidy ledger, Jane.
10. Feedback request message template

We're always looking for ways to help you optimise your business and improve your customer service offering.
11. Message templates

Utilise our suite of ready-made message templates to create personalised emails, letters and SMS.
12. Vacancy rates at a glance

Easily monitor your vacancy rates with real time tracking. Click on the Vacancies widget to view vacant properties.
13. Seamless inspections

With PropertyMe, there's no need for a separate inspections software. Learn more about inspections in PropertyMe.
14. Ease of use

PropertyMe's ease of use has helped thousands of agencies decrease the time and costs outlayed for team training.
15. Fantastic onboarding and support

After all, our onboarding journey is unmatched.
16. Document storage

Reduce your overheads and save the environment while you're at it!
17. Reminders for compliance

Reminders is an easy way to keep track of smoke alarm and pool compliance as well as more general tasks like knowing when your owner's landlord insurance policy is expiring.
18. End of month workflow

With PropertyMe in the cloud, you can save time and money with automatic backups and upgrades, end of month in minutes and access to your data from anywhere, at any time, on any device.
19. Labels to filter properties

Here's how how to use labels in PropertyMe.
20. Simple trust accounting

With the click of a button PropertyMe disburses funds to the selected owner and suppliers and generates messages with attached statements and bills.
21. Triggered messages for maintenance

Keep tenants and owners in the loop easily and efficiently.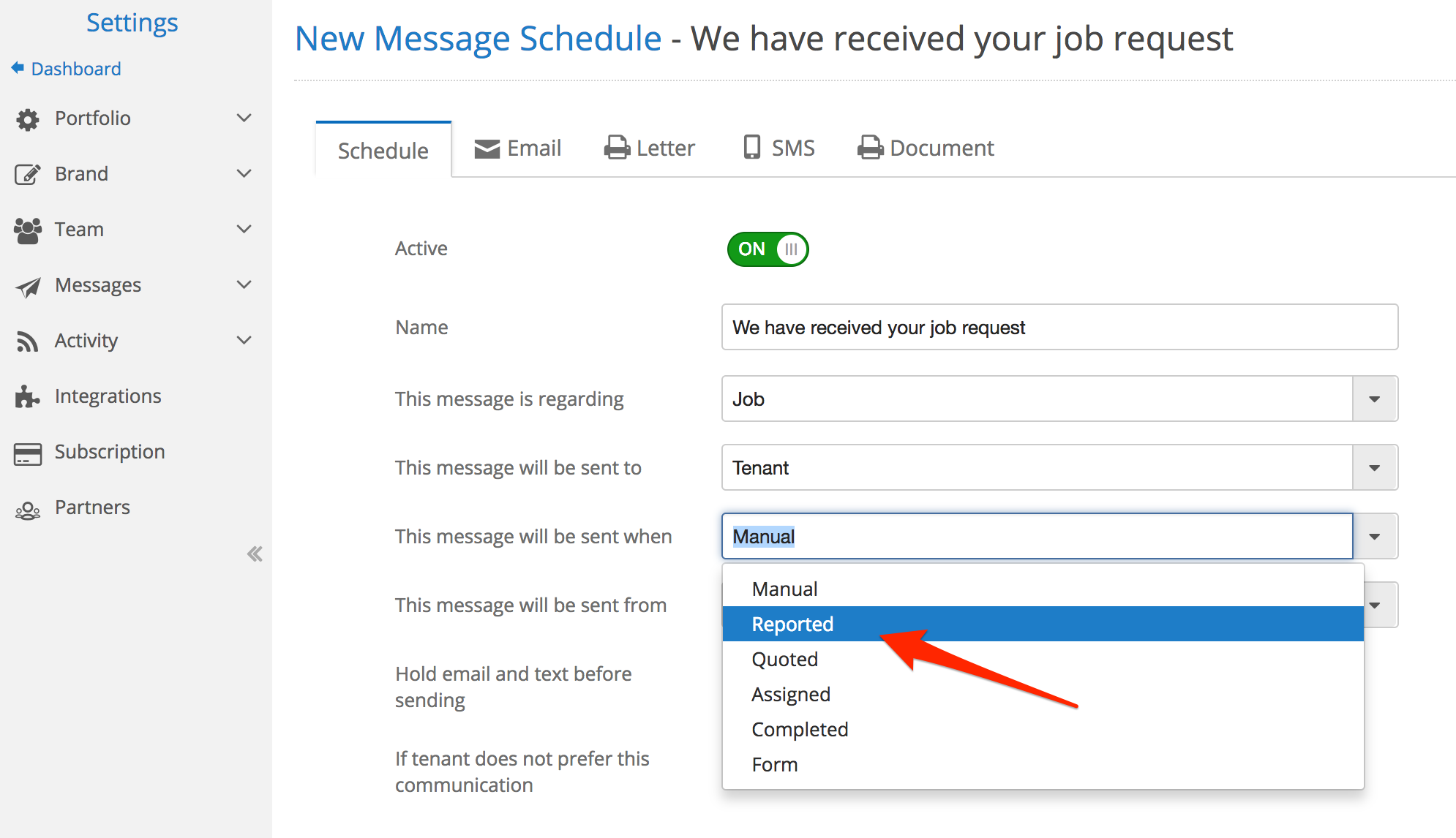 22. Reconciliation and automatic rent reminders

Reconciliation is a breeze in PropertyMe. Simply import your bank file and PropertyMe will do the data entry and balancing for you.
23. Trust accounting and owner access

With owner access, your landlords can log into their account to check on their property and financial information, from anywhere, anytime.
24. The helpful PropertyMe staff

Our Facebook page says it all – there's lots of love for our staff over in the reviews section!
25. Access from anywhere, anytime

There are so many benefits of cloud-based property management software. Check out the top six benefits here.
26. PropertyMe manager app

With the PropertyMe manager app, you can easily collaborate with your team from the road with all your data and tools right in the palm of your hand.
27. Quick and easy mid and end of month

With PropertyMe, mid and end of month is so easy that one of our subscribers has run it from an open home.
28. Dashboard doting
The PropertyMe dashboard gives you a bird's eye view of everything in your portfolio including your rent arrears, outbox, disbursements, bills overdue, withdrawals, vacancies, inspections and jobs, just to name a few.
29. Automated communications

With PropertyMe, you can trigger automated messages once you action a specific task, saving you time and money. Check out our feature spotlight on messages here.
30. Sales trust accounting magic

Sales and property management trust accounting all in the one place.
31. Contact alerts

Within a contact, you can create alerts to be shown on a property, job or inspection. You can even colour code the alerts depending on the urgency.
32. Time-saving receipting
So in a year, property managers like Melanie save 11,700 minutes, which is equivalent to more than five working weeks each year.
33. Streamlined job quotes

Sometimes your owner may request a few quotes before they approve the job. We've made this process a lot more streamlined so you can easily and efficiently manage the quotes process.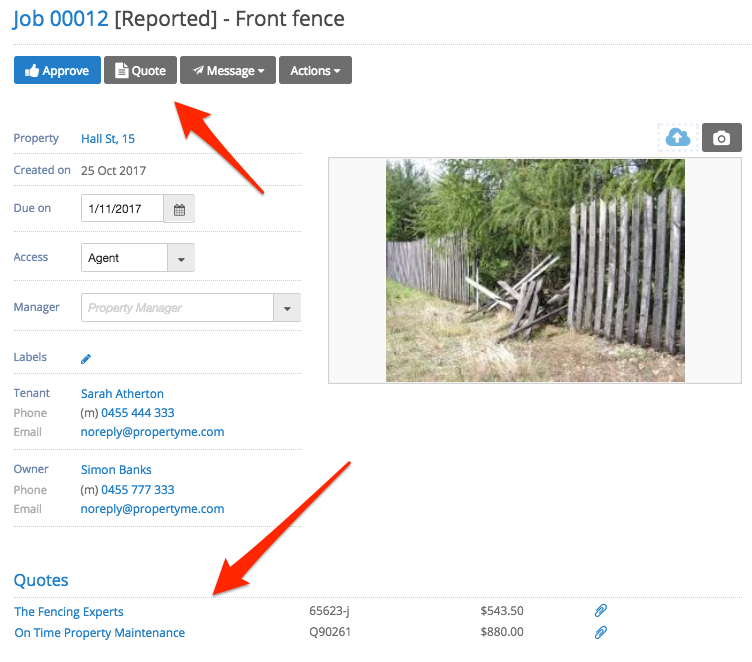 34. The little details

"You have my vote for property manager of the year!"
35. User-friendly and systematic

User-friendly is our middle name.
36. Dashboard overview

The dashboard provides an overview of important parts of your portfolio to better inform your business decisions. If you need more information, you can click on a tile and drill into specific parts of your portfolio.
37. Ease of use

Easy peasy lemon squeezy.
38. Cloud-based nature

You can log into PropertyMe from wherever you are, on any device, whenever you want!
39. Streamlined support

Our friendly support team is always here to help! We also provide unlimited online support and access to our knowledge base, user forum, videos tutorials and training sessions.
40. Triggered messages that enhance communication

Increase transparency and enhance communication while saving bucket loads of time with automated messages.
41. Ease of use, cost effectiveness and helpful staff

We know that as a property manager, you have to juggle a million different things on an everyday basis. That's why we've built a lot of automation into PropertyMe to save you time and make your life easier!
Here at PropertyMe, we're paving the way for online property management software in Australia and release new features often. If you're a PropertyMe customer, be sure to head on over to the PropertyMe community to submit a feature request.
If you're looking for cloud property management software that grows with you, check out our features or read more PropertyMe reviews here. When you're ready, book in a free demo and our product specialists will run you through PropertyMe and answer any questions you might have.
Did we miss your favourite feature in 41 Property Managers Tell Us Their Favourite PropertyMe Feature? Please email [email protected] to let us know.