"Seamless"
"Comprehensive migration"
"Unmatched customer experience"
Why do our customers love our Onboarding Journey so much?
1. Transparent pricing
At PropertyMe, we believe in simple and transparent pricing with no hidden costs, no lock-in contracts and no additional training costs.
One price covers your entire end-to-end Onboarding Journey:
If you have up to 400 properties under management, you pay a $495 one-off onboarding fee
If you have 401 to 900 properties under management, you pay a $990 one-off onboarding fee
If you have more than 900 properties under management, you pay a $1,485 one-off onboarding fee
Feel free to use our pricing slider to see exactly how much your onboarding fee would be.
2. Stress-free data migration
We understand that as a property manager, your data is one of your most important assets. That's why we created our proprietary data migration tool – MigrateMe.
MigrateMe gives you full security and control over your data. It runs overnight to migrate your data and removes human error from the migration process. Your data never leaves the country, there is no data entry person and migration is automated by our proprietary tool. You can rest easy knowing that your data will be migrated across quickly, securely and accurately.
MigrateMe comprehensively migrates properties, tenants, owners, creditors, financial ledgers, maintenance, inspections, tasks, images, documents, current reconciliation and more!
It is currently available for Console Gateway, Console Cloud, Console RPO, Rockend REST, PropertyTree and REI Master migrations.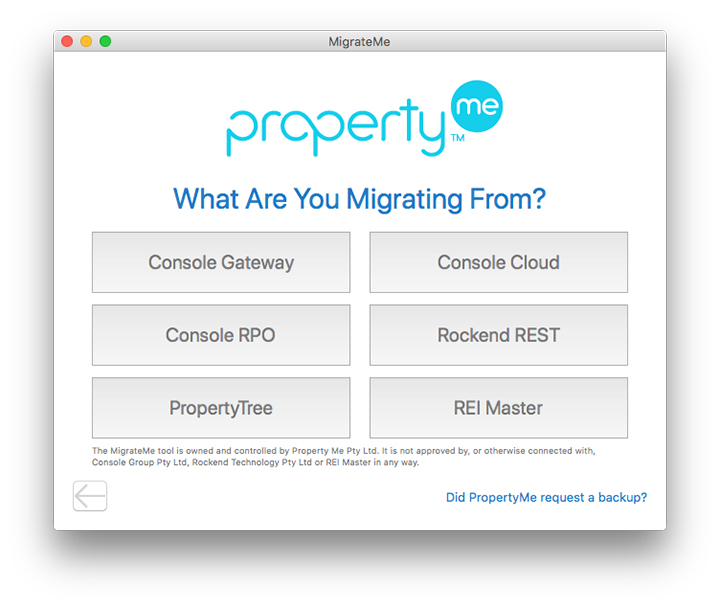 You can run as many trial migrates as you need prior to going live and your PropertyMe Cloud Concierge will help you every step of the way.
Be sure to contact one of our Product Specialists if you have any questions about MigrateMe. They're always happy to help!
3. Peace of mind
We understand that implementing a new software can make you feel both excited and nervous. That's why we provide you with priority support and a single point of contact during your Onboarding Journey – your own PropertyMe Cloud Concierge. Your concierge is there to help you with change management, answer any questions you have and make sure that you're 100% comfortable at every stage of your journey.
Additionally, your concierge will discuss training requirements and timeframes with you before providing you with a customised implementation plan and point-to-point checklist to ensure a smooth transition. After going live, they will also walk you through your first end of month for that extra peace of mind!

Ready to start your Onboarding Journey?
PropertyMe is the most feature-rich cloud property management software solution in Australia. With an easy-to-use interface, automated workflows, mobile app and client access, you'll have everything you need to manage your properties.
Contact one of our Product Specialists to start your Onboarding Journey today!