Communication is one of the cornerstones of property management so the better you are at it, the more likely you'll succeed as a property manager. That's why PropertyMe has a powerful Messages feature that streamlines communication to make your life easier. Without further ado, here's the PropertyMe Feature Spotlight on Messages:
What is Messages?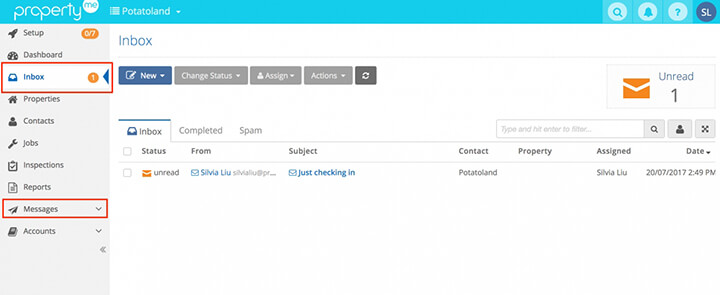 Messages is a central home for all your messages to and from PropertyMe. You can send and receive emails and SMS straight back into your portfolio without having to switch between your property management software, smartphone and email service provider.
The feature consists of your Inbox, Outbox, Undelivered and Sent Messages. The latter three are nestled under Messages in the left menu whereas the Inbox has a prominent position under Dashboard for easy access.
As you can see in the image above, indicators tell you how many unread messages you have in your Inbox and you can see the status of each message at a glance.
Whenever you receive a message, PropertyMe's automation works behind the scenes to match it with particular parts of your portfolio (contact, property or job) to streamline your communication. It's so accurate that it's almost magical.
What can you do in Messages?
There's a lot you can do in Messages. Here are eight ways to take advantage of Messages in PropertyMe:
1. Send and receive messages in one place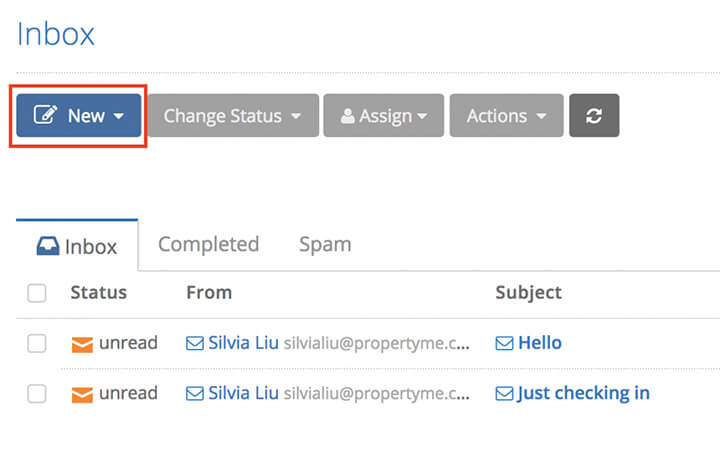 Click New to create a new Email or SMS. This pops up within the Inbox so you don't have to navigate away from your current screen. After you've typed up your message, simply fire it off. Once your contact replies, you'll receive it straight back into your Inbox. It's that easy!
Alternatively, you can create and send messages in the Outbox as well. Any undelivered messages will appear in Undelivered.
2. Automate your messages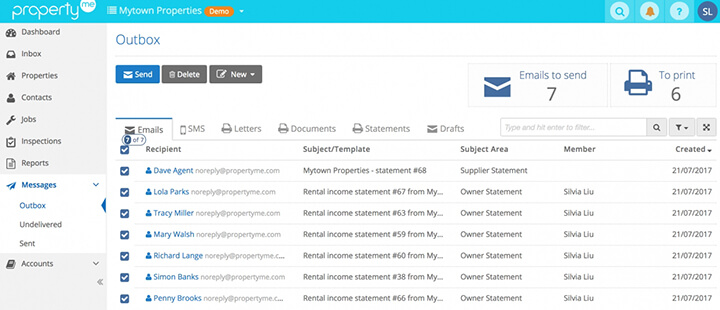 Save yourself time and money by automating your communications. With PropertyMe, you can trigger automated messages once you action a specific task. For example, when you disburse your owners and suppliers, messages are automatically generated for preview in your Outbox before sending them out. If you prefer, you can configure your settings to send them out automatically too.
Additionally, with ready-made templates and the ability to create your own, you can ensure your communications are always consistent and on-brand!
3. Change the status of a message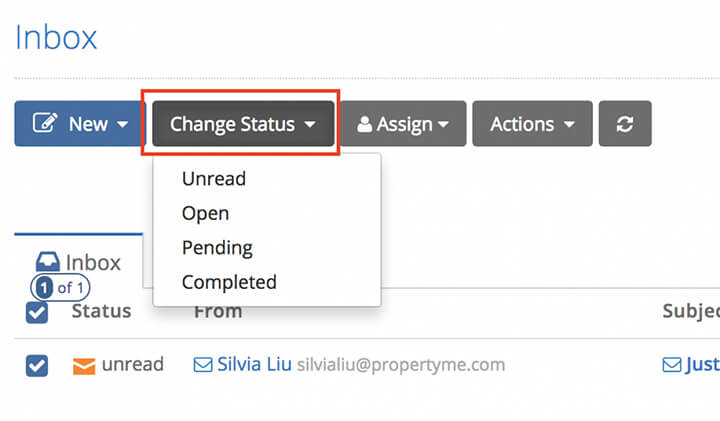 You can change the message status to Unread, Open, Pending or Completed. Once the message is marked as Completed, it moves from the Inbox tab to the Completed tab. You can also bulk select messages to change their status at the same time.
Learn more about Understanding the Message Status.
4. Assign the message to a different team member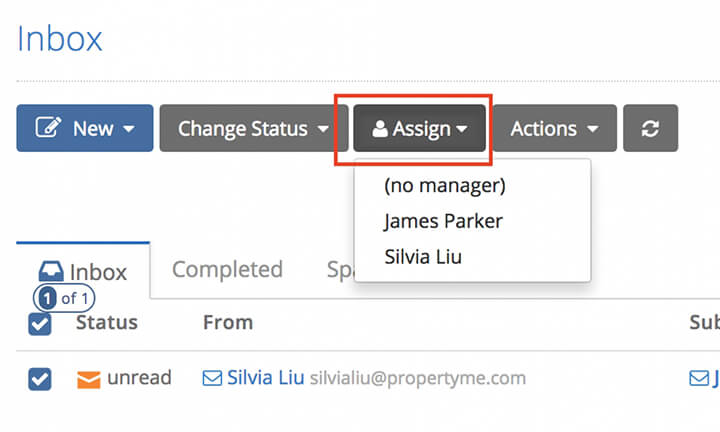 Simply select the message, click Assign and select the team member that you want to assign the message to. You can bulk assign by selecting multiple messages at once as well.
5. Merge messages together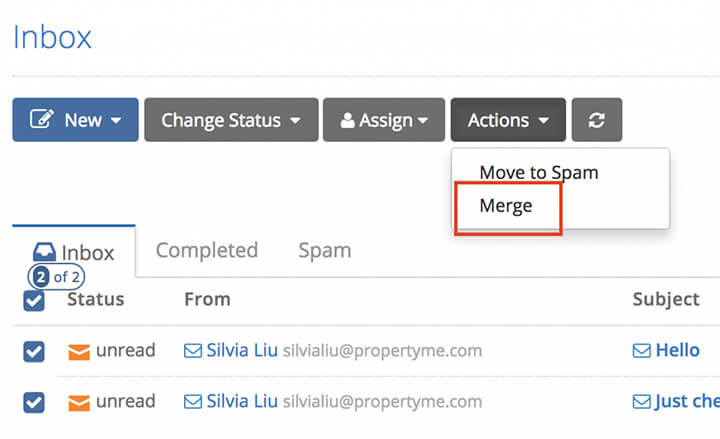 If you find that you have messages that should be in the same stream, you can select those messages and click Actions then Merge to merge them together.
6. Mark a message as spam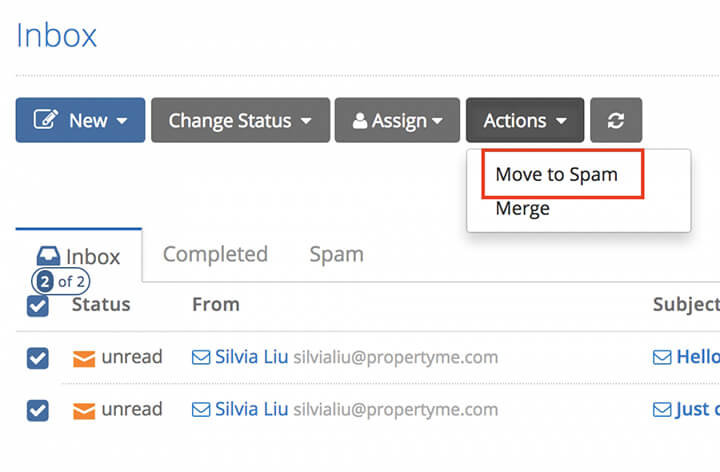 Similarly, you can mark a message as spam by clicking Actions then Move to Spam. This will move the message to the Spam tab.
7. View related information and attachments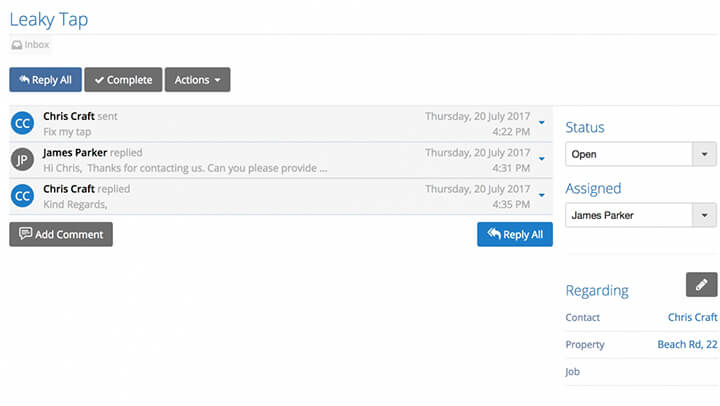 You can click into a message to view the entire message thread and related information. You can also add comments, open attachments, reply, change the status, assign to a different team member or mark as complete.
8. View historical messages

Completed messages automatically move to the Completed tab, which is an archive of your conversations. You can search through your historical messages or sort by subject, contact, property, assigned team member or date. Additionally, individual messages can be viewed in Sent Messages as well.
Hopefully you enjoyed this PropertyMe Feature Spotlight on Messages. You can read more in-depth PropertyMe articles in our Knowledge Base. Be sure to look out for next month's PropertyMe Feature Spotlight as well!
In the meantime, check out 3 Ways To Take Advantage of Your PropertyMe Demo Portfolio (After You've Subscribed) and How to Use Labels in PropertyMe.
PropertyMe is Australia's largest and most complete cloud property management software. Check out our features or book a free demo today.