As a property manager, your reputation hinges on the upkeep of your properties. That's why it's crucial that you conduct routine inspections to identify any maintenance issues or emergency repairs before they snowball into something costly and serious.
In addition to that, entry and exit inspections are necessary to document the state of the property before and after a tenancy. Not only does this serve to keep the property in the best condition but it also helps you avoid any disputes come time for a vacate.
With PropertyMe, inspections is built-in with simplified workflows to reduce admin time. Without further ado, here's the PropertyMe feature spotlight on Inspections:
What is Inspections?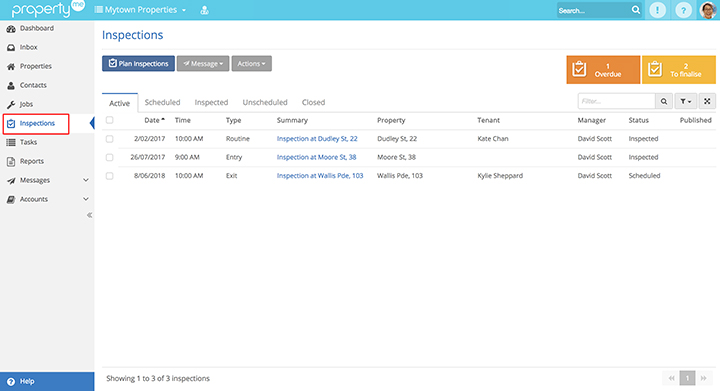 Forget about opening multiple tabs or paying for a separate inspection app, PropertyMe has built-in inspections so you can plan, schedule and conduct inspections, all in the one place.
From Inspections, you can see that there are five different tabs for easy navigation–Active, Scheduled, Inspected, Unscheduled and Closed. Here's a quick breakdown of what's shown in each tab:
Active includes scheduled and inspected properties
Scheduled includes properties that are scheduled for an inspection
Inspected includes properties that have been inspected, but are waiting on a final check or additional photos
Unscheduled includes all properties that haven't been scheduled for an inspection yet. You can sort them by different filters such as inspection due date and last inspection date
Closed includes all completed inspections
There are also colourful warning alerts at the top right-hand side for any overdue inspections and any inspections that need to be finalised.
Lastly, to the left of the warning alerts and above the tabs, you can see three buttons–Plan Inspections, Message and Actions. Let's dive into what they are and what you can do in Inspections.
What can you do in Inspections?
1. Plan and schedule inspections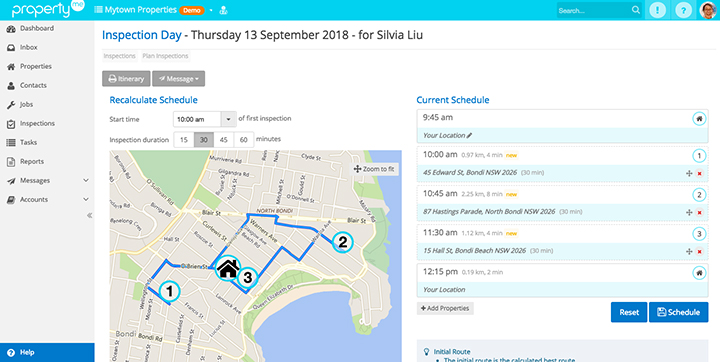 Have you heard of the "travelling salesman problem"? The problem asks, "given a list of addresses and the distances between each location, what is the shortest route that allows you to visit each property and return to the original location?"
Sound familiar? That's because property managers like yourself have needed to do this manually for years. Every time you plan an inspection day, you're calculating distances between properties, the time required to travel from one property to another and the best possible route for the day.
Luckily, PropertyMe's automation does all this for you! Simply enter the inspection date, select the properties you want to inspect on the map and enter a start time. PropertyMe will automatically create an itinerary for you, complete with distances and drive times between properties. Once you hit the "Schedule" button, automated notices will be sent to your tenants.
Be sure to read our article on How to Schedule Inspections and How to Create a Single Inspection in our Knowledge Base.
2. Send notices and reminders to tenants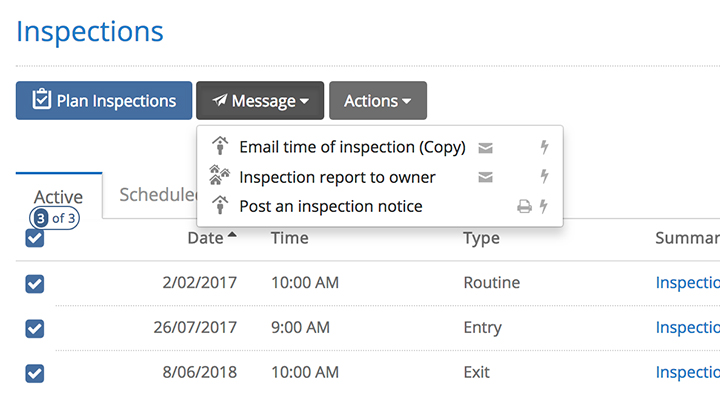 To further simplify the Inspections workflow, communications have been automated. For example, once you hit the "Schedule" button at the end of the inspection planning workflow, notices with inspection details are automatically sent to your tenants (unless this is turned off). Similarly, once you publish an inspection report, a message is automatically sent to the relevant owner (unless this is turned off).
You can also manually send notices and reminders to tenants via the "Messages" button at any time. There are three options available, you can email a copy of the time of inspection to your tenants, email the inspection report to the owner or post an inspection notice.
3. Conduct inspections via the PropertyMe Manager App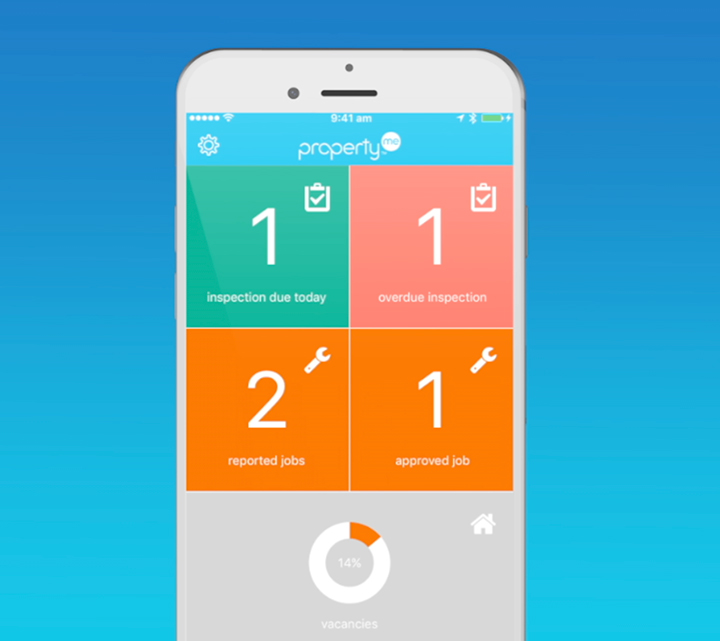 Did you know that you can conduct inspections via our PropertyMe Manager App? It's available for iPhone, iPad and Android and even works when you're offline (it syncs when you're online again).
With the PropertyMe Manager App, you can take photos with your device, add notes using text or voice recognition, send notices and reminders to tenants, customise inspection areas, create new inspections on the go, highlight follow up actions and rent reviews for your owner and more.
Check out our PropertyMe Manager App User Tips in our Knowledge Base.
4. Create inspection reports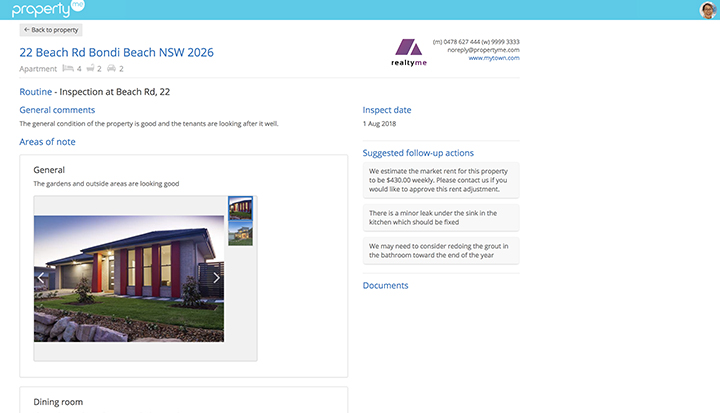 In PropertyMe, inspection reports are published in Owner Access so that your owners can access all their inspection reports in one place. Additionally, they can deep dive into the report and see inspection details, complete with photos, comments, documents (if there are any) and suggested follow-up actions.
If you need to make changes to your inspection report after you've published it, you can easily do so by clicking into it in the Completed Inspections tab and hitting the "Edit Report" button. Learn more about How to Edit Routine Inspection Reports in our Knowledge Base.
5. Generate entry and exit reports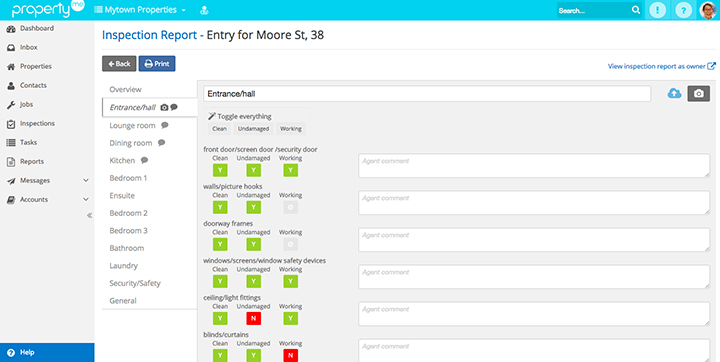 PropertyMe makes generating comprehensive entry and exit reports a breeze. Using the PropertyMe Manager App or web app, you can add photos and comments, customise inspection areas and indicate whether each room item is clean, undamaged and working.
Once you've completed an entry or exit report, you can print it out and share it via Owner Access. Read Getting Started with Entry Inspections in our Knowledge Base to learn more.
6. Customise inspection areas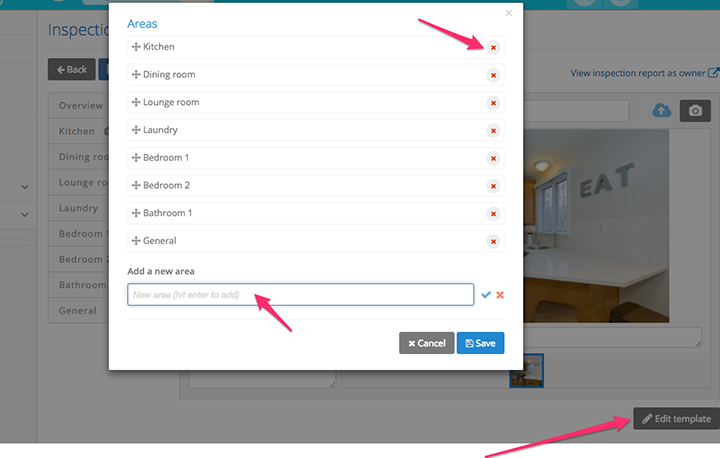 If you ever need to customise inspection areas, you can simply click the "Edit Template" button at the bottom of the inspection report screen. Click the red cross to the right of any rooms you wish to delete and add a new room at the bottom by entering the name and clicking the tick. You can also quickly change the order of the rooms by dragging and dropping the different areas.
7. Highlight follow-up actions and rent reviews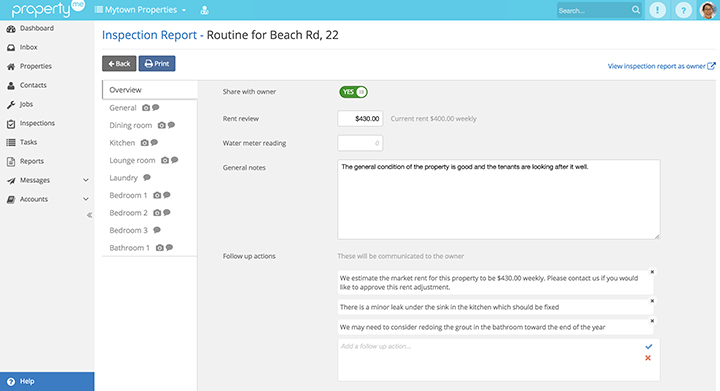 When completing your inspection report, you can highlight follow-up actions and rent reviews. These follow-up actions appear in the inspection report in Owner Access once you've published it.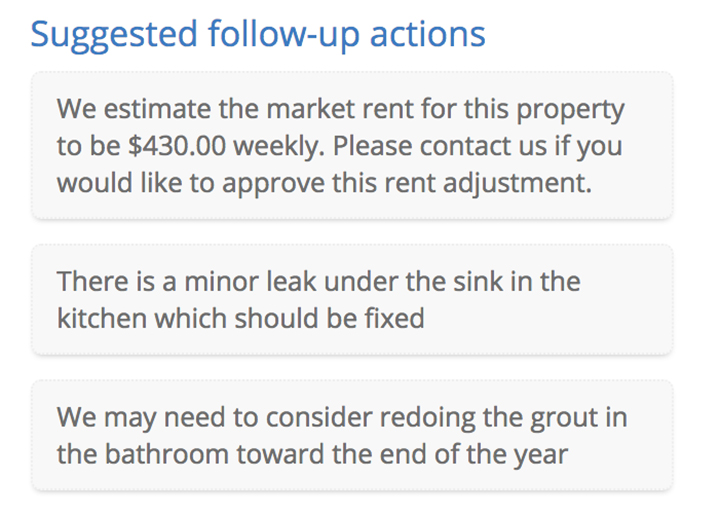 You can also edit these follow-up actions after you've published the report, but be sure to double-check your spelling and grammar beforehand!
Hopefully you enjoyed this PropertyMe Feature Spotlight on Inspections. If you're a PropertyMe subscriber, be sure to book yourself into free Inspections Training or check out our Knowledge Base for step-by-step guides.
If you're new here, PropertyMe is game-changing cloud property management software that you can access from anywhere, anytime. Book a Free Demo today to see why thousands of property managers have switched.
Did we miss anything in this PropertyMe Feature Spotlight on Inspections? Please let us know in the comments below.