PropertyMe is Australia's largest and most complete cloud property management software solution. From features to onboarding to pricing, let's take a closer look at what makes PropertyMe different to other property management software systems:
Anytime, anywhere in the cloud
Traditionally, your data would be stored in large, physical servers that not only cost thousands of dollars but also require an IT team to maintain and upgrade. Plus, you're probably spending hours backing up your data each day, which easily adds up to multiple days of lost productivity every month!
With PropertyMe in the cloud, you can save time and money with automatic backups and upgrades, end of month in minutes and access to your data from anywhere, at any time, on any device. Read more about the Top 6 Benefits of Cloud Property Management Software.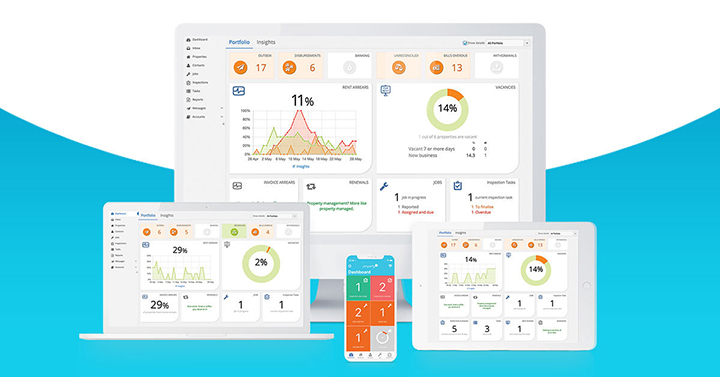 The most complete cloud property management software
PropertyMe has all the tools you need to manage your properties. Reduce the number of add-on products with built-in inspections, client access, maintenance workflows, listings and more.
Comprehensive trust accounting
With PropertyMe's comprehensive suite of trust accounting tools and flexible reporting, you can save time and focus your attention where it's really needed.
Import transaction files or have them automatically flow into PropertyMe using Bank Feeds, easily process single or bulk disbursements to owners and suppliers and reconcile your accounts in a few clicks.
Inspections
Why use an add-on product for inspections when it's built into PropertyMe? Schedule, conduct and report on inspections, all in the one place.
Simply select the properties you want to inspect, choose an inspection time and PropertyMe will create a customised itinerary for you, complete with drive times and distances between properties. Once you hit Schedule, notices with inspection details are automatically generated.
Owner and Tenant Access
With PropertyMe, you can provide your owners and tenants 24/7 online access to property and financial information. Your owners and tenants will love you for it!
Jobs
In a few easy steps, you can assign jobs, add images and send messages to your suppliers and owners within PropertyMe. Tenants can also easily log maintenance requests from Tenant Access.
PropertyMe Manager app
With the PropertyMe Manager app for iPhone, iPad and Android devices, you'll have all the data and tools you need to collaborate with your team from the road.
Listings
Listings is a Standard Plan feature that allows you to upload your properties to listing portals such as realestate.com.au. You must be a member of any listing portal that you want to upload to.
Reminders
Easily track and manage compliance tasks such as smoke alarm checks, pool safety and insurance expiry dates with Reminders.
Automated workflows
PropertyMe allows you to save time with automated features like bill scanning, bank feeds, triggered messages, job quotes and more. All at lightning speed.
Bill scanning
Simply scan bills with barcodes or QR codes and let PropertyMe do all the data entry for you. While other cloud property management software systems charge extra for this, we provide this feature for free.
Import transaction files
PropertyMe allows you to import a large variety of transaction files to receipt rent and reconcile your accounts at no cost. Current supported formats include: OFX, BRF, PAY, TXN, QIF, Westpac PayWay RECall bank file types as well as .CSV files.
Automated reconciliation
Once you've imported a bank file, PropertyMe will work in the background to match the file to your tenant reference numbers, names or addresses. Once you hit approve, PropertyMe will do the balancing for you!
Bank Feeds
Bank Feeds is a Standard Plan feature that automatically imports your trust account transactions directly from your bank for you. All major banks are supported, along with many smaller and regional banks.
Job quotes
Requesting job quotes is made easy in PropertyMe. Select the suppliers you want to request a quote from and all your quote request messages will be generated automatically. Quotes and attached documents appear in Owner Access for your owner to approve.
Inbound email
We know communication is one of the cornerstones of property management. That's why PropertyMe offers both outbound and inbound email to streamline your communication. All messages are linked to properties, jobs and inspections in your portfolio to provide a summary of relevant information.
Ease of learning and use
One of the major reasons for customer satisfaction is the ease with which customers have been able to learn and use PropertyMe compared to other property management software systems.
This has allowed our customers to improve efficiency by drastically reducing the time required to complete a task, decreasing the time and costs outlayed for team training and minimising the ongoing frustration with bugs and conflicts.

Unmatched Onboarding Journey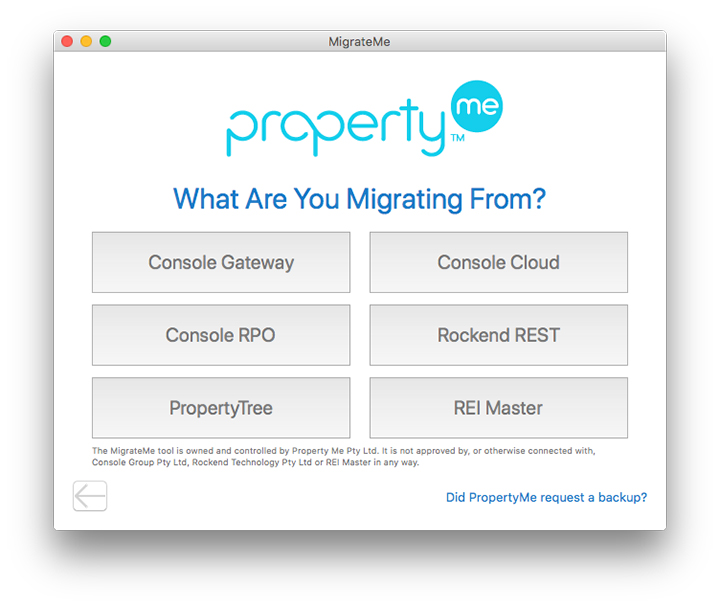 At PropertyMe, we understand that your data is one of your most important assets. That's why we created our proprietary data migration tool – MigrateMe – to make your Onboarding Journey as straightforward as possible.
MigrateMe gives you full security and control over your data. It runs overnight to migrate your data and removes human error from the migration process. It comprehensively migrates properties, tenants, owners, creditors, financial ledgers, maintenance, inspections, tasks, images, documents, current reconciliation and more!
It is currently available for Console Gateway, Console Cloud, Console RPO, Rockend REST, PropertyTree and REI Master migrations.
You can run as many trial migrates as you need prior to going live and your PropertyMe Cloud Concierge will help you every step of the way.
World class support
As a measure of our support satisfaction, last month our average first response time was 28 minutes with a 94% satisfaction rating. Furthermore, 64% of support tickets were solved on the first touch.
So with PropertyMe, you can expect top notch assistance when you need it. Here are all the available support options:
Unlimited online training
Access to the Knowledge base
Log a support ticket
Request a call back
Email support
PropertyMe Community
We also have a number of PropertyMe Partners who are available in-person if you need some extra help after transitioning. They can help ensure that you're getting the most out of PropertyMe and assist with the day to day tasks of running a property portfolio.
Continuous innovation
At PropertyMe, we believe there is always a better way to do things. If an existing workflow or feature is outdated, we are not afraid to challenge the notion that "it's just the way things have always been done". In fact, over the past six years, we have delivered more than 1,650 new features and enhancements.
We also have a Features Request area in the PropertyMe Community that allows you to submit and vote for new features. We're always listening and continually strive to deliver the best property management tools to help you break new ground in the industry.
Transparent pricing
Compared to other property management software systems in Australia, PropertyMe is the most feature-rich and cost efficient with no minimum joining periods, no lock-in contracts and no extra fees.
Pricing starts from $165 per month for up to 100 properties on the Basic Plan and from $297 per month for up to 200 properties on the Standard Plan.
Additionally, there is a one-off onboarding price that varies depending on your monthly plan. Feel free to use our pricing slider to see exactly how much your monthly plan and onboarding price would be.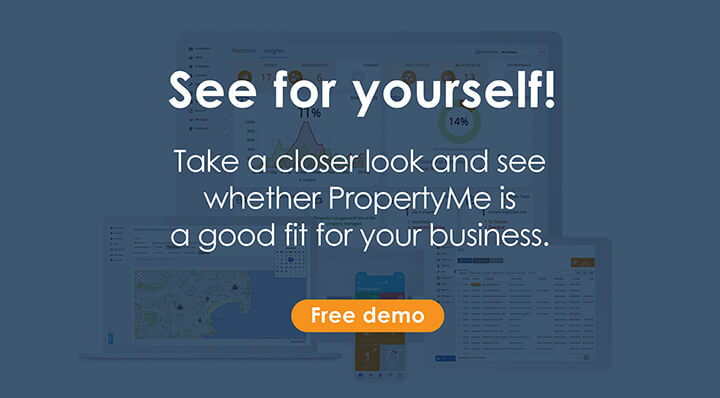 Book your free PropertyMe demo today to see why thousands of property managers have switched. After that, we'll give you a free trial so you can experience PropertyMe for yourself.
You might also be interested in our Guide to Choosing The Right Property Management Software For Your Business and PropertyMe Customer Story: Ray White West End.
Did you enjoy this post on How PropertyMe is Different?