Congratulations—you've finally decided to upgrade your property management software! But where do you start and what do you even look for?
To help you out, we've put together a step-by-step guide to choosing the right property management software for your business' needs.
We'll go through essential property management software features, different pricing options and we'll even throw in a free comparison guide to help you narrow down your options.
1. Leverage your network
As a starting point, leverage your network and ask other property managers what they use and recommend. You can also reach out to different property management communities on Facebook such as the Australian Property Manager Community.
Be sure to ask them:
What property management software do you use?
What was the migration and onboarding process like?
What are the available support options?
What do you like and dislike about it?
How has the software impacted your business?
This will give you an idea of what the most popular software systems are and the pros and cons of each. However, keep in mind that everyone's business needs are different so what may work for them may not work for you and vice versa.
2. Identify your business' needs
On that note, it's crucial that you choose a property management software that is the right fit for your business' needs.
Ask yourself why you want to upgrade your property management software. What are your business pain points and how do you foresee the software solving those problems?
For example, if your team is swamped with administrative tasks, you might opt for a system with automated workflows to increase efficiency. Alternatively, if you're looking to save on business overheads, you might opt for an all-in-one software that helps you to reduce add-ons.
As a minimum, here are ten essential property management software features:
Online in the cloud
Compared to legacy software, cloud property management software has many benefits. Besides increased flexibility and accessibility, you can also benefit from reduced costs, greater security and simple backup and recovery.
Trust accounting workflows
Automated workflows around bills, disbursements, banking, transactions and reconciliation can help you dramatically simplify your workload and eliminate the risk of manual data entry error.
Mobile apps
As a property manager, you're on the road a lot. That's why it's crucial that your software has mobile apps so you can access property and contact data, send messages and conduct inspections from anywhere you choose.
Streamlined communications
The best property managers are great communicators. They save time and ensure consistency with triggered messages and keep owners and tenants in the loop with 24/7 online access to property and financial data.
Maintenance
Maintenance is a core part of property management. Therefore, maintenance should also be a core part of your property management software.
Inspections
Conducting routine inspections as well as entry and exit inspections is crucial to the upkeep of your properties. Your software should streamline this process.
Compliance management
Your property management software should have features that help you track and manage compliance tasks, stay on top of your portfolio and keep a clean digital paper trail.
Reliable support
Do they have a comprehensive online knowledge base with videos and step-by-step articles? Do they have free live and on-demand training? If you can't find the answer, can you easily book in a support callback or log a support ticket?
Unlimited users
The best property management software providers allow you to have unlimited users at no extra cost because they know that success is a team effort.
Sophisticated data security
Security is no laughing matter—make sure your property management software has two-factor authentication, 256-bit SSL encryption (the level of encryption that banks use), granular user management options and sensitive alert emails.
Additionally, be sure to involve your staff by asking them what their top three features are then tallying those up to prioritise your software requirements from essential to nice-to-have features.
3. Compare systems and features
Now that you have a list of essential and nice-to-have software features, it's time to shortlist a few property management software systems and compare features.
Here's your free comparison guide to help you narrow down your options.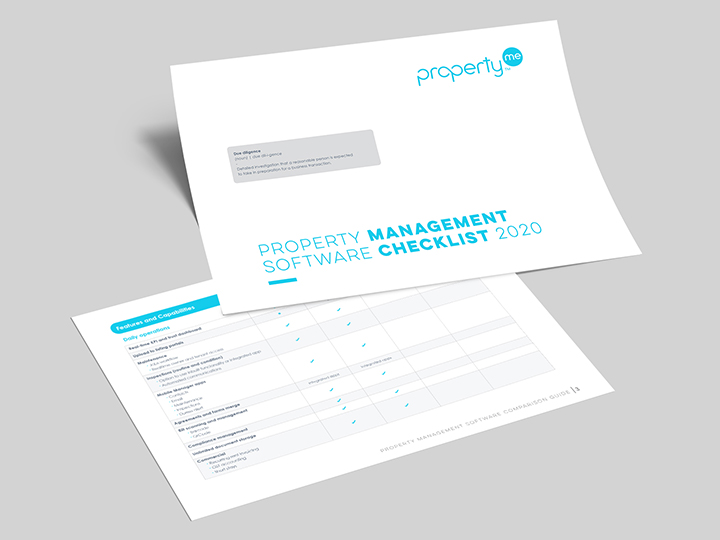 Print out the comparison guide and write down the names of the software systems you're comparing and check off whether they have the features you're looking for. Eliminate any software systems that don't have the features that you require and be sure to ask them these 65 questions.
4. Price your options
Using the same comparison guide, price out your options. Make sure you prioritise the systems by the features that you want rather than by price.
You should consider the different pricing models available:
Do you pay monthly or annually or is it a one off payment? How much is it?
Are there different plans? What's the difference between them?
Will you be locked into a contract? Is there a cancellation fee?
How much is the setup or onboarding fee?
Are there additional costs or ongoing fees for add-on features?
How much does the company charge for ongoing training and support?
In addition to that, you should factor in any hidden savings. For example, if you're using an add-on inspections software, you can eliminate that cost by choosing a property management software with built-in inspections.
Subsequently, rank your property management software contenders based on both features and pricing.
5. Take each option for a spin
Now that you have narrowed down your list of property management software systems, it's time to take each option for a spin! Sign up for a demo of each system and prepare any questions you might have beforehand.
During your trial period, make sure you take advantage of any free resources the company might have! These might include a demo portfolio, webinars, training videos, knowledge base articles, blogs, guides and other educational material. This will give you insight into how easy the software is to use and the kind of training and support you can expect.
Additionally, you should take a look at the company's blog and social media channels to get an idea of what kind of company they are, how often they release new features and how happy their customers are with their product and support.
6. Run a trial migrate
You're almost there! By now, you've probably narrowed down your options to one or two software systems. As the last step, be sure to ask what the migration process is like and run a trial migrate to make sure all your data can be brought across from your current system.
With a trial migrate, you will be able to:
See how long migration takes
Spot any opportunities to clean up your data in your current software so you can start fresh after you migrate
Understand the steps you may need to take to settle your portfolio into its new format
Use migrated data for team training and test integrations
To sum it up…
Here's how to choose the right property management software for your needs:
Leverage your network
Identify your business' needs
Compare systems and features
Price your options
Take each option for a spin
Run a trial migrate
If you're looking to upgrade your software, PropertyMe is Australia and New Zealand's largest and most complete cloud property management software. Book a free demo today to see why thousands of property managers have switched.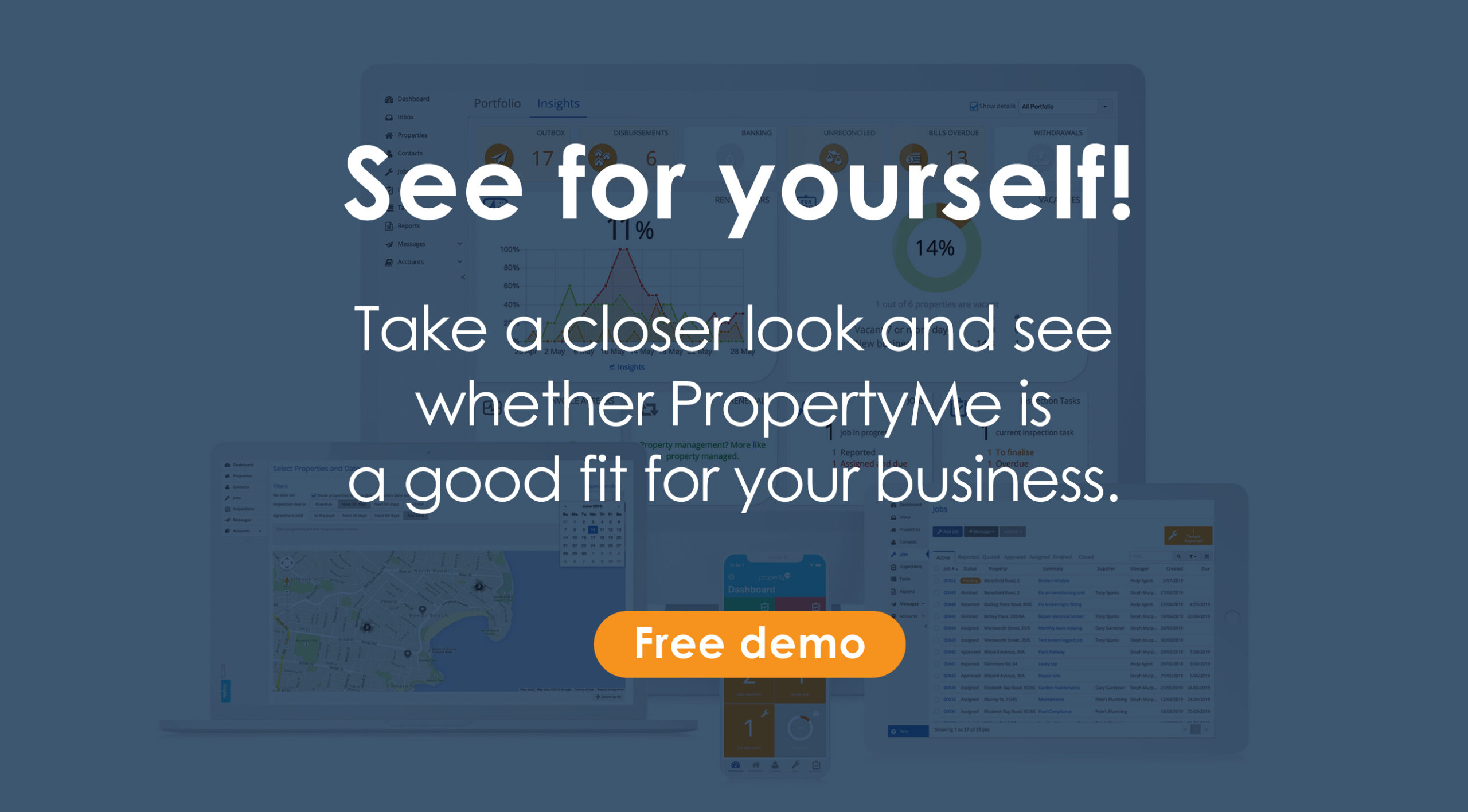 Thanks for reading this blog on how to choose the right property management software. You might also be interested in:
Let us know your thoughts on How to choose the right property management software by emailing [email protected].