Here at PropertyMe, we know that Property Managers like yourself deal with lots of sensitive data on behalf of your owners and tenants every day. That's why security is always top of mind for the PropertyMe team.
Not only do we invest in the most advanced technology available for online security, but we also have multiple layers of security built into our applications and systems to ensure that your client and portfolio data is protected at all times.
Find out how we ensure top-level security to keep your data and your clients' data safe:
Encryption
Encryption is the "process of encoding a message or information in such a way that only authorised parties can access it and those who are not authorised cannot". It helps reduce the risk of data theft, destruction and tampering.
Here at PropertyMe, we use 256-bit SSL (Secure Sockets Layer) encryption which is the same level of encryption used by banks and financial institutions. All customer data is encrypted in transit and at rest.
Layered architecture
We built PropertyMe with a layered architecture so that our core systems aren't exposed to the internet. This ensures tight control of what services can be reached from within the system. Additionally, you can rest assured that these security layers are frequently audited and updated to keep up with the latest security advances.
Secure passwords
We encourage all users to create passwords that are at least eight characters long and which include numbers and both upper and lowercase letters. In addition to that, your password should not include recognisable words or names, repeated characters or personal information like your birthday or your mother's maiden name and should not be something that you've previously used.
If you have trouble remembering your passwords, you can try using a password manager like LastPass.
Two-factor authentication
In addition to a strong password, two-factor authentication adds an extra level of security to prevent unauthorised access to your portfolio.
PropertyMe requires a unique code generated by the Google Authenticator app on your smartphone which means that, even if your password were to be stolen, an unauthorised user on a new device would not have access to your smartphone to generate the second factor code.
Security in the cloud
As your data is stored securely in the cloud, your data isn't left vulnerable to hardware theft, power outages and physical disasters. It also mitigates the risk of security breaches that occur as a result of malware and viruses.
Moreover, regular security updates ensure that your data is always protected from the latest threats while automatic backups make it easy to recover and restore previous iterations in the event of a security breach.
Learn more about the Top 6 Benefits of Cloud Property Management Software.
Granular user management options
Once you've granted a team member access to your portfolio, you can customise their access to control what they see or do in your portfolio, revoke their access, remotely log them out, reset their password, reset their two-factor authentication or expire a device's authentication altogether. This is particularly useful when an employee or property manager leaves your agency.
Automatic lockout
PropertyMe automatically locks your account for 15 minutes after three failed login attempts. This helps prevent attempts by unauthorised users to guess your password using computerised tools.
Sign-in notifications and sensitive alert emails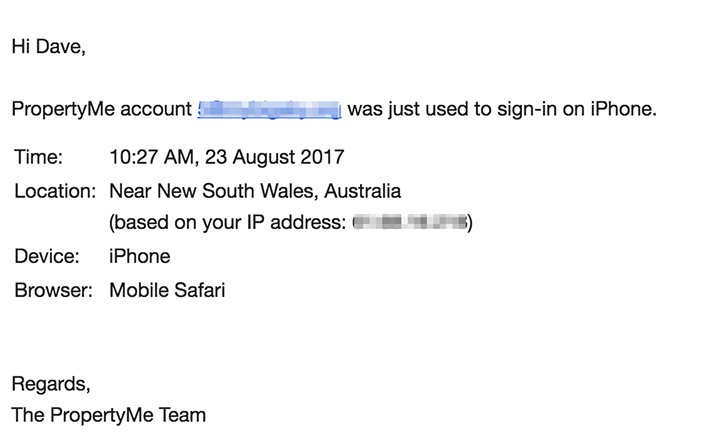 PropertyMe will send you an email if sensitive changes have been made or when someone tries to access your account from a new computer or mobile device. These messages allow you to quickly identify any security breaches and take action if you don't recognise the activity.
Activity logging
PropertyMe records every change in the system, including all material changes to data, along with who made the change and when the change was made. This helps you keep track of what users are working on and makes it easier to detect fraud and theft.
Automatic log out
If you are logged into PropertyMe and are not actively using the program, it will log you out in case you have left your computer unattended.
Hopefully, you enjoyed this PropertyMe Feature Spotlight on Security. If you're a PropertyMe subscriber, be sure to check out our Knowledge Base for step-by-step guides.
If you're new here, PropertyMe is game-changing cloud property management software that you can access from anywhere, anytime. Book a free demo today to see why thousands of property managers have switched.
You might also be interested in our Top 6 Real Estate Cybersecurity Tips and Is Your Data as Secure as You Think? and PropertyMe Customer Story: deVille Estate Agency.
Did we miss anything in this PropertyMe Feature Spotlight on Security? Please let us know in the comments below.