deVille Estate Agency migrated to the PropertyMe cloud after their server-based data was held to ransom in 2015. Not only was PropertyMe able to salvage some of their data but they've drastically improved their time efficiency and productivity since. Here's their PropertyMe customer story:
Hi Danielle, can you tell us a little more about yourself and deVille Estate Agency?
I'm Danielle, I'm the General Manager as well as the Senior Property Manager here at deVille.
The real estate agency was established over 12 years ago by our Director, Sam Khalil. And since then, he's opened offices in the Hills district, inner west, west…all properties around western Sydney, inner Sydney, so we service a lot of areas.
What problems did you have with your property management software prior to joining PropertyMe?
The other program that we were with had a tendency of always freezing, whether it was between mid-month and end of month or processing transactions. So one of our main concerns was that we would be in the middle of mid-month or end of month and the program would completely freeze.
To fix this, we would have to log a support call to that program and wait for them to get back to us. This would take up to 24 hours to do so, and until we can rectify that mistake, we could not move forward, which means our landlords could not be disbursed that day for end of month.
So PropertyMe solves these problems–I will log a support ticket and they'll get back to me straight away with an email saying I've got your support ticket. Within 10 to 15 minutes, I will have a step-by-step on how to sort the issue.
What was the transition to PropertyMe like?
Before we changed over, he (one of our setup specialists) just asked us to clean up a few things to make the transition a lot cleaner.
So once we had done that, moving forward, it was an easy transition.
We got step-by-step from PropertyMe on how to upload our database into the PropertyMe database, and literally, I sat there while it got done. It was very quick! I uploaded our database from our previous program into PropertyMe and it did everything itself.
What are your favourite PropertyMe features?
End of month and disbursements
I have a few favourites–one of the most favourite would be end of month because I could be anywhere and running it.
So recently, I had back to back open homes on an end of month day. I was in the middle of an open home, running end of month from my laptop and it literally takes me 5 to 10 minutes, where previous programs, I could be there for hours just trying to reconcile, get into the next step…
Disbursements, it's literally a click of a button and it's all done.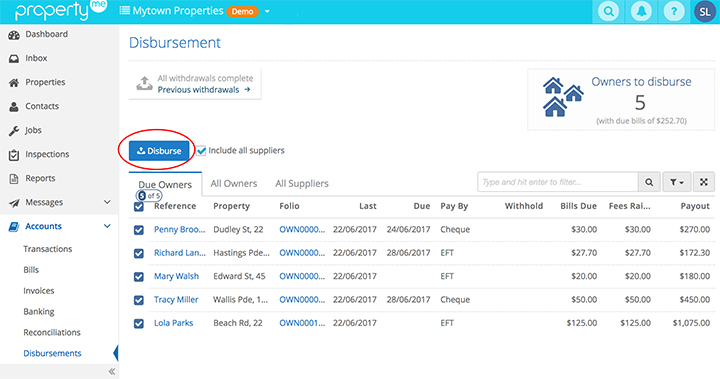 How has PropertyMe changed the way you do things at deVille Estate Agency?
One of the biggest feedbacks we've received as an agency is around the online portal because a lot of overseas investors do not get a chance to call us within working hours.
So they log in overseas and access everything 24/7. It's service that you're providing to a landlord, but not actually delivering it…because all they do is log in.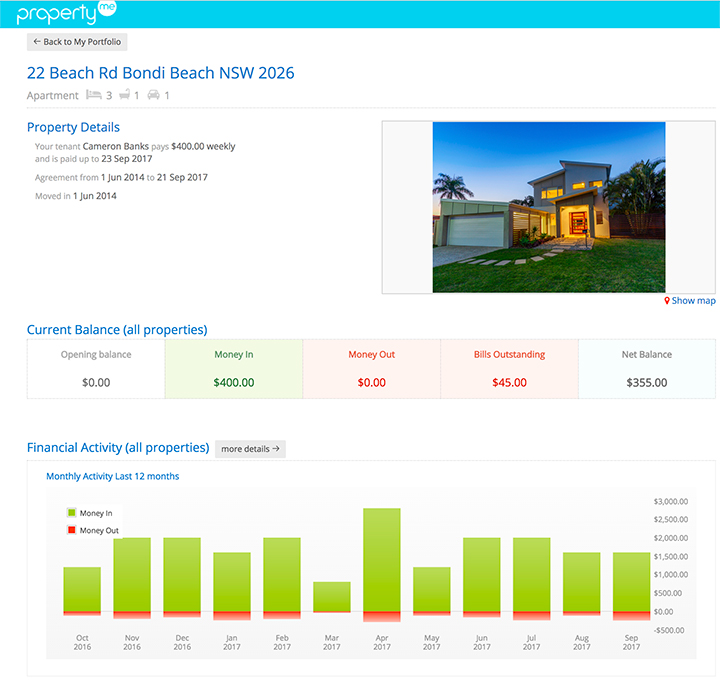 Time efficient workflows
PropertyMe is very time efficient. We actually don't have a full time accountant anymore. We actually do a lot of it ourselves because there are systems in place, reporting and easier options on how to structure your software and program and delegate duties.
Inspection planning feature allows for better time management
For example, with inspections, you click a button and it'll tell you what's overdue and it will calculate the distance between every property. Before with previous programs, I would have to sit there and work out manually how long it would take to get to another property. So in terms of time management, I think it's fantastic.
Would you recommend PropertyMe to other property managers?
I would 100% recommend it to anyone in property management or anyone looking to make their staff more time efficient and looking to improve their systems within the office.
Watch the full PropertyMe Customer Story below:
Thanks for reading! PropertyMe is the most advanced property management software in the cloud. With an easy-to-use interface, comprehensive property accounting, built-in inspection and maintenance tools, mobile app and client access, you'll be falling in love with PropertyMe in no time.
Book a free demo today and see why thousands of property managers have switched.
Got questions for us? Leave us a comment below!