Your property management software is an integral part of your day to day toolkit as a property manager. When used to the fullest, your software can unlock greater efficiency, higher levels of service and help you minimise costs, which will ultimately lead to greater revenue.
Whether you are looking to switch software providers or contemplating signing up for the first time, these are the most important questions you need to ask property management software providers.
Basic
Get acquainted with the company and software by asking some general questions such as:
Is your software cloud or server-based?
How long has your business been operating?
How often do you release updates?
Do you have a status page that shows incidents?
What equipment do I need to run the program?
How many users can I have?
Do you offer a free trial?
Do you have a demo portfolio I can play around with?
Do you have mobile apps for iOS and Android devices?
Will I be able to access my data if I were to ever unsubscribe from your platform?
What programs integrate with your property management software?
What data security measures do you have in place?
If I have a feature request, where can I submit it?
Can I get early access to new features and provide feedback?
Pricing
To make the best financial decision for your business, it's crucial to find out the total cost of the software to your business. You can ask questions like:
What are your monthly price packages?
What is your onboarding or setup cost?
Will I be charged for training or support?
Are there any additional fees and charges on top of the monthly cost?
Am I locked into a contract for a certain period of time?
How are fee payments managed?
Onboarding
If you're switching software providers, all of your data will need to be transferred over to your new program of choice. You can find out what the onboarding process will look like by asking questions such as:
Can you step me through the onboarding process?
Is data migration automated?
How long will data migration take?
How much of the data will come over in the migration process?
Can I perform trial migrations to see what data comes across?
Will I have a dedicated specialist to guide me through the process?
Support and training
If you've ever spent an hour waiting on the phone to ask a simple support question, it's likely that you'll appreciate multiple support options and transparent wait times.
Be sure to find out how your software provider facilitates support by asking:
What type of support options do you provide?
What are the average wait times for each support channel?
Do you have an online knowledge base?
What is your average first response time?
What is your average full resolution time?
What is your customer support satisfaction rate?
Do you have an online user group or community discussion area?
Do you have partners that provide in-person training or additional support?
Is your training program live or on demand?
How do I access your training portal?
If we have new staff, will they be able to access your training program?
Trust accounting
Trust accounting is a crucial part of your job as a property manager, so your software should have workflows in place to help you automate repetitive tasks and increase efficiency. You can ask questions like:
What workflows do you have for trust accounting?
How do I enter management fees?
How do I complete a disbursement?
How is mid month and end of month completed?
Will your system generate statements for my owners?
Do you have a bill scanning feature or will data need to be manually entered?
Performance management
As a property manager, maintenance and inspections help keep your clients' properties in tip-top shape. Streamlining these tasks can save you hours every week, so be sure to ask questions such as:
What workflows do you have for maintenance and inspections?
Can I create and customise inspection reports?
Can I plan inspections through the software?
Do you have an inspections app?
Do you have a tenant inspection app?
What is the maintenance and repairs feature like?
Can I generate maintenance quotes?
Can tenants log maintenance through the tenant portal?
Does maintenance show up in the relevant owner portal?
Communication
Customer satisfaction is often contingent on your level of communication and service. That's why your software should have features that assist you in keeping your owners and tenants in the loop. You can ask questions like:
Do you have owner and tenant portal features?
If so, what can my owners and tenants see in their portals?
Are there templates built into the software for standard emails, letters and SMS?
What workflows do you have for communication?
How are internal communications managed?
Can emails be sent and received directly from the software?
Do messages have read receipts?
Reporting and compliance
Reporting and compliance are critical to your business' growth and livelihood. Here are some important questions to cover:
Is there a centralised place to track things such as rent arrears, vacancies, maintenance, inspections and KPIs?
Can I filter and customise reports?
Is your software trust account compliant?
Does your software comply with local legislation?
Does your software log activity with timestamps and dates?
How can I keep track of tasks such as smoke alarm and pool compliance?
Free comparison guide
If you're looking to upgrade your software, be sure to download our property management software comparison guide so you don't miss any important questions.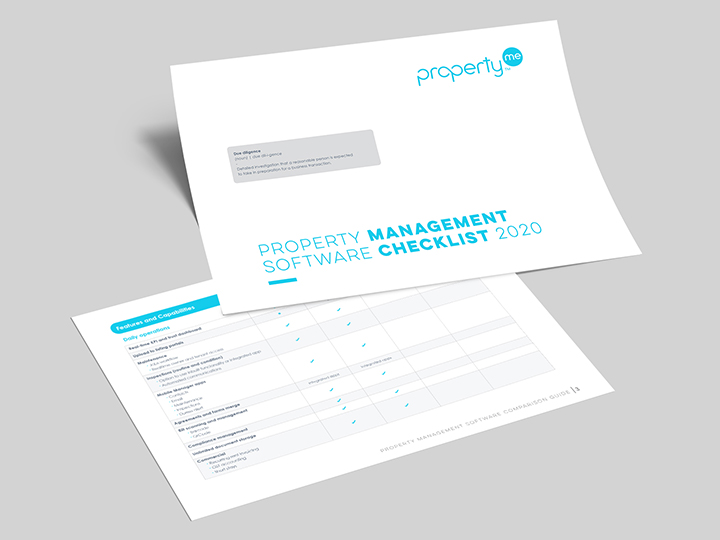 Thanks for reading this blog on the most important questions you need to ask property management software providers! You might also be interested in:
Let us know your thoughts on 65 questions you need to ask property management software providers by emailing [email protected].