Looking for fresh, engaging real estate newsletter ideas?
Well, look no further. Here are 25 tried and tested real estate newsletter ideas to help you generate leads, spark conversation and boost open rates and click-through rates. Let's dive right in!
1. Summarise local market insights
A great way to position yourself as a knowledgeable agent is to summarise local market insights. You can find local market insights in news publications, Realestate.com.au's Property Outlook Report and CoreLogic's Housing Market Update, just to name a few. Here's an example sent by Mortgage Choice.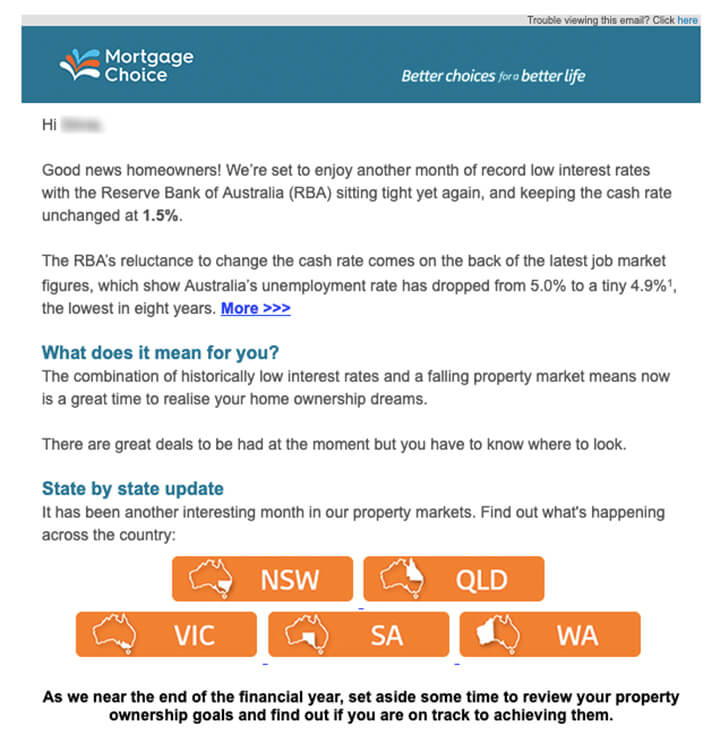 Additionally, if you have the resources, create a short market update video every month. Statistics show that including a video in an email doubles the click-through rate and reduces opt-outs by 75%.
2. Spotlight a suburb
In your next real estate newsletter, spotlight a burgeoning suburb to attract buyers and renters to the area. Highlight desirable amenities and paint a picture of the kind of lifestyle they could lead if they lived there.
You can find more information about a suburb's demographics, median property prices and lifestyle using Realestate.com.au's Neighbourhoods tool or Domain.com.au's Suburb Profile tool.
3. Feature happy clients
Statistics show that 84% of people trust online reviews as much as personal recommendations. That's why you should include client testimonials in your real estate newsletter. After all, happy clients are quantifiable proof that you're a trustworthy and reputable agent. Here's an example sent by Stepps.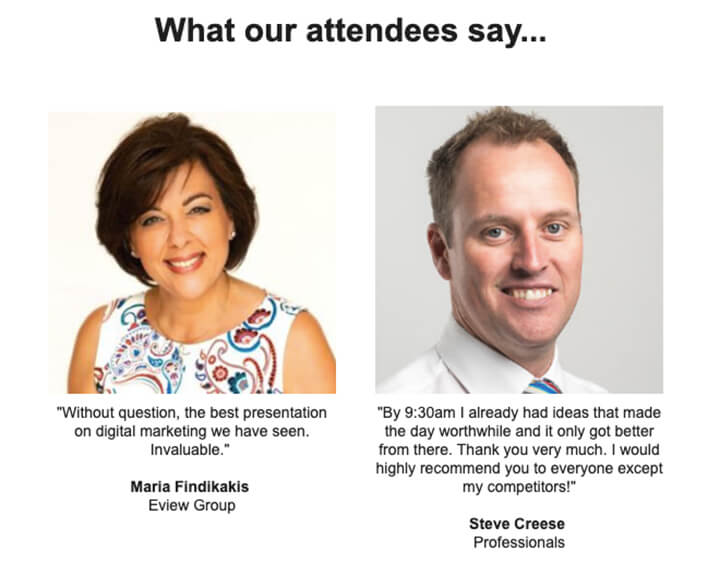 4. Showcase interesting properties
If there are any noteworthy or interesting properties in your area, be sure to showcase them in your real estate newsletter to boost engagement. For example, this investment property owned by actress Rebel Wilson was leased at the end of last year, these gorgeous homes were converted from churches and these homes are both amazing and unusual.
5. Round up new property listings
Just listed a new property? Round up your latest listings once a month and send them to your relevant audience segments. Here's an example sent by Ray White Hurstville.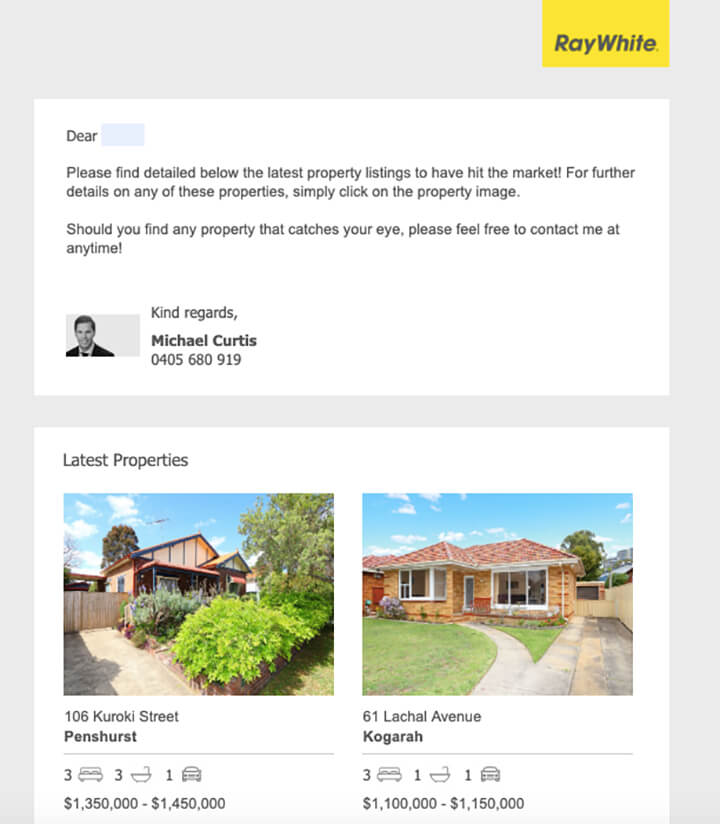 6. Feature local vendors
Local vendors are influential in the community as they interact with your potential customers every day. That's why featuring a local vendor in your newsletter is a win-win situation: they get free exposure while you deepen engagement with the community and boost readership. After all, it's likely that your vendor will forward their feature to their friends and family!
7. Create a calendar of local events
At the beginning of every month, check your local city or council website, Time Out or Concrete Playground to find out about upcoming events. Create a calendar of local events to share in your real estate newsletter to keep your audience informed.
8. Curate a list of resources for buyers
Your buyers have subscribed to your newsletter for a reason: perhaps they've attended one of your open homes or they've downloaded a First-Home Buyers Guide from your website. Either way, they're looking for more information to help them purchase a property.
Depending on what buyer type they are, curate a list of online resources to include in your real estate newsletter. For example, first-home buyers need information on financing options, the homebuying process and common pitfalls to avoid. This differs greatly to what an investor needs.
9. Curate a list of resources for sellers
Similarly, what online resources are available for your sellers? For example, Gavl Live Auctions allows your sellers to research the market and watch their auction in real-time if they can't be there and Commbank Property and Domain's Home Price Guide are two great tools for assessing property prices.
10. Curate a list of resources for renters
Don't forget about your renters! Curate a list of online resources to send to your renters. Here are a few of our favourites:
11. Write about topics of interest
Put yourself in the shoes of your buyers, sellers and renters. What information are they looking for and what questions do they need answered?
Here are some ideas to get you started:
How to refinance your mortgage
The do's and don'ts of decorating your rental property
Do I need renters insurance?
What is negative gearing?
What are the costs associated with selling my property?
Link to these blog posts in your newsletter to drive traffic back to your website.
12. Round up your best blog content
Depending on how often you're publishing blog posts, round up your top performing blog content in a monthly, bi-monthly or annual wrap up to amplify it. Here's an example sent by Wistia.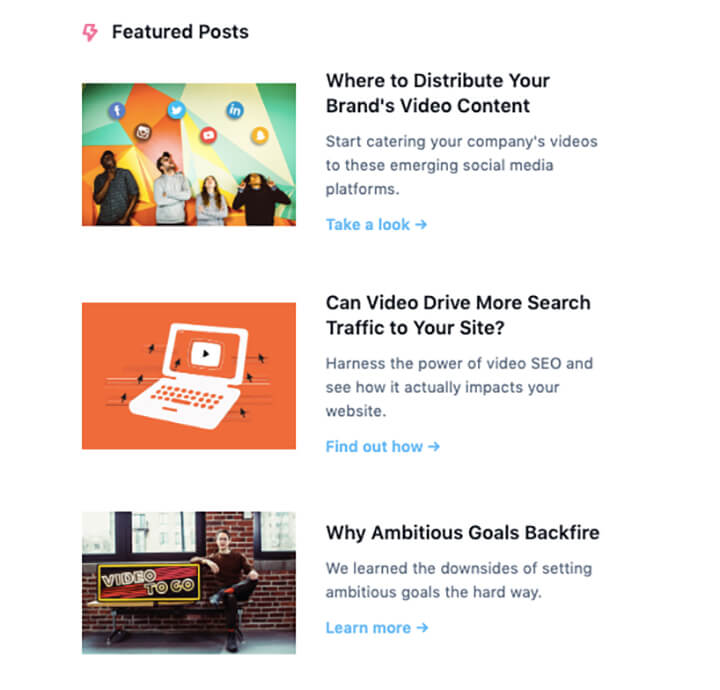 13. Run a straw poll
A straw poll is an ad-hoc or unofficial vote that helps you understand the public opinion on a certain person or issue. For example, you can poll buyers and sellers on how they feel about bitcoin property transactions or poll renters on their favourite amenities. Results of the straw poll can be featured in your next real estate newsletter.
14. Highlight your Net Promoter Score
Your Net Promoter Score (NPS) is a measure of your customer satisfaction levels and overall brand perception. It shows how likely your customers would recommend your real estate brand to a friend or colleague. Don't be afraid to highlight your NPS in your newsletter to provide social proof and build trust!
Learn more about The Shift Towards Customer Experience in Real Estate.
15. Include a checklist
Checklists are an easy and useful way to summarise how-to guides and simplify process-based tasks. Here are some checklist ideas to get you started:
First-home buyer checklist
Checklist of things to look out for at an open for inspection
Move-in checklist for buyers and renters
Home selling checklist
Not only do these checklists provide value to your audience, but they also help you lead into long-form content such as definitive guides and ebooks.
16. Write about real estate technology trends
Technology has greatly impacted the real estate industry in the past decade. Think smart home technology and its effect on property prices, the ability to 3D print a home, the rise of automation, blockchain transactions in real estate and marketing properties using virtual reality and augmented reality. These are all newsworthy topics that can pique your audience's interest.
17. Showcase your company's story
Showcasing your company's story is a great way to broadcast your brand value, establish trust and communicate your agency's mission, services and achievements. Be sure to link to your About Us page or to your company profile video so that your audience can find out more information.
18. Feature your employees
Similarly, featuring your employees in your newsletter can showcase the personalities behind your brand and help your audience create a personal connection. Ask your employees about their work experience and what they're proud of, why they entered the real estate industry and what they like to do outside of work hours.
19. Promote an event
If you're attending a tradeshow, running an event at a local cafe or hosting a Facebook Live, be sure to let relevant buyers, sellers and renters know. Any chance to connect face to face is a good opportunity to get to know your audience and further build the relationship.
20. Round up the latest industry news
Like LinkedIn's Daily Rundown, you can round up the latest industry news for specific audience segments. This positions you as an authority while removing the burden of constantly creating your own content. Simply summarise selected articles and link to them in your newsletter. Here's an example sent by CRETech.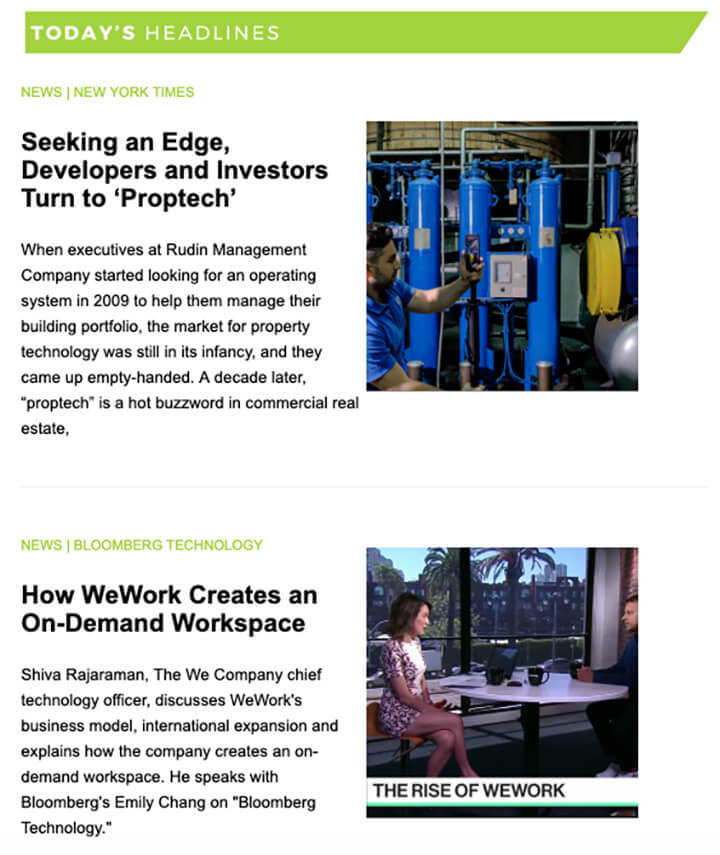 21. Create a relocation guide
Relocating is often a stressful time for buyers, sellers and renters. Help take the stress out of their big move with a detailed relocation guide in your next real estate newsletter. Be sure to include a checklist of things to do before and after moving and contacts for furniture removalists, couriers, cleaners and tradesmen.
22. Collaborate with a finance expert
Collaborate with a finance expert to create an engaging blog post or video series targeting different audience segments. For buyers, the series can be around different financing options and the costs associated with buying a property. For renters, it might be on clever ways to save money around the house. Tease the series in your newsletter before releasing it week by week or month by month.
23. Cover the latest government initiatives for buyers
Government initiatives for buyers are changing all the time: South Australia recently rolled out the HomeStart Finance program for first-home buyers and the Northern Territory are offering a construction bonus for first-home buyers and existing homeowners wanting to build a new home.
Your buyers may not be aware of all the latest government initiatives available to them. Be sure to check out the First Home Owner Grant website and seek out information about the latest grants, stamp duty exemptions, government-backed programs, discounts and rebates to include in your real estate newsletter.
24. Provide a company update
Did you just hire a new property manager or win an industry award? Is your company volunteering their time for the community? Whatever the occasion, let your buyers, sellers and renters know and keep them in the loop!
25. Explain real estate jargon
Every industry has its own jargon and the real estate industry is no different. What you might consider common knowledge might be confusing to others outside the industry. To help your buyers, sellers and renters out, create an A to Z glossary of various real estate terms. Publish this on your blog to drive traffic from your newsletter to your website.
If you enjoyed this blog post on real estate newsletter ideas, you might also be interested in 7 Time Management Tips for Real Estate Agents, Best Real Estate Video Apps and 8 Ways to Attract New Property Owners.
Did we miss anything in 25 Real Estate Newsletter Ideas to Boost Engagement? Please let us know in the comments below.