Want to create beautiful real estate videos but don't have the budget? Fret not, we've compiled a list of the best free and low cost video apps to help you out.
You can create slideshow and property listing videos to generate more enquiries, customer testimonial videos to attract more clients and marketing videos to increase your brand awareness. Let's dive right into the best real estate video apps of 2021!
1.Promo (web app only)
Promo is like Canva, but for real estate videos. It allows you to easily create real estate videos in minutes using pre-made, customisable templates. Simply add your logo, select photos and videos of your listings, change the text and download your video in different sizes for Facebook, Instagram and more.
Also, you can search through an extensive library of real estate video templates, access high quality stock videos and photos, resize images and photos, create Facebook video covers and even use their free social calendar if you're stuck for ideas.
Promo is available as a web app only.
2. Videoshop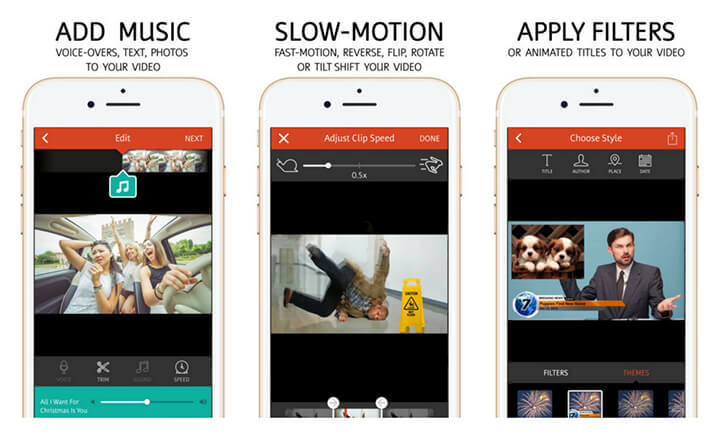 Videoshop is one of the best real estate video apps on the market. Packed full features, you can quickly trim and merge clips together, add music, sound effects, text and voice overs as well as apply transitions and filters to personalise your videos. Add photos from your camera roll to create a slideshow or stop motion video and easily share your creation straight from the app.
You can also adjust video speed to highlight the unique features of a property. For example, you can slow down the video to accentuate the marble countertops or speed up the video to showcase a stunning sunset from the balcony.
Videoshop is available on iOS and Android.
3. Magisto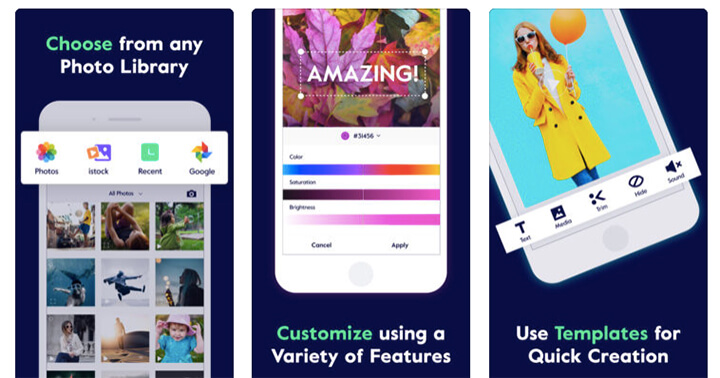 Magisto is much more than a real estate video editing app. It's also a video marketing platform with omni-channel distribution to the likes of Facebook, Instagram, Whatsapp, Youtube and Twitter at the touch of a button and engagement analytics to provide insight into your audience's viewing behaviour.
Moreover, Magisto's intelligent video editor uses artificial intelligence to analyse uploaded footage to detect faces, objects and speech, track motion and classify different types of audio. Subsequently, it automatically combines different elements of your footage, your chosen text and soundtracks to tell your story. So if you're a time-poor real estate agent, this is the video app for you!
Magisto is available on iOS and Android.
4. Instagram
Boasting over 1 billion monthly active users, Instagram is a social app that allows you to capture, edit and share photos and videos with the community. Your videos can be between 3 to 60 seconds long and you can tag locations, add real estate hashtags to increase visibility and even share them to other popular social networks like Facebook at the same time.
There's also a built-in Stories feature that allows you to post 24-hour disappearing content. Meanwhile, Instagram Live allows you to connect with your followers in the moment. These features are great for behind-the-scenes footage of you preparing for a showing or participating in community events.
Instagram is available on iOS and Android.
5. Hyperlapse (iOS only)
Love time lapse videos but don't have the equipment for it?
Hyperlapse allows users to easily create polished time lapse videos without the need for bulky cameras or tripods. Simply lean your smartphone against something stable and press record to capture a before and after renovation video or showcase how a property transforms between sunset and dusk.
Additionally, you can shoot handheld time lapse videos while you're walking or running thanks to the app's automatic stabilisation. Try your hand at creating first-person time lapse videos to provide a different perspective and set yourself apart from other agents.
Hyperlapse is currently only available on iOS. If you're an Android user, here are a few alternatives.
6. Ripl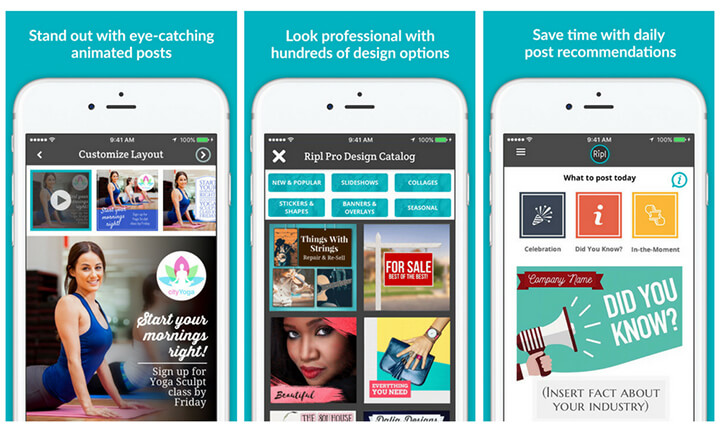 If you want to create eye-catching animated videos for social media, Ripl is your best bet. The app lets you customise post designs, create collage and slideshow videos, share your videos to social media in seconds and track weekly engagement. What's more, the Smart Post Recommendations feature provides daily inspiration for what to post next if you're stuck for ideas.
As a real estate agent, you can use Ripl to create property listing videos, video ads, collage videos of community events and did-you-know and how-to videos.
While Ripl is free, the Pro subscription unlocks additional features such as post scheduling, pro design catalog, pro font and music library and the ability to export your videos for use elsewhere.
Ripl is available on iOS and Android.
7. Boomerang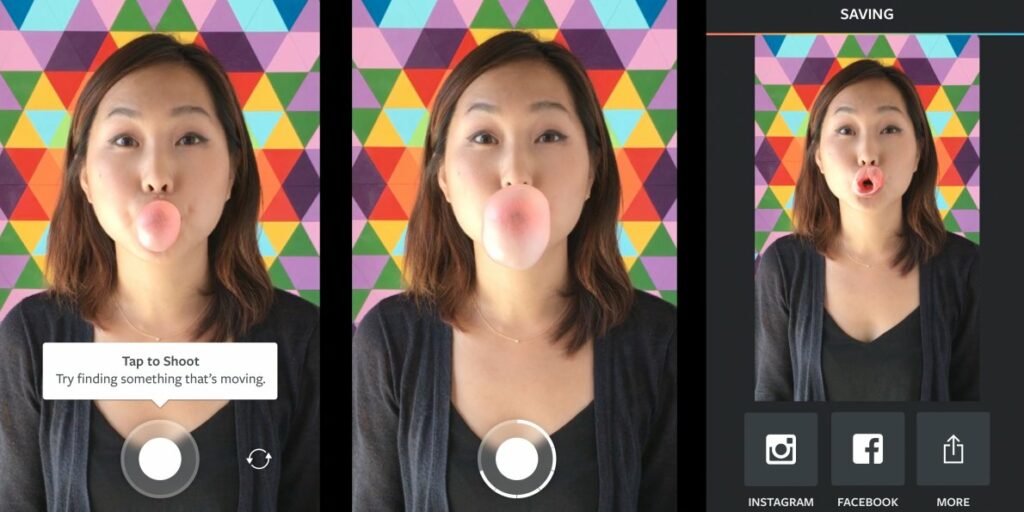 Boomerang is another app by Instagram that makes creating social media videos fun and easy. Simply find someone or something that's moving then tap the button to capture a burst of ten photos. The photos are then automatically stitched together to create a mini video that loops back and forth. It's that easy!
With Boomerang, you can draw attention to desirable features like large windows with gorgeous sunlight, stainless steel amenities or an outdoor pool by creating a little movement. You can also capture the lifestyle of a neighbourhood by creating Boomerang videos of nearby cafes, parks, bars and shops.
Boomerang is available on iOS and Android.
8. Animoto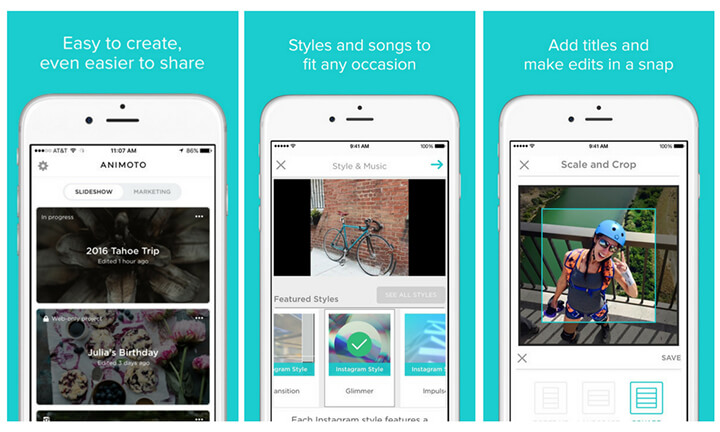 Featured on publications like the NY Times, Forbes and TechCrunch, Animoto is easily one of the most popular real estate video apps on this list. The app lets you create high quality, dynamic slideshow videos in a matter of minutes with hundreds of video styles and a growing library of licensed songs.
To create a video, simply add photos and video clips from your camera roll, iCloud or Facebook account. Next, select a video style and add music, titles and captions before doing some final edits. Once you're happy with the preview, you can produce and share your video straight from the app.
While the Animoto app is free, you can upgrade to a paid subscription for additional features like HD video, extended video length and access to their powerful desktop app. Here are some more ideas on how to use Animoto for real estate.
Animoto is available on iOS and Android.
Hopefully this blog post on the best real estate video apps has helped you create beautiful real estate videos! If you're stuck for ideas, here are 10 videos every real estate agent should create.
You might also be interested in How to Grow Your Property Management Business Using Facebook, 8 Ways to Attract New Property Owners and 10 Incredibly Useful Tech Tools Every Real Estate Agent Needs.
Did we miss something in Best Real Estate Video Apps 2021? Please let us know in the comments below.