Did you know that 1.28 billion people use Facebook each day? That's 1.28 billion people you could potentially reach with your Facebook posts and advertising. However, it wouldn't be wise to do so as you would be wasting your time and money on empty prospects.
Assuming you've already set up your Facebook business page, here's how to effectively reach your audience and grow your property management business using Facebook:
1. Post regularly to build your audience
Posting regularly on Facebook is essential to building your audience, driving traffic to your website and staying top of mind. In fact, studies show that the more someone is exposed to a brand, the more likely they'll have positive feelings about it, making it easier to convert them into customers.
One of the first steps to achieving this is to create a content calendar on Excel or Google Sheets to plan Facebook posts and to track results. Click here to download our Facebook Content Calendar Template. For example, you might find that posting on the weekends results in more engagement (likes, comments and shares) compared to posting on weekdays. It's a good idea to test different types of content and different posting times to find out what works best and when.
Additionally, you can deep dive into your Facebook page results by looking at your Page Insights. From here you can:
See what time your audience is online
Find out what content your audience prefers
Track competitor pages
Track actions on your page such as website clicks
Be sure to use Facebook Publishing Tools or social media management tools like Hootsuite to schedule your Facebook posts in advance and automate your posting.
2. Give people a reason to follow you on Facebook
While it's important to post regularly, you need to give people a reason to follow your business on Facebook. This is where content is king (thanks Bill Gates) as the right content is the key to attracting the right audience. This can come in the form of relevant or interesting property content, beautiful real estate photos and videos, local and industry news or even competitions.
One way to learn more about what your audience likes and knows about is to use Facebook Graph Search (pictured below). You can enter "Pages liked by people who like [Your Business Page Name]" in the Facebook Search bar and it'll return a list of pages that your audience likes. From here, you can create Facebook posts that are more tailored to your audience.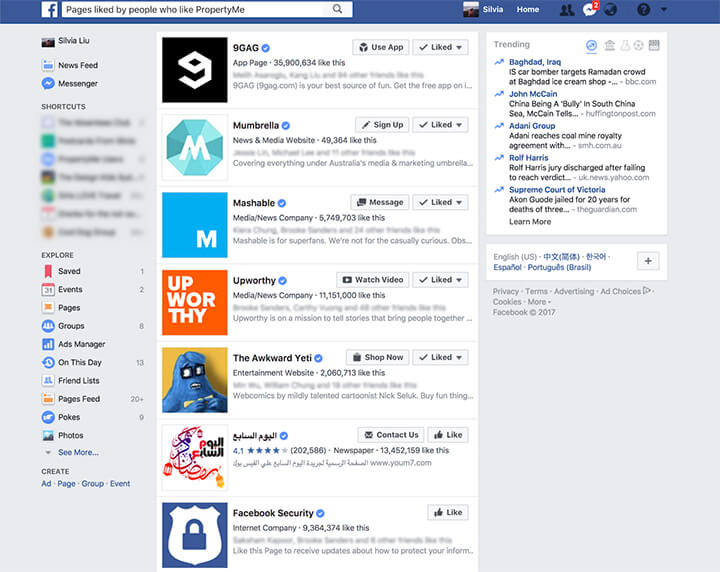 3. Engage with the Facebook community
As your Facebook audience grows, so will the number of messages and comments you receive. Be sure to treat your audience as you would an offline prospect and reply to their questions as quickly and as helpfully as possible. If you manage to get your response time under 15 minutes for 90% of your messages in a 7 day period, Facebook will turn on your "Very Responsive to Messages" badge which may entice more people to reach out to you.
Meanwhile, another way to grow your property management business using Facebook is to engage with the wider Facebook community (those who don't follow your page). It's a good way to start the conversation with potential leads, build rapport and get your business name out there.
If you're not sure where to start, you can simply like other business pages in your area, join any local real estate bodies or rental groups to stay in the loop and build credibility for your business.
Also, if any of your customers are on Facebook, ask them to like your page and review your business. A higher review score reflects well on your property management business and will further entice others to engage with you.
4. Use geo-targeted Facebook posts and ads
Facebook has some great geo-targeting options that you can take advantage of to grow your property management business. For example, you might want to list a property on Facebook and target audiences in that a particular geographic area. Here's how you can do using organic Facebook posts (free) and paid Facebook ads:
Organic Facebook posts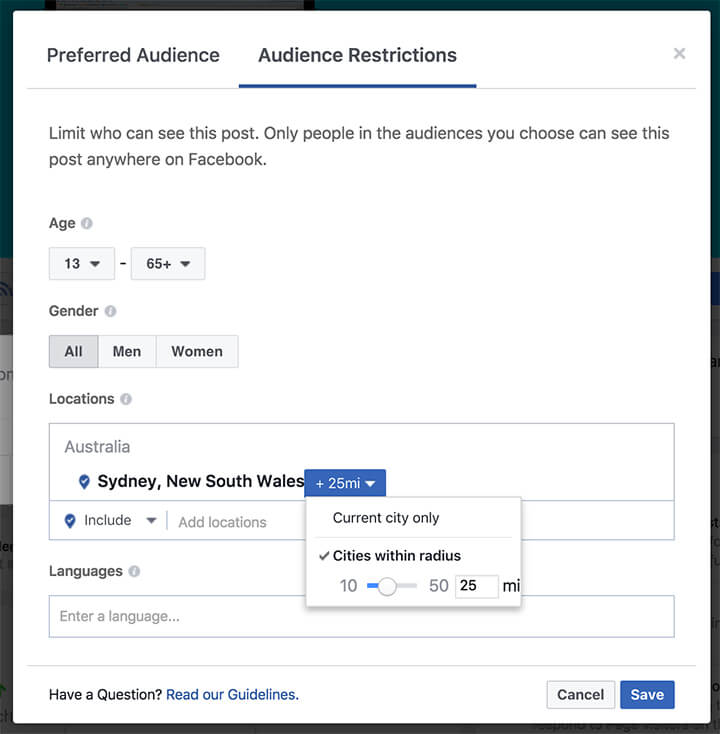 For geo-targeting with organic Facebook posts, simply click on the target icon (circled in red above) to choose your preferred audience. Click on the "Audience Restrictions" tab in the pop-up and enter in the Locations you want. You can choose to include or exclude certain areas and even adjust the radius.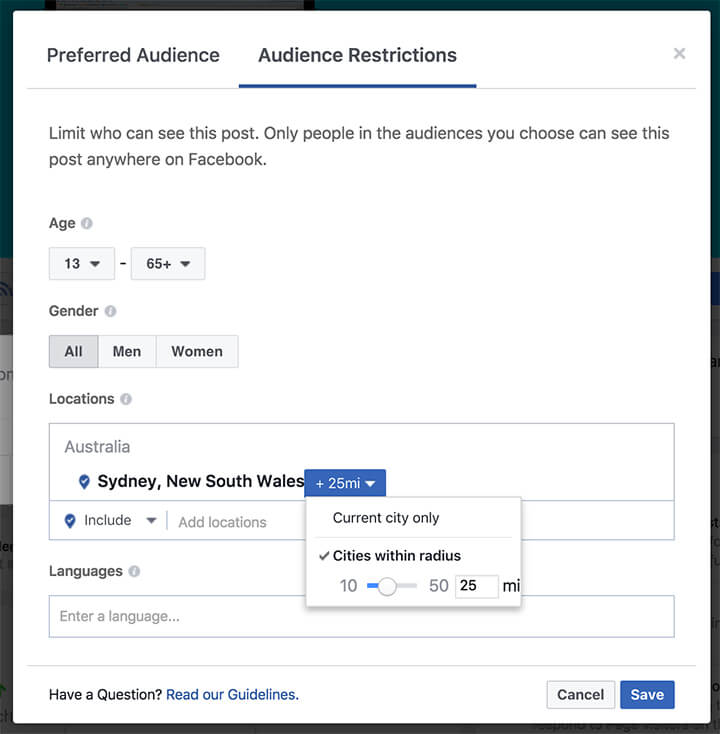 Paid Facebook Ads
For paid Facebook ads, there's a bit of a learning curve but the results are well worth it. You can opt to Boost existing Facebook posts to reach more people or create new ads in the Facebook Ads Manager. There are many ad formats available and you can create different campaigns targeting specific audiences and easily control your budget.
Not only that, Facebook lets you achieve very specific goals with paid adverts. You can increase brand awareness, promote your website, grow your Facebook audience, showcase different properties in a Facebook Carousel Ad, retarget people who have visited your website, generate leads straight from Facebook and so much more.
Not sure where to start? Here's how to get started with Facebook adverts. Additionally, here are some great Facebook ad ideas and examples if you ever need inspiration.
5. Find new audiences using your existing audience
Did you know that Facebook can find new audiences for you that are just like your customers? Well, now you do! You can use your existing customer and prospect data to create Custom and Lookalike audiences on Facebook to reach people who are more likely to be interested in your property management services.
This means that you're not blindly paying for Facebook ads and testing a hundred different things to find new audiences. Instead, you're letting Facebook do the heavy lifting for you, making it less of a guessing game and far more cost effective.
Hopefully this blog post has given you some ideas on how you can grow your property management business using Facebook. Be sure to like PropertyMe on Facebook so you don't miss out on any industry news and property management tips and tricks!
Want more tips to grow your property management business? Check out 52 Ways to Grow Your Rent Roll and 8 Ways to Attract New Property Owners.
Did we miss anything in this blog post on How to Grow Your Property Management Business Using Facebook? Let us know in the comments below.