Here at PropertyMe, we know being a real estate agent can mean juggling a million and one different things at once. That's why we've come up with a comprehensive list of incredibly useful tech tools to help you simplify your workload, increase your productivity and streamline your workflows.
Let's dive into the top 9 tech tools every real estate agent needs:
1. Canva – DIY Marketing Collateral
Canva is an online graphic design tool that makes creating marketing collateral amazingly simple. It has an easy-to-use drag and drop interface with different export options and layouts to choose from. To streamline the design process, Canva has millions of photographs, fonts and graphics to choose from or you can import your own.
For real estate agents, you can easily use their real estate flyer templates, real estate postcard templates, real estate brochure templates and social media graphics just to name a few.
2. Google Suite – Your Office in the Cloud
Google Suite is your office in the cloud. It incorporates tools such as Gmail, Google Drive (online storage), Google Calendar, Google Docs, Google Sheets, Google Slides (presentations), Google Keep (notes and checklists) and Hangouts (video conferences) to streamline your business processes. Check out the full features here.
If you're not already using a cloud solution like Google Suite, we strongly urge you to do so. There are a plethora of benefits associated with cloud software including greater collaboration and flexibility, easier access from anywhere anytime, enhanced security due to constant updates and better data backup and recovery options. Read more about common misconceptions about cloud software.
3. Trello – Task Management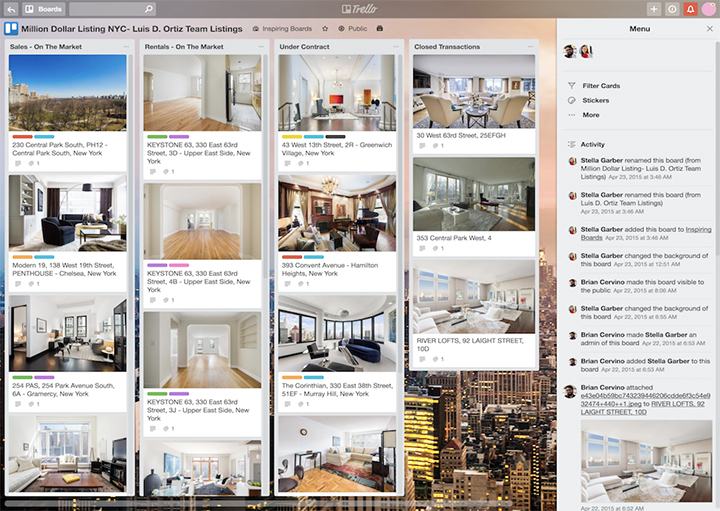 Image credit: Trello.com
Trello is a collaborative task management tool that allows you to organise your projects into boards. You can easily see who is working on what and what stage the project is in. Here are two ready-made Trello boards for real estate agents.
Once you create a board, you can create different lists for different stages of the project and drag and drop Trello cards under the different lists as needed. These update in real-time!
In each card, you can add comments, create checklists, add labels and due dates, upload attachments and start discussions. Additionally, you can invite as many people as you want and view any member activity on the right-hand side. This way everyone is kept accountable for their actions and tasks.
4. Hootsuite – Social Media Management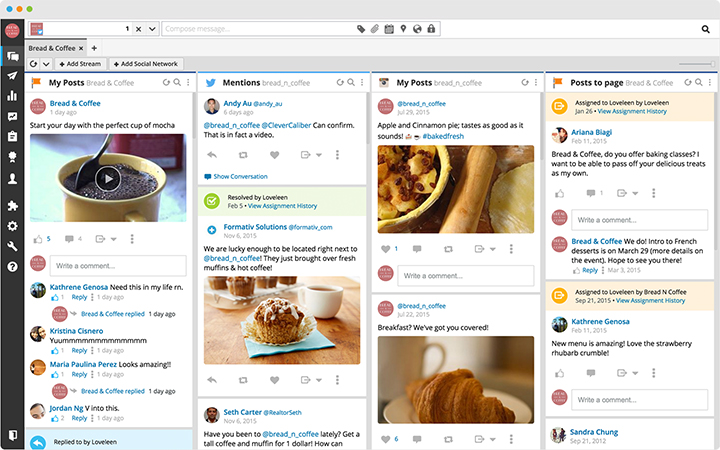 Image credit: Hootsuite.com
When it comes to tech tools that every real estate agent needs, this list wouldn't be complete without Hootsuite. Hootsuite is a social media management tool that makes it easy to manage multiple social networks such as Facebook, Twitter, LinkedIn and Instagram, schedule content and engage with your audience.
This means you can easily grow your social media presence, build brand awareness and generate new leads. The key is to post regularly and create quality content that resonates with property owners and tenants alike. Read more about how to grow your property management business on Facebook.
With Hootsuite, you can post all types of content directly to one or multiple profiles and create targeted posts too. There's also a dedicated area for analytics where you can track follower growth and see engagement reports.
The best part? Hootsuite is free! With the free plan, you can manage up to three social media profiles and schedule up to 30 social media posts each month. If you need more, you can always upgrade to a paid account.
5. Slack – Internal Chat and Collaboration
Think of Slack as a virtual office where you can share files, communicate, search through information archives and collaborate with other colleagues, even if you're out of the office.
Over the years, Slack has evolved from a cloud-based chatroom to a set of team collaboration tools due to the sheer number of apps that Slack integrates with. For example, you can pull in Trello checklists and due dates, social information from Twitter and documents from Google Drive etc.
Within the Slack workspace, you can create different public or private channels to discuss specific topics (e.g. #rentrollgrowth, #inspections, #propertymanagement) or send direct messages to specific members of your workplace. To notify a member and cut through the noise, you can type '@' followed by their display name to alert them. Here's an example: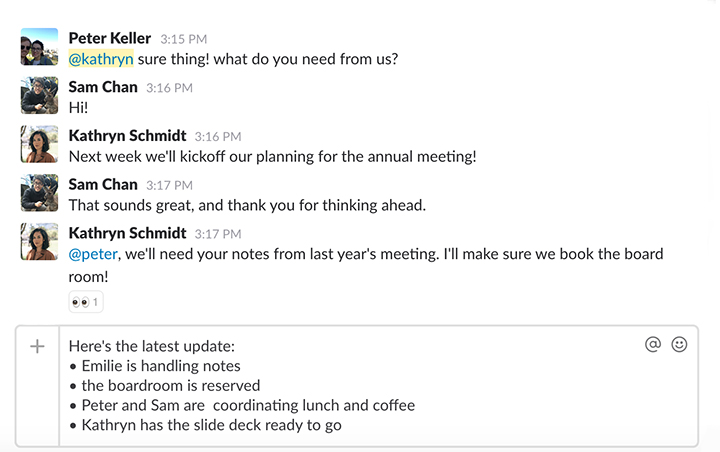 In doing so, Slack can break down the barriers of communication in your real estate business as it allows for a free exchange of information and knowledge. This can help you resolve issues quickly and keep everyone in the loop in real-time.
6. DocuSign – Electronic Signature Service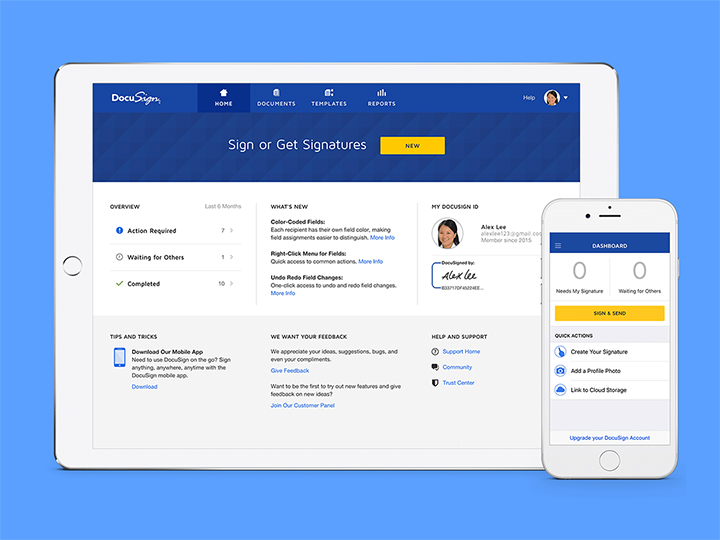 Image credit: Docusign.com.au
DocuSign is an electronic signature service that accelerates transactions as documents are securely managed and stored in the cloud. This means that they can be signed from anywhere, at anytime and on any device.
Not only does this reduce paperwork but it can also dramatically reduce contract reworking due to illegible handwriting and missed signatures. For real estate agents like yourself, this can mean more deals in less time!
7. Streak for Gmail – Simple CRM within Gmail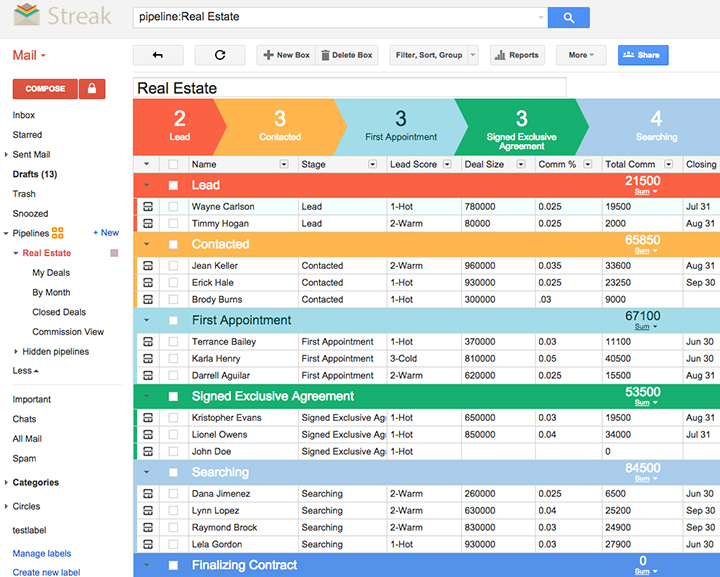 Image credit: Streak.com
Streak for Gmail is a handy Google Chrome extension that helps you manage leads and transactions straight from your Gmail. This means you don't have to continually switch between your customer relationship management (CRM) system and Gmail, effectively saving you time and money.
With Streak, you can view a snapshot of your real estate pipeline at the top of your inbox with deals organised under colourful headings. If you click into a deal, you can see contact details such as their lead score and any previous interactions so you can quickly evaluate where you're at and make informed decisions. You can also perform simple mail merges, track email views, create email filters and set reminders without breaking your workflow.
Additionally, Streak is highly customisable for your needs. You can create different message templates, save deal views, adjust commission formulas and customise columns.
8. Animoto – Real Estate and Marketing Videos
With video marketing on the up and up, every real estate agent needs a reliable real estate video app in their arsenal! Animoto makes creating property listing videos, slideshow videos, testimonial videos and marketing videos a breeze with its pre-built storyboards, growing library of music and drag and drop interface.
Simply upload your video clips or images and drag and drop them in place to create a polished real estate video in a matter of minutes. Remember to share the videos you create on social media and on your website for maximum exposure!
9. Mailchimp – Send Newsletters and Create Ads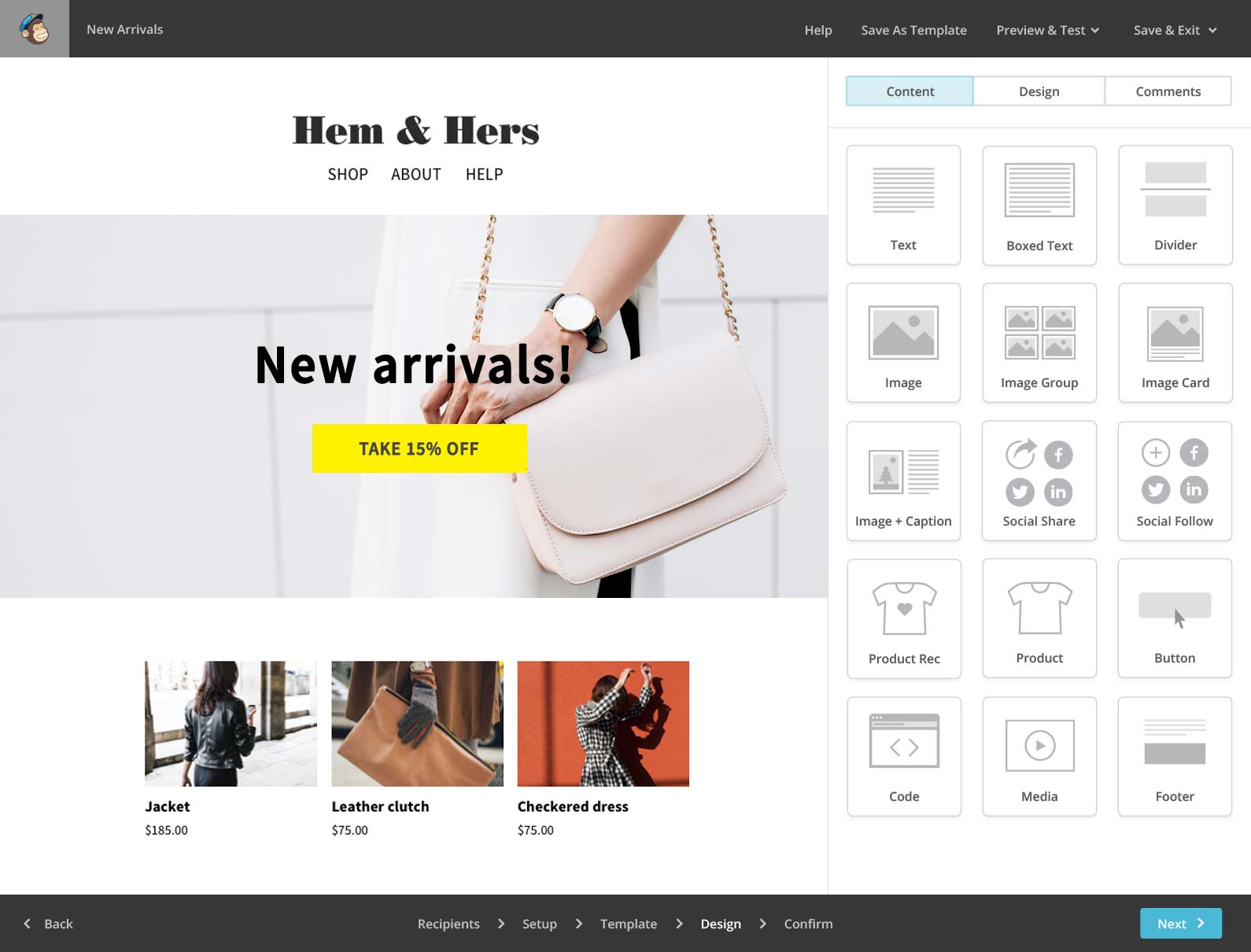 Image credit: Mailchimp.com
The last tech tool that every real estate agent needs is Mailchimp. Mailchimp is a simple email marketing software that allows you to build beautiful real estate emails and newsletters without the need for a designer or developer. All you need to do is choose an email list to send to, choose who the email is from, select an email template or create your own, customise the content, preview the email then send it. Voila!
Sending out a monthly or fortnightly email newsletter is a great way to engage with your clients, tenants, suppliers and leads. However, be sure to always segment your email list to ensure the content is relevant and useful to each audience. If you need some newsletter inspiration, here are 42 ideas.
Additionally, Mailchimp is also a marketing automation platform that allows you to retarget your website visitors with ads or emails, send automated email campaigns to leads and customers and much more. While these marketing automation campaigns require more work to set up, once they're set up, you'll find that they can help you nurture leads and win more clients in the long-run.
To recap…
Here are the top 9 tech tools that every real estate agent needs:
1. Canva – DIY Marketing Collateral
2. Google Suite – Your Office in the Cloud
3. Trello – Task Management
4. Hootsuite – Social Media Management
5. Slack – Internal Chat and Collaboration
6. DocuSign – Electronic Signature Service
7. Streak for Gmail – Simple CRM within Gmail
8. Animoto – Real Estate and Marketing Videos
9. Mailchimp – Send Newsletters and Create Ads
PropertyMe is Australia's largest and most complete cloud property management software. Book a free demo today to see why thousands of property managers have switched.
If you enjoyed this blog post on tech tools for real estate agents, you might also be interested in 5 Surprisingly Simple Tech Hacks to Boost Your Productivity, Best Real Estate Video Apps and PropertyMe Reviews: Hear it from these Property Managers.
Did we miss anything in 9 Incredibly Useful Tech Tools Every Real Estate Agent Needs?