Virtual reality has been making waves since 2010 when the first prototype of the pioneering Oculus Rift was introduced. Since then, technology giants like Google, Samsung and Microsoft have recognised the potential of simulated environments and have jumped onto the VR bandwagon.
In fact, augmented and virtual reality have become so accessible that the market has grown to a US$18.8 billion industry. Meanwhile, consumer virtual reality hardware and software is projected to increase to more than US$16 billion by 2022 and is already transforming the real estate industry.
Wedbush Securities Analyst Michael Pachter told Fortune that he believes Facebook purchased Oculus VR for US$2 billion in 2014 for "VR's real estate potential".
"You could do real estate open houses with 360-degree views and have a client come to your office and check out 50 homes through a head-mounted display and then pick the top ones to visit in person," said Pachter.
However, it wasn't until 2016 that virtual reality really gained momentum in the real estate industry, with the second wave occurring in 2020 as a direct response to COVID-19 open house restrictions. Let's take a closer look at some virtual reality real estate technologies and how they're transforming the industry:
Matterport: Immersive 3D technology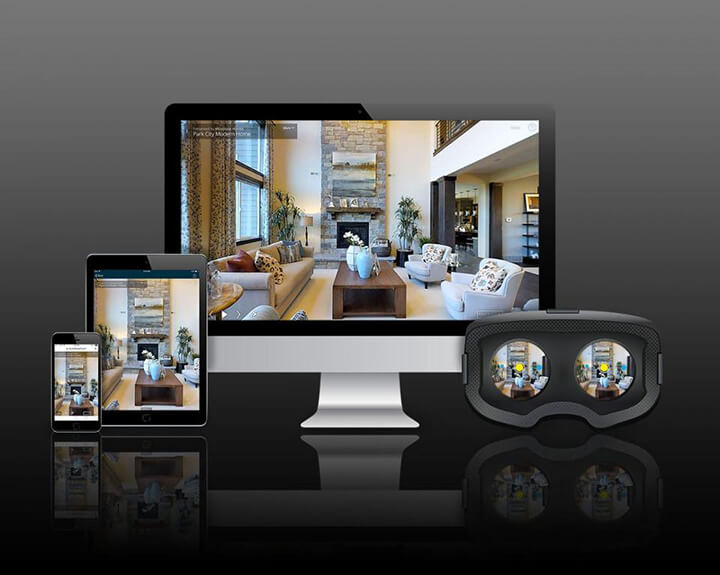 One of the key players in the virtual reality real estate arena is Matterport. Matterport allows you to create your own Matterport Active Space, a three-dimensional representation of a real-world location. This can then be explored using any device and in virtual reality through VR headsets.
Matterport works with a wide range of 3D cameras, 360 cameras and iPhones designed to suit all your capture needs. This gives you the flexibility to create a Matterport digital twin of any size, scale, and complexity.
While the Matterport Pro2 camera is the gold standard for 3D capture, it comes with a hefty US$3,395 price tag. Luckily, they also offer subscription plans for more affordable 360 cameras and iPhones.
Additionally, if you don't manage many properties or you're not looking to create many Active Spaces, there are local service partners like Scann3d who can scan locations for you.
Million Dollar Listing's Altman Brothers explain that virtual reality and tools like Matterport are essential to winning mega listings and appealing to clients on a global scale. Potential, remote buyers "feel like they're actually walking through the house and therefore, leads to an easier decision to make an offer on the property".
REA Group 3D Tours: Guided virtual tours
REA Group had previously launched realestate VR in 2016. It was Australia's first virtual reality property app on Daydream, Google's mobile VR platform. However, with Daydream now discontinued, the REA Group soldiered on with 3D Tours.
3D Tours allow prospective buyers and tenants to experience guided virtual tours on realestate.com.au and realcommercial.com.au listings. There are a number of companies and suppliers who can help you produce virtual tours.
REA Group Chief Inventor Nigel Dalton believes that VR "will change the way people experience and interact with property" and that virtual reality will "create a brand new experience for a whole new generation of property seekers".
He explains that one of the biggest advantages of using virtual reality in the real estate industry is the amount of time it saves for everyone, "whether that's property seekers, agents or property managers."
Google Tour Creator: Immersive virtual tours
Google Tour Creator makes it easy to create immersive virtual tours using your computer. You can upload your own 360 photos or find ones on Google Street View, highlight points of interest, overlay rich 2D images and share your tour with a link.
You can also embed the virtual tour on your website, blog or social media channels. Users can immerse themselves in the tour on mobile, desktop or the Google Cardboard viewer, regardless of where they're located.
This saves potential buyers and tenants a lot of time attending open house inspections. With virtual reality, you can literally walk through multiple homes in a matter of minutes. This not only allows more potential buyers and tenants to view different properties remotely but also increases efficiency for real estate agents.
Cupix: Automated virtual tour software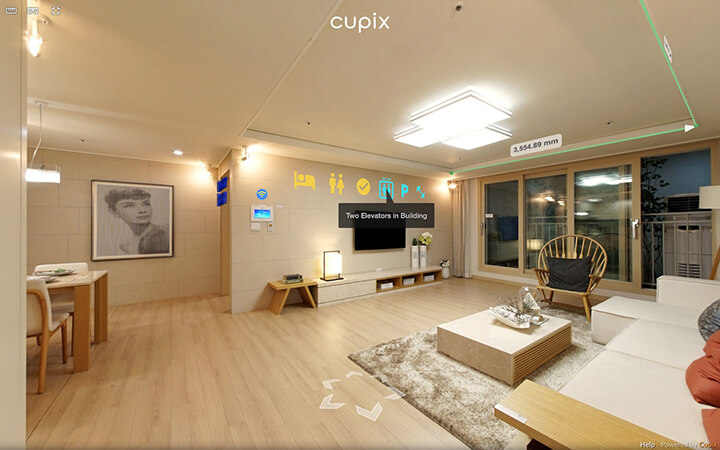 Launched in 2015, Cupix is a cloud-based automated virtual tour software solution. It allows you to upload 360 photos or videos to their cloud server, which will then automatically map locations of hundreds of photos and align them in 3D to create a virtual walkthrough.
The software is Google Street View Ready certified and allows you to instantly publish your virtual tours to Google Maps. You can also blur unwanted image areas, organise 360 photos into workspaces, annotate using Pushpin and Hotspots and perform adjustments as needed.
Start Beyond: Spatial technologies for real estate
Used by the likes of Laing+Simmons and Colliers International, Start Beyond was originally launched as Start VR in 2015 to bridge the gap between virtual reality and project marketing landscapes.
For example, for their St Leonards Edge 28 project, they created a real estate virtual reality experience which allowed customers 'visit' the property using a Samsung Gear VR headset. Once customers were inside the 'property', they were presented with a 3D menu of the available rooms, views and the ability to explore a 2D photo gallery.
"Customers were free to move around the apartment through the use of linked hot-spots – a system that was immediately intuitive and allowed the real estate virtual reality experience to shine. A dedicated sales person was on hand to guide the user through the property and to highlight the unique selling points of the apartment."
While buying off-the-plan is often seen as attractive, particularly for first home buyers, there's a disconnect when viewing the property. Start Beyond solves this problem by bringing the listing alive with 3D technology, immersing potential buyers in a 'finished' property.
So not only can you save time and money, but virtual reality lets you perceive what your life can be in that particular space and even allows you to interact with that virtual environment to experience different amenities, layouts and designs. This allows for better marketing of off-plan properties and reduces the fear of the unknown for potential buyers, leading to decreased barriers to sale.
360 cameras and devices with 3D and 360 photography capabilities
Virtual tours became readily accessible in 2019 with the release of the Samsung Galaxy Note10+. The smartphone features a DepthVision camera that operates using Time-of-Flight (ToF) 3D technology.
Today, there are many devices with advanced 3D and 360 photography capabilities including the latest Samsung and Google smartphones, iPhones and iPads. These devices allow you to easily create, publish and experience virtual tours and experiences using apps like Round.me (iOS and Android) and Google Street View (iOS and Android).
You can also turn your smartphone camera into a 360 camera using kits such as theVRkit. Alternatively, if you have the budget, there are many affordable 360 cameras available on the market. Prices start from US$115 for the Samsung Gear 360 or upwards of US$200 for the Ricoh Theta series.
All in all…
Virtual reality is transforming the real estate industry by saving agents and clients time and money, increasing efficiency and engagement, shortening property cycles, helping agents win more listings and decreasing barriers to sale for off-plan properties.
Moreover, with tech analyst firm Telsyte predicting VR penetration reaching 25.5% of households by 2021, it's evident that virtual reality real estate is here to stay. Those who do not adopt VR will only lose out in market share as more real estate agencies embrace virtual reality technology.
Thanks for reading this blog on how virtual reality is transforming the real estate industry! You might also be interested in:
Let us know your thoughts on How virtual reality is transforming the real estate industry by emailing [email protected].