With real estate auctions and open house inspections now banned in an effort to contain the spread of COVID-19, Australian real estate agents and property managers must turn to virtual and contact-free ways of doing business.
That's where virtual inspection software and auction apps come in. These solutions offer a virtual and remote way to showcase and market listings, conduct inspections and host real estate auctions. Not only are they convenient, allowing users to transcend geographical barriers, but a realestate.com.au study found that they can also lead to an 80% increase in enquiries and 52% increase in listing dwell time.
While the first virtual property auction was conducted in Australia in 2007, the benefits of these solutions are becoming more apparent than ever before today.
Without further ado, let's take a look at 14 different virtual inspection and auction software and apps for real estate agents:
Virtual Inspection Software And Apps
Virtual Tours Creator
15 minutes of photography, 10 minutes of editing and instant publishing. The team at Virtual Tours Creator offer a user friendly and efficient virtual reality (VR) walkthrough solution that caters to real estate agents and property managers.
Price: Plans start from $39.95/month.
Virtual Open House
Virtual Open House is a professional VR open house solution packed with features. To get started, you'll need to have one of their qualified technicians scan the premises, but in return you'll receive:
A VR headset-ready 3D walkthrough that allows prospects to navigate through at their own pace
Unique dollhouse and satellite-style floor plan views to showcase the layout of the property
A handy measuring tool that allows viewers to measure any distance in the property as they virtually inspect it
Price: $499 per property (on sale for $299 until 30 April).
RealAR
Promising that users will see property plans as easy as they do physical spaces, RealAR is focused on delivering augmented reality (AR) walkthroughs of structures that don't yet exist, making it the ideal solution for developers and volume builders. Moreover, you can create your walkthrough on any smartphone or tablet!
Price: Plans start at $49/month.
REveo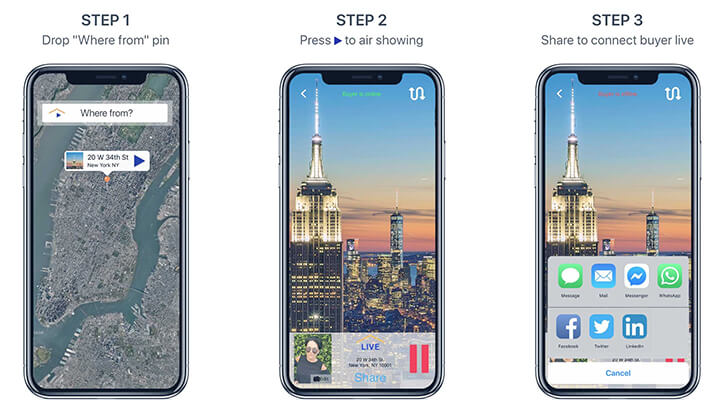 While fancy 3D rendering and VR technology is all well and good, sometimes there's nothing better than a live walkthrough. REveo offers exactly that. You can drop a pin on your location and instantly conduct a video walkthrough of the property, with potential buyers or tenants either tuning in live, or watching the video recording on demand.
Price: Free (offers in-app purchases).
immoviewer
This is the perfect solution for any agent who wants professional-level renderings, but likes to do things themselves. With immoviewer you have complete creative control—you can create branded dollhouse views and interactive VR walkthroughs using 360 photos uploaded to their software platform. Plus, you can automatically generate a simple video and property landing page as well!
Price: Plans start from $69 USD per month.
top snap
Queensland-based top snap have a suite of real estate imagery services, but their VR offering is a stand-out. Professionally captured by their team, the virtual tours can be uploaded to leading real estate portals, your website or social media and can be viewed on any device.
The cherry on top? They're particularly affordable for such a professional offering and offer a money back guarantee if you're not happy with their services.
Price: Packages start at $99.
AREA 360
Along with offering Google and Roundme virtual tours, Melbourne-based AREA 360 also create interactive VR tours for the real estate industry, with 360 photos, website embedding and Facebook posting all included.
Price: Prices vary depending on the size of the property.
Realm
Realm's AI-powered digital assistant, CLAIRE, can now facilitate remote entry, exit and routine inspections. What's more, this solution integrates with PropertyMe, giving property managers and owners valuable peace of mind.
Price: $10+GST per property with a maximum of $500+GST per month, plus SMS charges.
REA Digital Inspections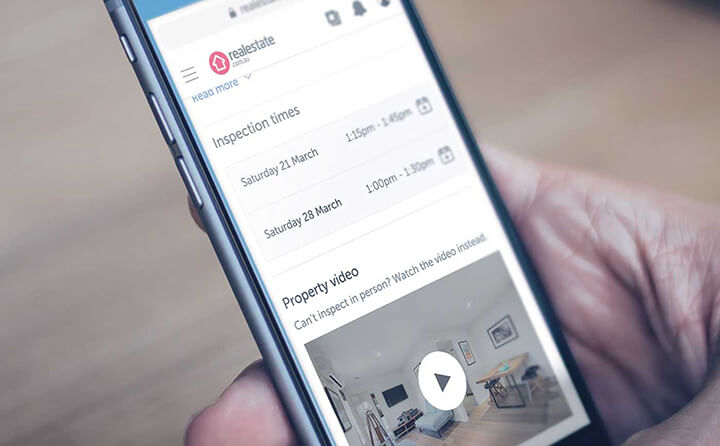 In response to the COVID-19 pandemic, realestate.com.au has released a simple digital tool that can be accessed in the 'Inspections' section of Buy and Rent listings on the site. This allows agents to take potential buyers and renters on digital video tours of the property, removing the need for an in-person visit.
Agents can either upload a professional video or use their smartphone camera to record a walkthrough of a property, mitigating the need for high-tech camera equipment.
Price: Free for realestate.com.au users.
Video call tools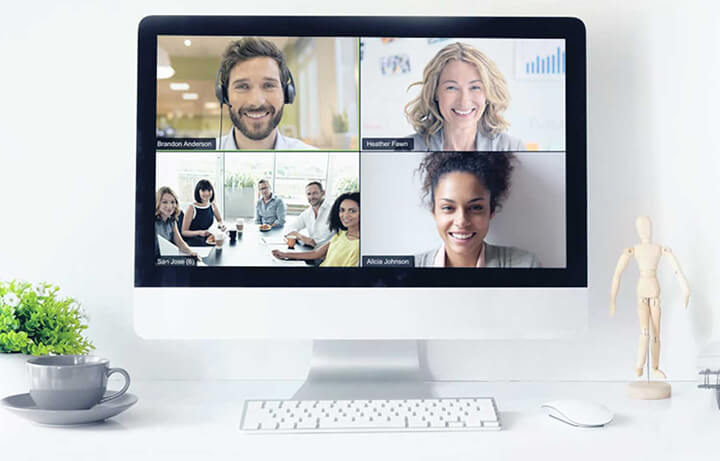 Why not use all those apps that are currently on your phone and laptop? The video call features of apps like Zoom, Skype, FaceTime and WhatsApp allow you to conduct virtual open home inspections, walk potential buyers through a property, showcase amenities and answer questions in real-time.
You can also conduct virtual entry, exit or routine inspections by having your tenant to walk you through the rental property.
Price: Free!
Virtual Auction Software And Apps
Openn Negotiation
Openn Negotiation provides an online bidding platform for sellers and agents to continue listing and selling properties. Once qualified, buyers can virtually participate in auctions from anywhere in the world.
As an agent, you can use Openn Negotiation to show the property to buyers and invite them to submit a pending price and input any terms for the seller's approval via the app. Thereafter, you work with the seller to approve pending buyers before they participate in the Final Bidding Stage.
Price: Price on application.
Webtron
Webtron helped sell the first house via online auction in Australia in 2007. Their online auction software is simple for buyers and powerful for auctioneers, offering HD streaming, website embedding, real-time video and audio, language and currency conversions, flexible pre-bidding options, and an interface that can be customised with your agency's branding.
Price: Price on application.
Auctions Live
Auctions Live's virtual auction platform is packed with cutting edge features to ensure maximum exposure, reduced time spent on compliance requirements and management of vendor expectations. It also offers insights and past Auction Summary Reports to help you better understand the market and improve your auction performance into the future.
Additionally, bidders have access to all relevant information, and the virtual auction can be broadcast live on your company's website as well as the smartphones and tablets of registered bidders.
Price: Price on application.
bidJS
Rather than being a separate platform, bidJS have taken the ingenious step of developing a virtual auction plugin, which is compatible with WordPress, Joomla, Drupal and any custom-built website. Smart and scalable, the pay as you go fee structure of bidJS will mean you only ever spend what you need to.
Price: Price on application.
To recap…
Here are 14 virtual inspection and auction software and apps:
Virtual Tours Creator
Virtual Open House
RealAR
REveo
immoviewer
top snap
AREA 360
Realm
REA Digital Inspections
Video call tools like Zoom and Skype
Openn Negotiation
Webtron
Auctions Live
bidJS
Thanks for reading this blog on virtual inspection and auction software apps. You might also be interested in How PropertyMe Can Help You Work Remotely and 10 Coronavirus Preparation Ideas for Property Managers.
Let us know your thoughts on 14 Virtual Inspection and Auction Software and Apps For Real Estate Agents by emailing [email protected].