While the idea of the smart home has long been popular with sci-fi writers and filmmakers alike, it wasn't until the turn of the century that smart home technology became more affordable and available.
According to market research portal Statista, 8.9% of homes in Australia have smart home technology installed in 2017. This figure is expected to skyrocket to 34.3% in 2021.
This rapid adoption of smart home technology is changing the way people live and will inevitably disrupt the real estate industry. To gain a better understanding, let's dive into what a smart home is and how smart home technology affects property value.
What is a smart home?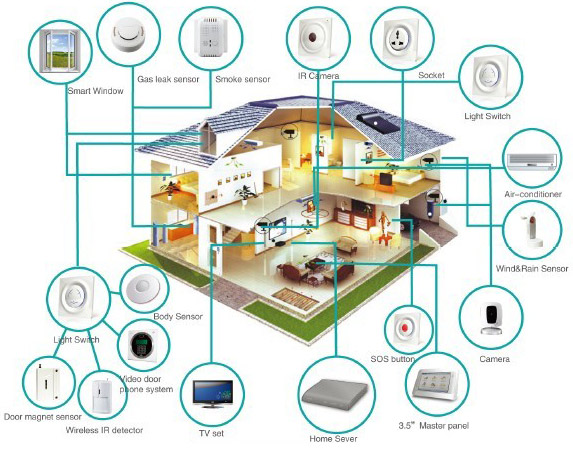 Image credit: https://smarthomeenergy.co.uk
According to CNET and Coldwell Banker, a smart home is "a home that is equipped with network-connected products (i.e., "smart products," connected via Wi-Fi, Bluetooth or similar protocols) for controlling, automating and optimising functions such as temperature, lighting, security, safety or entertainment, either remotely by a phone, tablet, computer or a separate system within the home itself."
These "smart products" might include smart security cameras that alert you only when an unidentified person is detected, smart sprinkler systems that you can control remotely, smart light bulbs that automatically turn on when you're home and smart refrigerators that alert you when you're running low on milk or butter.
As a minimum, a smart home must have at least three smart products installed including one smart security or temperature feature. A reliable internet connection is also required to ensure connectivity to your smart home technology.
How smart home technology affects property value
Image credit: https://www.nkba.org
A 2016 survey of 700 homeowners across all ages shows that smart home technology is desired by most respondents with the primary reason to purchase being safety and comfort followed by energy efficiency, value and convenience.
85% of Millennials indicated they are likely to add smart home technology to their home compared to 73% of Gen Xers and 67% of Boomers. However, their motivations to do so differed. Millennials are primarily motivated by convenience, Gen Xers by health and Boomers by the value add of smart home technology.
As more and more people realise the benefits of smart home technology, smart homes are increasingly becoming the norm. According to a joint study between CNET and Coldwell Banker, 81% of respondents said that they would be more willing to buy a home with smart technology installed while 71% said that they were specifically looking for smart home technology in their next home.
More importantly, a whopping 72% of homeowners aged 18 to 34 said that they were willing to pay thousands more for a property fitted with smart home technology. As demand increases, property values for smart homes will likely increase. However, this may well be offset by savings from reduced home insurance premiums, maintenance costs and increased energy efficiency in the long run.
Additionally, 33% of real estate agents say that homes with smart home technology installed sell faster than those without. Agents agree that while it might not be the primary factor that influences the purchase decision, it provides a point of differentiation that contributes to the overall purchase decision.
All in all…
As smart home technology adoption continues to skyrocket, the value of smart homes will also increase. As a real estate agent, it's crucial that you stay informed so you can translate the value add and cost savings associated with smart home technology as well as the ability to create a smarter, safer and healthier home. This will not only set you apart as a tech-savvy agent but will also help you anticipate your clients' needs in the long run.
Thanks for reading How Smart Home Technology Affects Property Value. You might also be interested in The Rise of Real Estate Robots and Automation and How Virtual Reality is Transforming the Real Estate Industry.
What are your thoughts on How Smart Home Technology Affects Property Value? Please let us know in the comments below.