You may have heard of the terms Bitcoin, cryptocurrency and blockchain being thrown around lately. But what are they exactly? And why are they the talk of the town?
Let's dive into what blockchain is, the current state of blockchain and real estate and how it will impact the real estate industry.
Blockchain, cryptocurrency and Bitcoin explained
First of all, it's important to distinguish between the three terms:
Bitcoin is the first and most well-known cryptocurrency. You may also have heard of alternative cryptocurrencies such as Ethereum, Ripple, IOTA and Litecoin, just to name a few.
Cryptocurrency is a digital medium of exchange that uses encryption to control the creation of additional units and to verify the transfer of funds.
Blockchain is the technology behind cryptocurrency. Essentially, it's a public, digital ledger or database that records all transactions, without the need for a central authority such as a bank.
This means that every time that you buy, sell or transfer cryptocurrency or use virtual coins to buy or sell goods and services, a new "block" of encrypted data is created and added to the existing blockchain or ledger. This mitigates the need for a central authority as the block is permanent and cannot be altered.
If you need more information, here's a great video that explains blockchain in two minutes:
So what are the advantages of blockchain and why is it the talk of the town?
Traditionally, when you transfer money to an overseas account, your financial institution would charge you a fee to facilitate the transaction and it would then take a few days for verification.
However, with blockchain technology, you can transfer assets digitally without the need for a central verifying authority. No middleman means smaller fees and faster transactions.
In a real estate context, this means reduced legal and title-related costs and speedier settlement processes.
Furthermore, any transaction conducted is permanently and publicly recorded on the ledger, effectively increasing transparency, accuracy and security.
As such, the cryptocurrency (the first application of blockchain technology) market has skyrocketed in the past year.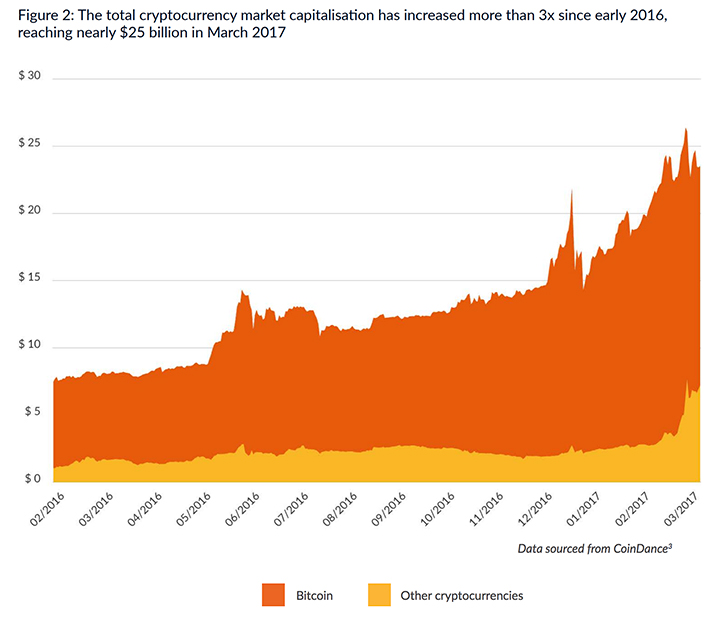 Since early 2016, the total cryptocurrency market capitalisation has increased more than 3 fold to $25 billion in March 2017 (graph above). At the time of writing this in January 2018, the market capitalisation has increased to over $650 billion. That's a 2,500% increase in less than a year.
In addition to cryptocurrencies, blockchain technology holds significant potential for financial services, healthcare, provenance tracking, voting and real estate.
If you'd like to read more about the cryptocurrency market, this Cambridge study is a good starting point.
The current state of blockchain and real estate
In 2016, Sweden became the first western country to investigate the application of blockchain for real estate with a partnership between the Swedish Land Registry, blockchain start-up ChromaWay, consulting firm Kairos Future and telecommunications service provider Telia.
The project was aimed at modelling a property purchase using blockchain and smart contract technology (more on this below) in a way that allows all the parties involved in the transaction to track the progress of the deal once completed. The second phase of the project concluded in March 2017 with a report detailing the results of the project as well as a fully functional technical solution.
A few months later, the world's first property was sold using blockchain technology. Michael Arrington, founder of TechCrunch and adviser to blockchain based real estate start-up Propy, paid 212.5 ether (equivalent for $64,000 at the time) in September for an apartment in Kiev, Ukraine.
On Reddit, Arrington said that "this is the first transaction completed via Propy, using their PRO tokens. I paid for the condo using Ether, and the title transfer was completed on the Ethereum blockchain with approval of the Ukrainian government."
"This is the first time that I know of that a real asset other than cryptocurrencies themselves have been transferred on a blockchain."
The following month, a commercial property was sold in the UK using blockchain technology and by the end of 2017, US real estate agent Piper Moretti had already helped four buyers use bitcoin to purchase properties while real estate firm Redfin announced that there were 75 properties listed for sale using bitcoin in the US.
Meanwhile, the race is on for the first blockchain real estate sale in Australia. There's been plenty of press coverage with a Melbourne homeowner willing to accept bitcoin as part payment, a Mount Macedon mansion being sold for bitcoin and more.
These property transactions are conducted using smart contracts which are "digital rules in the blockchain that process the agreement and any specified conditions. Buying and selling could still take place via agents, or the smart contract can be advanced to incorporate the sale rules and make this decision automatically. The blockchain for each property grows as transactions are added to the ledger."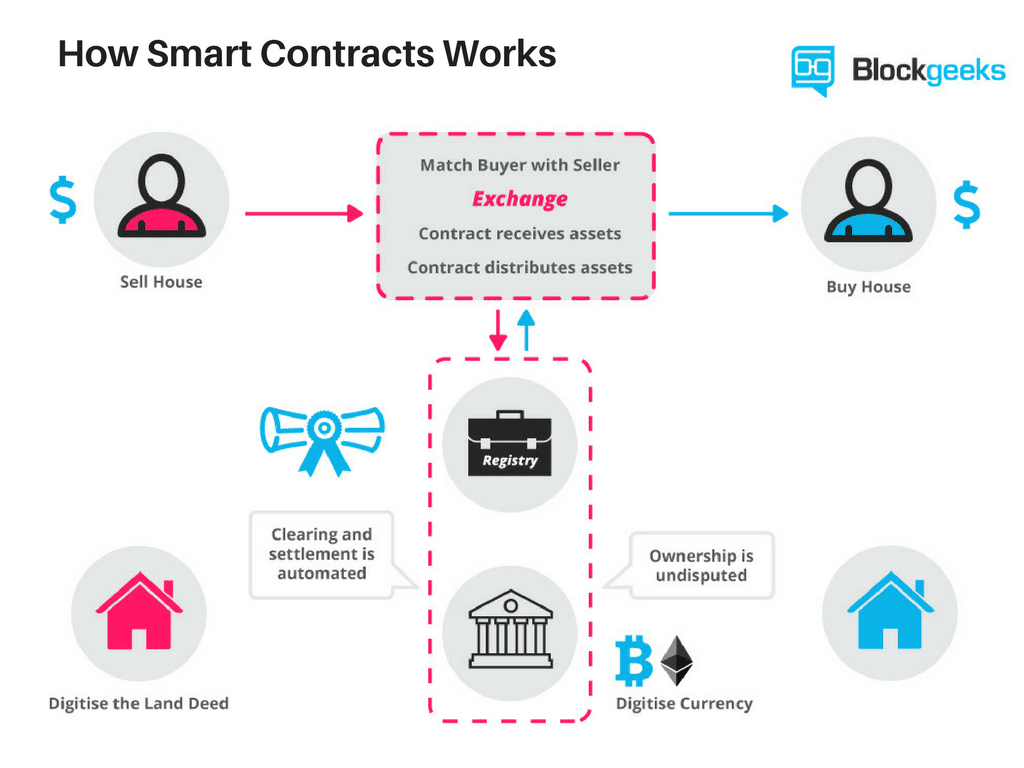 Image credit: Blockgeeks.com
The rise of blockchain real estate companies
With the possibility of property transactions on the blockchain a confirmed reality, many blockchain real estate companies have sprung up to facilitate these transactions. Here are a few to watch this year:
The first blockchain property purchase was completed via Propy using their PRO tokens. The start-up is "dedicated to solving the problems of purchasing property across borders" by using blockchain and smart contract technology.
Propify is the first real estate marketing solution operating on blockchain. The start-up curates, qualifies and publishes real estate content via an ecosystem of platforms that is unique to Propify. Founded in Australia with offices in California, the company is currently undergoing its initial coin offering (ICO).
While Rentberry was not established as a blockchain company, the rent-bidding platform has quickly shifted gears by selling BERRY tokens. Rentberry's goal in the coming years is to "make both landlords and tenants enjoy a fully decentralized rental experience that includes open and transparent application process, crowdsourced security deposit network, instant rent payments, internationally valid tenant and landlord scores, to name a few."
ShelterZoom is a New York-based offer and acceptance real estate solution built on Ethereum. According to Elite Agent, the start-up is currently completing beta testing in Australia and will formally launch in the coming months.
What are the challenges of blockchain for real estate?
While blockchain technology has the potential to revolutionise the real estate industry, there also exist many structural, technical and legal challenges. Government regulators are scrambling to establish clear, uniform guidelines for blockchain transactions.
Real estate lawyer, John Danahy told the Property Council of Australia that "the first challenge is the technologically-difficult task of shifting title transfer and land registration from a database, one which is usually state controlled, to a distributed ledger system."
Not only that, adoption of blockchain for real estate would require legislative changes, standardisation and education around blockchain concepts so that every stakeholder understands every stage of the transaction.
In saying that, blockchain companies like Ubitquity, ChromaWay and Bitland are paving the way with pilot projects in Brazil, Sweden and Ghana while CoreLogic has a blockchain research team dedicated to investigating the financial, risk-management and property impacts of blockchain.
Danahy says "much like the banks, the property industry has its establishment. Your time to adapt is now, before the proptech guys figure out how to do it without us."
Thanks for reading! If you enjoyed this blog post, you may also be interested in Three Rent-bidding Apps to Disrupt Australian Market, 10 Incredibly Useful Tech Tools Every Real Estate Agent Needs and How Virtual Reality is Transforming the Real Estate Industry.
What are your thoughts on blockchain and real estate? Please let us know in the comments below.