In 2016, augmented reality (AR) catapulted into the mainstream with the release of Pokémon Go, an AR game that grew to 45 million daily active users after just two months on the market. Since then, AR has been adopted in various industries such as retail, healthcare, science, education and real estate.
Let's take a closer look at what augmented reality is, the benefits of augmented reality and top examples of augmented reality in real estate.
What is augmented reality?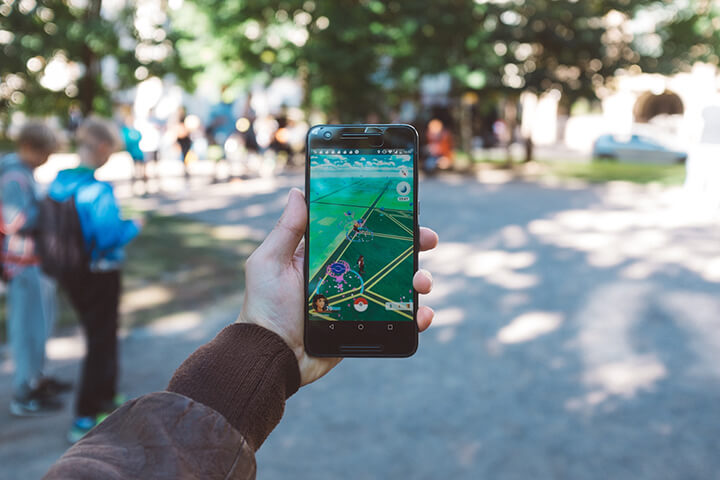 Think of augmented reality as somewhere between the realm of the physical world and the virtual world. Essentially, it's a mixed reality where computer-generated graphics, videos, text and sounds are layered on top of your physical view. Users can interact with these digital elements via apps on smartphones, tablets, AR headsets like Microsoft HoloLens and AR glasses such as Vuzix Blade.
So at this point, you might be wondering how AR and VR are different as they both change the way we experience reality. According to Forbes:
Augmented reality "overlays virtual objects on the real-world environment."
Virtual reality "immerses users in a fully artificial digital environment."
Essentially, AR alters your reality while VR replaces your reality entirely with a simulated environment. Read more about How Virtual Reality is Transforming the Real Estate Industry.
Benefits of augmented reality
One of the main benefits of augmented reality is the ability to visualise information in 3D rather than 2D. For example, in urban planning and architecture, drawings and renderings are generally presented in a flat, 2D format. However, with augmented reality, those viewing the plans and blueprints can "walk around, look at every angle of the future building and can build his own opinion about its design".
The additional dimension not only makes complex data easier to understand, but also creates an interactive experience that is intuitive, memorable and meaningful to the end user.
Additionally, augmented reality can establish repeat engagement, generate buzz and create personalised product experiences across various industries. Think trying on clothing and accessories without actually wearing them, furnishing an interior with furniture and the virality of this Pepsi bus shelter advertisement.
As a result of these benefits, companies like Google, Apple and Snapchat have rolled out their own AR platforms called ARCore, ARKit and Lens Studio, respectively, to make it easier for developers for create augmented reality apps.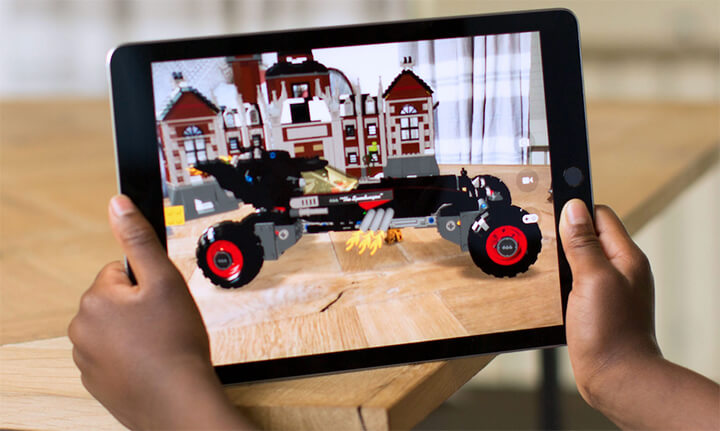 Image credit: developer.apple.com/arkit
Top examples of augmented reality in real estate
In the past year, AR has been gaining traction in the Australian real estate industry with the launch of a few augmented reality real estate apps to streamline real estate marketing as well as home styling and design. Let's dive right in:
Commercial Real Estate AR
The Commercial Real Estate AR app is an augmented reality real estate app developed by Commercial Real Estate and Macquarie University's Virtual Reality Lab. Users can use the AR app to scan commercial properties in their vicinity and immediately access listing information such as available office spaces, amenities and tenancy industries located within the building. Additionally, users can communicate directly with the marketing agent through the app.
Maty Paule, head of product at Commercial Real Estate said that "the ability for users to access property data in their current location is a powerful proposition, while the possibility of modifying a property's visual appearance to understand development or renovation potential is a game changer."
Realar Places
Launched in December 2017, Realar Places is an Australian-developed augmented reality app that allows you to "place, navigate, walk through and around your 3D models". This means agents and developers are better able to showcase the potential of an unfinished space and present a desired lifestyle to prospective buyers.
Dan Swan, Realar co-founder told realestate.com.au that "Realar brings any home design to life right there in front of you in 3D without the need for extra equipment. It allows you to visualise the home as if you were standing outside a real building and then go inside to get the full room-by-room experience."
IKEA Place
Launched in 2017, IKEA Place is an augmented reality app that allows users to virtually decorate using furniture from their online catalogue. Users can place true-to-scale 3D furniture in a space using the AR app to see how it would look and fit.
Michael Valdsgaard, Leader of Digital Transformation at Inter IKEA Systems B.V., explained that "you see the scene as if these objects were real and you can walk around them and interact with them, even leave the room and come back."
All in all…
While augmented reality is still in its infancy, Digi-Capital predicts that "mobile AR could become the primary driver of a $108 billion VR/AR market by 2021" with AR accounting for $83 billion and VR accounting for $25 billion.
As technology advances, augmented reality will further permeate the real estate industry. Mark Hansen, Dexus Chief Information Officer told Commercial Real Estate that "AR would eventually become a critical part of real estate marketing".
"If you're not involved in AR in some way, shape or form, I think you'll start to fall behind the pack in the way you actually sell and market your service and product."
Thanks for reading this article on Top Examples of Augmented Reality in Real Estate! Hopefully it provided some insight into augmented reality and its applications in the real estate industry.
If you enjoyed this post, you might also be interested in the Top 10 real estate tech trends to watch and How virtual reality is transforming the real estate industry.
Did we miss a great example of augmented reality in real estate? Please let us know in the comments below.