What a year it's been! 2018 saw the rise and fall of Bitcoin and other cryptocurrencies, the launch of a third fractional property investment platform in Australia, a surge in real estate technology, the new GDPR came into effect and just this month, Australia passed a new encryption law.
On the PropertyMe front, we turned five years old and more than doubled our subscribers. As a result, we expanded our support, development and setup teams to better support you and the wider PropertyMe community. But that's just the tip of the iceberg. Here's the PropertyMe Year in Review 2018: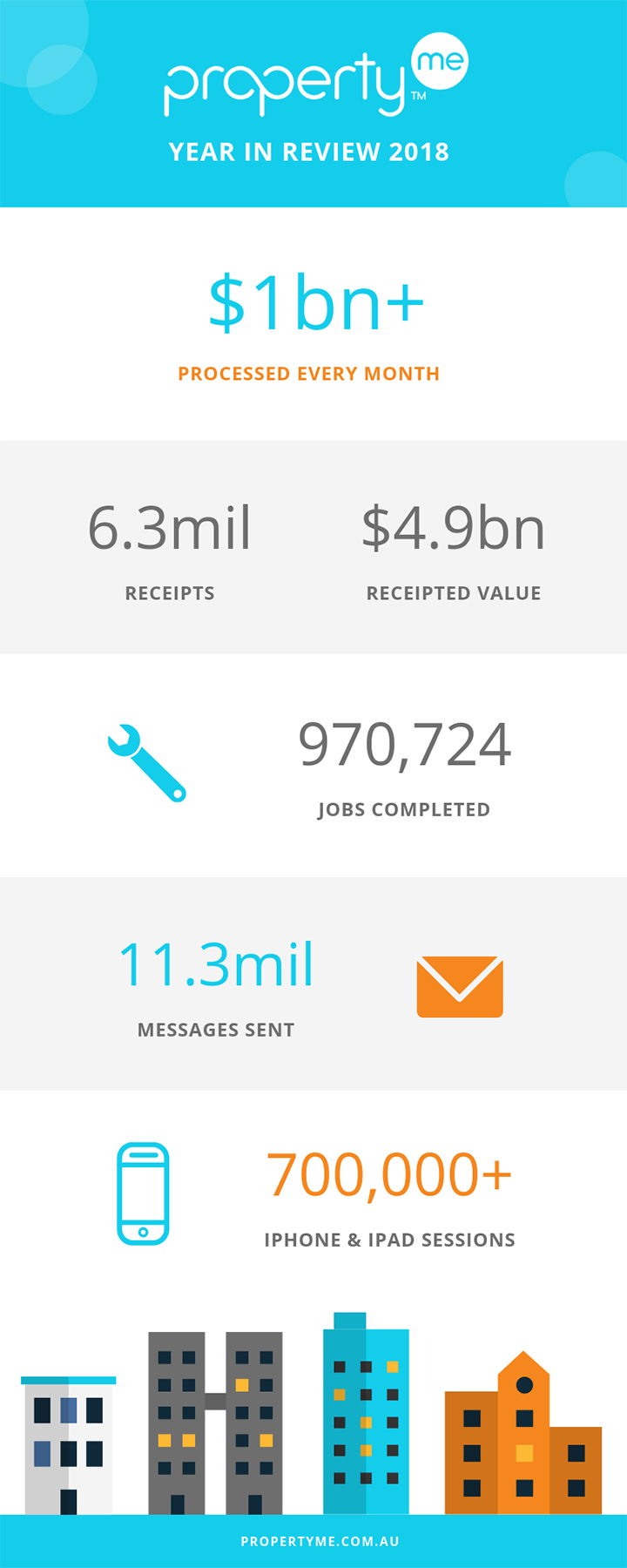 In 2018, we hit a huuuge milestone. PropertyMe now assists the real estate industry in processing over $1 billion every month. We couldn't have done it without you and we're eternally grateful for the opportunity to help you break new ground in the industry.
Listening to your feedback, our dev team worked hard on top-voted feature requests like Tenant Access, Bank Feeds, Rent Calculator and Insights, a new rent review process, additional reports and dashboard widgets, QR code reading for bills and team management. We have many more exciting features planned for 2019 so stay tuned.
Tenant Access was designed to be mobile-first so it looks great on all devices.
We've also maintained a 99.95% uptime and even created a status page so that you can see what's happening with PropertyMe at all times. Transparency is our middle name!
In addition to that, we've tripled our support resources so that you receive the help that you need faster than ever before. We appreciate all the love and feedback we've received as a result! In fact, one of our support specialists churns out three or four video tutorials every week, not to mention all the live webinars that she runs, so be sure to tune into one of our training sessions in the new year.
2018 also marked the year that we engaged with the PropertyMe community a lot more. Besides filming a bunch of Customer Story videos including 360 Property Management Mackay and Ray White Geelong, we interviewed some members of the PropertyMe community and presented at some key real estate events.
Lastly, we became the preferred supplier of property management software for hockingstuart, Ray White, Kay & Burton, OBrien Real Estate, Fletchers and Hodges, just to name a few. In the coming year, we're excited to work closely with our partners to deepen engagement with our community and the industry at large.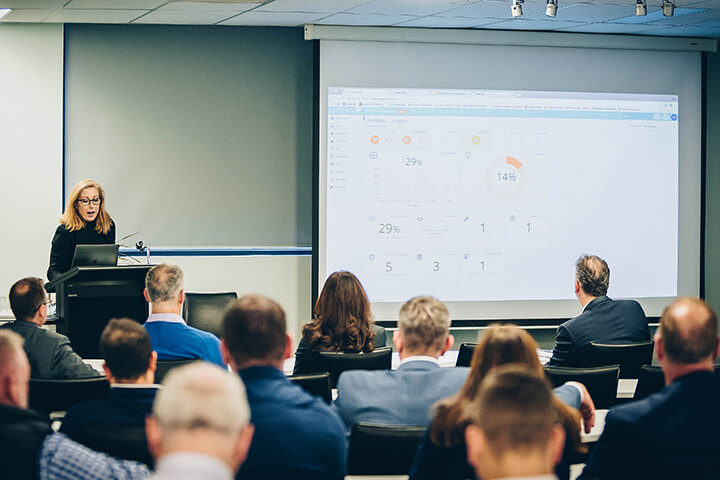 Our general manager of sales and service, presenting to hockingstuart franchisees.
2019 is set to be a game-changing year and we're really excited for what's to come. For now, have a safe and happy holiday from all of us at PropertyMe!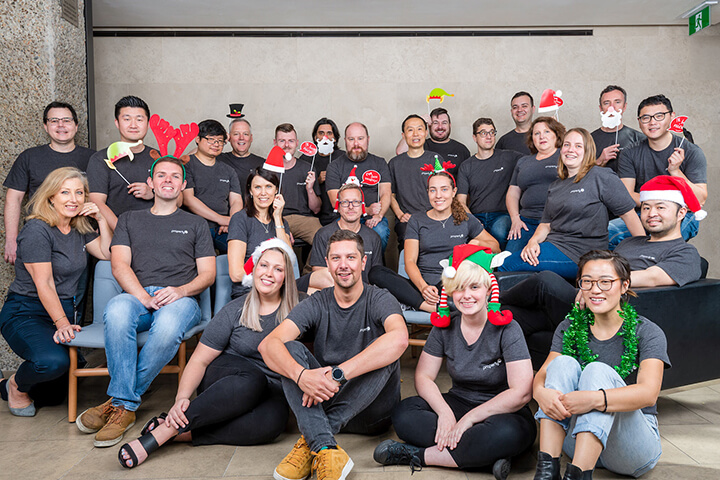 If you'd like to learn more about PropertyMe, be sure to watch our 6-minute quick tour video and book a free demo when you're ready.
If you're after some holiday reading, be sure to check out 19 New Year's Resolutions for Real Estate Agents in 2019, 2018/19 Real Estate Conference Calendar Australia and The Future of the Real Estate Industry.
Hopefully you enjoyed our PropertyMe Year in Review 2018. If you have any questions, comments or kind words, please leave them down below.