Real estate conferences and events happen year-round in Australia. They can give you CPD points, equip you with real estate knowledge and insight, inspire you to become your best self and connect you with like-minded professionals in the industry.
So let's get into your 2022 Australian real estate conference calendar. We've even broken them down into three categories: general real estate conferences, property management conferences and real estate technology conferences!
General Real Estate Conferences and Events Australia
REInnovate
When: 3 March 2022
Where: The Star, Sydney
REInnovate is a brand new event starting in 2022 designed to equip real estate professionals with the skills and ideas to reach new heights of success in their careers. Explore innovative business insights while learning new strategies for more efficiency and profitability.
It's also a fantastic opportunity to build connections with some of the most influential players in the industry while exploring cutting-edge technology shaking up the market.
Learn more and secure your spot by visiting reinnovate.com.au.
STAFFLINK Annual Conference
When: 20-21 March 2022
Where: JW Marriott Gold Coast Resort & Spa, Surfers Paradise QLD
Over the course of two days, guests can enjoy insights from speakers covering a range of real estate topics including sales, property management and leadership. The event also offers the perfect opportunity to network and strike up life-long connections with like-minded individuals. For more info, check out the STAFFLINK Annual Conference 2022 guide.
Australian Real Estate Conference (AREC)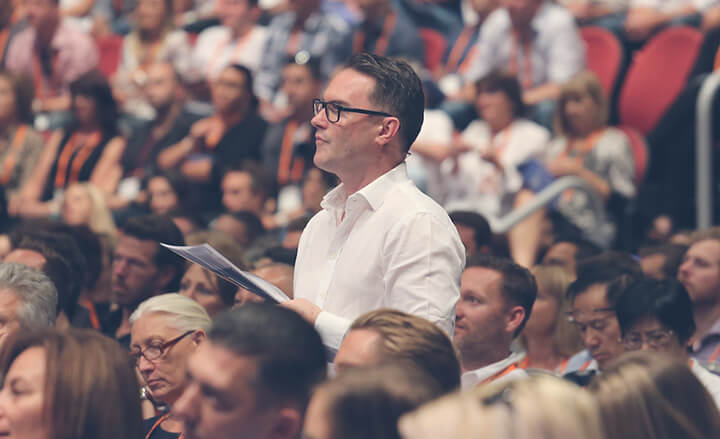 When: 29-30 May 2022
Where: Gold Coast Convention & Exhibition Centre, Gold Coast, Australia
AREC is the biggest real estate conference in Australia, attracting over 4,000 attendees annually. In 2022, AREC is sure to bring something big to the stage with two "destiny-defining days" of innovation and inspiration. Stay tuned for updates around speakers and programming on their site.
REIQ Summit
When: TBD for 2022
Where: TBD
In 2020, the REIQ Summit was held from 12 to 13 March at the Royal International Convention Centre in Brisbane. Keynote speakers included Sunrise host and finance journalist David Koch and renowned marketing consultant and author Penny Burke.
Dates have yet to be announced for this year's REIQ Summit, but be sure to follow the REIQ Facebook page for updates.
Property Management Conferences Australia
2022 PPM National Property Management Conference
When: 24-26 June 2022
Where: Gold Coast, Queensland
This 2-day event dives into the world of property management uncovering the latest innovations, ideas and strategies to lift your business to new heights. This event is ideal for anyone wishing to advance their career in property management including Principals, Senior Property Managers, Property Managers and Department Managers. Get more information and updates on the PPM National Property Management Conference website.
Real Estate Technology and PropTech Conferences Australia
re-edge
When: 3 June 2022
Where: Melbourne, Australia
re-edge is an annual conference that showcases the latest real estate technology and trends. Their most recent event included speakers like Proppic Chief Experience Officer Fatek Chamma, Novak Properties Power Agent Lisa Novak, Realm Australia CEO Patrick Hill, Stafflink CEO Joel Davis and Million Dollar Host author Julie George.
PropTech Summit
When: 22-24 February 2022
Where: UTS Function Centre, Sydney
Started in 2017, PM Grow Summit is an annual property management conference for innovators, with a focus on growth. This year's theme is "Removing Barriers to Growth" and speakers include leadership expert and author Libby Gill, Crankset Group Founder Chuck Blakeman and entrepreneur and financial expert Greg Crabtree.
Leading Property Managers Association New Zealand (NZ)
When: TBD for 2021 and 2022
Where: UTS Function Centre, Sydney
The PropTech Summit features leading experts who are pushing the boundaries of property technology to innovate new ways to buy, sell, lease, finance and manage property. Last year, the conference was held online from 10 to 11 November and featured speakers such as Unissu Co-founder James Dearsley, Macquarie Bank National Head of Property Services Dan Evans, Dexus Chief Information Officer Mark Hansen and more.
Propel by MIPIM NYC (USA)
When: TBD for 2021 and 2022
Where: Virtual
Propel by MIPIM NYC is the premier real estate and technology event in New York City. Last year, it was held online from 8 to 11 December, with dates yet to be announced for 2021. Past speakers include MetaProp Co-founder and Managing Director Aaron Block, SparkBeyond Chief Commercial Officer Amir Haramaty, Schneider Electric US Country President Aamir Paul and more.
International Real Estate Conferences
PM Grow Summit (USA)
When: 28 February – 22 March 2022
Where: San Diego, CA
Starting in 2017, PM Grow Summit is an annual property management conference for innovators, with a focus on growth.
MIPIM 2022
When: 15-18 March 2022
Where: Palais des Festivals, Cannes, France
Created in 1990, MIPIM is one of the world's largest real estate events spanning four days. Several of the most influential stakeholders in the real estate industry attend the event annually bringing a world of insight and invaluable connections to participants. In 2022, guests from over 100 countries will be joining the event with 480 guest speakers covering a range of topics from proptech, purchasing and real estate trends. Check out the full program on their site.
Make sure you bookmark this 2022 real estate conference calendar as it will be updated every year with new conferences, dates, speakers and locations.
Thanks for reading this blog on real estate conferences in Australia! You might also be interested in:
Let us know what real estate conference or event in Australia you'll be attending by emailing [email protected].