As a property manager, you spend much of your day liaising with tenants about anything from rent to maintenance to lease renewals. What if we told you there was a way for your tenants to access all this information themselves?
Introducing Tenant Access!
With Tenant Access, your tenants will be able to log into PropertyMe whenever they want to check on property and tenancy information, maintenance, upcoming events and more. This mitigates a lot of back and forth communication with tenants and allows 24/7 transparency.
Tenant Access was designed with the mobile generation in mind so it's 100% responsive, meaning it looks great on all devices. Information is presented in an activity feed with anything that requires your tenant's attention appearing at the top of the feed. This is to ensure that they never miss a thing!
Let's take a closer look at what tenants can do in Tenant Access:
View property and lease information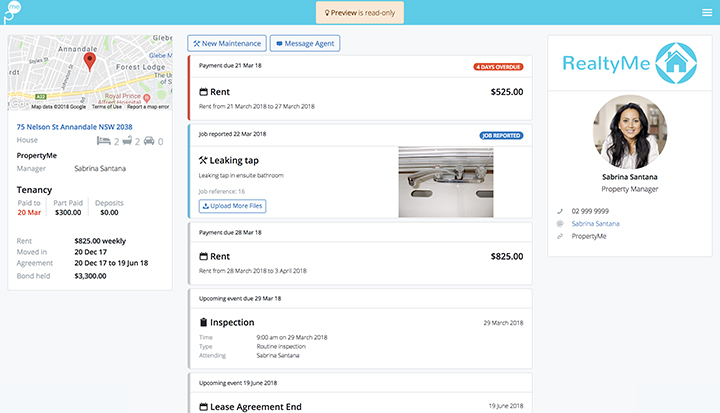 Tenants can click on the property and deep dive into property information as well as tenancy information.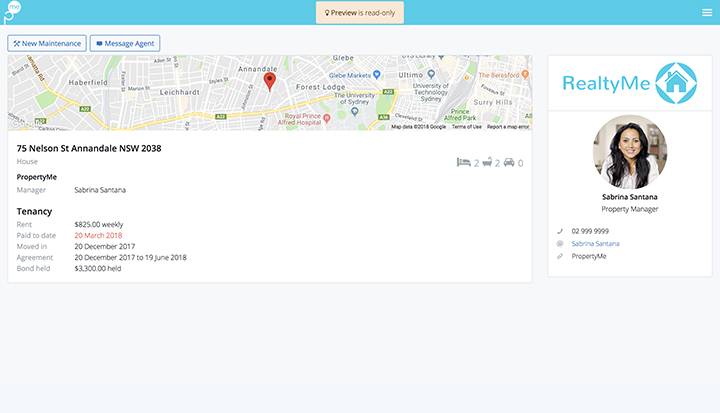 See when rent and bills are due
Do you ever have tenants asking you when their rent and bills are due? Tenant Access has all this information readily available for them in the activity feed.
If there is anything that requires urgent attention, there will be a colourful alert on it. For example, in the image above, you can see that there are an activity with a red alert. This is due to the tenant's rent being 4 days overdue. If a bill is overdue, it will also be highlighted with a red alert.
Log and monitor maintenance requests
In Tenant Access, your tenants can easily log maintenance by clicking "New Maintenance" and entering in all the required details. They can even upload multiple images!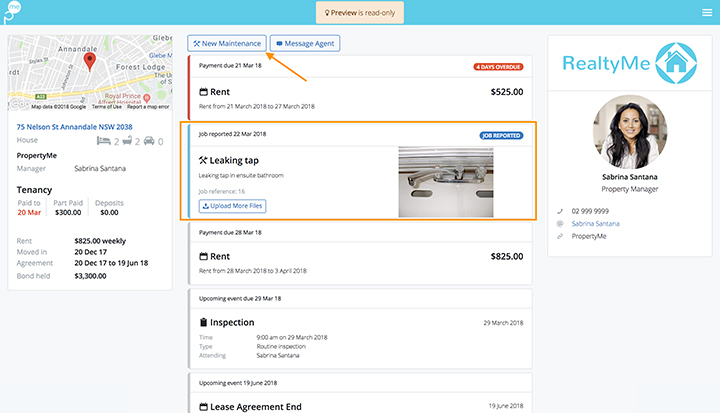 Thereafter, your tenants will be able to track the progress of the job. In the screenshot above, you can see that the job "leaking tap" has been reported. Once the job is assigned, the tenant will see a change in job status, when it was assigned and who it was assigned to.
Message dedicated property manager directly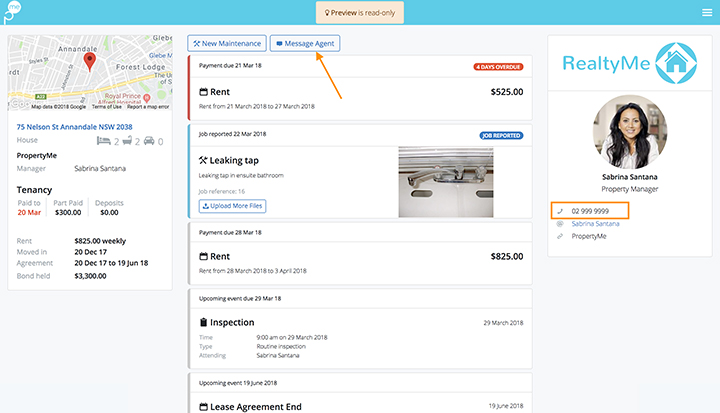 Your tenants will be able to easily message you from Tenant Access. Any messages will go directly into your PropertyMe portfolio so you can keep all your communications in the one place.
Download rent receipts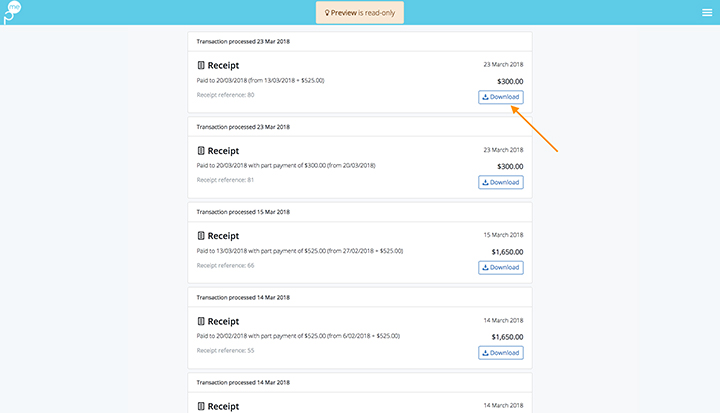 If your tenant ever needs to download rent receipts, they can easily do this in Tenant Access. They can also see and download historical rent receipts in the feed.
See upcoming events like inspections
If you've scheduled in an inspection, your tenant will be notified and it will come up in the feed. Your tenant will be able to see when the inspection is scheduled for, the type of inspection and the agent attending.
In addition to that, your tenant will be able to see upcoming events such as the end of their lease agreement.
How to activate Tenant Access
If you're a PropertyMe subscriber, simply follow this link to read the Knowledge Base article. Alternatively, if you're contemplating upgrading your property management software, book a demo today to chat to one of our friendly product specialists.
Here at PropertyMe, we're always looking to improve our existing features and develop new ones. If you'd like to help shape our game-changing cloud property management software, log a feature request or vote for your favourite ones.
If you'd like to give us some feedback on Tenant Access, be sure to comment down below. We love hearing from you!