As a property manager, there is no shortage of unforeseen issues that can make your working day a long, exhausting one. Throw in a clunky, outdated software that was developed in the previous century and it can be enough to send you up the walls.
Thankfully, we have a solution for you!
Developed with the modern property manager in mind, PropertyMe's cloud-based property management software automates tedious tasks and simplifies workflows to help you save time and money. Think bulk disbursements with the click of a button, bill scanning, streamlined inspection planning and triggered messages based on tasks performed.
Without further ado, here's how PropertyMe can simplify your workload:
Automated workflows
"Is it that simple? I don't have to manually receipt anything?"
"Just like that? With one click?"
These are just some of the things we hear daily from property managers all over Australia. And the answer is yes, and yes. Let's breakdown some of the automated workflows in PropertyMe that save you hours each day:
With PropertyMe, you can scan bills with barcodes and PropertyMe will automatically allocate the bill (and dollar amount) against the appropriate supplier and property in your portfolio.
While other software companies charge extra for this, we provide this feature for free with your subscription.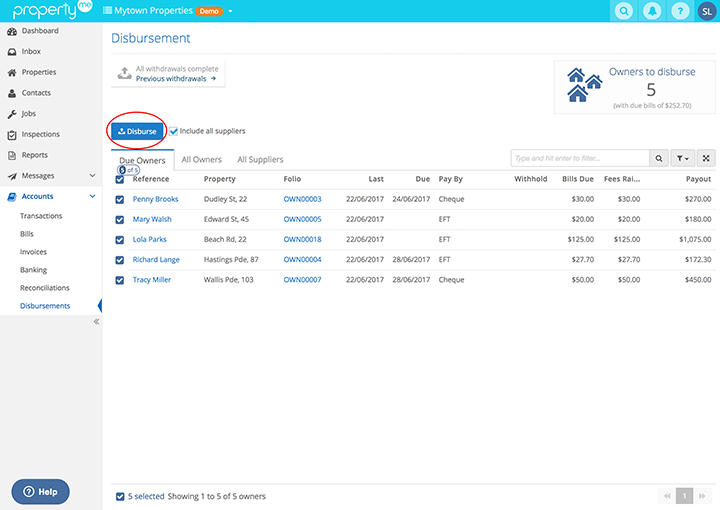 Imagine disbursing all your owners and suppliers in minutes. Well, stop imagining because it's a reality with PropertyMe!
All you have to do is select the owners and suppliers you want to disburse then hit the "Disburse" button. Subsequently, you'll find that your owner and supplier statements have been auto-generated and are ready to go in your Outbox. It's that easy!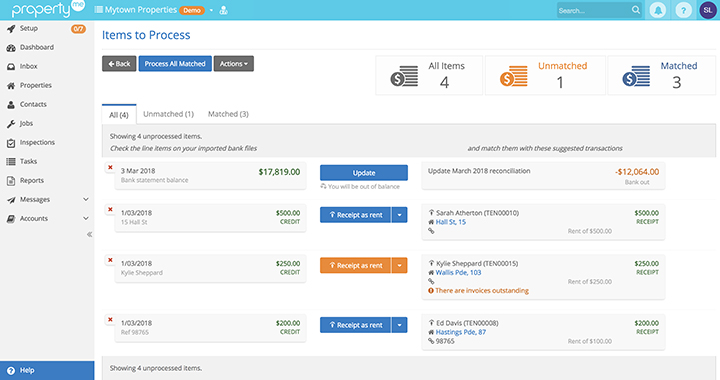 "Now with PropertyMe receipting, I download a file from the bank, import it into PropertyMe and it reconciles receipts. PropertyMe does the whole process in less than 20 minutes." – Angie Wallwork, Principal of 360 Property Management Mackay.
Manual data entry is not only slow but prone to human error. That's why we've automated reconciliation to speed up the process and mitigate the risk of data entry mistakes.
Simply import a bank file and PropertyMe will work in the background to match the file to different parts of your portfolio.
Being cloud-based, PropertyMe automatically syncs your data to the cloud. This means no more manual backups and no more downtime during mid-month and end of month. This literally saves you hours each month!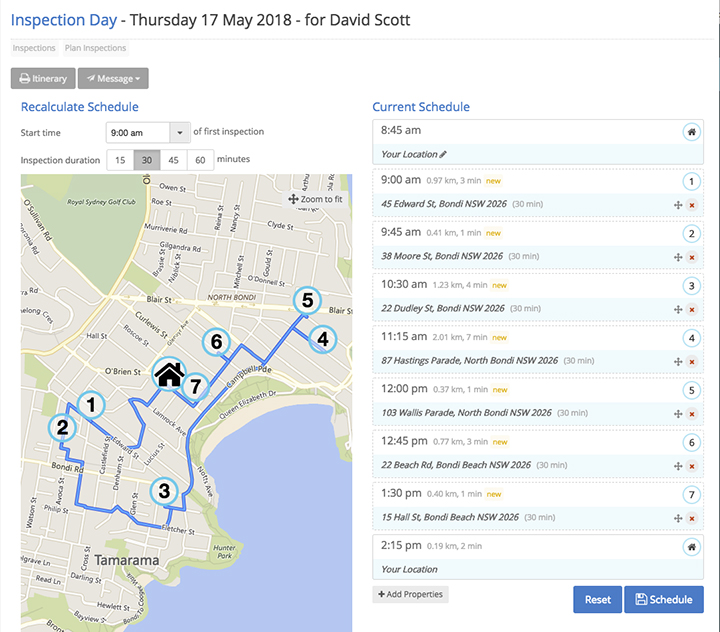 Sick of having to calculate the distance and travel time between inspection locations? We get it. That's why PropertyMe has its own built-in inspection planning tool.
Not only can it calculate the best route for you based on the inspection properties you've selected, but once you hit the "Schedule" button, PropertyMe will automatically generate the relevant tenant messages for you.
In addition to that, you can conduct and report on inspections, all in the one place.
Reduced add-ons
Forget about logging into multiple add-on programs to perform your day-to-day property management tasks. With PropertyMe, you have everything you need to manage your properties.
But we understand that change is a gradual process. So if you'd like to see how PropertyMe works with your existing add-on programs, we have that option available to you too. We integrate with the likes of Xero, REI Forms and Inspection Express, amongst others.
Access from anywhere, anytime
With PropertyMe in the cloud, you can access your portfolio from anywhere, at any time.
Like all modern-day essentials, we also have a mobile app that is optimised for both smartphone and tablet. The PropertyMe Manager app allows you to:
Take photos with your device and notes with voice recognition
Send notices and reminders via sms to tenants of their inspection time
Create new inspections on the go
Customise the inspection areas to work for you
Highlight follow up actions and rent reviews for your owner
Keep track of your jobs and create new jobs on the fly
Change the status of jobs as they progress, so everyone is in the loop
View all your properties in an easy to navigate format
Search your contacts by owner, tenant and supplier
The best part? It's included for free with your PropertyMe subscription!
Better communication tools
PropertyMe also has many communication tools to help simplify your workload by increasing transparency between you, your clients and your suppliers.
Want to spend less time chasing down information for your owners?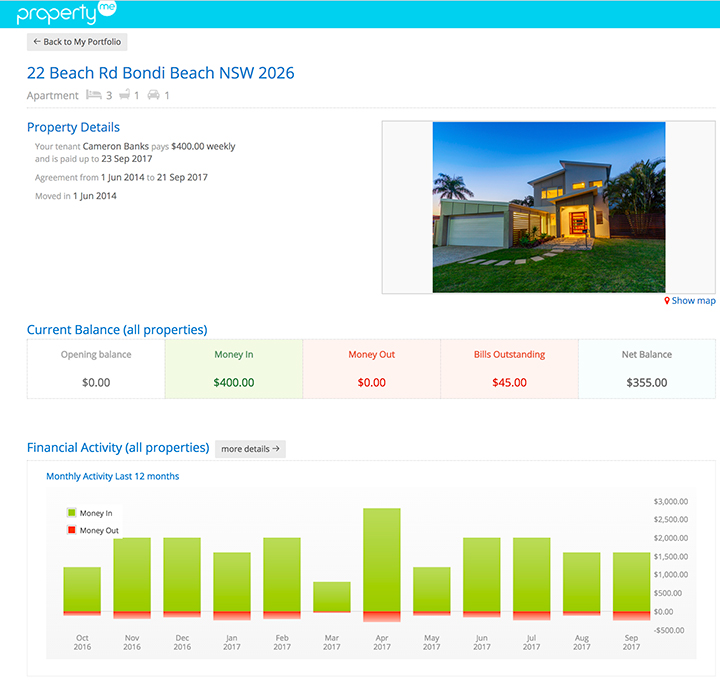 With Owner Access, your owners can log in to PropertyMe to see their property and financial information whenever they want. They can view property information, drill into financial activity and inspection reports, keep track of jobs and download statements and documents.
Aside from the ease-of-use for both parties, Owner Access can also help you stand above the competition as an organised manager who can offer constant transparency. Learn more about Owner Access or request a free demo to see it in action.
Similarly, Tenant Access saves you from unnecessary back and forth communication.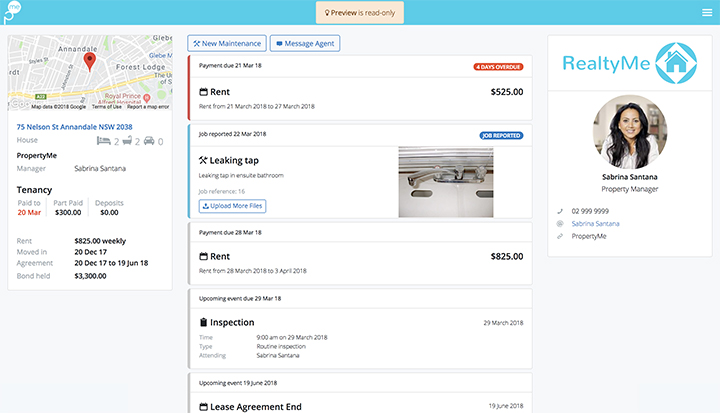 With Tenant Access, your tenants can log in to PropertyMe at any time to see property and lease information, view upcoming events such as inspections, keep track of when rent and bills are due, log and monitor maintenance requests and download rent receipts. Plus, your tenants can message you directly from Tenant Access.
Why type out messages time and time again when you can use a template?
While PropertyMe comes with many customisable ready-made message templates, you can always create your own if you prefer. Not only do message templates save you time, but they also mitigate the risk of including spelling, grammar or autocorrect errors in your messages. This ensures consistent and professional communication across the agency.
Additionally, these messages can be triggered automatically once you action a specific task within PropertyMe to further simplify your workload. For example, if you need to fix a leaking tap, your plumber will be notified after you enter the details. Similarly, you can request job quotes from different suppliers using triggered messages.
Gone are the days of switching between your mail client and property management software. PropertyMe's Messages Inbox captures all inbound messages automatically and matches them with different parts of your portfolio so you never miss a thing.
Want to find out more?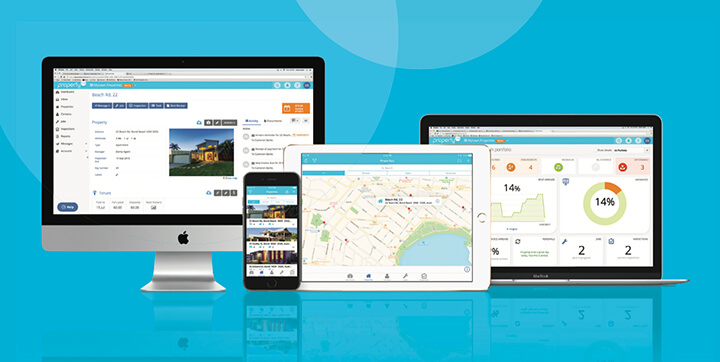 If you'd like to find out more about how PropertyMe can simplify your workload, request a free demo and one of our friendly product specialists will walk you through PropertyMe and answer any questions you might have.
If you enjoyed this blog post on How PropertyMe Can Simplify Your Workload, you might also be interested in How PropertyMe is Different From the Competition, PropertyMe Customer Story: First National Lakeshores and How this Property Manager Saves Her Business $3,437 Every Month.
Did we miss something in How PropertyMe Can Simplify Your Workload? Let us know in the comments below.