With Spring in full swing, the jacarandas are bloomin' and new features are dropping like pollen. This month we're excited to announce that we've delivered on the highest voted feature request. Here's Peter with the lowdown:
Introducing Job Quotes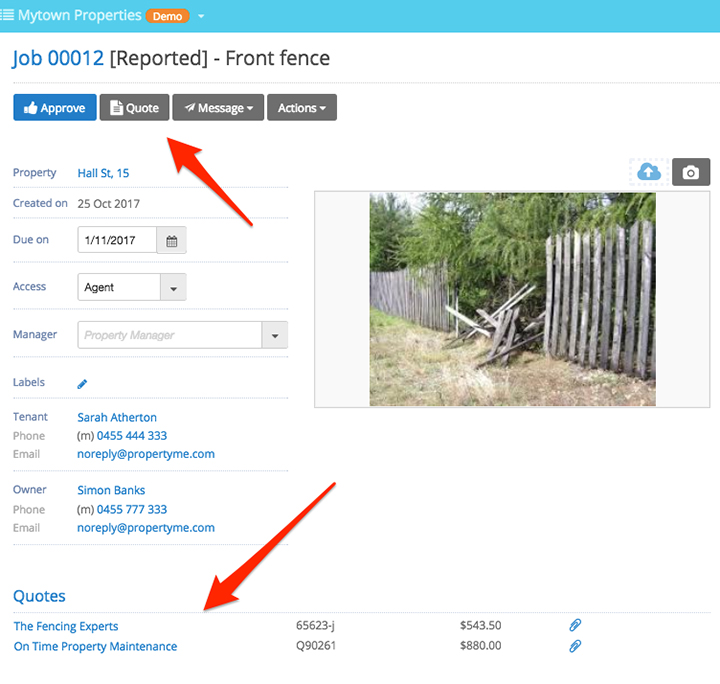 Every month, tens of thousands of jobs are managed through PropertyMe. They vary in size and in some cases, the owner may request a few quotes before they approve the work to be done.
PropertyMe now allows you to easily and efficiently manage this quote request process. Simply create a Job as you normally would then hit the "Quote" button at the top of the Job. You can then add multiple suppliers to request a quote from. All quote request messages will be generated automatically. Simply review them if you want before you hit send.
After you receive a quote back, you can add in the details and attach any documents. Your Owner will be able to see all these quotes in their Owner Portal and decide which one to proceed with.
If you're a PropertyMe user, read more about How to Create Quote Requests.
A New Home for Tasks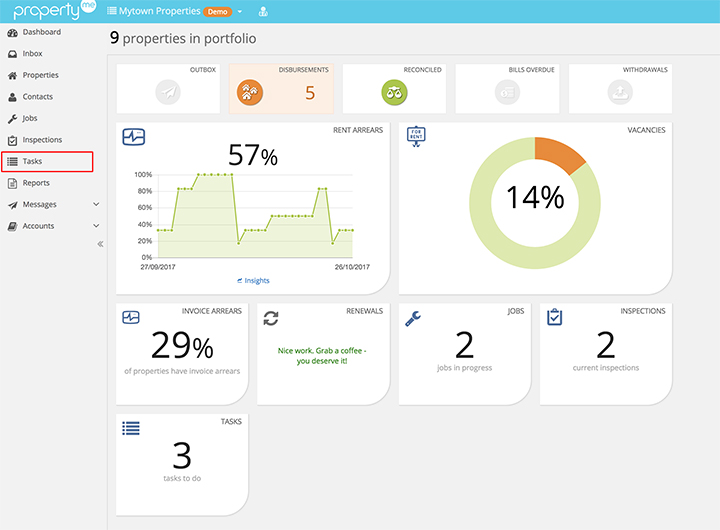 Tasks now have a new home! They now sit proudly with the other main menu items on the left-hand side for easy one-click access. You can also access Tasks via the dashboard or from a property or contact.
In case you missed it…
Here are some more feature updates from the past two months.
Key Numbers on Work Orders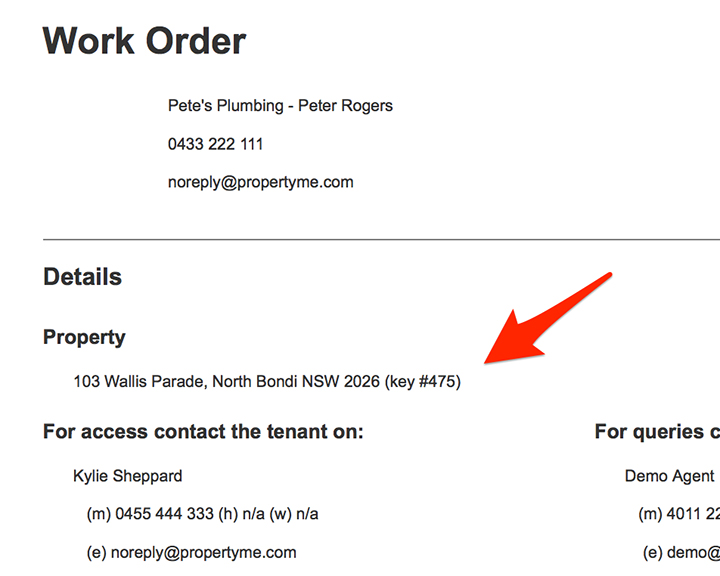 This was actually the highest voted feature request in August and we're proud to say we completed it then! You can read the full August release notes here.
Bulk Complete Tasks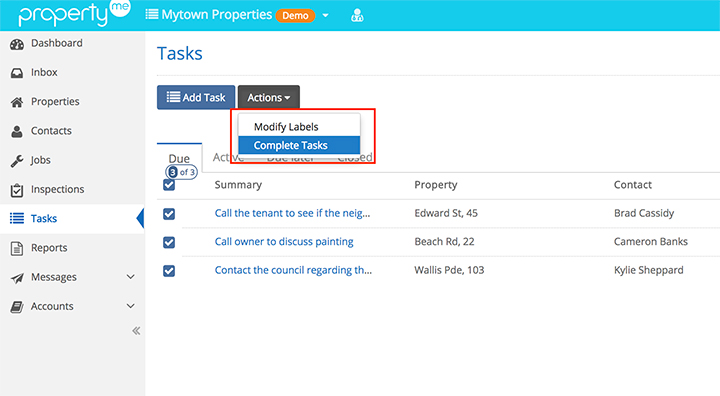 You can now select multiple tasks and bulk complete them or re-open them as needed. Easy peasy lemon squeezy.
Create Task Reports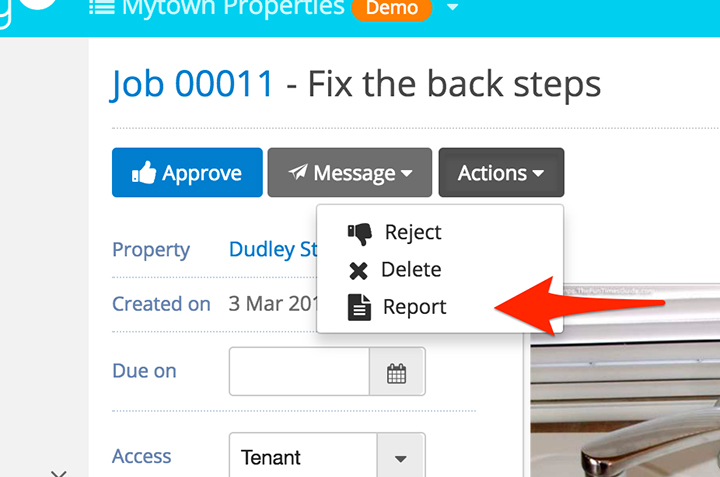 You can generate this report to see all the details for one specific job, inspection, task or message. It will generally include the main details of the task including the log, comments and the name of any attached documents.
Security Matters
Did you know that a few weeks ago, it was Stay Smart Online week? No, we didn't know either…
But security is always top of mind for us. That's why we've added multiple layers of security on all PropertyMe accounts to ensure your portfolio is as secure as possible.
Two-factor authentication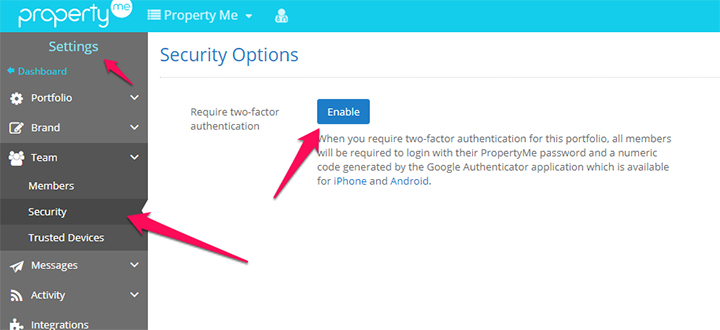 In addition to your password, using a second level of authentication is the best way to stop phishing scammers from gaining access to your portfolio. Now they will need to know your password, be in possession of your phone and have compromised the security of your phone.
Read more about two-factor authentication here.
Notification of sign-in from new devices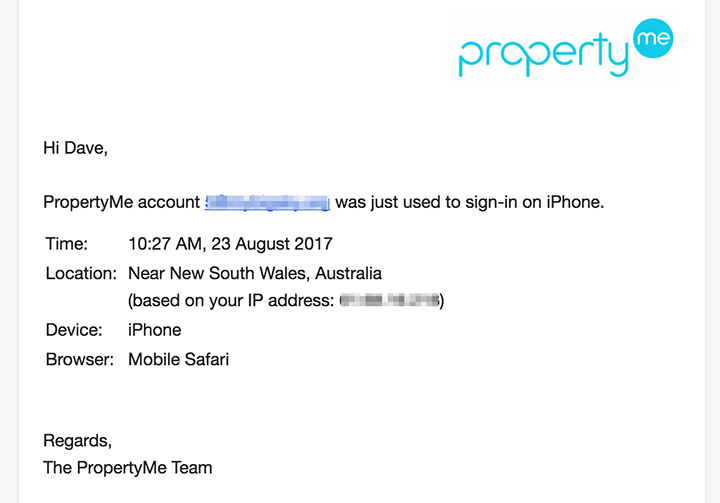 When you log into PropertyMe from a new computer or mobile device, you will receive an email notification with details such as the device used, browser, time of access and the device's IP address.
This allows you to quickly identify a security breach so you can take action if you don't recognise the activity.
Additional user management options

We've added some additional user management options to help you ramp up team security. You can now revoke a team member's access, reset the password for a user, reset two-factor authentication if someone loses their phone or expire a device's authentication if it's no longer used.
Android App in the Play Store
We're getting closer to our Android app launch so stay tuned. If you'd like to join us in beta testing the Android app, simply download it from the Google Play Store and drop us a line at [email protected] to let us know your thoughts.
You can read the full release notes in the PropertyMe Knowledge Base. If you're not a PropertyMe user yet, book a free demo today to discover how PropertyMe can save you time and money!
We're always working on new features and making PropertyMe better for you, so if you have any questions, suggestions or kind words, simply leave a comment below or log a Feature Request.