Over the weekend, we attended the 15th annual Australasian Residential Property Management Conference (ARPM) and it was nothing short of amazing.
Fiona Blayney of Real+ and the team at TRET did a wonderful job organising the event with speakers like Anthony Bonnici, Elite Agent's Samantha Mclean, Cyril Peupion, REIQ's Property Manager of the Year Rachael Byrne and Andy Lark, just to name a few.
Hundreds of property management professionals walked away from ARPM 2017 feeling inspired and equipped with new knowledge and ideas. If you weren't able to make it and have a serious case of FOMO, fret not. Here are our key takeaways from ARPM 2017:
1. Your innate beliefs might be holding you back
Do you ever think to yourself, "I'm hopeless at names", "I'm always late", "I can't do this" or "there's not enough time"? These are all examples of limiting beliefs. They're self-fulfilling and often dictate your behaviour.
Anthony Bonnici believes that whatever you hold true will always affect how you think and how you act. You believe, you think and you act. Therefore, if you want to change that behaviour, you have to go back to the belief that drives it.
Believe that you CAN make a conscious effort at remembering names and being completely genuine. Believe that you CAN be on time if not earlier than expected. Believe that you CAN do this. Believe that there is ALWAYS time if you want to prioritise that activity.
Here are six ways you might be self-sabotaging yourself:
Do you catastrophise and let small things blow out of proportion?
Do you overgeneralise and let your biases take over?
Are you a negative filterer and let negative feedback get you down?
Do you forecast failure before you've even tried it?
Do you emotionalise and take things personally?
Or do you effectualise and focus on the problem rather than solving it?
How to stop self-sabotaging and start changing your beliefs:
Aware: Be aware of what you're doing that is self-sabotaging.
Challenge: Once you're aware, challenge your preconceived identity and your beliefs.
Imagine: Imagine what success could look like. Involve your senses – what do you see, hear or feel when you succeed?
Do: Lastly, just do it. Plan out your goals and see it through to completion.
2. Upcycling can be applied to your PM business
According to Dictionary.com, upcycling is "to process (used goods or waste material) so as to produce something that is often better than the original". Fiona Blayney gave new meaning to the term as she spoke about upcycling in a business context.
Fiona urges us to do more with less by avoiding financial waste in the office, reducing miscommunication and inconsistencies by implementing clear outcomes for each channel, recycling staff in the business by cross-training them and reusing clients as tenants can often become landlords. To sum it all up: avoid, reduce, recycle and reuse.
Similarly, Julie Davis and Neil Williams of Agent Dynamics talked about the power of profiling employees to find their innate talent. When repurposing staff, be sure to consider their personality traits and inherent skills. At the end of the day, different people are more suited to different roles. Putting the right person in the right role can not only result in an increase in efficiency but can also improve work satisfaction and culture.
3. Millennials are leading the property investment pack
We've all heard about the #SmashedAvo gate whereby Bernard Salt condemns Millennials (otherwise known as Gen Y) for their willingness to spend $22 on avocado toast and correlates their brunch habits to their inability to afford property.
Interestingly enough, Rachael Byrne's statistics say otherwise. There are approximately 1.7 million landlords in Australia and Millennials are leading the pack when it comes to investment properties. According to ING Direct, 22% of Gen Y (Millennials) own at least one investment property, followed by 20% of Gen X and 19% of Baby Boomers.
Additionally, 63% of investors are negatively geared with 37% having an income under $100,000. 29% of investors have an income of $100,000 to $150,000 and 63% of landlords invest within 20 kilometres from where they live.
The landscape of property investment is changing and it's skewing towards Millennials in more ways than one. With the number of renters on the rise, Rachael urges us to create a tenant centric business as Millennials are more likely to transition from tenant to landlord quicker than any other demographic.
If you need help reaching Millennials, be sure to check out our blog post on How to Grow Your Property Management Business using Facebook and the Best Real Estate Video Apps of 2017. Studies show that 41% of Millennials use Facebook everyday and that our attention spans are dropping every single year. Beautiful branding and informative, engaging videos can help boost your brand awareness and authority to appeal to the Millennial market.
Furthermore, you can build on existing relationships by making your tenants feel more at home in their rental, being transparent with fees and charges, providing little perks to great tenants and being a flexible, open and communicative property manager.
4. You need to adopt early to outperform your competitors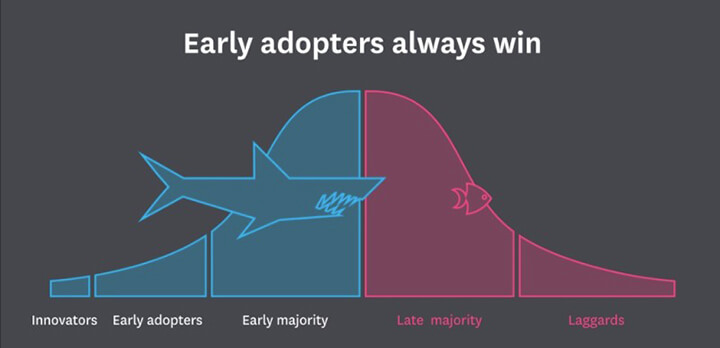 Image credit: Group Lark
Ex-CMO of Xero, Andy Lark talked about how technology is causing waves of disruption. This disruption is not only seen across the real estate industry but across all industries. The shift has largely been driven by the exponential growth of the smartphone market, making it crucial to think mobile first when it comes to your website and communications.
During his talk, Andy covered topics like real estate robots and automation and virtual reality real estate. Chatbots can be used to answer questions and qualify leads, automation can be used in different aspects of the business including property accounting and virtual reality can be used to bring a property listing to life. There are also many real estate apps that are set to transform the real estate industry. Andy predicts that there will be another wave of disruption in the next few years as augmented reality, sensors, wearables and drones become more popular.
To outperform your competitors, you must always be one step ahead. In order to be an early adopter, you must create meaning and purpose, capture data to drive business decisions, use beautiful design with the user in mind, focus on creating better experiences and record any moments of doubt, desire and dissatisfaction to find gaps of opportunity.
Lastly, there is no curve when it comes to tech adoption. Simply put, if you don't become the shark in the above image, you will become the little fish (late adopter) and your competitor will eat you and your market share. Disruption waits for noone and more often than not, it's be right behind you, waiting to surface.
5. You can transform your life once you stop multitasking
We've previously touched on this with 5 Surprisingly Simple Tech Hacks to Boost Productivity but Cyril Peupion of Work Smarter: Live Better really broke it down into actionable steps. He challenged all of us to take a long hard look at our work habits in order to restore work life balance. Think sleeping at night without feeling like you forgot to do something and giving you time back.
Start by implementing these 5 principles:
Prioritise by impact. Focus on long-term impact rather than urgency.
Decide what NOT to do. Prioritising means saying no to some things.
Put your big rocks first. Schedule key priorities first then slot other tasks in between.
Be agile with your big rocks. Stay flexible and block out time every week for your key priorities.
Focus on one task at a time. This means putting your phone down and closing your browser tabs so you can focus solely on one task for a period of time.
Multitasking is one of the biggest killers of productivity as your brain creates mental blocks each time you switch tasks. Not only does it make it more difficult to tune out distractions but it can reduce productivity by as much as 40% and lead to lower quality results.
As a rule of thumb, we should think quarterly to identify two or three priorities to focus on, plan weekly by blocking out time to focus on tasks that have the most impact and act daily to move ourselves closer to our goals.
Hopefully you enjoyed this blog post on Top 5 Takeaways from ARPM 2017. We're looking forward to the next conference already! Here's a bonus picture of one of our founders David Scott doing a demo at the conference:
New to PropertyMe? Check out our features or book a demo now. Alternatively, you might also be interested in Best Real Estate Video Apps 2017, Build-to-rent Building Hope for Australians in Housing Squeeze and The Rise of Real Estate Robots and Automation.
What are your top takeaways from ARPM 2017? Please let us know in the comments below.