Last month, lenders slashed home loan rates ahead of predicted rate cut, Melbourne CBD's vacancy rate rose to a record-high of 10%, the shift towards regional living continues and Australia is in its first recession in 29 years.
Property prices
For the week ending 29 September 2020, national property prices rose 1.1% for houses and 3% for units, compared to the week prior. Across capital cities, the asking price decreased by 1.9% for houses and rose 0.7% for units.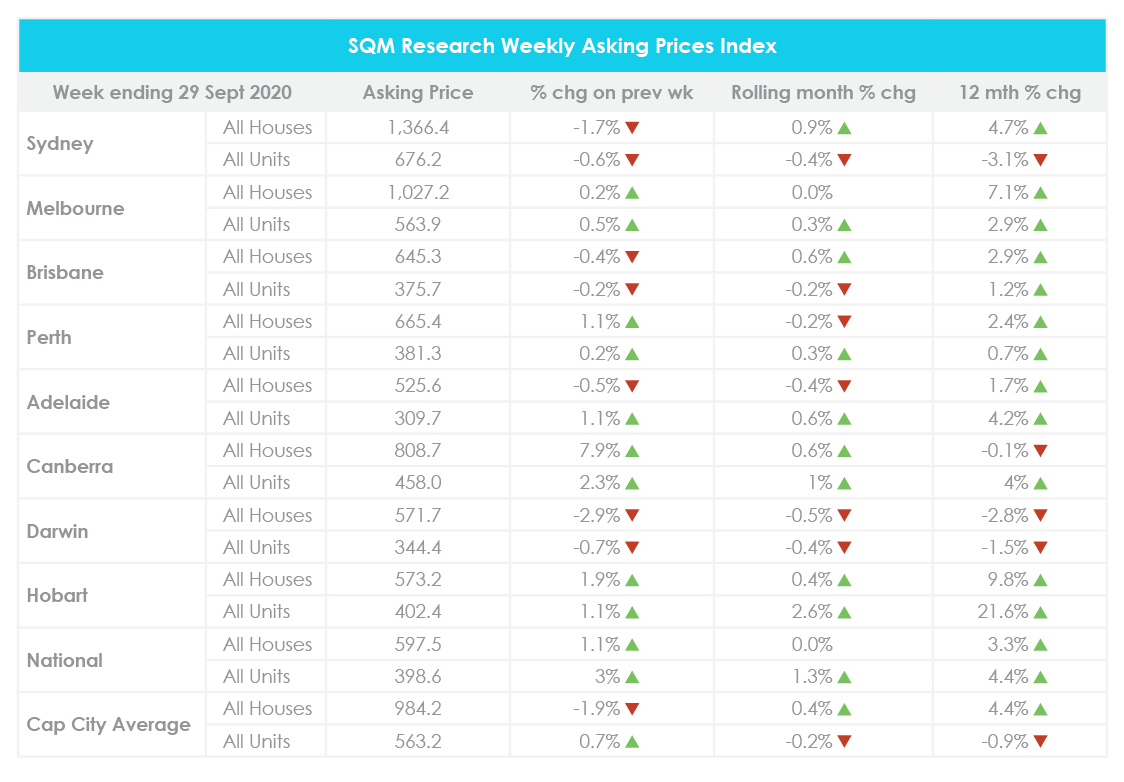 Month on month, national property prices held steady for houses and increased by 1.3% for units. Canberra and Hobart recorded an overall increase in house and unit prices, Darwin recorded an overall decline and the remaining capital cities recorded mixed results.
Compared to the year prior, this reflects a 3.3% increase in house prices and 4.4% increase in unit prices nationwide. Across capital cities, this reflects a 4.4% increase in house prices and 0.9% decline in unit prices. Further price breakdowns can be found here.
Rental values
For the week ending 28 September 2020, the average weekly rent across Australia decreased by 2% to $464 for houses and increased by 2% to $373 for units, compared to the week prior.
Across capital cities, Canberra recorded the highest average weekly rent for houses at $621.70 and for units at $475.20. In contrast, Adelaide recorded the lowest weekly rent for houses at $413.70 and for units at $314.30.
Compared to August, the national weekly rent rose 1.1% for houses and 0.3% for units. Sydney and Melbourne recorded overall declines in weekly rents while Darwin recorded an overall increase.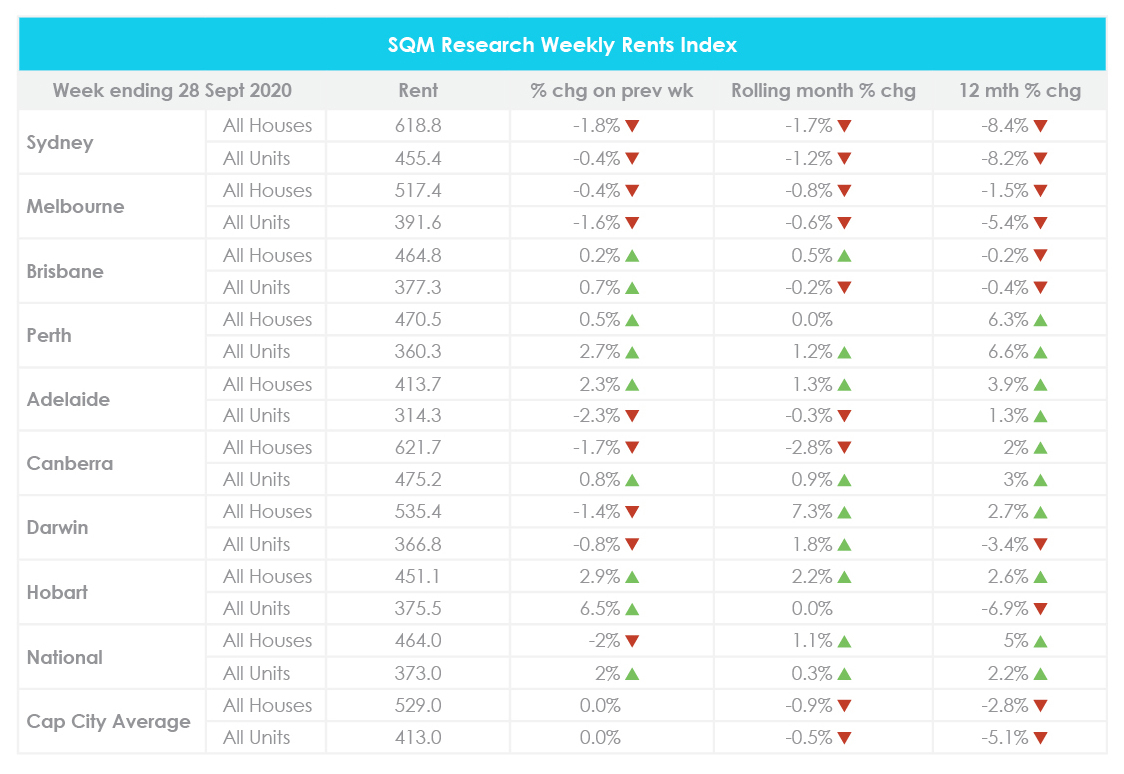 Year on year, national weekly rents have increased by 5% for houses and by 2.2% for units. Meanwhile, capital city weekly rents have decreased by 2.8% for houses and by 5.1% for units. Further price breakdowns can be found here.
Vacancy rates
There were 69,971 vacant residential properties Australia-wide in August, bringing the national vacancy rate down from 2.1% in July to 2%. All capital cities recorded a decrease in vacancy rates compared to the month prior, with the exception of Melbourne which recorded an increase.

Sydney recorded the highest vacancy rate nationwide at 3.5%, followed by Melbourne at 3.4% and Brisbane at 2.1%. Conversely, Hobart recorded the lowest vacancy rate nationwide at 0.7%.
Compared to the same time last year, the national vacancy rate is 0.2% lower. Notably, Melbourne's vacancy rate is 1.4% higher than 12 months ago while Perth and Darwin both recorded a 1.8% decrease. Further vacancy rate breakdowns can be found here.
Sydney and Brisbane CBD vacancy rates continued to improve over the month. Sydney CBD dropped to 12.9% from a record-high of 16.2% in May while Brisbane CBD decreased to 11.4% from a high of 14% in June. In contrast, Melbourne CBD's vacancy rate increased from 8.8% in July to a new record-high of 10% and Adelaide CBD's vacancy rate rose from 7.6% in July to 8.4%.
Most regional locations continued to record declines in vacancy rates, with the New South Wales' Blue Mountains and Victoria's Mornington Peninsula both recording a vacancy rate of 0.7%. Meanwhile, Queensland's Ipswich recorded a low vacancy rate of 0.9%.
SQM Research Managing Director Louis Christopher said, "The shift towards regional living continues at pace, largely at the expense of higher inner city rental vacancy rates. I suspect there will have to be a high point in this move soon. However, I also suspect there will be a degree of permanency with the massive population shift. Meanwhile Sydney and Melbourne rents continue to fall providing leasing opportunities for tenants who have chosen to stay in town."
Auction clearance rates
For the week ending 27 September 2020, 1,107 homes were taken to auction across capital cities with a preliminary clearance rate of 70.5%. This is lower than the 72.4% preliminary clearance rate recorded the week prior and down on last year's final clearance rate of 71%. Last week's final clearance rate of 67.6% was the highest on record since early March.

Across capital cities, Canberra recorded the highest clearance rate at 84.9%, followed by Adelaide at 77.3% and Sydney at 74.8%. In contrast, Perth recorded the lowest clearance rate across the country at 22.2%.
While Sydney volumes have consistently increased and have reached their highest level since early April, Melbourne's sustained lockdown has resulted in extremely low volumes, a high withdrawal rate and a high proportion of properties sold prior to auction. For further auction clearance rate information across each capital city, click here.
Cash rate and predictions
In September, the RBA kept the cash rate unchanged at 0.25%. However, the Bank also decided to increase the size of the Term Funding Facility to help keep interest rates low for borrowers.
RBA Governor Philip Lowe said, "Employment increased in June and July, although unemployment and underemployment remain high. The virus outbreak in Victoria and subdued growth in aggregate demand more broadly mean that it is likely to be some months before a meaningful recovery in the labour market is under way."
RBA Deputy Governor Guy Debelle hinted that the Bank would be willing to further ease monetary policy to stimulate the economy. While the Bank has previously ruled out negative rates on multiple occasions, this was not repeated in Dr Debelle's most recent speech on 22 September.
A rate cut is widely expected in either October or November. RateCity analysis shows that 11 lenders, including the Commonwealth Bank of Australia (CBA) and ING, have slashed their home loan rates ahead of the expected cut.
Previously, Westpac predicted that the RBA would cut the cash rate from 0.25% to 0.1% on the 6th of October — the same day that the federal budget will be handed down — but has since revised their prediction to the 3rd of November.
Westpac Chief Economist Bill Evans explained, "A central bank moving on Budget Day could be interpreted by the government and the bank itself as diverting attention away from the budget and complicating the government's task in 'selling' the budget."
Australia in first recession in 29 years
Australian Bureau of Statistics (ABS) data shows that Australia is in its first economic recession in nearly three decades after Gross Domestic Product (GDP) fell 7% in the April to June quarter as a result of the pandemic.
This is the largest fall in quarterly GDP since records began in 1959, beating the previous worst quarterly result of 2% in June 1974 by more than three-fold. It also represents the biggest annual economic contraction since the Great Depression in the 1930s when the economy shrank by an estimated 10%.
As a result, former Prime Minister Paul Keating publicly criticised the RBA on how it has handled the coronavirus-induced economic downturn. In response, Treasurer Josh Frydenberg told ABC News that the criticism was a "very nasty, personal, vindictive, unnecessary, misguided attack by Paul Keating."
ABS: A series of unprecedented events
The ABS recently published an analytical series breaking down the ongoing economic impacts of the coronavirus pandemic on a number of key ABS economic indicators. The series shows that:
Household gross disposable income increased by 2.2% in the June quarter due to social benefits, unincorporated business earnings and investment income
Household spending decreased by 12.1% in the June quarter and by 2.6% in the 2019-20 financial year
As a result, the household saving to income ratio increased to 19.8%, the highest since June 1974
More time at home led to a 29.8% increase in household spending on tools, 21.1% increase on appliances and 20.9% increase on goods for recreation and culture
The Consumer Price Index (CPI) fell 1.9% which represents the largest quarterly fall in the 72-year history of the CPI
Household net saving increased by $42 billion to $59.5 billion in the June quarter
There was a 6.5% decline in weekly payroll jobs in the rental, hiring and real estate services industry in the June quarter
The series also shows that the unemployment rate increased from 5.2% in March to 7.4% in June. This figure rose to 7.5% in July with more than 1 million Australians unemployed. However, the latest labour force figures show that the number of unemployed Australians has decreased to 921,800, bringing the unemployment rate down to 6.8%.
Home loan commitments rose 8.9%
With the cash rate at a record low and lenders slashing rates in a battle for new customers, the value of new loan commitments for housing increased by 8.9% from June to July, seasonally adjusted.
The value of new loan commitments increased by 10.7% for owner-occupier housing and by 3.5% for investor housing. Meanwhile, the number of owner-occupier first home buyer loan commitments surged by 14.4%.
ABS Head of Finance and Wealth Amanda Seneviratne said, "July owner-occupier home loan commitments rebounded with the largest month-on-month rise in the history of the series, as social distancing restrictions eased in most states and territories."
"New loan commitments for owner-occupier housing rose in all states and territories, except the Australian Capital Territory. The largest increases were in New South Wales, Victoria and Queensland."
"The value of new loan commitments for owner-occupier housing in Victoria rose 8.9 per cent in July, reflecting the period of eased COVID-19-related restrictions prior to restrictions tightening again from later in July."
Private inspections to commence in Melbourne again
Real estate restrictions have eased in Melbourne earlier than anticipated, with private residential property inspections permitted from the 28th of September. This came as a welcome relief to the industry as Victoria's coronavirus roadmap previously indicated that private inspections would commence on the 26th of October, at the earliest.
Stage four coronavirus lockdown restrictions have been in effect in metropolitan Melbourne since the 2nd of August. The tougher rules included an overnight curfew, a ban on private real estate inspections and a 5-kilometre travel restriction for shopping and exercise to reduce the risk of community transmission.
As a result, Melbourne real estate activity was extremely subdued throughout August and September, with the Real Estate Institute of Victoria (REIV) calling on the state government to allow one-on-one inspections of properties.
Subsequent to real estate restrictions easing, REIV President Leah Calnan told Property Observer, "This will be an enormous relief to buyers, sellers and renters alike, many of whom have been suffering severe financial and emotional stress over the past few weeks."
"This decision is recognition that the real estate profession can be trusted to conduct inspections in a safe and responsible manner."
There are a number of rules that the industry must adhere to for private inspections conducted during this time:
Inspections must be conducted with one agent and one prospective buyer or tenant
A household member, partner or child may accompany the prospective buyer or tenant
Inspections must be at a pre-arranged time
Inspections have a 15-minute time limit
Contactless protocols must be adopted
If a person's primary residence is in metropolitan Melbourne, they can only leave their home for a maximum of two hours to attend the inspection and cannot travel into regional Victoria for a private inspection
If a person's primary residence is in regional Melbourne, they cannot travel into metropolitan Melbourne for a private inspection
Hopefully you enjoyed this September Property Market Update. Be sure to subscribe to our Monthly Insider below to receive email updates.
You might also be interested in:
Let us know your thoughts on this month's September property market update by emailing [email protected].