In July, national and CBD vacancy rates improved, rental values fell 0.5% in the June quarter, the mortgage rate wars cracked 2% and the NSW Government announced a big boost for first home buyers.
Property prices
For the week ending 28 July 2020, the national asking price rose by 0.9% for houses and 0.3% for units, compared to the week prior. Across capital cities, property prices decreased by 6.6% for houses and by 0.7% for units.
Month on month, the national asking price increased by 0.2% for houses and by 0.3% for units. Brisbane, Perth, Darwin and Adelaide recorded an overall decline while Hobart recorded an increase across the board. Meanwhile, Sydney, Melbourne and Canberra recorded mixed results.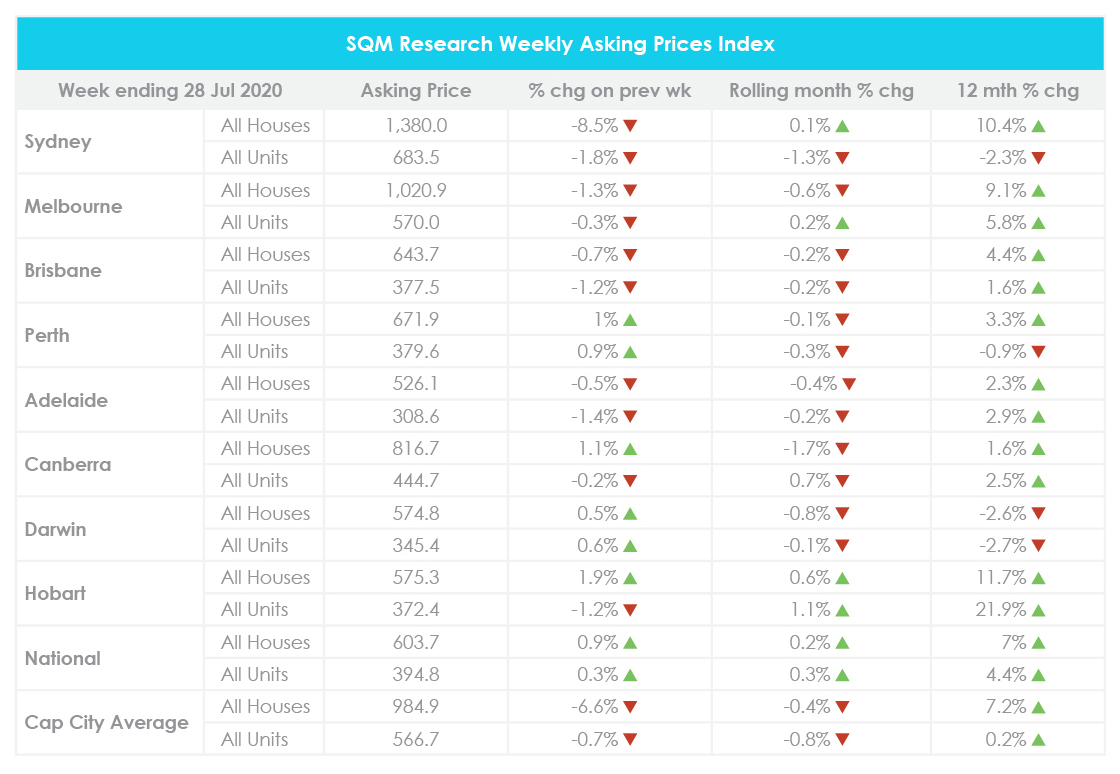 Compared to the year prior, this reflects a 7% increase in house prices nationwide and a 4.4% increase in unit prices nationwide. Across capital cities, this reflects a 7.2% increase in house prices and a 0.2% increase in unit prices. Further price breakdowns can be found here.
In a recent ABC NewsRadio interview, SQM Research Managing Director Louis Christopher commented on the housing downturn and warned of further price falls of up to 30% in Sydney and Melbourne as a result of international border closures and decline in net overseas migration.
The SBS reports that the new Treasury modelling is based on the key assumption that international borders will reopen on the 1st of January next year. Once the travel ban is lifted, temporary and permanent migrants will be able to enter Australia again, which will help stimulate the economy. However, Treasurer Josh Frydenberg maintains that no decision has been made to lift the travel ban yet.
Rental values
For the week ending 28 July 2020, the average weekly rent across Australia increased by 3% to $455 for houses and held steady at $367 for units, compared to the week prior.
Across capital cities, Sydney recorded the highest average weekly rent for houses at $638.10 and Canberra recorded the highest weekly rent for units at $473.20. In contrast, Adelaide recorded the lowest weekly rent for houses at $412.40 and for units at $317.80.
Compared to June, the national weekly rent rose by 2.5% for houses and decreased by 0.5% for units. Sydney and Melbourne recorded overall declines in weekly rents while Perth, Adelaide, Darwin and Hobart recorded overall increases.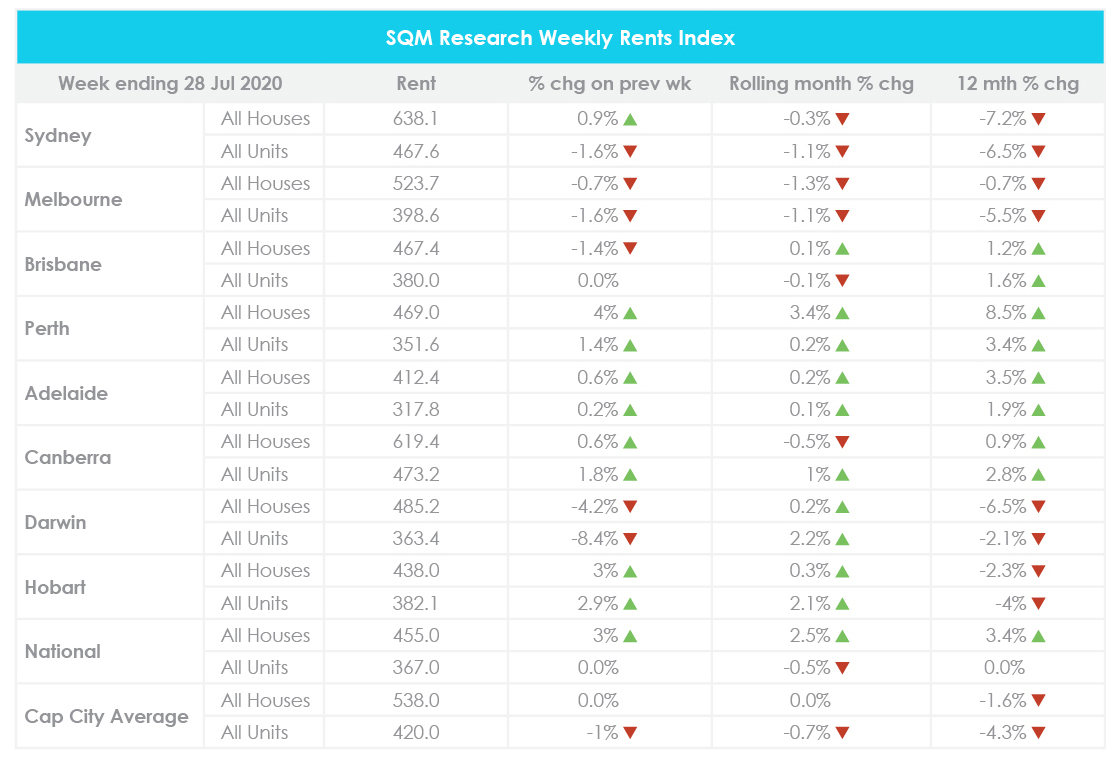 Year on year, national weekly rents have increased by 3.4% for houses and remained the same for units. Meanwhile, capital city weekly rents have decreased by 1.6% for houses and by 4.3% for units. Further price breakdowns can be found here.
According to CoreLogic's quarterly rental review, capital city rental values fell 0.7% in the June quarter whereas regional rental values rose 0.2%. Nationally, rental values decreased 0.5% over the quarter, representing the largest quarterly fall in rents since September 2018, with further falls expected.
CoreLogic Head of Research Australia Eliza Owen remarked that the rental market was already relatively weak prior to the decline in values over the June quarter. While growth in rents was building momentum between September 2019 and March 2020, COVID-19 put an immediate halt to any progress.
"Closed international borders created a significant shock to rental demand, as historically the majority of new migrants to Australia have been renters. Furthermore, job losses in sectors such as hospitality, tourism and the arts, which ABS payroll data estimates has been around 20%, have also impacted demand, because households in these sectors are more likely to rent than in other industries," said Owen.
Vacancy rates
The national vacancy rate decreased from 2.5% in May to 2.2% in June with 77,132 vacant residential properties Australia-wide. All capital cities recorded a decrease in vacancy rates compared to the month prior, with Darwin recording the largest decline at 0.5%.
Sydney recorded the highest vacancy rate nationwide at 3.8%, an improvement from the 4% recorded in May. In contrast, Hobart and Adelaide recorded the lowest vacancy rates nationwide at 0.9% and 1% respectively.

Year on year, the national vacancy rate is 0.1% lower. Across capital cities, almost all cities recorded a lower vacancy rate compared to the year prior, with the exception of Sydney, Melbourne and Hobart. Further vacancy rate breakdowns can be found here.
CBD vacancy rates saw an improvement in June. Sydney CBD's vacancy rate decreased from 16.2% in May to 13.8% in June. Meanwhile, Melbourne CBD's vacancy rate dropped to 8.8%, Melbourne Southbank dropped to 16.2%, Adelaide CBD declined to 7.1% and Perth fell to 5.2%. Conversely, Brisbane CBD's vacancy rate rose to 14%.
SQM Research Managing Director Louis Christopher said, "We believe the surprise fall in vacancy rates is due to Airbnb property owners giving up on the longer term leasing market and moving back to short term leasing, especially in light of the July school holiday period and the opening of some state borders."
"Going forward, our expectation is the Australian rental market will remain weak for the duration of 2020 or until such time as the international border reopens and we as a community have past the worst of COVID19."
Auction clearance rates
For the week ending 26 July 2020, there were 1,326 homes scheduled for auction across capital cities. 711 homes were successfully sold, returning a final clearance rate of 54.1%. The same period last year saw 1,124 homes taken to auction with a final clearance rate of 68.6%.

Across capital cities, Canberra recorded the highest clearance rate at 77.6%. This was followed by Sydney at 60.6% and Adelaide at 57.4%. In contrast, Perth recorded the lowest clearance rate at 25%. For further auction clearance rate information across each capital city, click here.
Furthermore, CoreLogic figures show that 13,783 auctions were held in the June 2020 quarter, which is 27% less than the 18,902 auctions held in the March quarter. This is also 24% lower than the June 2019 quarter when 18,104 auctions were held. Moreover, the June 2020 quarter had a withdrawal rate that was 6.1% higher than the March quarter due to the initial market response to COVID-19.
Cash rate and predictions
The RBA kept the cash rate unchanged at 0.25% at the beginning of July in response to the sharp rise in unemployment due to the pandemic. ABS figures show that the unemployment rate rose to 7.1% in May—the highest level in nearly two decades.
RBA Governor Philip Lowe said, "Since March, an unprecedented 800,000 people have lost their jobs, with many others retaining their job only because of the government and other support programs."
"While total hours worked in Australia continued to decline in May, the decline was considerably smaller than in April and less than previously thought likely. There has also been a pick-up in retail spending in response to the decline in infections and the easing of restrictions in most of the country."
"Uncertainty about the health situation and the future strength of the economy is making many households and businesses cautious, and this is affecting consumption and investment plans. The pandemic is also prompting many firms to reconsider their business models. As some businesses rehire workers as demand returns, others are restructuring their operations."
Dr Lowe remarked that "it is likely that fiscal and monetary support will be required for some time" to help the Australian economy through this difficult period.
Mortgage rate wars crack 2%
In June, the mortgage rate wars escalated with banks such as NAB and Westpac dropping their lowest-advertised variable rates to 2.69% and non-bank lenders offering variable rates as low as 2.17%. At the end of June, Tasmanian-based Bank of Us cracked the 2% barrier with the introduction of a 1.99% fixed rate home loan, exclusive to Tasmanian residents.
This month, online lender loans.com.au launched a new home loan product with a record low variable rate of 1.99%. However, the discounted rate is only available for 12 months before reverting to 2.57%.
Canstar Finance Expert Steve Mickenbecker told Property Observer, "Just last month we saw fixed rates crack the 2% barrier, with variable rates now following suit, albeit with an introductory rate that moves higher after 12 months."
"We saw how quickly the competition moved below 3% once that record fell, so a rate below 2% could soon become the qualifying rate to be competitive."
NSW stamp duty relief for first home buyers
On the 27th of July, Premier Gladys Berejiklian announced the elimination of stamp duty on newly-built homes below $800,000 and stamp duty discounts for new homes up to $1 million. Note that the changes only apply to newly-built homes and vacant land, not to existing homes.
The temporary policy is part of the NSW Government's COVID-19 Recovery Plan and is designed to "get more keys into front doors" and boost housing construction and the creation of jobs. The changes will commence on the 1st of August 2020 and will last for a 12-month period.
Under the changes, first home buyers can save up to $31,335 in stamp duty on a new $800,000 property. The NSW Government estimates that more than 6,000 first home buyers will benefit from the temporary policy.
Treasurer Dominic Perrottet said, "The current scheme has already helped over 93,000 first home buyers since July 2017 and this will give the construction industry extra support as we face the challenges of COVID-19."
Hopefully you enjoyed this July Property Market Update. Be sure to subscribe to our Monthly Insider below to receive email updates.
You might also be interested in:
Let us know your thoughts on this month's July property market update by emailing [email protected].