You've got to spend money to make money, the investment adage goes. It's a cliché for a reason, as this sentiment holds true for every industry, including real estate.
While representing a relatively minor investment, the right property management software can quickly pay for itself by helping you reduce overheads, increase efficiency, identify opportunities for growth and boost property management revenues.
Without further ado, here's how property management software pays for itself, and then some.
Save time and money
Human processes bring human error. The most widely acknowledged error rate for manual data entry is 1%. While that may not seem particularly high, the price of a single mistake can be huge. For example, J.P. Morgan recorded a trading loss of $6.2 billion due to human error on an Excel spreadsheet.
By switching to property management software with automation, you can dramatically reduce the risk of human error caused by manual data entry. It also serves to increase efficiency, not just by automatically recording data, but by using intelligent workflows that automate repetitive processes, such as end of month, arrears, bill management, communications and more.
For example, PropertyMe's Bill Scanning feature reads the barcode or QR code on any bills when you scan them in and automatically allocates the bill against the appropriate supplier and property with the dollar amount.
What would have taken hours can now be done in a matter of seconds, freeing you up to focus on more important things such as building relationships and growing your rent roll.
Add value to your service offering
In an industry built on relationships, providing a great real estate customer experience can increase customer satisfaction and retention, which can then serve to bolster your reputation and help you generate referrals and leads.
Property management software helps you do just that. By providing your owners and tenants 24/7 online access to all relevant property and financial information, you can keep everyone in the loop, reduce inbound calls and add value to your service offering.
What's more, studies show that consumers are willing to pay up to 16% more for a better customer experience. So by providing a premium service, you can attract a premium client and justify a premium price.
Ensure payments are made on time
As a property manager, a key factor that influences customer satisfaction is the timeliness of rent and other payments. Modern property management software can help you ensure payments are made on time by providing features that allow you to easily chase up overdue amounts.
For example, PropertyMe's Tenancy & Arrears Management workflow constantly works behind the scenes to identify overdue payments and displays the percentage of rent arrears on the Dashboard for a bird's-eye view of your portfolio. You can click on the rent arrears widget for more information and quickly generate single or bulk arrears notices.
A structured system for managing arrears and violations allows you to put firm rules in place and take action when those rules are broken, increasing both admin efficiency and the bottom line.
Avoid compliance issues
The best property management software solutions have features that help you easily track and manage compliance tasks. Does the property have a functional smoke alarm? Is the property's pool fully compliant? When does the landlord insurance expire? Rather than relying on scribbled notes and messy calendar reminders, these tasks should be put in one easy-to-manage place to help you mitigate compliance risk.
Moreover, your property management software should leave a clean digital paper trail and be trust account compliant to help you ace your trust account audit. It should also log all activity, including when a communication was sent out, and whether it was opened by the tenant, to avoid confusion and assist with disputes in court.
Reduce office real estate
With cloud-based property management software, you can expand your property management empire while simultaneously shrinking the size of your office. Literally.
One of the greatest benefits of cloud property software is the ability to store your data in the cloud and go paperless. This removes the need for large, physical servers and clunky pieces of hardware and storage, allowing you to reduce your office real estate. All you need is a device and a working internet connection to access your data from anywhere you choose.
According to DocuSign, the true savings generated by going paperless add up to thousands of dollars annually. Without paper, printer, ink, maintenance and postage costs, you could be saving as much as US$36 per document. That's an incredible return on investment!
Plus, if you need more storage, you can simply upgrade your subscription rather than purchasing additional hardware, making scaling your business a breeze. This also means you only pay for what you need, which increases flexibility and saves you money on IT equipment and maintenance.
Identify opportunities for growth
How many properties were gained or lost last month? How many inspections were completed? What is the average first response time? What percentage of tenants were in arrears? How do these KPIs compare to the same period last year?
Some property management software systems allow you to track KPIs for a more holistic view of your operations over time. From there you can identify areas of improvement and opportunities for growth, and use these insights to boost your property management revenue.
To sum it up…
Here's how property management software generates an incredible return on investment:
Save time and money
Add value to your service offering
Ensure payments are made on time
Avoid compliance issues
Reduce office real estate
Identify opportunities for growth
You need to spend money to make money, but you want to be confident that any outlay will offer a healthy return on investment. For all these reasons and more, property management software offers you perhaps the greatest ROI of any investment a property manager could make.
About PropertyMe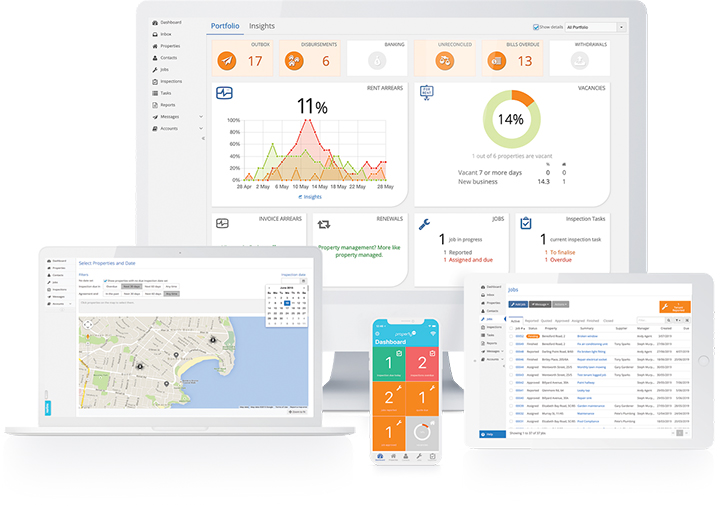 PropertyMe is Australia's largest and most complete cloud property management software platform. Book your free demo today to see why thousands of property managers have switched.
Thanks for reading this blog on the return on investment of property management software. You might also be interested in:
Let us know your thoughts on The incredible return on investment of property management software by emailing [email protected].