For decades, property managers have used paper, email and spreadsheets to record trust accounting transactions and jot down inspection notes, tenant requests and tasks. Now, property managers around the world use property management software to manage their properties and day-to-day tasks.
But what is property management software and what does it do? What is the difference between cloud property management software and server-based property management software? How does it benefit you as a property manager? What are the most popular features?
Without further ado, here's property management software explained: cloud-based vs server-based.
What is property management software?
In short, property management software is a program designed to help property managers manage residential and commercial properties on behalf of their owners.

With trust accounting, maintenance, inspection, communication and reporting features, it brings together all the key functions of property management into the one program. Not only does this save time and money by reducing add-ons, but it also streamlines your day-to-day property management tasks.
This allows you to stress less, get more done and focus on what really matters–think nurturing leads, growing your rent roll and providing a better service to your clients. Some systems even have KPIs which help uncover opportunities to inform growth.
Additionally, property management software helps maintain a clear digital paper trail for compliance purposes. So when it comes time for a trust account audit, the auditor can easily check your balances and view all activity in and out of the trust account.
Types of property management software
There are two types of property management software: installed software and cloud software.

Installed or server-based property management software requires you to install the program on your computer. Your data is stored in onsite servers which typically require an IT team to implement, maintain and upgrade. This also means that you can only access your data when you're in the office.
Online or cloud property management software requires no installation. You simply log into the program from your web browser, tablet or mobile device. Your data is stored in the cloud so you can access your data from anywhere, as long as you have an internet connection.
Compared to server-based software, there are many benefits to cloud property management software including reduced costs, automatic backups and upgrades, increased efficiency and security, greater accessibility and scalability. That's why cloud property management software is now the preferred choice for many property managers and real estate agencies alike.
In fact, one of the biggest benefits is the ability to work from anywhere in the world. You could be out of the office or on holidays in Fiji and running end of month! Just check out how this property manager ran end of month at an open home.
What are the most common property management software features?
While features vary between software systems, the most important feature is the ability to track and record all of your trust account transactions. This should include workflows for bills, disbursements, reconciliation and reporting. Some systems even have built-in automation to simplify workflows, reduce manual data entry and mitigate the risk of human error.
For example, with PropertyMe, you can perform a one-click disbursement. The disbursement will run in the background and the system will automatically generate messages to your owners and suppliers. These messages will sit in your Outbox for you to preview before you send them out (unless you choose to fire them off immediately).
Additionally, features like self-serve owner access and tenant access can help facilitate better communication between you and your clients. Your owners and tenants no longer have to call you to find out when the next inspection is or when rent is due. They can simply log in to see a real-time view of their property and financial information whenever they want.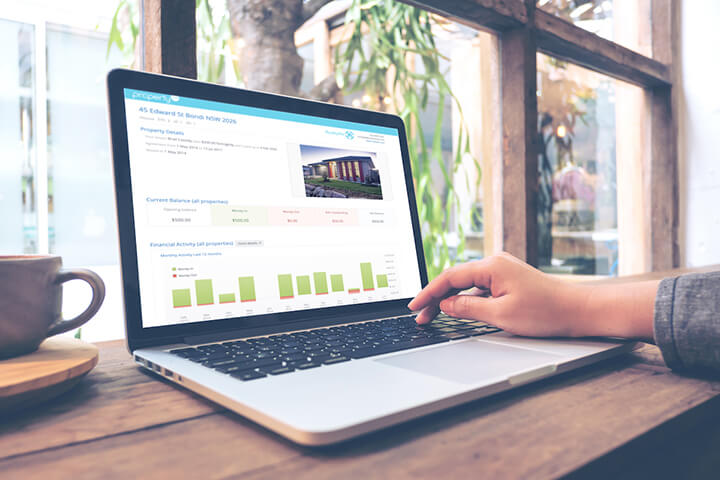 Those are just three of the most common property management software features. There are many more including maintenance and inspection features, customisable KPIs, report generation for transactions, task management, message templates and inbox, document storage, mobile apps and reminders to alert various arrears notices, just to name a few.
Be sure to check out 10 Essential Property Management Software Features to learn more and download our free feature comparison checklist.
About PropertyMe cloud property management software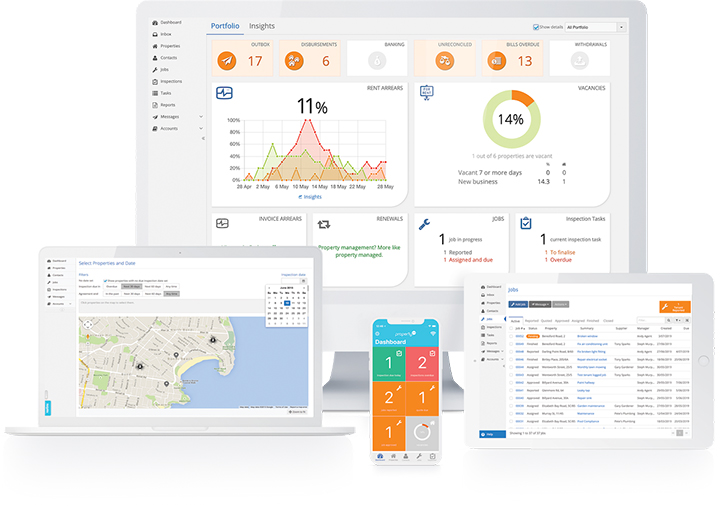 PropertyMe is Australia's largest and fastest growing cloud property management platform. With an easy-to-use interface, comprehensive trust accounting, mobile app, client access, built-in inspection planning and maintenance, you'll have everything you need to manage your properties.
Book a free demo today to see why thousands of property managers have switched to the PropertyMe cloud.
If you enjoyed this blog post on Property Management Software Explained: Cloud-Based vs Server-Based, you might also be interested in 6 Simple Steps to Choosing the Right Property Management Software, How this Property Manager Saves Her Business $3,437 Every Month and How PropertyMe is Different From the Competition.
Did we miss anything in Property Management Software Explained: Cloud-Based vs Server-Based?