We have recently been enhancing our Standard Plan package to include some exciting new features which will streamline your processes and delight your day as a property manager. Let's dive into the top five features that will make you want to upgrade to PropertyMe's Standard Plan.
Listings
Our highly anticipated feature Listings is an industry-first tool. It allows real estate agents to easily manage the leasing process from listing creation to website and portal push all within PropertyMe. With Listings you can:
See rental listing details at a glance
Publish your listings on portals such as Domain, Realestate.com.au and Rent.com.au all directly through PropertyMe
Publish your rental listings on your agency website
Create, edit, update and withdraw listings all in one place
If you're a PropertyMe user, you can find out more about our Listings feature here.
Bank Feeds
We've made trust accounting easy, by activating a bank feed that occurs automatically before you even arrive at the office. Forget about manually downloading and importing bank transactions. Bank transaction data is automatically imported into PropertyMe and matched to different parts of your portfolio. All you have to do is process the transactions to reconcile your accounts.
Each day, from your dashboard you will be prompted to process transactions that were received the previous day.
If you're a PropertyMe user, you can find out more about Bank Feeds here.
Bill approvals
Eliminate processing errors, fraud and misconduct with greater control over the approval of bills. Designate one or select team members to approve bills as they are added into PropertyMe and set up auto-approval for trusted suppliers. Bill approvals allows you to designate one person or a few people within your office access to approve bills as they are added in.
Bill approvals is particularly useful in offices where an accounts team manages the bills processing. Accounts teams aren't always familiar with what jobs have occurred and to eliminate false or incorrect bills being provided, bill approval by a team leader or the property managers will result in fewer issues.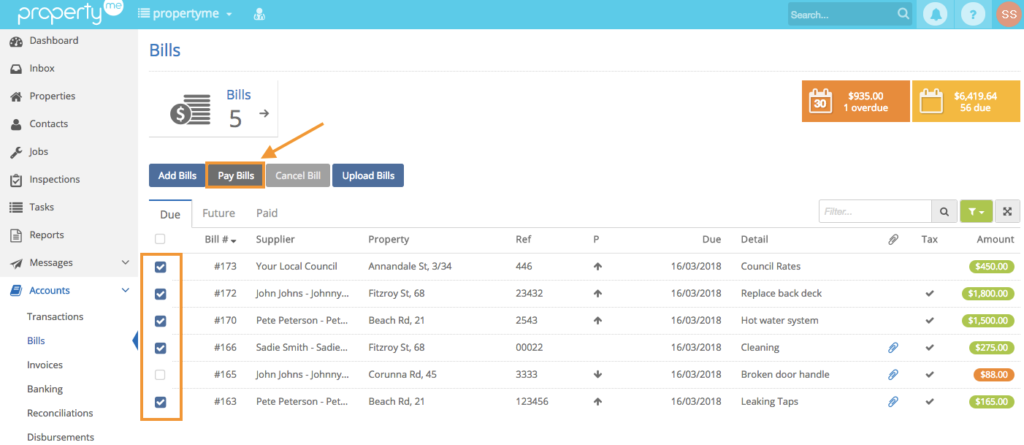 If you're a PropertyMe user and wish to watch a Bill approvals tutorial, click here.
Insights
PropertyMe has a great feature on the Dashboard called Insights which gives you a central, birds eye view of how your portfolio is performing. Basic plan subscribers of PropertyMe are likely familiar with the Properties Gained/Lost and Tenant Arrears insights as these are made available to their package.
Keep a finger on the pulse of your business and uncover trends and opportunities for growth with customised KPIs and detailed reporting. Gain a deeper insight into properties gained and lost, tenants in arrears, average reply time, overdue tasks and more.
Standard plan subscribers of PropertyMe are able to utilise extra tiles that can provide a deeper insight into your portfolio by assessing statistics such as response times, open conversations and open jobs.
Insights in PropertyMe will also let you set up, customise and organise any property management KPI needs for your office. Simply set up your insights to cater you and your teams needs.
If you're a PropertyMe user and wish to learn more about Insights you can click here to watch a tutorial.
Recurring Invoices
Recurring Invoices allows you to add ongoing charges which occur throughout a tenancy. This can include things such as fixed monthly outgoings or maintenance contributions.
The feature simplifies your invoicing workflow by allowing you to set up an invoice once, allocating how many days in advance you would like to send out the invoice prior to the due date and have it emailed to the tenant at the set recurring amount of time.
These invoice items can be allocated to be payable to the landlord of the property or a selected supplier and can be inclusive or exclusive of GST.
If you're a PropertyMe user and wish to watch a Recurring Invoices tutorial, click here.
If you are currently a PropertyMe user and would like to upgrade your package from Basic to Standard, you can update your subscription to the Standard Plan from your subscription settings. You can learn more about pricing by clicking here.
If you are looking to subscribe to PropertyMe and would like more information on our Standard Plan package, you can request a demonstration here.
Thanks for reading this blog on the Top five features that will make you want to upgrade to our Standard Plan! You might also be interested in:

Let us know your thoughts on the top five features that will make you want to upgrade to our Standard Plan with PropertyMe by emailing [email protected].