Looking to win more clients and grow your audience on Facebook, Instagram, Linkedin or Twitter? Here are 25 real estate social media ideas to help you out:
1. Create all the videos as studies have shown that real estate videos can generate 4x more listing enquiries. Try turning existing blog posts, how-to guides, property listings and frequently answered questions into social media videos.
To help you get started, here are 10 essential real estate videos and the top smartphone apps to make them.
2. Post a testimonial to reinforce why potential clients should hire you as their property manager. This can be in the form of a video, graphic or simple text post.
3. Run a competition or giveaway to amplify your reach and boost your brand awareness. Be sure to select a prize that's relevant and desirable to property owners or tenants.
Additionally, different social media platforms have different rules around competitions so be sure to do your research beforehand. Here are Facebook's Guidelines; scroll down to Promotions for competition guidelines.
4. Use pop culture references to make your brand more relatable to your clients. You should only do this if you have a good idea of your target market's demographics and interests.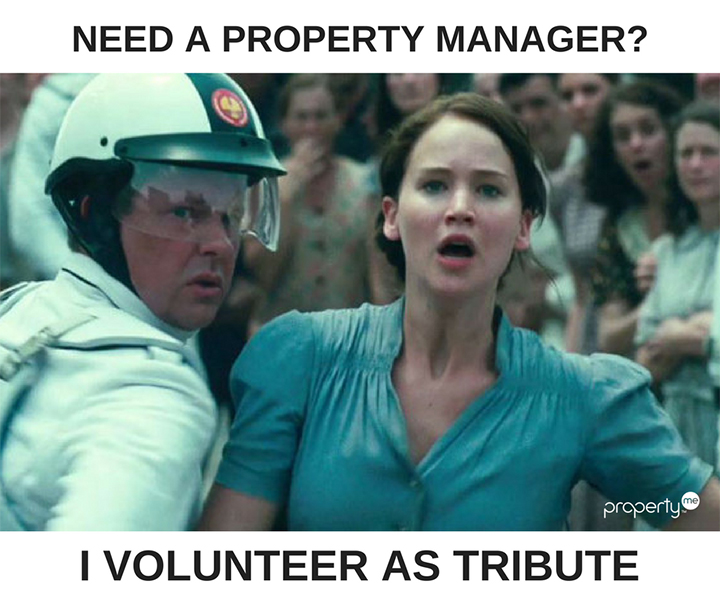 5. Post relevant and helpful content to establish yourself as a knowledgeable agent. Try posting blog posts and videos that answer specific questions that your potential clients might have.
6. Share a relevant and interesting infographic to summarise or explain something in a visual manner. Not only do infographics provide a lot of value to potential clients, they also encourage engagement and are highly shareable. Here are 7 tools to help you create infographics.
7. Collaborate, collaborate, collaborate to reach new audiences and grow your following. Try conducting interviews with thought leaders or partnering with local businesses to create mutually beneficial content.
8. Encourage your audience to fill in the blank with statements such as "_______ are the best type of investment property."
9. Take advantage of live video to show potential clients what happens behind-the-scenes at an open for inspection or to answer any questions they might have. You can also go live at a local event to showcase your involvement with the local community and brand personality.
10. Highlight why property owners should hire you by identifying a pain point that you can solve.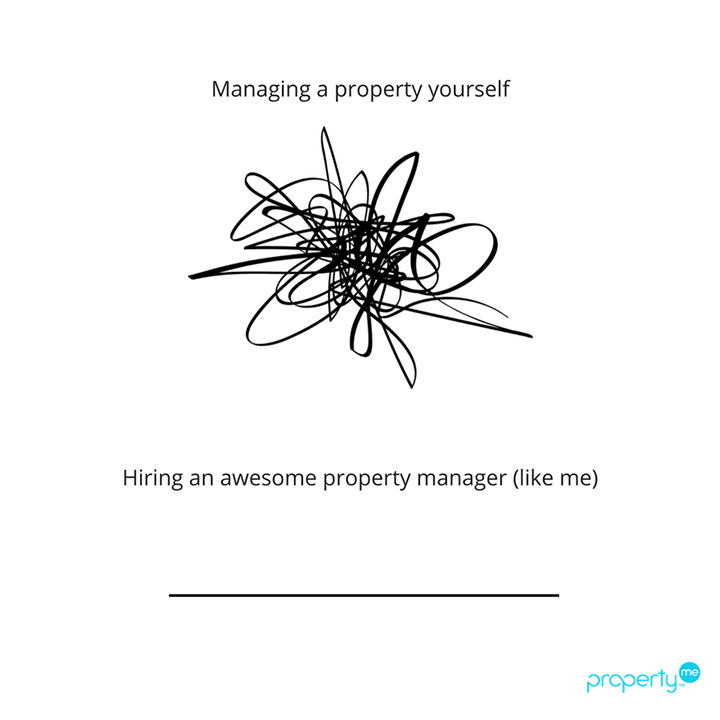 11. Post a GIF as they often autoplay in social media feeds and catch the eye of your audience. Just make sure the GIF is contextually appropriate and aligns with your brand.
12. Ask a question to engage with your audience and gain insight from them. For example, "Do you think pets should be allowed in rental properties? Why or why not?".
13. Post an interesting statistic from the latest CoreLogic report to spark engagement. You can also take it one step further and create a video report or graphic that's shareable or poll your audience.
14. Try posting a 360-degree photo or video to switch things up. 360-degree photos and videos provide a more accurate view of a property and encourage increased engagement. Here's how to easily create a 360 real estate video.
15. Celebrate milestones loud and proud. If your business won an award, post it on social media. If you leased a property above asking price or if you received a gift from a client, post it on social media. Not only does this reinforce your skills but it also helps build your reputation as a great property manager.
16. Create an online community to foster discussion and engagement. Trying posting about news and events in the neighbourhood and offers from local businesses. This not only helps you build your reputation as a local expert but also deepens your relationship with the community.
17. Use humour…because who doesn't love a good laugh? Your post might even go viral and help you dramatically increase your brand awareness.
18. Write up a glossary of listing terms to help potential clients read between the lines. Here's an example of real estate listing terms explained.
19. Embrace holidays such as Christmas and unexpected social media holidays. Here's a list of fun social media holidays and three questions to ask yourself before celebrating them on social media.
20. Create a local event to take the online relationship offline to further build the relationship. You can even ask followers to tag a friend in the event post to expand your reach.
21. Practice gratitude by thanking a local business, vendor or employee in a dedicated post.
22. Use geo-targeted Facebook posts and ads to reach audiences located in a particular geographic area. Read more about geo-targeted Facebook posts and ads here.
23. Repost user-generated content to amplify your reach and build an engaged online community. You can start your own hashtag and encourage clients to post on social media with that hashtag. Subsequently, you can repost their posts on your feed. Here's how Buffer used user-generated content to grow their Instagram account by 540%.
24. Create a Facebook lead ad to capture leads straight from Facebook. You can easily retarget your website visitors, reach new audiences similar to your current clients or target based on age, gender, location and interests.
25. Share a unique listing with great real estate photos to capture the attention of potential clients. This shows them how you can potentially market their property.
If you enjoyed this blog post on real estate social media ideas, you might also be interested in 8 Ways to Attract New Property Owners, How to Grow Your Property Management Business Using Facebook and How Virtual Reality is Transforming the Real Estate Industry.
Did we miss a great real estate social media idea? Please let us know in the comments below.