Navigating the landscape of payment platforms can be a challenging task, given the numerous opinions available from third-party payment providers with high fees to trust-free platforms. To help you find the best solution for your team, we have compiled a list of frequently asked questions, from our experience.
How do no-trust solutions work?
With no-trust, trustless, or trust-free transactions, instead of tenants paying rent into a trust account, they pay rent directly to the landlord via a digital wallet, direct debit, or BPAY-style transaction. A portion of this is paid to the managing agency as a management fee. If money is required for bills, this may be charged to an owner as a separate bill, or tenant funds may be held in the digital wallet.
What are some of the benefits of trust-free accounting?
As described by some providers of trust-free property management systems, the benefits of no-trust systems can include:
Reduced time spent receipting and reconciling payments
Reduced trust auditing fees
What are some concerns with trust-free accounting?
At this point in time, there is no ruling or legislation in Australia that specifically approves no-trust systems. Each state and territory have varying wording addressing the matter — referenced below — however, the terminology generally speaking does specify trust accounts are required.
Additionally, the removal of the auditing component can make many Licensees, Property Managers, and landlords skeptical. While trust accounts are audited annually to ensure that the funds being paid to agencies are in line with legislation and agency agreement instructions, this is not typically performed for trust-free accounts.
No oversight means the responsibility is placed back on time-poor and often un-equipped landlords to audit their own accounts or trust that their Property Manager has set up their digital wallet system with no errors or additional fees slipped in.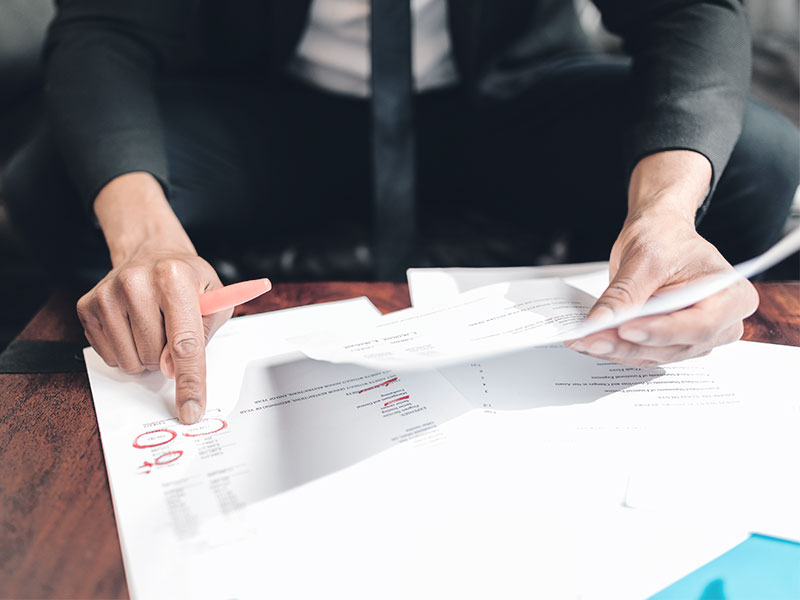 Why does PropertyMe support trust account use?
PropertyMe aims to provide the most transparent, best-practice solution for agencies and landlords, aligned with the Office of the Property Services Commissioner Strategy principles of empowered, accountable, and trusted. We don't believe that avoiding legislated auditing requirements does this.
Removing trust accounts is not the level of security or transparency we want our industry to be known for when it comes to responsible handling of moneys. In particular with today's landscape of hacking and data breaches, in our opinion the more security and checks a payment service can provide, the better.
What's the best way for Property Managers to save time with trust accounting?
There are a number of options available for trust account Property Managers, including;
1. MePay
Secure. Transparent. Free.
MePay allows tenants to set up transfers directly from their PropertyMe tenants mobile app and online access, with one-off or scheduled payments. The only product that records payments in real-time reporting with no importing of transaction files or next-day receipt matching to be done.
MePay is embedded within the PropertyMe platform meaning no reference matching or receipting is required, and MePay direct debit is free to use across every PropertyMe subscription.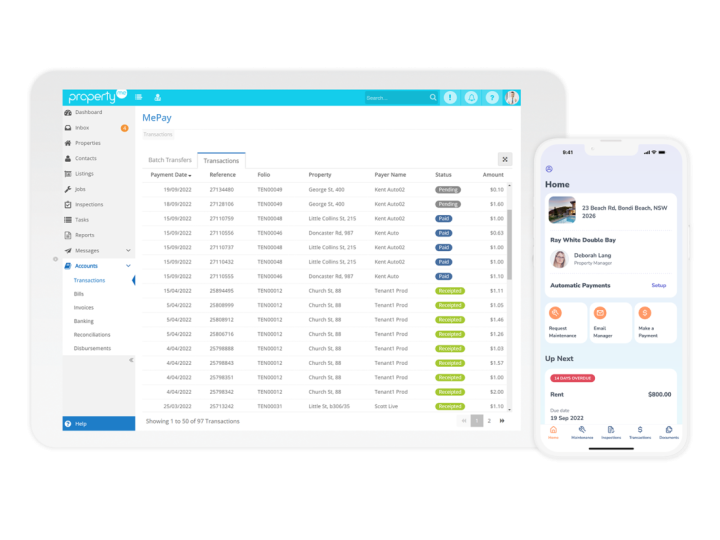 2. Third-party payment platforms
Third-party payment platforms are offered by a range of companies processing direct debit or one-off transfers of rent payments. The platforms run independently to a property management trust account system and payments may be deposited into a variety of account types.
As the services are independent of property management trust account platforms, they are monetised by fees and charges to tenants, landlords, or agents, varying between each provider. PropertyMe integrates with providers listed here.
3. Automation Studio for Arrears Management
Arrears Automation sends out gentle, and not so gentle, arrears reminders to all relevant tenants at the press of a button.
With the options of scheduled or flexible arrears automation, you can be in complete control of exactly what gets sent when — with a simple five-minute setup.
It sends exactly what you would be entering manually, without you needing to do the hard work. You can enter the exact wording that you typically type to a tenant into our templates, so from their perspective, nothing has changed!
Arrears Automation can be set to two different modes – flexible or scheduled.
Scheduled
If you select Scheduled, your Automations will run automatically on the day(s) and time(s) you set. As shown below, you can select any day you like and this will run automatically each week, right on schedule! This option is perfect for extra busy Property Managers, or when some of the team are off on leave – it is completely automated. Keep in mind, if you need to run the Automation earlier than your set time you can simply tick the Automation and select 'Process'.
Flexible
If you select Flexible, your Automations will only run whenever you press the magic 'Process' button. This option is perfect for those who are just starting out and would like some extra control over when the Automation is run.For more information, check out our guide on Flexible and Scheduled Automations.
4. PropertyMe trust account features
Import transactions
Simply import your transaction files and let PropertyMe do the data entry and balancing for you. Currently we support OFX, BRF, PAY, TXN, QIF, and Westpac PayWay RECall bank file types.
Bank feeds
Transactions are automatically imported directly from your bank and matched to different parts of your PropertyMe portfolio. All you have to do is process the transactions to reconcile your accounts.
Disbursements
Easily process single or bulk disbursements with different payment options for your owners and suppliers.
You can also set up triggers to control when an owner is due to be disbursed. This trigger may be by date or based on the balance in the owners account, or both.
Audit reporting
Store all audit reports and statements and automatically group transactions by calendar month.
Automated fees and Xero integration
Automatically charge a range of fees to your owner including management, letting, and administration.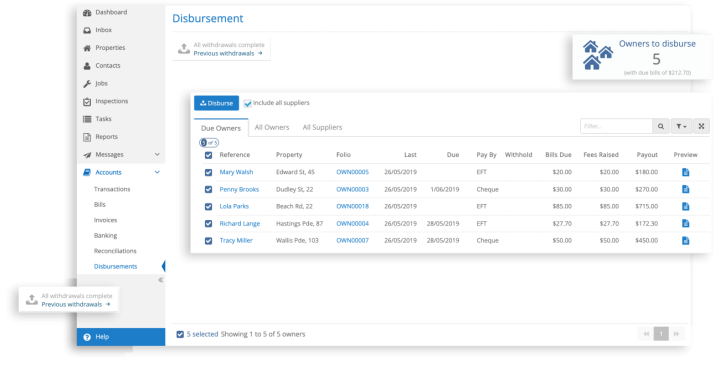 What Australian legislation says about trust accounting
Consumer Affairs Victoria
"By law, if you receive money in advance from a client, you must deposit it into a trust account held with an authorised financial institution."
New South Wales Fair Trading
"Licensees under the Property and Stock Agents Act 2002 (the Act) must hold clients' funds in a trust account."
Queensland Office of Fair Trading
"As a resident letting agent, you must have a trust account in order to handle trust money.
You must make sure all trust money is deposited into your trust account. You should use your general business account for any non-trust money."
Access Canberra
"Do I need a trust account?
Yes, a licensed agent must have a trust account with authorised deposit-taking institution in the ACT, unless they hold an exemption."
South Australian Government
"You must deposit funds received from clients into a trust account. The account needs to be approved by CBS and be held in a bank, building society or credit union."
Western Australian Government
All real estate agents and real estate business agents who hold or receive money on behalf of others relating to a real estate transaction in Western Australia are required to open and maintain trust accounts.
Northern Territory Government
"49. Trust moneys
All moneys received by a licensed agent in his capacity as an agent and in the course of the business that he is licensed to carry on and all moneys received by a licensed agent as a stakeholder shall, for all purposes, be held in trust by the agent."
"Trust money is money that –
(a) is received by –
(i) a real estate agent named in Part 1(1) of the Register; or
(ii) a property manager named in Part 2(1) of the Register; or
(iii) a general auctioneer named in Part 3(1) of the Register; and
(b) is received by that property agent –
(i) on behalf of a party to negotiations in which the property agent is involved; or
(ii) as a stakeholder; or
(iii) on behalf of another person as rent for property that is leased or let; and
(c) is in the possession of, or under the control of, the property agent.
(2) Trust money is to be held by the property agent upon trust for the person entitled to it."
Disclaimer: the information enclosed is provided for general information only. It should not be taken as constituting professional advice.
PropertyMe is not a financial adviser. You should consider seeking independent legal, financial, taxation, or other advice to check how the information relates to your unique circumstances.
We link to external sites for your convenience. We are selective about which external sites we link to, but we do not endorse external sites. When following links to other websites, we encourage you to examine the copyright, privacy, and disclaimer notices on those websites.
This content relates to the MePay payment product and has been prepared by MePay Holdings Pty Ltd (ABN 55 638 819 575 / AFSL no 528836) (MePay Holdings). Any financial services provided in relation to MePay (including the issue of MePay) are provided by MePay Holdings. To the extent any information provided to you in this content constitutes financial product advice, such advice is general advice only and has been prepared without taking into consideration your objectives, financial situation or needs. You should consider your needs prior to acting on any advice or making any financial decisions and seek independent financial advice regarding your own personal circumstances. Cooling-off rights do not apply to MePay. A product disclosure statement (PDS) has been issued by MePay Holdings for MePay and is available at https://propertyme.com.au/mepay/pds. The PDS explains the features, risks and benefits of the service and you should consider it in deciding whether to use the product.