We're proud to announce that PropertyMe, Australia's most popular property management software has surpassed the incredible milestone of 4,500 subscribers and is now used to manage over 1.3 million properties. This incredible achievement comes just four months after reaching the milestone of 4,000 agencies in April.
"Achieving this milestone in such a short time frame is a huge accomplishment and reflects the fantastic work of our incredible team," said Chief Revenue Officer Sarah Dawson.
What makes PropertyMe different?
PropertyMe was created with one mission: to simplify the day-to-day lives of Property Managers. Today, we're helping over 20,000 property managers do just that. "PropertyMe provides users with access to their data from anywhere, the ability to complete complex tasks in minutes, and access to a world-class support team," said Sarah.
Simply put, PropertyMe saves agencies time and money. "Through our intuitive interface and suite of powerful features, our complete cloud solution enhances the lives of Property Managers," said Sarah. Our 4,500th agency, David Deane, can attest to that.
Paula Staracek, Head of Property Management at David Deane, highlights, "We were looking for a new, innovative software solution for our property management team. PropertyMe was our number one choice. The vast suite of time-saving features, easy-to-use interface and their amazing Support and Onboarding teams are a few reasons we decided to switch to PropertyMe."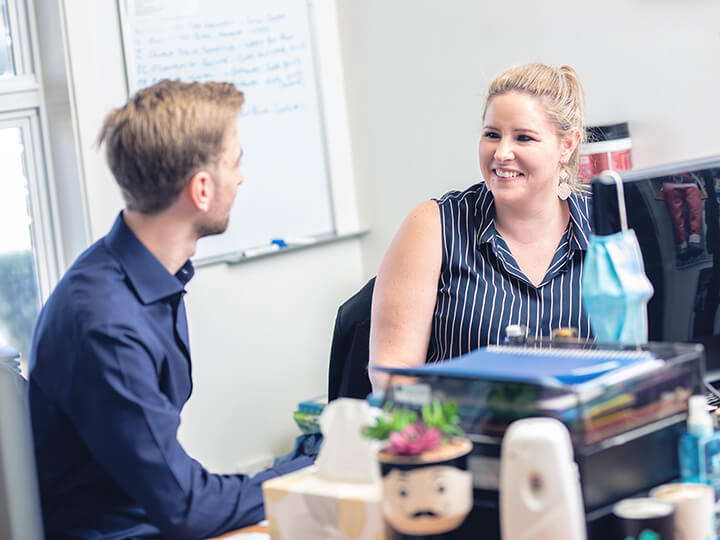 So, what's next?
New features
Over the past year, PropertyMe has introduced a number of game-changing features, including our highly adopted feature Inbound SMS. "Inbound SMS streamlines the communication workflow with a unified Inbox. Our customers can now send, respond to, search and view all their email and SMS messages in one location without ever switching devices," Sarah said.
We also launched our industry-first Listings feature. "Listings saves agents hours. With this feature, agents can easily publish and edit listings on portals such as Realestate.com.au directly from the PropertyMe dashboard.
"Behind the scenes, the team has been working on the launch of an exciting new project set to transform the way Property Managers work — stay tuned."
A growing team
As the PropertyMe customer base has grown, so has our team. This year, we've welcomed Sarah Dawson as our new Chief Revenue Officer. With her extensive leadership and PropTech experience, Sarah plays a key role in guiding PropertyMe through the next stages of our expansion. In a move to get even closer to the customer, Sarah has restructured the team to be regionally based. "Agents generally work within 10 to 20 km of their front door, so it makes sense for us to do the same."
We also welcomed Jo Harding to the PropertyMe team as our new Chief Customer Officer. Jo has played a huge role in taking our customer-centric approach even further. She has been able to do this successfully by spending time with our customers to understand what pain points we can help them resolve and find out what they love most about the software.
Thank you to all our users!
In eight years PropertyMe has grown from a budding start-up to Australia's most widely used property management software. Today, PropertyMe is Australia's most loved cloud property management software and helps the real estate industry in processing more than $1.4 billion every month. With 4,500 agencies, 22+ partners, 50+ integrators and over 1.3 million properties, PropertyMe has grown rapidly since its inception.
"We couldn't have reached this milestone without our users who have helped PropertyMe become the product it is today," said Sarah. "From all of us at PropertyMe, we'd like to say a huge thank you to our wonderful agencies, partners, integrators and Property Managers! We can't wait to see what the future holds!"