The RBA held the cash rate at 0.1%, property listings decreased across capital cities with the exception of Melbourne, major property tax reforms were proposed and AHURI released a study on the impact of COVID-19 on landlord and tenant relationships.
Property prices
For the week ending 1 December 2020, national property prices increased by 2.7% for houses and by 2.2% for units, compared to the week prior. Across capital cities, the asking price decreased by 3.5% for houses and increased marginally for units.
Month on month, national property prices increased by 3.6% for houses and by 4% for units. Perth and Hobart recorded an overall decline in house and unit prices while Adelaide, Darwin and Canberra recorded an overall increase.
Compared to the year prior, national house prices are up 8.5% and national unit prices are up 7.3%. Across capital cities, this reflects a 4.2% increase in house prices and 1.2% decline in unit prices. Further price breakdowns can be found here.
Additionally, recent SQM Research figures show that national property listings decreased by 4% from 308,468 listings in October to 296,267 listings in November. All capital cities recorded a decline in property listings over the month, with the exception of Melbourne which recorded a 1.2% increase.
Interestingly, national new listings increased by 0.48% in November, with 381 more new properties listed for sale. Darwin recorded a significant 27.3% increase in new listings. Sydney was the only capital city which recorded a decline in new listings over the month.
Year on year, national property listings are down by 12.6%. Darwin recorded the largest decrease in stock at 28.2%, followed by Hobart at 26.1% and Adelaide at 21.5%. Melbourne was the only capital city that recorded a large increase in stock at 11.5%, compared to the year prior.
SQM Research Managing Director Louis Christopher said, "There was a surprise decline in total listings for the month, which was predominantly driven by a decline in old listings. The fall in old listings tells me stock is being absorbed at a quicker rate than levels recorded earlier this year. It is a yet another signal that buyer activity is on the rise."
Rental values
For the week ending 28 November 2020, the average weekly rent across Australia decreased by 3% to $483 for houses and rose by 2% to $384 for units, compared to the week prior.
Across capital cities, Canberra recorded the highest average weekly rent for houses at $641.20 and for units at $477.40. On the other hand, Adelaide recorded the lowest weekly rent for houses at $418.20 and for units at $312.20.
Compared to the month prior, the national weekly rent increased by 2.8% for houses and by 3.2% for units. Melbourne and Brisbane recorded overall declines in weekly rents while Darwin, Hobart and Perth recorded overall increases. Meanwhile, Sydney, Adelaide and Canberra recorded mixed results.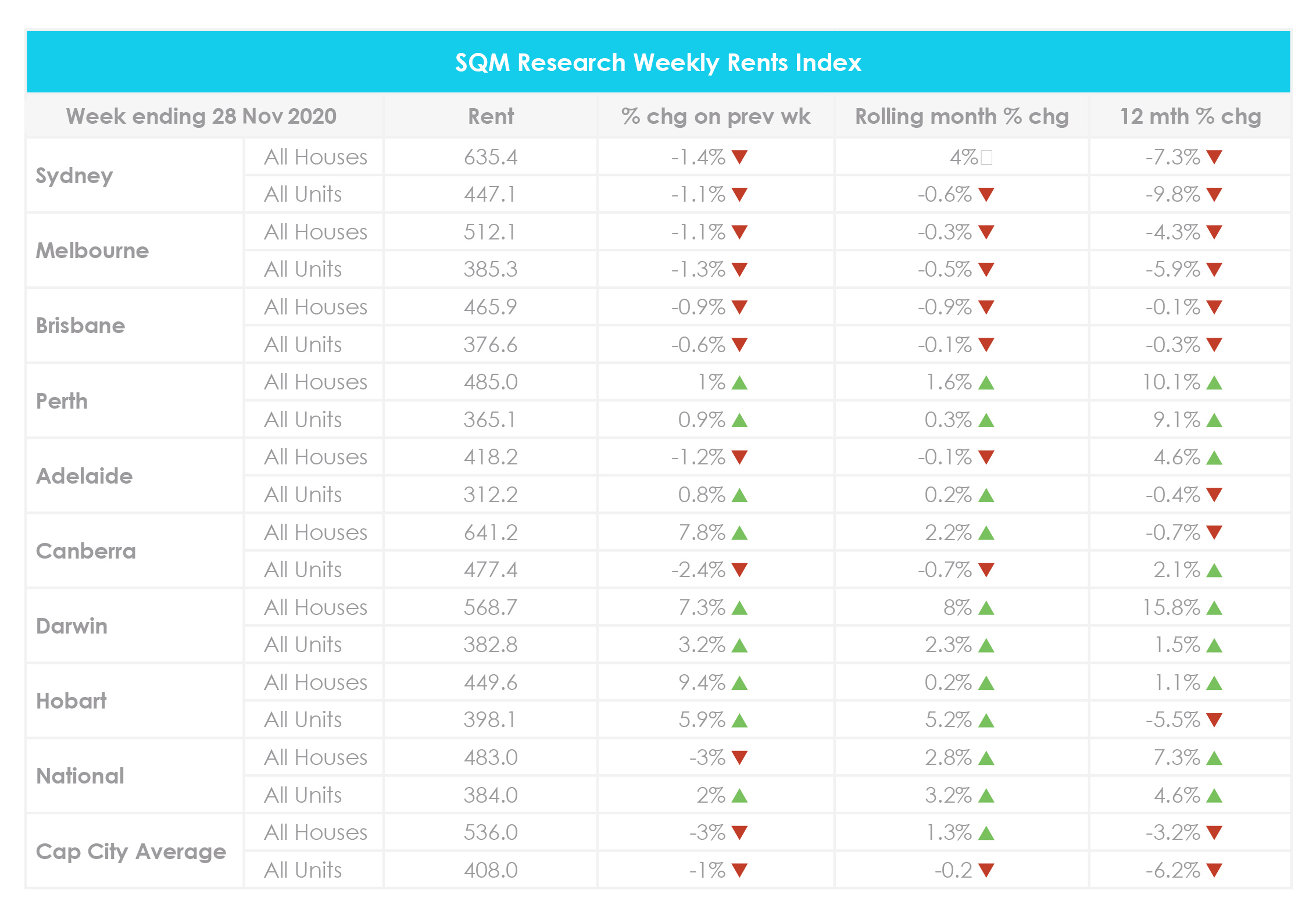 Year on year, national weekly rents have increased by 7.3% for houses and by 4.6% for units. Across capital cities, weekly rents have declined by 3.2% for houses and by 6.2% for units. Further price breakdowns can be found here.
Vacancy rates
The national residential vacancy rate rose marginally from 2% in September to 2.1% in October. There are now 74,221 vacant residential properties Australia-wide. Vacancy rates held steady across most capital cities, with the exception of Sydney and Melbourne.

Melbourne recorded the highest vacancy rate nationwide at 4.4%, with 3,863 additional vacant properties in October. This was followed by Sydney at 3.6% then Brisbane at 2%. Conversely, Hobart recorded the lowest vacancy rate nationwide at 0.6%.
Year on year, the national vacancy rate remained unchanged at 2.1%. Most capital cities recorded a decline in vacancy rates with the exception of Sydney, Melbourne and Hobart where vacancy rates rose. Meanwhile, Adelaide's vacancy rate held steady at 0.8% compared to the year prior.
Notably, Perth and Darwin's vacancy rates improved considerably while Melbourne's vacancy rate is more than double what it was 12 months ago. Further vacancy rate breakdowns can be found here.
Melbourne CBD's vacancy rate decreased marginally from a record-high of 10.8% in September to 10.6% in October. Meanwhile, Sydney CBD's vacancy rate decreased from 12.8% to 11.7% and Brisbane CBD's vacancy rate decreased from 12.5% to 12.2%.
SQM Research Managing Director Louis Christopher said, "Rental vacancy rates continue to remain elevated in our larger capital cities. While regional locations are still recording near zero rental vacancies. I believe the ongoing phenomenon, which started on the outset of COVID-19 lockdowns will in part reverse out once Coronavirus is behind us. But we are not there yet and there is also a large possibility that there will only be a part reversal as I believe many have used Coronavirus as a catalyst for a longer-term lifestyle change."
"Meanwhile rents continue to plummet on our inner-city locations. For those who will be coming back to inner city living, there are some bargains to be had."
Auction clearance rates
For the week ending 30 November 2020, 2,155 homes were scheduled for auction across capital cities, returning a preliminary clearance rate of 73.9%.
In comparison, 1,803 homes were taken to auction the week prior with a similar preliminary clearance rate of 73.6%, which was later revised to 69.1%. One year ago, volumes were much higher with 3,206 homes taken to auction with a final clearance rate of 73.6%.

Across capital cities, Canberra recorded the highest preliminary clearance rate yet again at 78.4%. This was followed by Sydney at 76.9%, Adelaide at 75% and Melbourne at 71.7%. For further auction clearance rate information across each capital city, click here.
Cash rate and predictions
On the 3rd of November, the RBA cut the cash rate from 0.25% to a new historic low of 0.1% "to support job creation and the recovery of the Australian economy from the pandemic." Subsequently, at the December board meeting, the RBA decided to keep the cash rate unchanged at 0.1%.
RBA Governor Philip Lowe said, "In Australia, the economic recovery is under way and recent data have generally been better than expected. This is good news, but the recovery is still expected to be uneven and drawn out and it remains dependent on significant policy support. In the RBA's central scenario, it will not be until the end of 2021 that the level of GDP reaches the level attained at the end of 2019. In the central scenario, GDP is expected to grow by around 5 per cent next year and 4 per cent over 2022."
"Employment growth was again strong in October, although the unemployment rate increased to 7 per cent as more people rejoined the workforce. A further rise in the unemployment rate is still expected, as businesses restructure in response to the pandemic and more people rejoin the workforce. The unemployment rate is forecast to decline next year, but only slowly and still to be around 6 per cent at the end of 2022."
Looking at economic indicators, the Board recognises that monetary and fiscal support will be required for some time and is therefore not expecting to increase the cash rate for at least three years.
Major property tax reforms
In last month's property market update, Treasurer Josh Frydenberg announced an extension of the First Home Loan Deposit Scheme (FHLDS) to support an additional 10,000 first home buyers between 2020-21.
This month, NSW Treasurer Dominic Perrottet proposed a huge overhaul of how properties are taxed, with plans to gradually replace stamp duty with an annual land tax. This means instead of paying a one-off upfront payment on the purchase of a property, buyers would pay an annual tax based on the value of their land.
Stamp duty has been in place since Federation and the overhaul comes with implementation challenges as every state and territory will have to follow suit. Additionally, state revenues are expected to take a nosedive in the initial period.
Speaking to ABC News, Perrottet called stamp duty "a tax from a bygone era" that needed reform. He explained that "the more efficient tax system will inject $11 billion into the economy over the next four years."
BIS Oxford Economics Chief Economist Sarah Hunter said that this change would remove some significant barriers to entering the Australian property market.
"At the moment if you're a first home buyer, you've got to save up for the deposit to put down on the house and the mortgage on top of that, but you've also got to save up to cover the cost of the stamp duty and it's quite a significant amount of money," Hunter asserted.
AHURI: Post pandemic landlord–renter relationships in Australia
A new study released by the Australian Housing and Urban Research Institute (AHURI) reveals a significant rise in tension between landlords and tenants due to COVID-19 and the critical role that government financial support played in enabling tenants to remain in their homes during the pandemic.
Two distinct groups of landlords emerged in the study: those who were willing to consider providing tenants rental assistance and those who were against this. It was also found that:
Only half of tenants surveyed who had asked for rent reductions reported that the landlord or property manager had fully accepted their requests
60% of tenants surveyed were either having immediate trouble meeting rent payments or anticipating issues in the coming months
Despite the above, many tenants were apprehensive about requesting rental assistance for fear of future repercussions
Many tenants relied on JobKeeper and JobSeeker payments to make ends meet
50% of all rent relief negotiations were not resolved to the satisfaction of the tenant
The study's lead author Dr David Oswald said, "The pandemic has amplified many weaknesses – such as affordability, rental security, overcrowding and homelessness – in the Australian housing system; and in particular, exacerbated many existing challenges in the rental sector."
"With moratoriums on evictions, rent increases and mortgage deferrals all coming to an end, the issues uncovered by this research risk rapidly worsening."
"Both landlords and tenants reported confusion, stress and uncertainty about what would happen when government financial support packages end."
"Overwhelmingly, landlords thought government action had not adequately considered them. Formally including mortgage relief strategies as part of the broader housing and wage relief assistance would provide a more holistic package of support," Oswald revealed.
"By focusing on improving the success of negotiations in the landlord-tenant relationship, both economic and mental wellbeing could be significantly improved."
Hopefully you enjoyed this November Property Market Update. Be sure to subscribe to our Monthly Insider below to receive email updates.
You might also be interested in:
Let us know your thoughts on this month's November property market update by emailing [email protected].