"If we didn't have Maintenance Manager we would need to employ another full-time person just to handle all the maintenance."
"It's like a little personal assistant!"
"We log a job and everything just happens – the owner gets notified, the tenant gets notified, the tradie gets notified, and the PM can see everything that's happening at any point in time."
This month we're shining the PropertyMe Integrator Spotlight on Maintenance Manager, the cloud-based platform that now helps over 700,000 users to do exactly what their brand name suggests – manage maintenance.
What is Maintenance Manager?
In 2014, PropertySafe — the only home safety inspection service for residential property in Australia and New Zealand — launched Maintenance Manager, a cloud-based platform that simplifies maintenance for property and asset managers everywhere.
Maintenance Manager National Sales Manager Andrew Cox said, "The platform was created to help principals improve rent roll profitability and reduce business risk."
"It grants property managers greater control, allowing them to prioritise jobs and handle more maintenance faster and more efficiently. The platform is also designed to create electronic footprints; this not only protects the agency and property manager, it also ensures they provide better customer service to tenants and owners."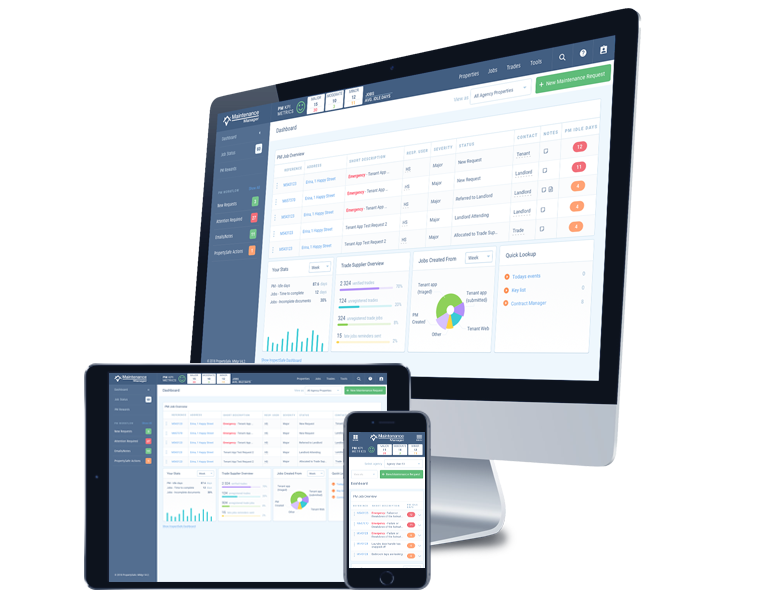 The solution struck a chord with industry professionals who were endlessly emailing, calling and handling reams of paperwork in order to resolve maintenance issues.
Today, over 700,000 users and more than 3 million jobs later, Maintenance Manager has become the industry's most widely used standalone property maintenance and risk mitigation solution.
How does Maintenance Manager work with PropertyMe?

Maintenance Manager fully integrates with PropertyMe to provide a complete maintenance workflow. The seamlessness of the integration has been proven to significantly reduce the time spent handling maintenance jobs.
Integration is incredibly simple, taking 30 seconds or less. Just add your PropertyMe details into Maintenance Manager and you're done!
Jobs can be created on either platform, and are then processed through Maintenance Manager, with the final invoices disbursing to PropertyMe for payment.
The job status is automatically updated in both systems, allowing property managers to log into either platform and see where their job is at a glance.

Additionally, when integrated with PropertyMe, Maintenance Manager can:
Help to manage all maintenance jobs, including prioritising by four severity levels
Manage all communication with landlords, tenants, strata and trade suppliers for quotes, work orders and reminders
Combine a property manager's preferred local suppliers with a panel of verified, real estate experienced trade suppliers in the area. Allocating work with automated comparisons making the process fast and simple
Manage all verification of trade supplier insurances and licenses
Automate management of smoke alarms and other legislated work
Create complete and accurate audit trails for every job
What does the future of Maintenance Manager look like?
Already both a veteran and a dominant force in the proptech space, you can expect the Maintenance Manager offering to continue evolving and expanding into the future.
"We are constantly developing and enhancing our products," says Cox. "Maintenance Manager has been going through a significant facelift which is currently in its beta phase — we hope to have everything finalised soon. The upgrade allows for a better user experience and incorporates intuitive user journeys."
The Maintenance Manager team is also working hard to deliver its trade suppliers more job opportunities, from general consumers to large corporations, particularly within the human services industry.
"We want to help trade suppliers access a larger pool of quotes," Cox confirms. In order to achieve this goal, Maintenance Manager has just released free websites for trade suppliers who have registered for the service.
Thanks for reading this month's PropertyMe Integrator Spotlight on Maintenance Manager. You might also be interested in:
Let us know your thoughts on PropertyMe Integrator Spotlight: Maintenance Manager by emailing [email protected].