A new financial year means new goals to kick and exciting new feature enhancements in PropertyMe. This month, we're excited to introduce @mentions, two new stages for Jobs, a collection of new message templates and more. Let's dive right in:
Introducing @mentions
@mentions is our new feature designed to streamline your internal communications. You can now mention your team members directly from the activity feed of a property, contact, inspection, job, task or even a message.
You can use mentions anywhere you see the @ symbol. Click the comment button, type @ then select your team member. You can also type their name to narrow down the list.

You'll receive a notification when a team member mentions you and a red badge will alert you whenever there's something new to read.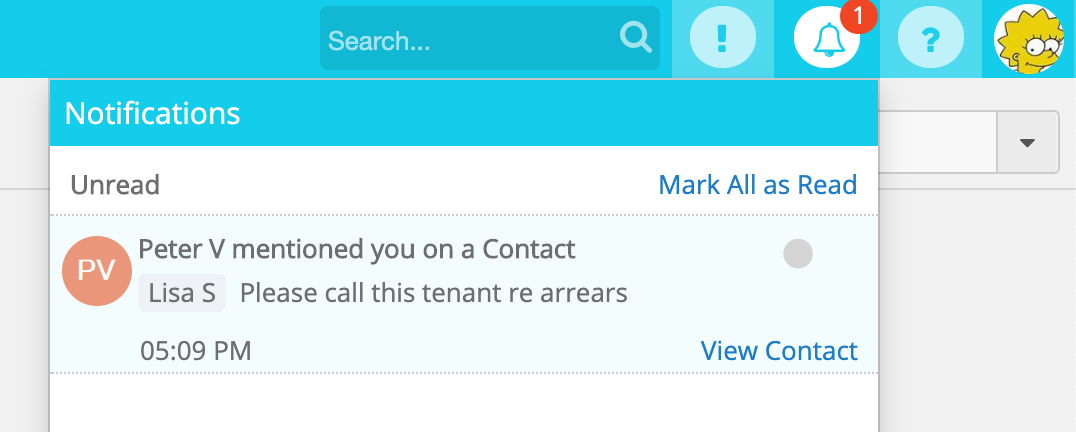 You can click on the bell icon in the top right corner to open the new notifications panel. From here, you can go to each individual mention or you can mark all as read. You can also mark notifications as unread to remind yourself to follow them up later.
You can view all your notifications from the last 30 days by clicking the View All Notifications link at the bottom of the panel or you can click the notifications option below your profile.
If you're a PropertyMe customer, read more about @mentions.
Jobs workflow enhancements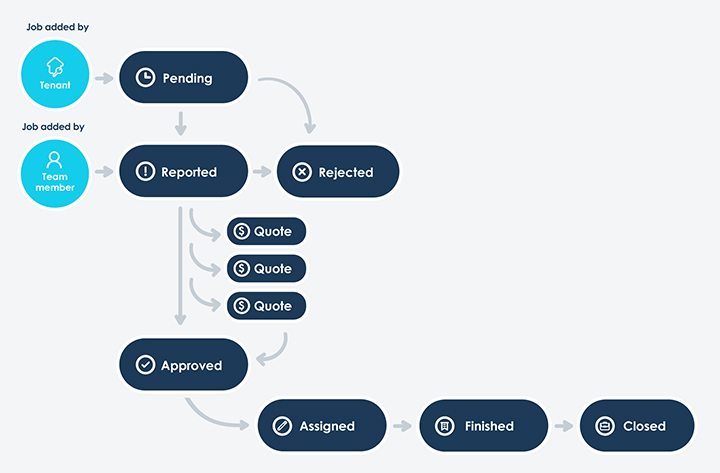 In addition to the existing stages of reported, quoted, approved, assigned and closed, we've added two new stages to the jobs workflow: pending and finished. This will help improve your visibility and control over the process.
Firstly, we've created a new pending stage for jobs that are logged by someone other than a team member, such as a tenant via their Tenant Access.
Pending jobs will be highlighted for you with an orange badge and you'll also see an alert on the top right corner of your active and reported tabs.

Once you accept the job, its status will change to reported and you can follow your normal workflow.
From the tenant's perspective, they will see the job as pending in their Tenant Access until it's accepted. At that point, the status changes to reported in Tenant Access (image below) and the job will also now be visible to owners.

The second status we've added is finished, for jobs where the work has been completed but you're waiting to receive or process the bill.
Simply click the finish button to move the job to the finished tab. This allows you to focus on any outstanding assigned jobs that require your attention.
Additionally, you can view pending and finished jobs in your outstanding maintenance (Jobs) report. You have the option to include or exclude them using the filter on the status column.
If you're a PropertyMe customer, read more about the jobs workflow.
New message templates
We've added a collection of new Jobs-related message templates and uploaded some existing templates to suppor the new stages and triggered automation options. Check out the full list of new message templates here.
In case you missed it…
Here are some more feature updates from the past two months:
Email signatures on replies and forwards
We've delivered on yet another top-voted feature request. You can now enable your email signature on replies and forwards. Read the full June release notes here.
New salutation field for contacts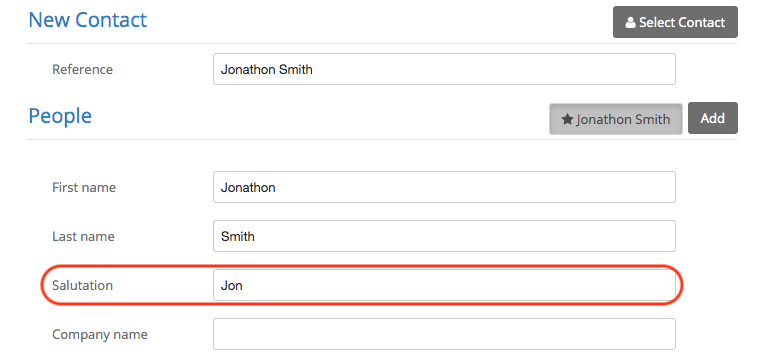 We've added a new salutation field for contacts. You can use this field to enter a preferred name (e.g. Jon), nickname (e.g. Jonny) or title plus name (e.g. Mr Smith). This will help you personalise your communications to your owners, tenants and other contacts. Read the full May release notes here.
Warning for duplicate key numbers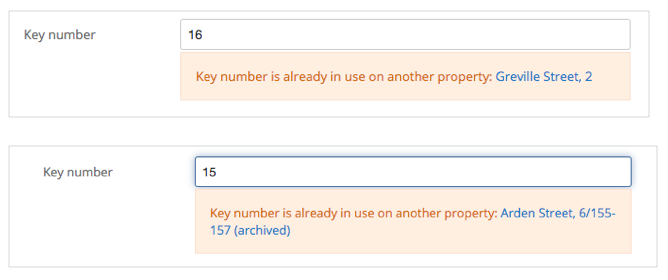 We've added a check for duplicate key numbers. If you enter a key number that's in use for a current or archived property in the same portfolio, you will see an orange warning.
However, it is just a warning and you can choose to override it by saving the key number. Read the full May release notes here.
You can read the full July release notes in the PropertyMe Knowledge Base. If you're not a PropertyMe customer yet, book a free demo today to see why thousands of property managers have upgraded to PropertyMe.
We're always working on new features to make PropertyMe better for you, so if you have any suggestions, please email [email protected] or log a Feature Request.