With end of financial year drawing closer, we're busier than ever so we're all for time-saving features like our new Messages Inbox! Here's Dave with our May Product Update:
---
Messages Inbox for All
Earlier in the year we created a centralised Messages Inbox and had some of our customers try it out. After undergoing user testing and tweaking the user experience, we're super excited to roll it out to everyone!
Gone are the days of sending messages from your property management software then receiving replies back in a different inbox. PropertyMe's Messages Inbox feature allows you to send and receive messages straight back into your portfolio, just like an email inbox!
Features Voting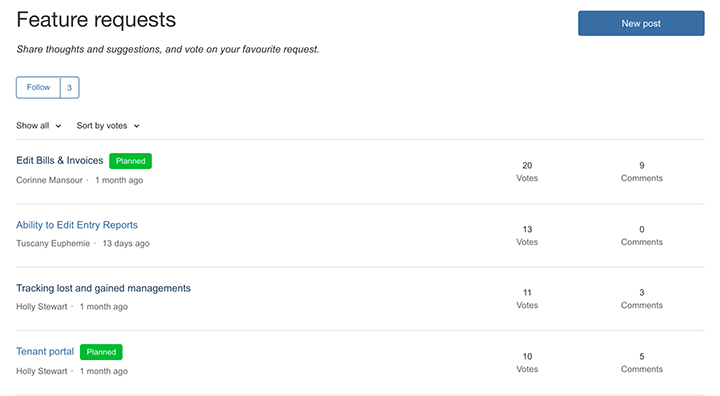 Here at PropertyMe, we're committed to delivering great service to support our customers. That's why we've created a Feature Requests area in our PropertyMe Community to make sure we're delivering features that our customers truly want and need.
In this area, you can suggest new features, share your thoughts on how we can improve existing features and vote or comment on features that other PropertyMe users have requested. We will prioritise those with more votes and mark requests with a green Planned label once they enter our pipeline.
You can read the full release notes in the PropertyMe Knowledge Base. If you're not a PropertyMe user yet, book a free demo today to discover how PropertyMe can save you time and money!
We're always working on new features and making PropertyMe better for you, so if you have any questions, suggestions or kind words, simply leave a comment below or log a Feature Request!