Unsurprisingly, July brought rain to many parts of the country, as we were seen reaching for our raincoats and tracksuits once again. However, as the month comes to a close, we've been given a touch of summer here in Sydney with a few warm and sunny days. As we grow envious of those vacationing overseas, these warmer days remind us that the Christmas holidays are now less than half a year away. Providing us with a new renewed effort to keep working hard and innovating as we look toward the remainder of the year. Take a look at what we got up to in July, as well as what's upcoming here at PropertyMe.
New PropertyMe learning platform
As mentioned previously, innovation is at the forefront of everything we do here at PropertyMe. Therefore, we must have a learning platform that facilitates this and allows our community to do the same. With this being said we've launched our new PropertyMe learning platform. The platform can be accessed through our Knowledge Base and includes three types of learning — AccelerateMe, TrainMe, and PartnerMe.
AccelerateMe allows you to complete self-paced modules, providing the ability to gain an overview of PropertyMe or take a deep dive into specific features. TrainMe is our LIVE training component that allows you to sign up for small LIVE sessions with our team. Lastly, PartnerMe allows you to get in contact with our partners and access more tailored and in-depth training. For more information click here.
PM Partners National Property Managers Day Breakfast
The 22nd of July was National Property Managers Day, a day to celebrate everything that our community has achieved through the hard work you all continually put in. We were privileged to spend the day with Nina Sutton and her team at PM Partners for their National Property Managers Day breakfast with Peter Alexander. It was a delight to meet with members of the community, indulge in a high tea, get dressed up in our finest pyjamas and celebrate the achievements of Property Managers around the country. Cheers to a bright future for the industry!
Census 2021 insights
The results from the 2021 Census were released at the beginning of July, allowing us to get a good glimpse at how the 'average' Australian has changed over the past five years, as well as how this has changed the property market. Beyond this the census also allowed us to get a glimpse at industry trends that may be ever-present over the next five years!
From the data, we could notice that 70% of Australians now live in separate housing with 16% living in apartments and 13% living in townhouses, with an increase being seen in high-rise living. We also noticed that fewer Australians are owning their homes outright, when compared to 2016, due to increased economic strain post-COVID-19. These trends are interesting to pair with the latest insights on the property market which can be accessed here.
July Birthdays & Anniversaries Presentation
As a new strain of COVID-19 swept the nation, we continued to work from home for the most part ensuring the safety of our team. However, as we're all aware, working from home can sometimes become monotonous, so we held our monthly Birthdays & Anniversaries Presentation to keep spirits high!
July saw us welcome two new team members to our service and support teams. We also congratulated Fiona Mott as she moved to Sales Team Leader this month, we can't wait to see her flourish in the role. Lastly, some lucky members of our team even had the privilege to share their birthdays with the likes of Daniel Ricciardo and Ringo Starr.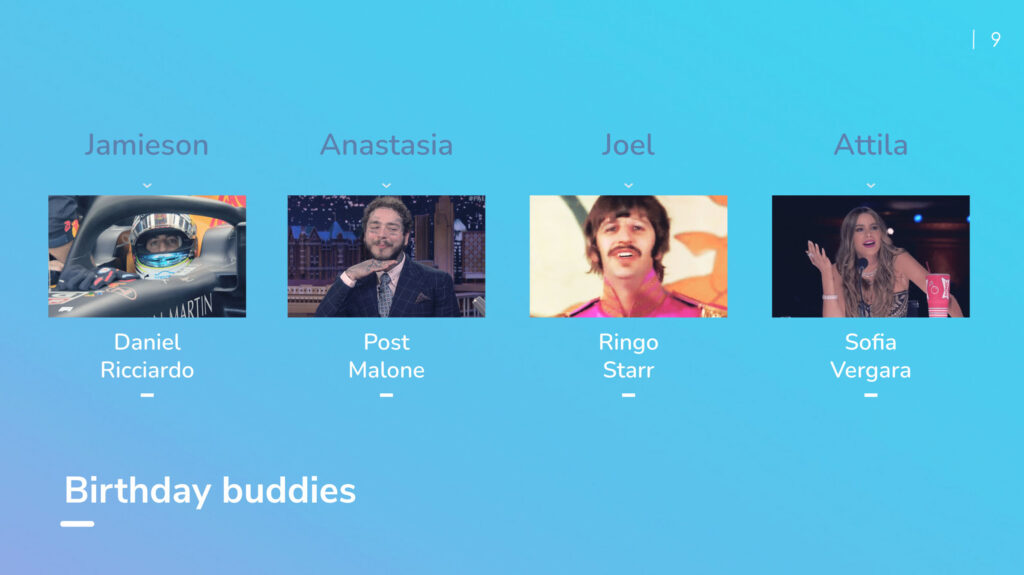 What does the future hold for PropertyMe?
As we reach the halfway point of 2022, we've continued to work hard to make our goals a reality for the next financial year. We're excited for what the future holds, as we continue to work on our upcoming PropertyMe Owner App. Keep your eyes peeled!
Thank you for taking the time to read about July at PropertyMe, we look forward to sharing new updates with you again next month!
Let us know your thoughts on our peek into the month of July at PropertyMe by emailing [email protected].