You might be thinking "what's the point of paying more for online property management software when I have Excel?". Excel has some great formula and conditional formatting options and is owned by Microsoft so it must be good for all your trust accounting needs, right?!
Perhaps… but we'll let you decide for yourself in the great battle of Excel vs online property management software:
Microsoft Excel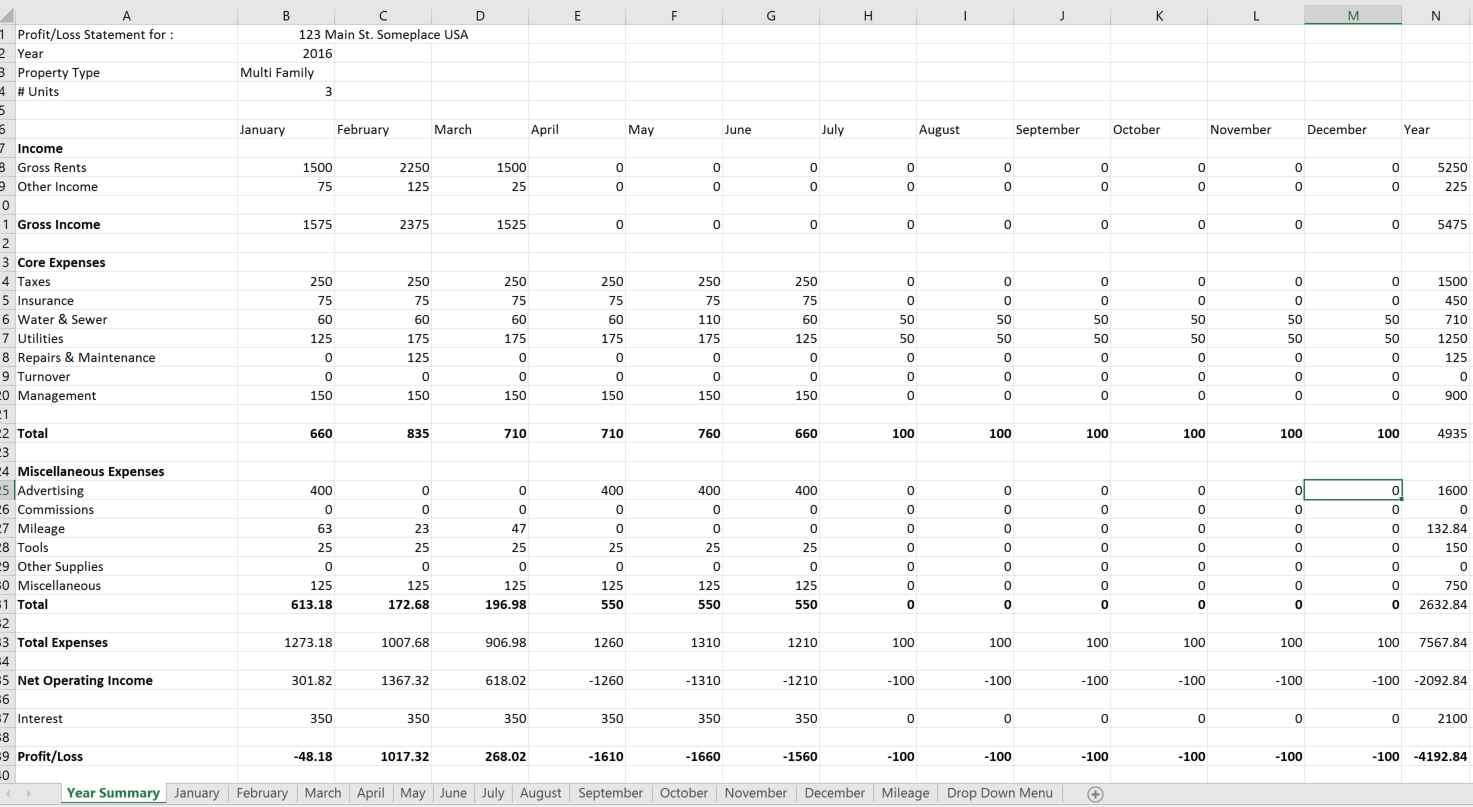 Ah, good old Microsoft Excel. It's like seeing a loyal companion again after many years with its familiar rows of cells and fancy formulas. Excel has been around for decades now and has come leaps and bounds since its release in 1985.
While the initial setup takes some time, using Excel to keep track of rental income and expenses is simple and starts from only $13.20 per user per month. You can include as little and as much data as you want to build your own reports and charts from scratch. However, keep in mind that all of this requires a lot of manual data entry and the formulas can break quite easily, especially if you're adding rows and columns all the time.
Additionally, Excel is available on desktop, tablet or smartphone. If you have online access, you can sync everything up online and have multiple users working on the same Excel spreadsheet (for an additional monthly fee per user). The downside is that their tablet and smartphone apps aren't the most user-friendly.
Online property management software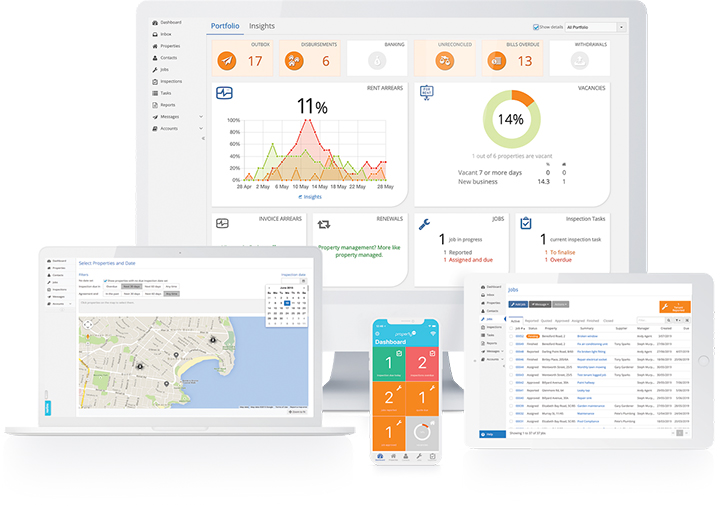 On the other hand, online property management software is more than just trust accounting. You can see an overview of your portfolio on a beautiful dashboard (pictured above), store all your property and contact data in one place, plan and report on inspections, easily track jobs from start to finish, send and receive communications and keep owners and tenants in the loop with the Owners Portal and Tenants Portal.
More importantly, online property management software has a lot of built-in automation to simplify your workload and save you time and money. For example, you can disburse owners and be done with "end of month" in minutes and even let the software do your bills data entry for you!
Meanwhile, most software systems have different apps optimised for different devices which means a smoother user experience than the Excel tablet and smartphone apps. However, keep in mind that the online property management software tablet and smartphone apps may not have the full features of the desktop or web app.
Where Excel is better
When you have less than five properties, using Excel for property management is manageable, inexpensive and easy. Anything more than that and you would be better off using an online property management system to cut down on your manual admin tasks and help you save time and money.
Where online property management software is better
If you're looking for a long-term solution and want to scale your property management business, online property management software is crucial. Not only does it grow with your business but its powerful automation frees you up to focus on what's really important. This also mitigates human error that occurs due to manual data entry and custom formulas. In fact, studies show a shocking 90% of spreadsheets contain errors ranging from minor to severe!
Moreover, when discussing Excel vs online property management software, the latter wins when it comes to integrations. For example, PropertyMe integrates with Xero and every time you pay money from your trust account to your business account, PropertyMe will add the invoice details to Xero.
Lastly, you can track user activity with your online property management software to see exactly who did what in the portfolio. This makes it much easier to see what happened if there are any discrepancies.
Why not both?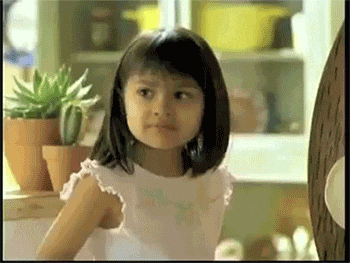 Of course you can have both! If you're a landlord or just getting started with a handful of properties, Excel is an effective and inexpensive option. Once you start growing your rent roll and hiring more people, you could upgrade to online property management software to simplify your workload and ensure that your technology grows with your business.
Ready to upgrade your property management software? PropertyMe is a game-changing online property management software that can be accessed from anywhere, at any time. Book your free demo now to learn how you can save time and money!
You might also be interested in How Much Could Your Business Save With Cloud Software? and 5 Most Common Misconceptions about Cloud Property Management Software.
Did you enjoy this blog post on Excel vs Online Property Management Software? Let us know in the comments below.