Whether you're writing a real estate ad or property listing description for realestate.com.au, Facebook or the newspaper, you want your copy to cut through the noise and appeal to your target market. Great real estate copy can not only boost click-through rates, but can also generate more enquiries, get more bids and ultimately, result in less time on the market.
To help you out, here are our top five real estate copywriting tips for crafting irresistible copy:
5. Avoid overused buzzwords
According to US real estate listing website Trulia, overused real estate buzzwords like "gorgeous", "luxury" and "charming" can actually hurt conversions. While there are definitely properties that warrant such descriptors, they are often misused by agents and inexperienced writers. This can lead to inflated expectations and carryover from one ad to another, rendering your ad easily forgettable.
To set your real estate copy apart, substitute these excessively used buzzwords with synonyms or descriptive one-liners. Check for synonyms on Thesaurus.com, or better yet, take the time to walk through the property and identify unique features to highlight.
For example, rather than saying that the property has a "gorgeous view", elaborate and paint a picture with your real estate copy, i.e. "Wake up to breathtaking 180-degree ocean views every morning". This will not only catch the attention of prospective buyers and tenants, but will also make your ad much more memorable.
4. Keep your target demographic in mind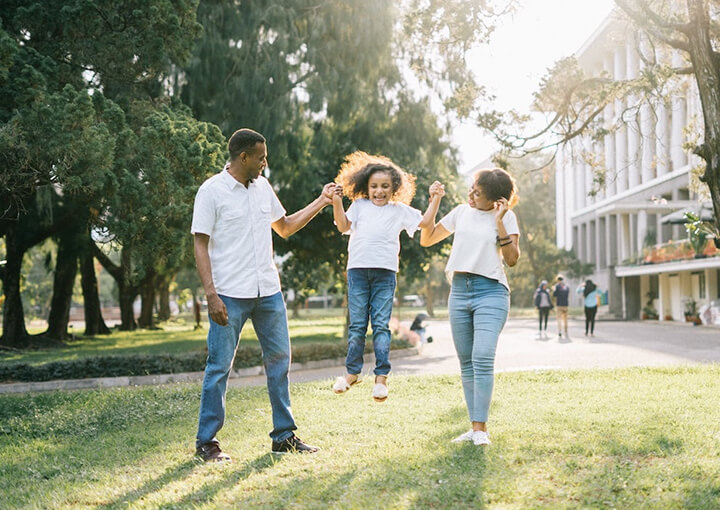 Another real estate copywriting tip is to keep your target demographic in mind when crafting your ad copy and listing description.
If you're marketing a one or two bedroom property, you might want to appeal to downsizers, professionals or young couples by highlighting nearby cafes, space for entertaining and local community services and attractions.
However, if you're marketing a three or four bedroom property, you might want to appeal to families by highlighting the local parks, playgrounds and school catchments.
Prior to writing your copy, be sure to conduct demographic and neighbourhood research using the suburb profile tools on domain.com.au, realestate.com.au and onthehouse.com.au to gain a better understanding of the amenities surrounding the property.
3. Highlight the best features and amenities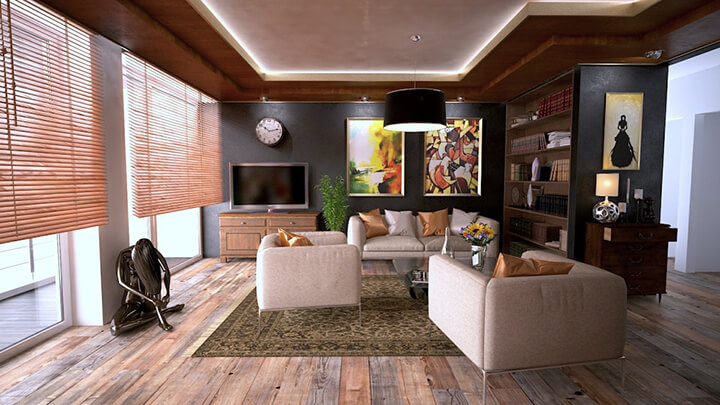 Ask yourself, what makes the property unique?
Is it the convenient location or its history? Is it the marble-top kitchen island or the spacious balcony that's perfect for entertaining?
Rather than listing every single feature of the property, you're better off highlighting the best features with specific and descriptive copy, along with great real estate photography. This idea is to leave the prospective buyer or tenant wanting more, so much so that they can't resist attending an open for inspection or sending an enquiry.
If you're stuck, it's a good idea to speak to the vendor of the property to find out what they love about it. After all, they were once prospective buyers too!
2. Use numbers where appropriate
In a sea of descriptive words, features and amenities, numbers will really stand out. So whether you're writing the listing description or ad copy for Facebook, try to use numbers where appropriate.
For example, you can include the walk time to local amenities or public transport (i.e. 5 minute walk from Parramatta Station) or the distance from the CBD (i.e. Just 2 km from Sydney CBD).
You can also use numbers when stating the number of rooms and levels (i.e. 4 bedrooms across 2 levels"), the size of the property and land (i.e. 474.2 sqm corner block position), potential rental returns for investors (i.e. Investors Note: Potential rental return $630 – $650 per week), the number of apartments in the block and even the year that the building was built or refurbished, if that's a selling point.
1. Keep it short and simple
When it comes to real estate copywriting, short and simple is always best. While you need to be specific and descriptive, don't go on and on about a certain feature or take prospective buyers or tenants through a detailed tour of the property. You want to entice readers into action, not bore them into submission.
To keep your listing copy short and simple, be sure to include:
A headline/title that emotionally appeals to the target demographic – you can check the emotional appeal of your headline using this headline analyser (i.e.
A listing description that highlights the property's best features and amenities
A dot point summary of the property's selling points (example below)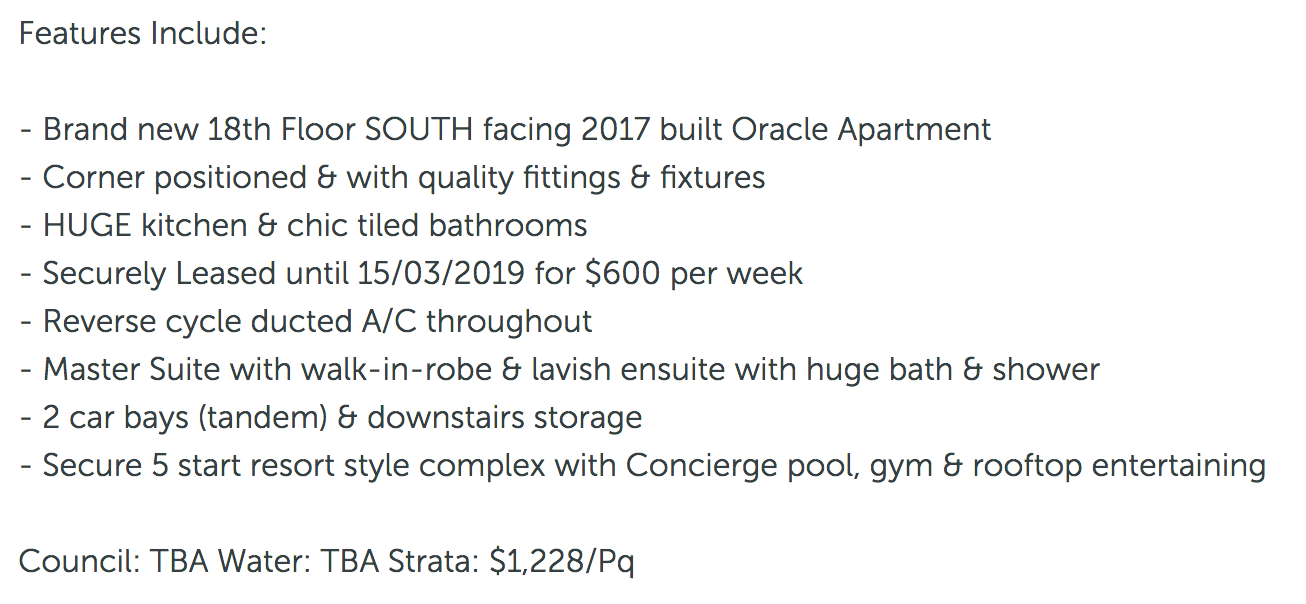 Image credit: realestate.com.au
In addition to that, make sure you fill in the property feature section as accurately as possible to make sure your listing appears for the right feature filters.
To sum it up…
Here are our top five real estate copywriting tips for irresistible copy:
5. Avoid overused buzzwords
4. Keep your target demographic in mind
3. Highlight the best features and amenities
2. Use numbers where appropriate
1. Keep it short and simple
Thanks for reading! Hopefully this article on real estate copywriting tips has helped you improve your real estate ad and listing copy.
If you enjoyed this blog post, you might also be interested in 5 Proven Ways to Make Your Listing Stand Out, How PropertyMe Can Simplify Your Workload and 52 Ways to Grow Your Rent Roll.
Did we miss a great real estate copywriting tip? Please let us know in the comments below.