There is no escaping the hype, everywhere we look lately there is a ChatGPT plug or "AI wrote this article" disclaimer. And it's not surprising, why do a task that you can outsource to innovation? While there are many benefits to developing written and communication skills, we know — it's not everyone's cup of tea, we don't always have time, and let's face it, good old fashion writer's block is a real struggle. We have put three AI writing tools to the test to help you decide if it's the way of the future or just a passing trend.
We'll be looking to determine if the copy:
Accurately describes the listing based on the information provided
Engages potential tenants
Helps or hinders the agency's brand
For a level playing field, we entered the following information into three AI writing tools; Copy.ai, Jasper, and of course ChatGPT — giving the site instructions for 1-2 and 3-5 sentence options, before asking the site to create a heading for the text.
Create copy from these bullet points
– light-filled
– open plan
– suits family
– double-storey
– brand new townhouse
Let's take a look at the results…
1. Copy.ai
Copy.ai was launched in October 2020 with free and paid plans. The UX is very clean, easy to use, and even has a built-in tone selector, with selections like 'professional, friendly, or bold).
Unfortunately, copy.ai really missed the mark with our test input. The writing style is basic, and the generator has made some assumptions to write the copy, rather than expanding on the original information provided. In addition to this, the AI was not able to understand sentence-length prompting.
Moving on to create a heading, we selected the 'Blog Title' template and pasted the AI-generated copy in to summarise. This is where copy.ai really fell apart. The first heading suggestion could possibly do, but the suggestions just got stranger from there including random address suggestions and, 'Sydney House For Sale'. This one definitely fell short of our suitability check.
Version A: 1-2 sentences
Brand new townhouse, light-filled and open plan layout suits families, quiet location with great transport links yet close to the city centre.
Version B: 3-5 sentences
Newly built, this spacious double-storey townhouse offers a light-filled open plan living area with a modern kitchen, gas cooktop and dishwasher, and a second bathroom to the lower level. So close to schools, parks, shops, and public transport.
Headings
140-148 Hillrise Ave
Modern Townhouse In The Inner City
Sydney House For Sale
This New, Quality Townhouse Is Just A Short Walk From Everything And Priced To Sell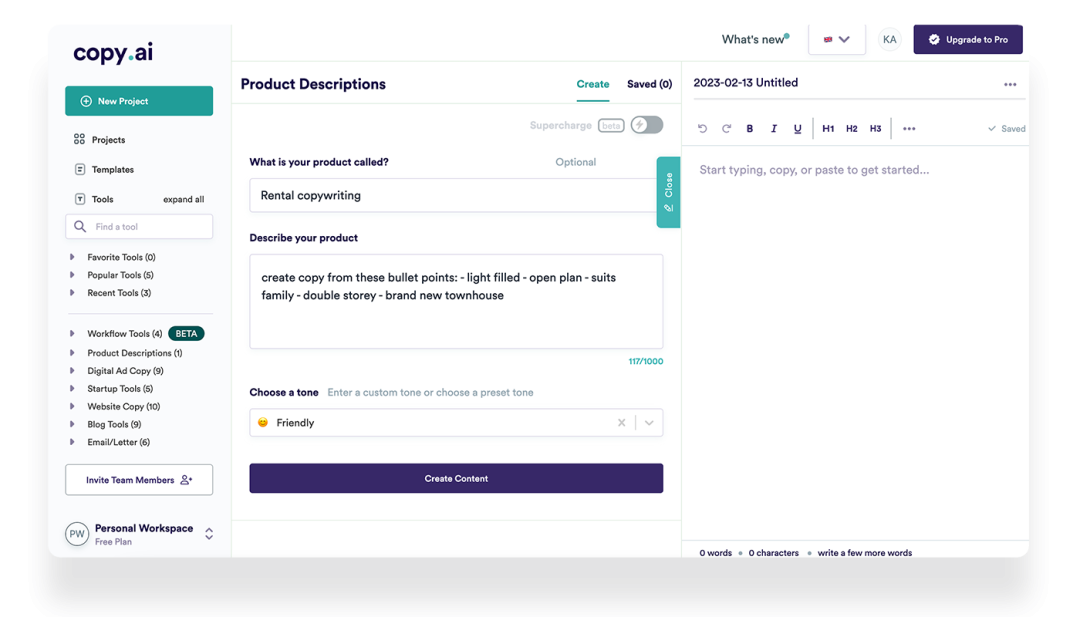 2. Jasper
Launched in 2021, Jasper had a similar design and the UX was clean and easy to use. They have templates and 'recipes' to help you get started with different types of content styles to choose from. For this example, we used the blank document, and input the same directions for consistency.
There were a few glitches with the Jasper process — it randomly cuts off the end of some sentences, and if the cursor isn't repositioned to the end of the text you will get some strange responses and need to start again. The tool didn't add any additional details, but again the writing style was basic, and in our opinion, still needed some human love after being created.
Heading generation in Jasper was generated by typing 'create a heading for this' and pasting the text, which resulted in some fairly decent suggestions. Strangely, it also re-works the rest of the copy and creates a second version for you to use.
Again the tool was a little glitchy, requiring you to go back and delete the previous text on the page before it would refresh any new options (the refresh button didn't work), and there wasn't a large amount of variety when new headings were generated.
Overall Jasper could be used to help speed up the process, but the final results would still need a little improvement to meet our suitability check.
Version A: false start
This beautiful brand-new double-storey townhouse is perfect for a family, providing plenty of natural light and an open-plan design. Make the (text cut-off)
Version A: 1-2 sentences
This fantastic brand-new double-storey townhouse is light-filled and open plan, making it the perfect home for a growing family. With plenty of space to spread out and create your special sanctuary, this property is sure to impress.
Version B: 3-5 sentences
This beautiful, brand-new townhouse is perfect for a family. It features an open plan design with plenty of natural light, and with two storeys it provides generous living space. The thoughtful layout provides enough room to spread out while still keeping everyone connected – the ideal balance for busy families. Come and see this gorgeous home today!
Headings
Discover the Perfect Family Home in This Welcoming Townhouse
Welcome to the Perfect Family Home: Beautiful Townhouse for Sale
Welcome Home to this Spacious Two-Storey Townhouse!
Jasper also featured a real estate listing template which we tried out below. Unfortunately, like in our first trial, this added details that weren't originally provided, creating extra work in the proofing and editing process.
Version E: real estate listing template
Introducing a brand-new double-storey townhouse that is perfect for families! This light-filled home offers an open-plan design with plenty of room to relax and entertain. With modern design, stylish finishes, and all the amenities you need, this is the ideal home for your family.
The spacious layout gives everyone their own space while still bringing everyone together in one place. Enjoy meals in the large kitchen or step out onto your private balcony to soak up the sun. Upstairs you'll find two generous bedrooms with plenty of storage and natural light throughout.
This brand-new townhouse has it all: comfort, convenience, and style — plus loads of potential to make it feel like home! Don't miss out on this wonderful opportunity — contact us today for more information and to arrange a viewing!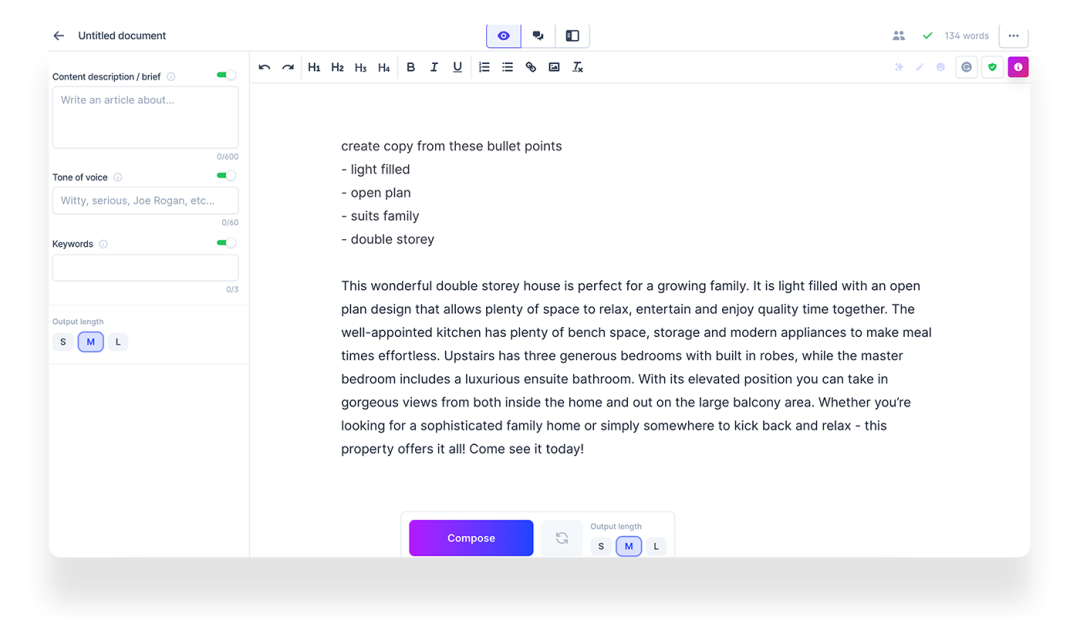 3. ChatGPT
Without a doubt, ChatGPT lives up to the hype. The interface is very basic, so all commands and preferences are entered into the search bar — but this time it actually listens and delivers, with no glitches!
Heading creation was easy, typing the direction "create a heading for this" and adding the copy, generated successful results. ChatGPT definitely leads the way here with its sentence length and word length command recognition, allowing you to create headings tailored exactly for your brochure sizes.
The whole process from the first input to copy and heading creation took just a couple of minutes.
Version A: 1-2 sentences
This brand new double-storey townhouse boasts an open-plan design, flooded with natural light, perfectly suited for families seeking a modern living space.
Version B: 3-5 sentences
Introducing a stunning brand new townhouse that perfectly suits the needs of a modern family. Boasting a light-filled and spacious open-plan design spread across two levels, this double-storey home offers the ideal blend of style and functionality. With an abundance of natural light flooding through the property, every inch of this home has been thoughtfully designed to create a welcoming and inviting environment. Whether you're looking to entertain guests or simply relax with loved ones, this townhouse is the perfect space to call home.
Version C: 3-5 sentences
Introducing a stunning brand new townhouse that's perfect for families seeking a light-filled, open-plan living experience. With a double-story design, this stylish property is sure to impress. Boasting an abundance of natural light that floods the space, the atmosphere is both welcoming and relaxing. This is an ideal home for those who love to entertain, with the open-plan layout providing ample space for family and guests. With plenty of room for everyone, this townhouse is tailored to suit the needs of families of all sizes.
Headings
With no size instructions, ChatGPT created:
Stylish and Functional Double-Storey Townhouse Ideal for Modern Families
Stylish and Functional Double-Storey Townhouse for Modern Family Living
Modern and Spacious Two-Level Townhouse: Ideal for Family Living
4-5 word headings created:
Modern and Spacious Townhouse for Families
Stylish and Spacious Family Townhouse
Modern Family Townhouse: Stylish & Functional
Social edit
Check out this stunning new townhouse, perfect for modern families! With a spacious open-plan design over two levels, it's the perfect blend of style and functionality. Thoughtfully designed to be light-filled and welcoming, it's perfect for entertaining or relaxing with loved ones. Your dream home is here! #Townhouse #ModernLiving #FamilyHome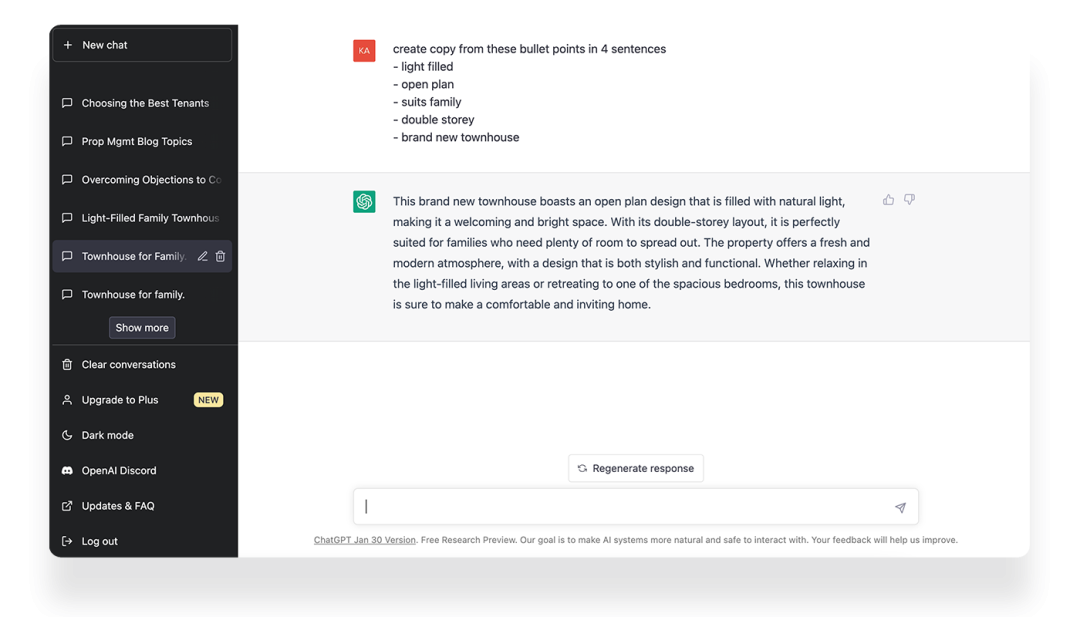 The verdict
We definitely recommend jumping on to ChatGPT for a test run while the product is still offered for free use. Follow our social media for next month's article on additional ChatGPT uses for Property Managers.