We love an opportunity to flex our creative flair! While writing ads and listing descriptions is not everyone's cup of tea, and there is an increasing number of AI-powered copywriting solutions hitting the market — copywriting is definitely still a human skill worth mastering. So, we've come up with a few alternative tips and tricks to help you streamline the process, improve the quality, and take the pain out of copywriting for rental listings.
1. Break it down
Gone are the days of long-winded sentences, adjective overkill, and novel-length 'tours' through copywriting. Keeping rental descriptions sharp and structured makes it easier on both the writer and the reader — meaning more of the listing features are noticed.
A great recipe is:
A descriptive headline with a value add
A short introductory paragraph or two
Up to 10 bullet points of value-adding features
Facts and next steps
2. Know (and use) keywords for an SEO boost
Domain has been incredibly helpful and gathered the top keyword searches for 2022, including; garage, new, study, balcony, courtyard, shed, pool, view, waterfront, and beach.
Adding these terms to your copywriting can help improve visibility in search results and demonstrate value adds for key features. Don't forget to select all 'features' that apply to be picked up in any filtered searches.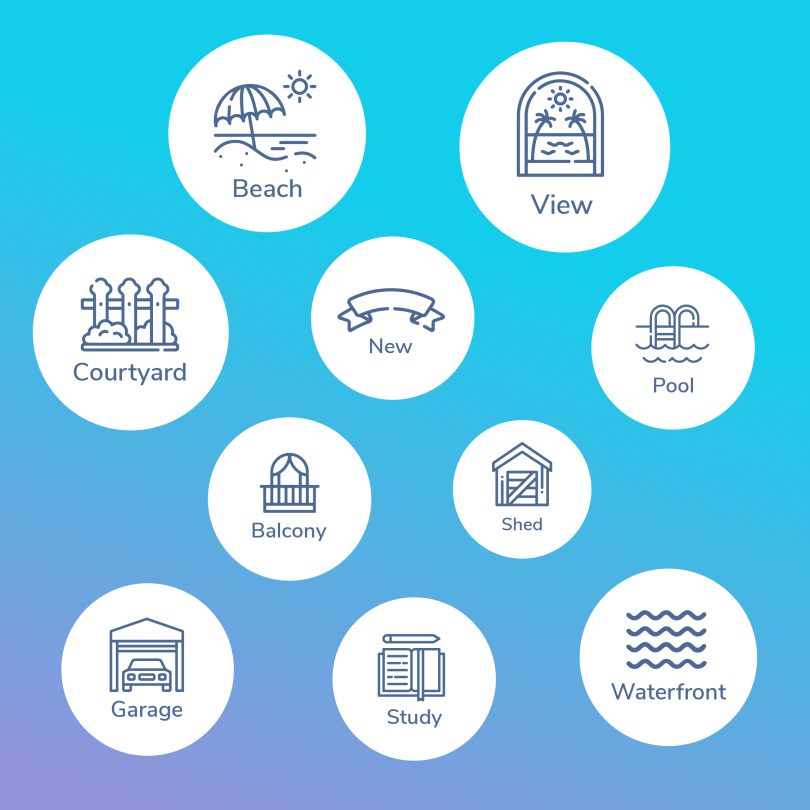 3. Save yourself time by answering questions
Including key questions in your copy can help potential tenants filter through suitability and save you time responding to emails and enquiry calls. We've gone ahead and prepared some generic answers to some of the most commonly asked questions for you:
Availability:
Insert date
Available now, we will be moving fast on this one!
Available now, contact Property Manager to inspect
Pet friendly:
Considered on application
Considered on application, note there is no secure outdoor area
Accessibility:
This property is single-level throughout
This property has a small number of stairs (less than three)
This property has stairs throughout
Lease term:
Open to 6-12 month periods
12 month period
6 month initial lease, with a view to re-sign for 12 months
Inspections:
Available now, contact Property Manager to inspect
Register to be advised of any new times or updates to inspections
Inspections available after date
To apply:
Applications will be accepted after the property has been viewedOur agency prefers platform name application forms
4. Remember your audience
Don't forget to cater to potential landlords who may be mystery shopping your listings, or trying to price their own homes. Copywriting can be a great way to set yourself apart as an agency. Think about the services you provide to tenants and landlords that can help improve their experience. Some examples could include:
Renting with agency name
Our customer service guarantee means that we will respond to every message within four business hours.
We have the best-in-class Property Management Software features and our Tenant App lets you check on maintenance, upcoming bills, and payments 24/7.
Over 97% of our tenants pay their rent on time. Our automated arrears messaging lets you know if you fall behind, meaning you can fix up any transfer errors or forgotten payments.
We have a dedicated Property Manager for each property, meaning you speak to one regular person, and never need to repeat the message or 'catch someone up'.
5. Install Grammarly and proof, proof, proof!
Grammarly is a great free tool to keep on top of grammar and spelling on cloud-based software. When installed in your browser it helps keep on top of your grammar inside the PropertyMe platform, enabling consistency and accuracy across your communications and documents. If Grammarly doesn't suit your style, there are a range of alternatives to explore on Capterra.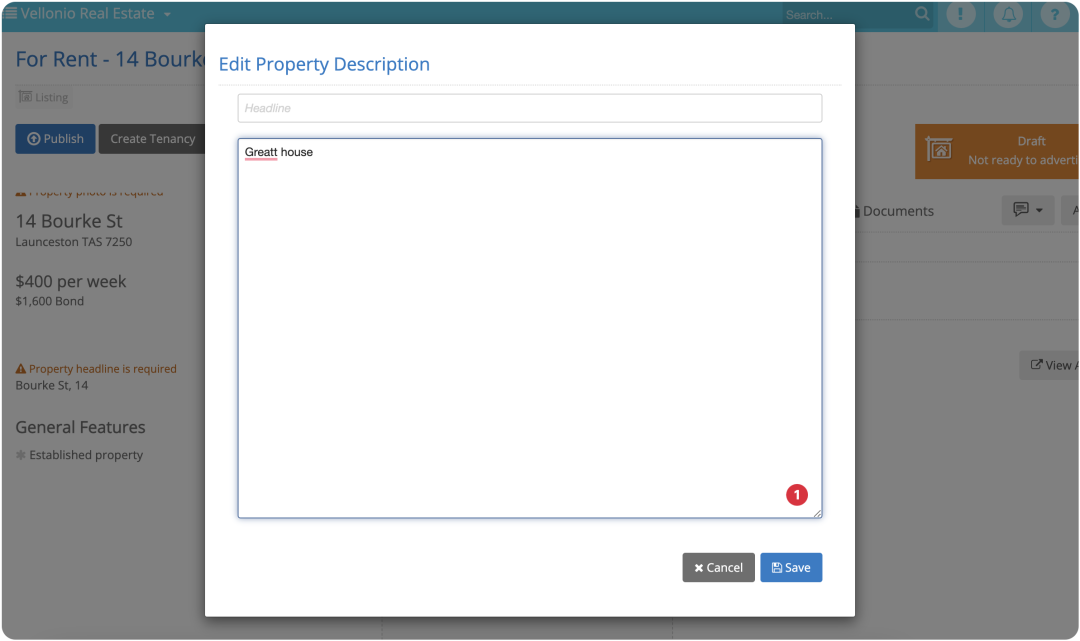 6. Transform property features into benefits
North-facing is a great feature, but what does this mean for someone new to renting? Expanding a list of features into benefits is an easy way to overcome writer's block, start refining your copywriting, and ensure that you've captured the genuine appeal.
Some examples of expanding a feature into a benefit are included below.
North-Facing Courtyard
In a sentence:
The north-facing courtyard provides all-day sun to your outdoor space and through to the living area, creating a warm, bright space from morning to evening.
In a bullet point:
Enjoy all-day sun from the north-facing courtyard
Eastern Aspect
In a sentence:
Say goodbye to dark, cold wake-ups. The eastern aspect of the main bedroom and living areas means you can enjoy the morning sun with your first coffee of the day.
In a bullet point:
Morning sun to the eastern-facing main bedroom and living areas
High-level and elevator access
In a sentence:
Experience the best of both worlds at 11/5 Smith Street! A short lift ride to this eleventh-floor apartment means you can go from the bustling cafes of Main Street to an elevated, private apartment to enjoy peace, serenity, and panoramic views.
In bullet points:
Main Street attractions at your doorstep
Lift access to 11th-floor privacy, security and views
Ground floor apartment
In a sentence:
Say goodbye to lugging bags of shopping up flights of stairs. This ground-floor apartment with a private courtyard is easily accessible through a secure front gate.
In a bullet point:
Ground floor courtyard apartment with private gate entry
7. Use technology
Did you know you don't need to start from scratch every time? A cloud-based and shared resource is a good place to start building sentences, headlines, and features that can be used for new listings. From a basic google sheet or excel doc to a Trello or Asana board, the most important elements are a good search function and the ability to add notes or highlight the phrase when it is used on a listing. We've created some examples in Trello to inspire you in getting started. Just copy the template, add fresh terms and rotate through as needed.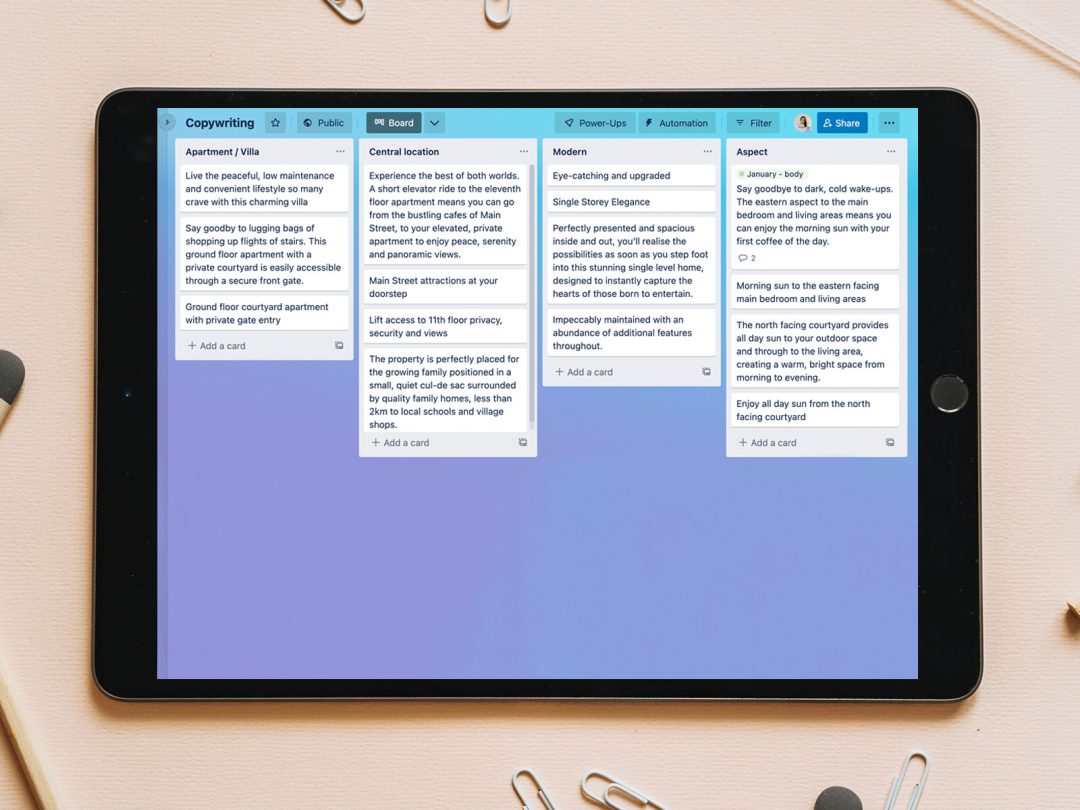 8. Establish a style guide
If the above project seems daunting, professional copywriters can be engaged to set up style guides and key phrases to suit your brand and communication style. Whether you prefer fun and fresh, or polished and professional, an experienced writer will be able to set the tone to suit. Reach out to your local copywriters to see how they can help establish some key features, headings, and phrases to be used for new listings.
9. What about 'basic' properties?
There can always be something of value to talk about, even in the worst of the worst. Based on your agency's style guide, basic features can still be highlighted respectfully within copywriting.
Some features or headlines for a basic listing in lower price ranges could include:
Budget-friendly, why spend extra on accommodation when you're rarely home
Prioritise location and lifestyle in the heart of Main Street
Upgrade on space, storage, and security without unnecessary extras
Suburb school district, surrounded by parks and playgrounds
Pet friendly with enough yard to play
10. Don't forget about social media
Social media provides another opportunity to capture interest and increase engagement with rental listings. It can be a fun opportunity to think creatively and play on words for a unique voice. Some examples could include;
Welcome to heaven, at number 37
Time to thrive at Esperance Drive
Plenty of space in Hamilton Chase
Not forgetting about stories and photo contributions, incorporating extra elements into your photos adds a level of interest. We've popped together some stories for inspiration.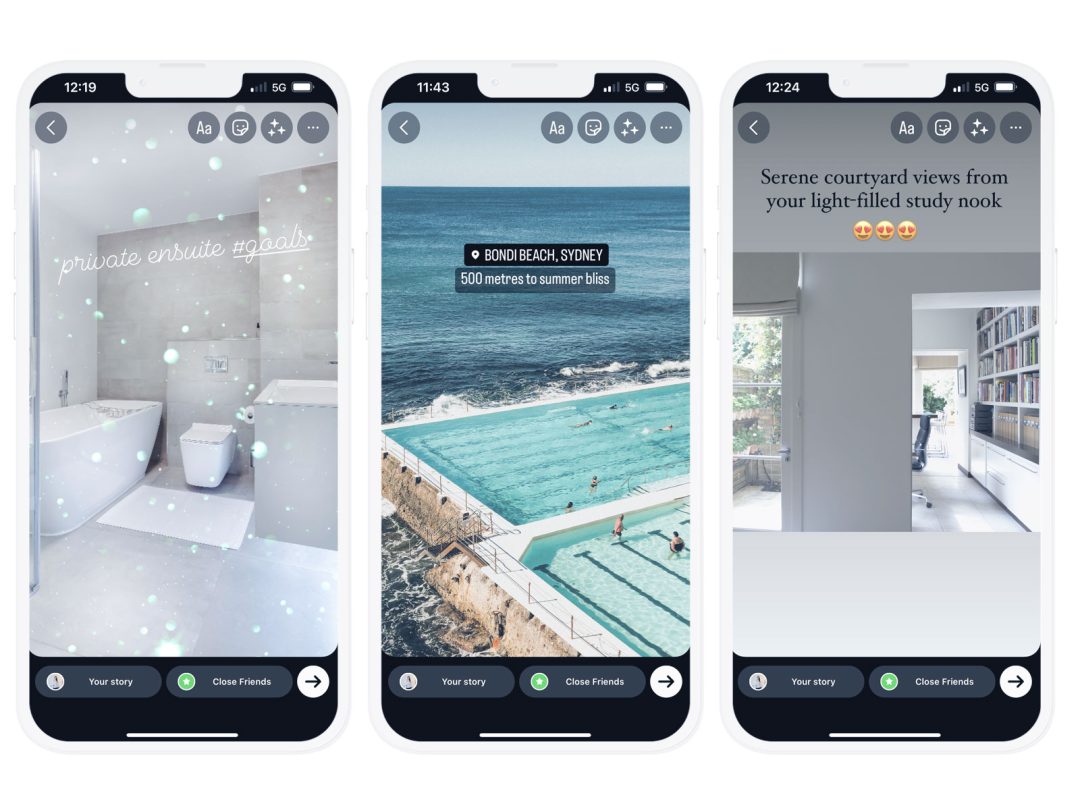 Whatever your starting point, our 10 hacks to level up your copywriting game with no extra effort will help you breeze through copyrighting and have your rental listings on their A-game.