As a Property Manager or Real Estate Agent, you know that your website is often the first point of contact you have with potential new customers.
This initial contact is important — and it's a great opportunity to start building trust from the outset. That's why your website needs to display your brand and your people in the best light possible to help show new prospects exactly how you can help them to achieve their goals.
To inspire you, we've put together a list of 11 property management websites that we believe do an outstanding job of connecting with their audience in their own unique way — and today, we want to share this list with you to help give you some new and exciting ideas for your agency website.
Let's kick it off, in no particular order.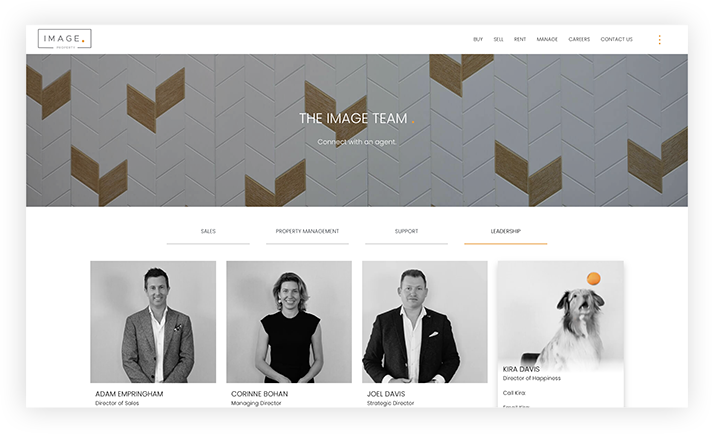 Image Property — Brisbane, Sunshine Coast, and Melbourne
The Image Property team has gone all out and added a real splash of personality to their Meet the Team page. Each team member has their own short video that shows off their unique character or hobby.
Whether it's tossing a footy, sipping on a coffee, or even introducing their fur baby, the team's personality shines bright, helping to create relatability and familiarity with their audience from the get-go.
CobdenHayson — Sydney
Who would have thought that something as simple as 3D photos would help to give so much life to a website's home page?
CobdenHayson has done a great job blending 3D photos of their team, their properties, and some iconic Sydney locations to not only give the illusion of movement but to also draw their audience in and make them feel inspired to work with them.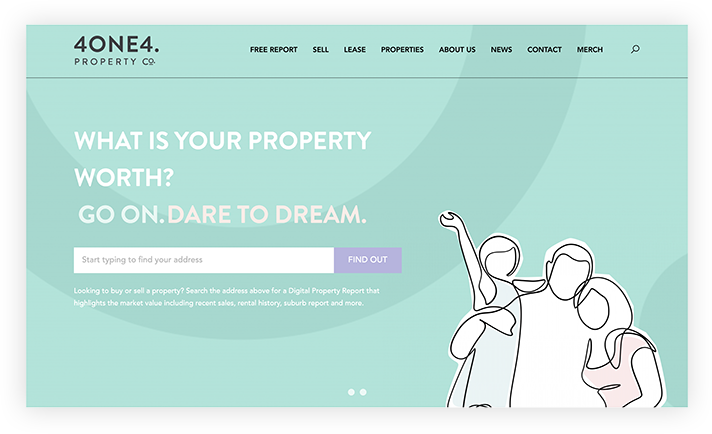 4one4 Property Co. — Hobart
From the moment you land on the 4one4 Property Co. website, you're immediately greeted by a Call to Action to find out the value of your property. There's also a handy chatbot in the bottom corner ready to point you in the right direction.
Sometimes it's the little things that help to evoke emotion and build a real connection with your target audience.
Their branding is also quite fresh and unique — you can buy some of their merch for yourself. How smart!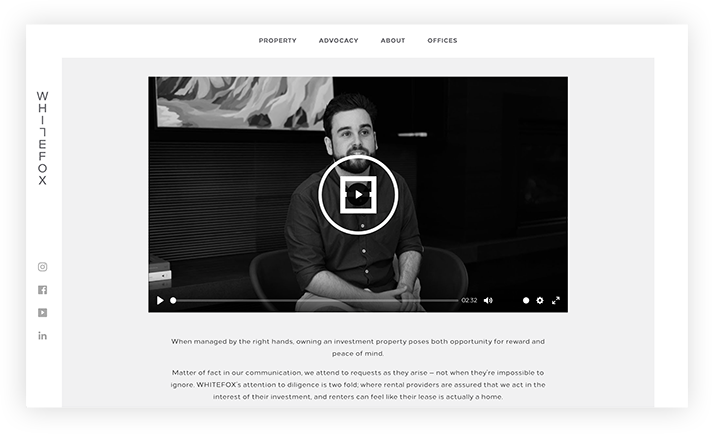 WHITEFOX — Melbourne
WHITEFOX does a great job of communicating their point of difference as soon as you land on their page. They are proactive in letting their audience know exactly what they stand to gain from working with WHITEFOX.
This kind of straightforward communication makes it easy for the audience to feel an instant connection with their agency.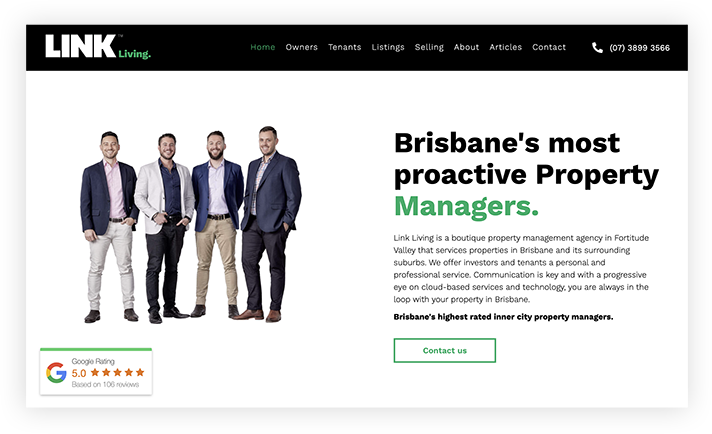 LINK Living — Brisbane
With a Google Review plugin in the bottom left-hand corner, LINK Living provides you with immediate social proof of just how good they are at what they do.
They also provide several tools and resources for their clients, including moving services, energy plan comparison tools, and more — designed by their partner agency LINK. All this helps to increase the connection between client and agency.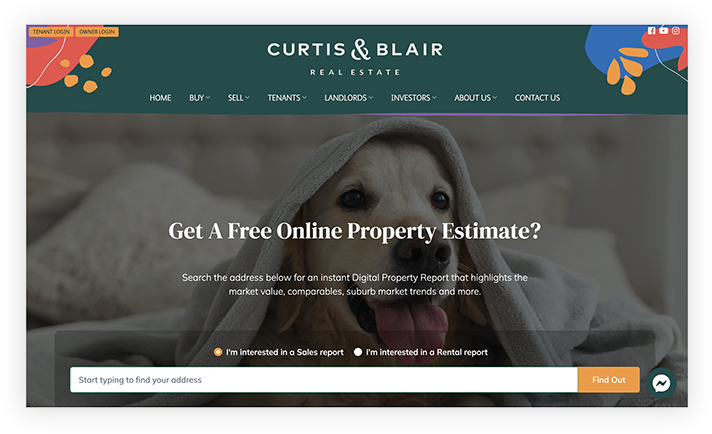 Curtis & Blair — Medowie, NSW
There's plenty to love about Curtis & Blair's bright and bold website. From their dedicated resource section for potential investors to an information page on the local areas they serve, to the simple access they offer to individual Sales and Rental reports, they've truly got something for everyone.
There's even a Messenger plugin that allows the audience to chat directly with their team, as well as a Spotify playlist that shows you what they're listening to in the office.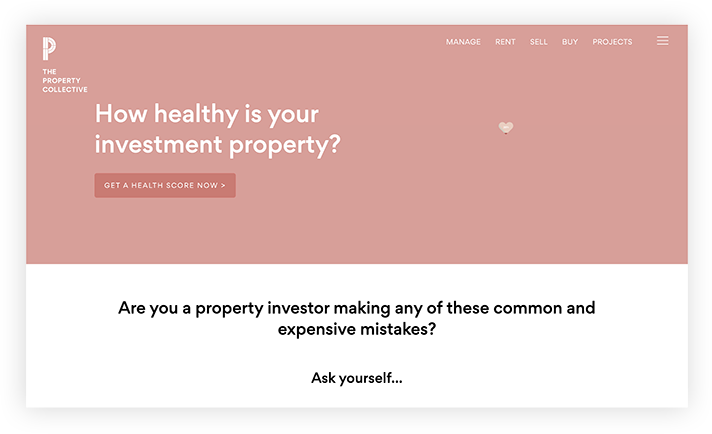 The Property Collective — Canberra
The Property Collective offer consistent messaging around a single purpose — to go far, together. Sometimes, a simple and consistent message is all it takes to win your audience's trust.
They've also got great resources for vendors, investors, and tenants, including an investor checklist, a property health check, and a custom tenants maintenance hub.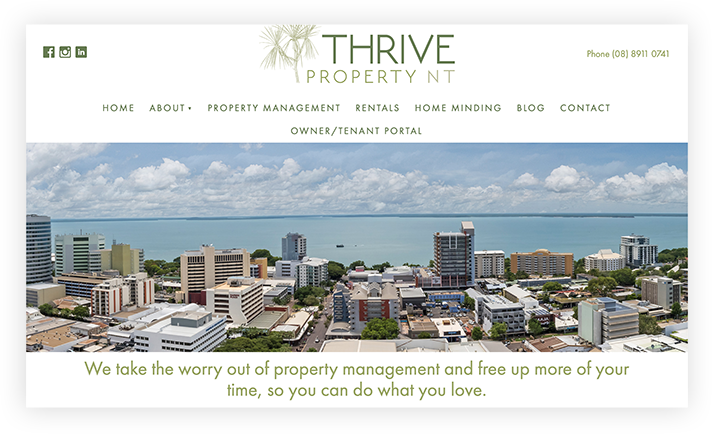 Thrive Property NT — Darwin
This one is quite unique. Up in the Top End, Thrive Property NT take customer service to a whole new level, offering home minding services to their clients who are often away from home for extended periods.
Talk about going the extra mile!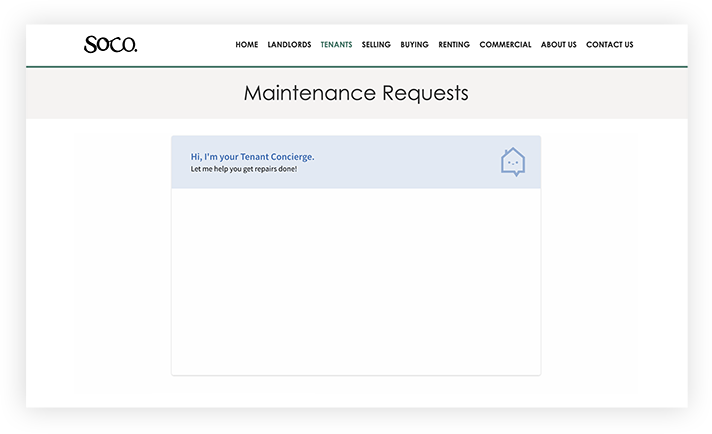 Soco Realty — Perth
Maintenance requests can be tedious for tenants but Soco Realty makes them a breeze. They offer an AI-powered "Tenant Concierge", powered by PropertyMe Integrator TAPI that helps tenants easily log repair requests so they can be tended to as soon as possible.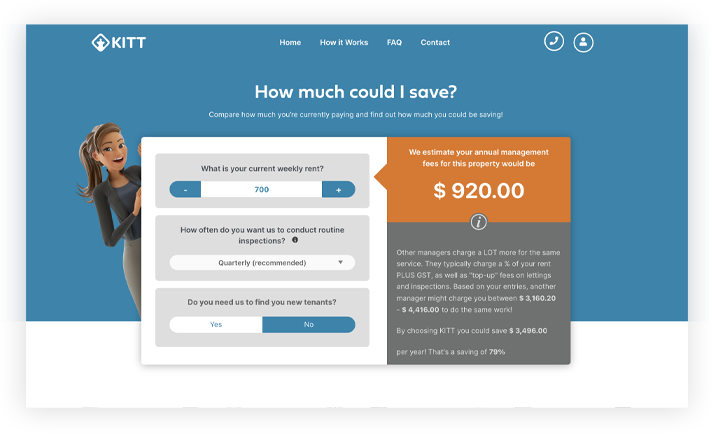 Kitt — New Zealand
As you can see, KITT offers "a fresh approach to property management". Their customers have one low weekly fee, and pay as they go for the Property Management services they use. A built in calculator helps landlords realise their potential savings and demonstrates a compelling case for KITT's innovative model.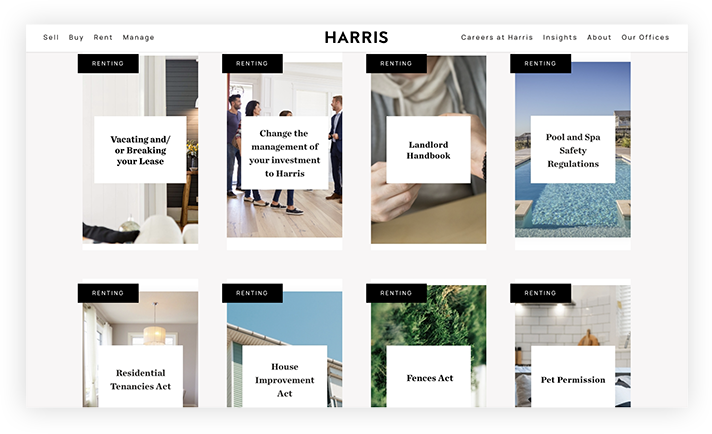 Harris Real Estate — Adelaide
With a clean and simple design, Harris Real Estate makes it easy for their audience to locate the information they're after every time. They also provide extensive resource guides that act as lead-generation tools to help grow their business.
Are you inspired by some of these property websites?
Here at PropertyMe, we enjoy seeing so many Property Managers going the extra mile to make a genuine connection with their audience and find new ways to better serve their clientele.
Let us know your thoughts on the Real Estate websites that make a real connection with their audience by emailing [email protected]