Rental vacancy rates experienced an increase to 1.3% in June from 1.2% in May. Across the past 30 days to 4 August 2023 national rental asking prices remained steady, and property prices increased by 1.4%. The number of listings decreased by 4.4% significantly more than the historical seasonal average.
Vacancy rates
National rental vacancy rates continued to rise, with June reporting 1.3% vacancy, driven primarily by Sydney's increase from 1.5% in May to 1.7% in June. An additional 2,809 vacant dwellings in June increased the total number to 39,716 properties.
Sharp increases were seen in Sydney CBD and Melbourne CBDs at 5.7% and 4.3%, respectively, while steady increases were seen across Melbourne, Hobart and Canberra at 1.3%, 1.9% and 2.1% respectively.
Brisbane, Perth and Darwin remained stable, alongside the majority of regional areas including the Blue Mountains and NSW North Coast. Gold Coast Main bucked this trend recording another vacancy increase to 1.6%.

Rental values
Over the past 30 days to 4 August 2023, national asking prices remained steady, with the national median weekly asking rent for a dwelling being $639 a week for a house and $503 for a unit. The median capital city asking rent for a house was $6,772 a week and was $580 for a unit.
Compared to last year, median capital city asking rents have increased by 16.3% for houses and 21.6% for units, significantly higher than the average national increase of 9.4% for houses and 11.5% for units. The sharpest 12-month increase was seen in Sydney units at 25%, followed by Brisbane units at 21.1%. The sharpest increase for houses was seen in Melbourne at 20.4%. Canberra was the only capital city to experience a decrease in both houses and units at -0.2% and -2.8% respectively, while Hobart units experienced a sharp decrease by -4.5%.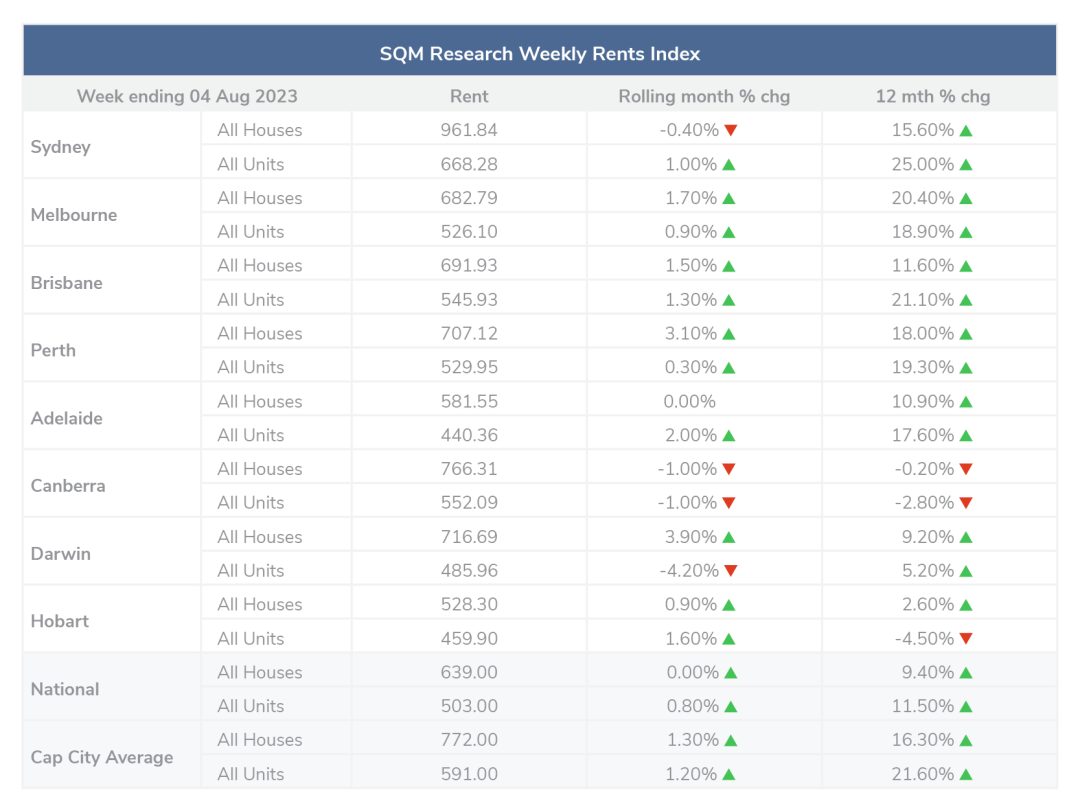 Property prices
SQM Research reveals a decrease in property listings for a second consecutive month by 4.4% to 220,081 properties, from 230,274 recorded in June 2023. The decrease is significantly sharper than typically seen, with the historical average decrease being -0.5%.p
Capital city prices decreased across July, with the largest fall seen in Canberra at 1.2%. However, a number of regional increases contributed to a national rise in asking prices to 1.4%.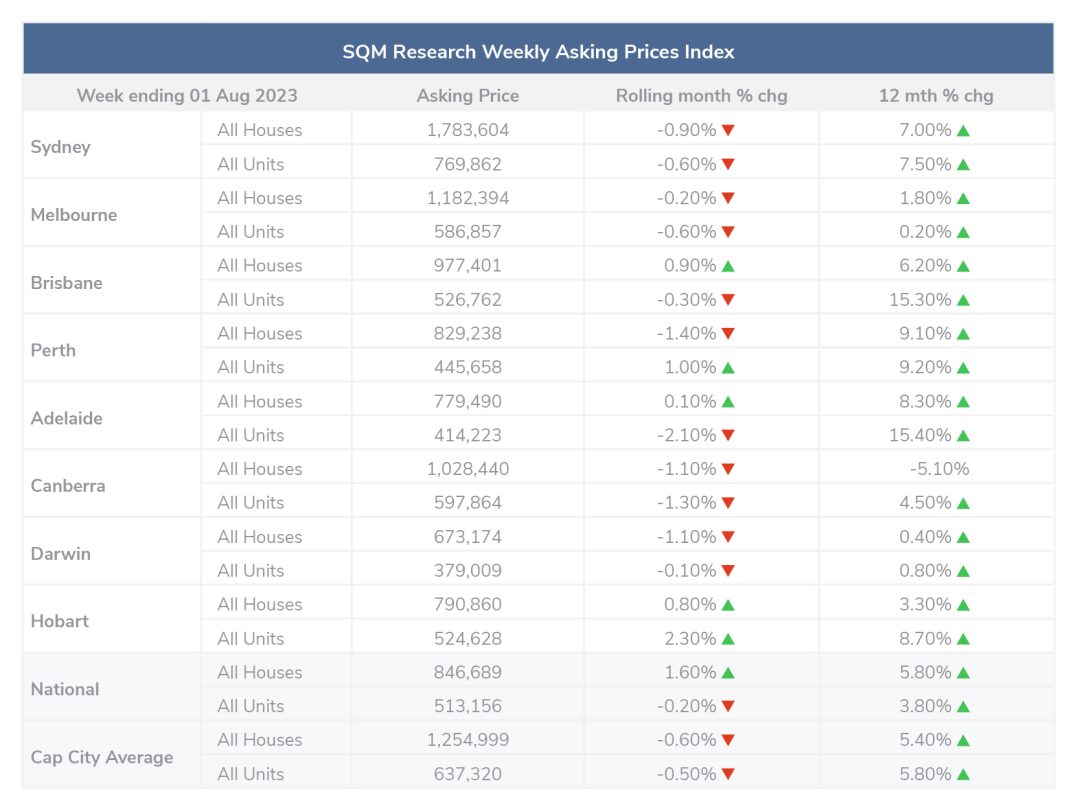 Cash rate and predictions
July saw the RBA hold the cash rate target at 4.10%.
Disclaimer: the information enclosed has been sourced from SQM Research and the Reserve Bank of Australia, and is provided for general information only. It should not be taken as constituting professional advice.
PropertyMe is not a financial adviser. You should consider seeking independent legal, financial, taxation, or other advice to check how the information relates to your unique circumstances.
We link to external sites for your convenience. We are selective about which external sites we link to, but we do not endorse external sites. When following links to other websites, we encourage you to examine the copyright, privacy, and disclaimer notices on those websites.