The national residential property rental vacancy rate rose to 1.6%, a 0.1% increase from the previous month. Over January, national asking rents remained steady for houses while units saw a decline of 0.7%. This left the average rental price across Australia at $557 for homes and $418 for units.
Vacancy rates

The national residential property rental vacancy rate rose to 1.6%. This is a 0.1% increase compared to the previous month. Across Australia, the total number of vacancies sits at 57,558.
In Darwin and Canberra, vacancy rates grew to 1.2% and 1% over December. A jump from 0.9% and 0.8% in the previous month. In Perth, Adelaide and Hobart, the vacancy rate sat below 1%. Interestingly, in Sydney, Melbourne and Brisbane vacancy rates remained unchanged. However, in Sydney CBD and Melbourne CBD, the vacancy rates dropped to 5.7%.
Anthony Ishac, General Manager of SQM Research said, "Despite the challenges of Covid-19 restrictions, demand for rentals increased over the year and coupled with a decline in available rental stock has placed upward pressure on asking rents. Inner city and CBD rentals have continued to improve from the vacancy highs reported in 2020 and follow the same national trends. The ongoing move towards regional living has seen rental markets tighten even further in noncity markets wherein in some major towns finding a rental home is no longer an option."
Rental values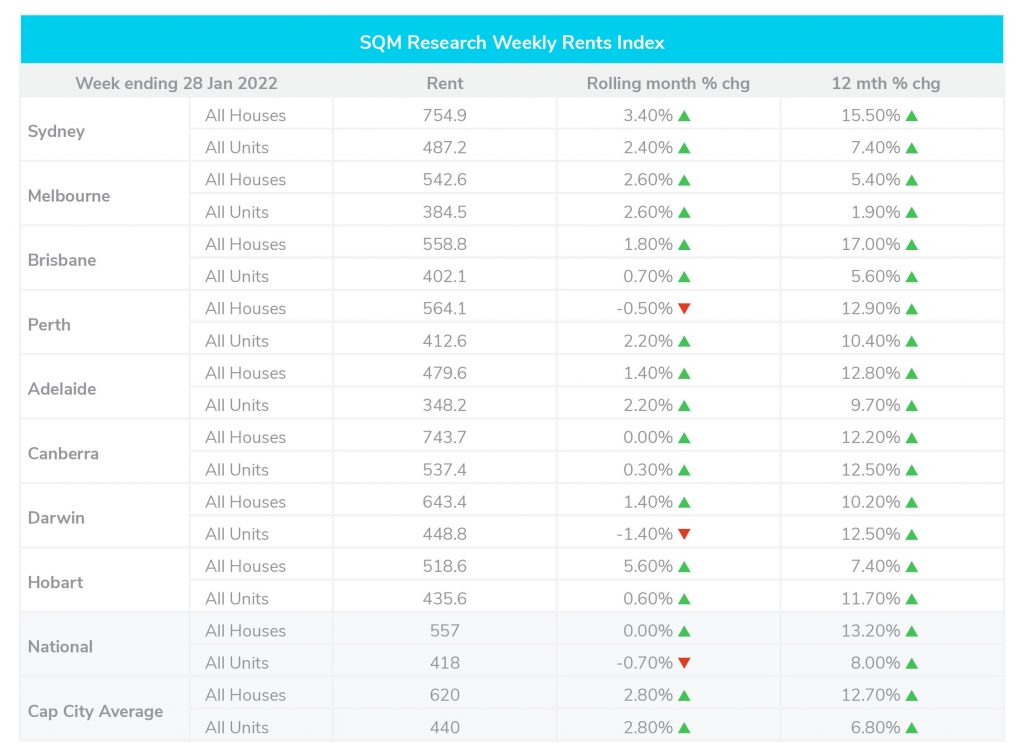 The first month of 2022
Over the month till the 28th of January, national asking rents remained steady for houses but declined by 0.7% for units. Across Australia, the average rental price for homes was $557 and $418 for units.
House rental prices grew slightly across Australian cities, except for Perth which saw a drop of 0.5% for houses and Canberra which remained unchanged. Over January, Hobart, Sydney and Melbourne saw the largest increase in rental prices at 5.6%, 3.4% and 2.6% respectively. Unit rental prices grew slightly in every city across Australia except for Darwin which saw a drop of -1.4% over January.
Price growth over the year
Compared to the same time last year, the greatest growth in house rental prices was seen in Brisbane, Sydney, Perth, Adelaide and Canberra all seeing increases above ten per cent, growing at 17%, 15.5%, 12.9%, 12.8%, and 12.2% respectively.
Property prices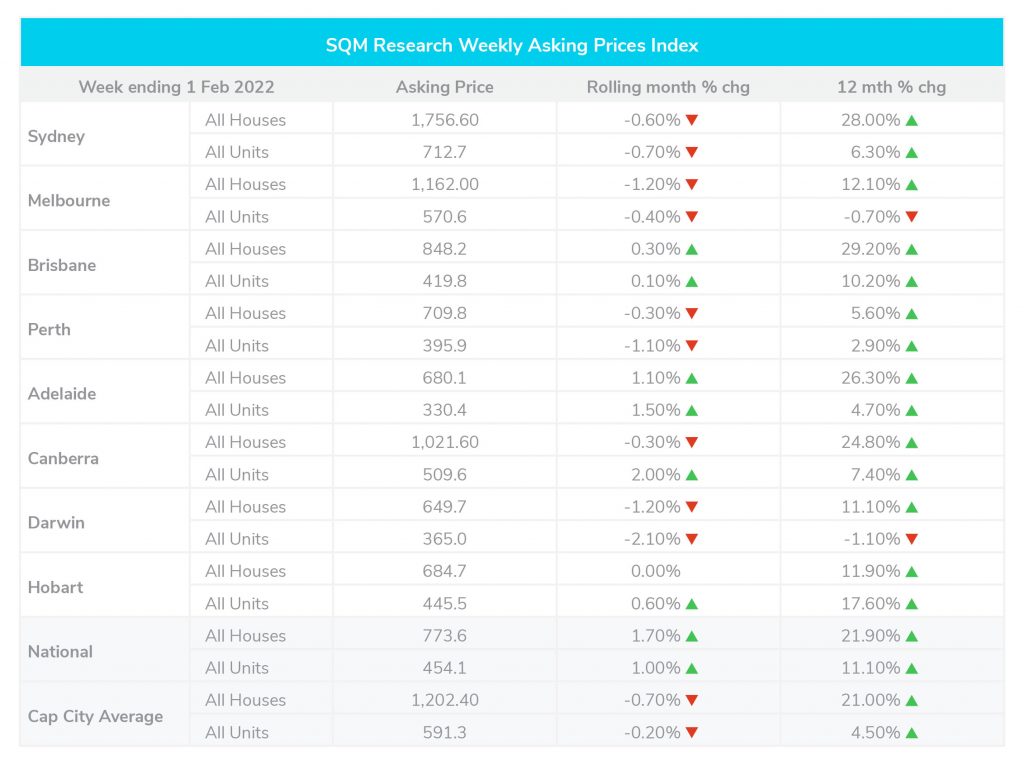 Over the past month till the 1st of February, asking prices in Melbourne and Sydney dropped by 0.6% and 1.2%.
In Perth and Canberra, house asking prices dropped by 3% while in Brisbane asking prices rose by 3% for houses. Darwin asking prices for houses fell by 1.2% and 2.1% for units. While in Hobart, there was an increase in unit prices by 0.6%.
Cash rate and predictions
The Reserve Bank has left the official cash rate at a record low of 0.1% however has suggested interest rates are likely to rise sooner than the previously anticipated 2024.