When Nigel Bowden, Franchise Owner and Business Manager for Harcourts Asset Managers Accommodation Centre went to the market to find cloud-based Property Management Software, like anything he does, there was an extensive amount of due diligence and research involved. A leader in the local area, known for quality and delivering results, the team has achieved accolade after accolade, including securing Harcourts' 'National Property Management Office of the Year' for 13 of the last 20 years, and being the only agency to have secured the Real Estate Institute of New Zealand's Large Office of the Year four times.
Supporting a high-growth business with exceptional numbers to back it up
The Accommodation Centre was founded in Christchurch in 1990. The current rent roll sits at around 1,100 managements serviced by a team of 16, including two dedicated Business Development Managers. Looking at cloud-based software for rental trust accounting in particular, four products were selected for review.
Bowden expands on the decision-making process, "we wanted software that looked at and gave a better customer experience. We did extensive testing on four other cloud-based software providers. What we looked at were some of the features in relation to how our people use it, and how our customers would use it. When you look at the Owner Access, the statements that owners got, and the new Owner App and the Tenant App, they were just great. They were the things that people wanted to use, and they actually use them."
Number of features versus the utilisation of features
Bowden reflects on the PropTech industry, stating, "other tech companies can try and make this process a little bit more complicated by adding extra stuff in. PropertyMe, we prefer to use it quite simply and use it to its fullest. And what that means is that there's not any unnecessary noise in there. It does everything that we need it to, and it does it when we want it to."
Some of the features that made a difference in The Accommodation Centre's team include; the inspections planner, with easy drag and drop route planning; the unified inbox for ease of communication both with clients and within the team; as well as the Owner App and Tenant App. Also noted in particular for Real Estate Agency Principals and Team Leaders is the data available through the dashboard view.
Bowden notes, "The dashboard gives me a view that I can see in the morning that shows me what everyone is doing and what they need to do."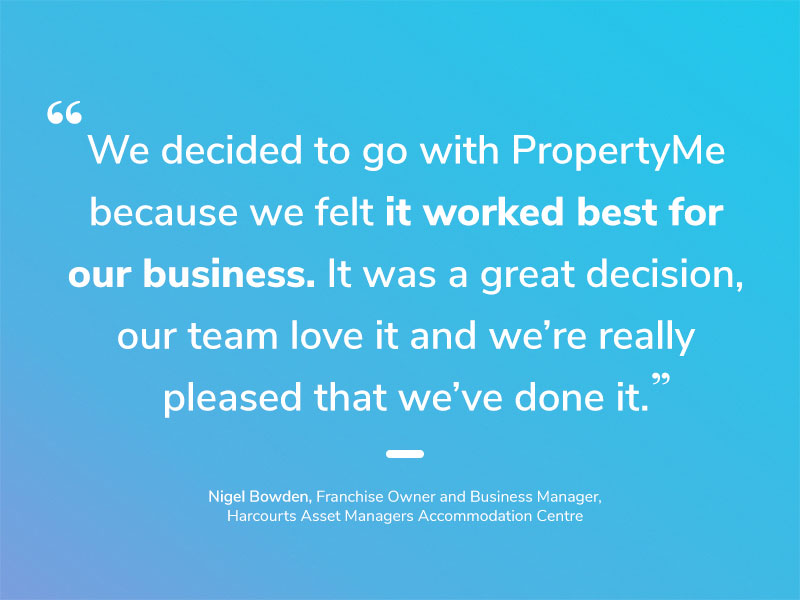 Old habits can be hard to shake
The implementation of the unified inbox saw some initial hesitation.
"One of the things that we did think about coming into this was about the centralised inbox system. Because we all know Property Managers, we tend to be control freaks, and we don't quite like the idea of all of this information being out there. But the team's really embraced it, and it's brilliant."
Bowden continues, "everything comes in, it's in one space, whether it's from a few clicks to process an invoice, to authorise it for payment, or from passing stuff on to collaborate with other people from your team, everything's there, it's in one place, and you know nothing has been missed when someone else is away."
We expected the migration from server to cloud to be really tough
Understandably, a large concern for many agencies looking to upgrade their Property Management software is the migration process, downtime for the business, loss of data, and ability to access previous information. Prepared for the worst, the Accommodation Centre's team credited a lot of planning leading up to the changeover and PropertyMe's onboarding team as brilliant, stating, "when we got up and got running everything worked as we expected it to."
Reflecting on the best Property Management Software and tools available
Reflecting on the process as a whole, the analysis of other software available, and their decision to move to the PropertyMe platform, Bowden sums it up simply and precisely,
"Property Managers have good gut instinct. When we look at the software, it felt right. When it feels right you know that you're going to use it well. It's instinctive. Everything's where it's supposed to be, or should be, and people know that they can rely on it and they can trust it."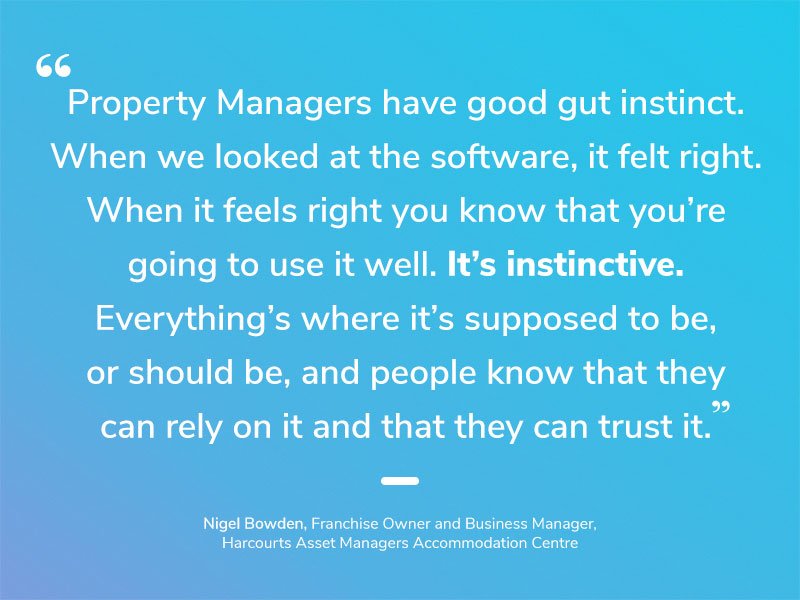 Watch the full customer story here: