May madness is the only way to label the past month! The past thirty-one days have been filled with excitement, hard work, and neverending opportunities to connect with our community. Although not technically the halfway point of the year, May has symbolised the product of all of our hard work across the first half of 2023. From making our mark at conferences to updating our procedures, and transferring to our new office, the month has been an endless reminder of how far we've come as a team, as well as the endless opportunities that lie ahead. After taking a quick beat to reflect on the year so far, we can't wait to continue our hard work into the latter half of 2023.

With that being said, let's take a look at what May had in store for PropertyMe, or rather what PropertyMe had in store for May.
AREC 2023
AREC is always one of our highlights of the year, as it allows us to escape the chilly Sydney temperatures, connect with new and existing customers, and gain inspiration from the guest speakers, our partners, and integrators. This year was even more exciting as we made upgrades to our stall and customer experience. We had twelve of our team members attend from our sales, marketing, customer success, and product teams, to ensure we had all bases covered.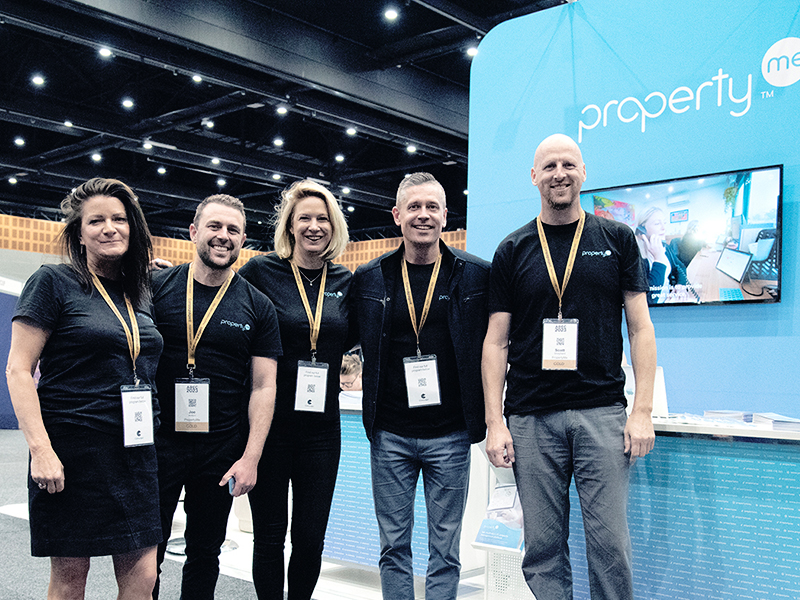 We were overjoyed with the event, and support from our community! We asked our team for their highlights from the conference and this was their response: our self-serve photo booth, Ned Brockman's inspirational session, the ability to meet our customers in person, and our stand-out merchandise packs. Thank you to everyone we met, we can't wait for AREC 2024.
Property Management & Me teaser
If you've been keeping up with our social media, then you'd know that we're days away from releasing our new podcast, Property Management & Me. We've always been inspired by the conversations we get to have with our community, whether that's inspiring conversations with our customers or innovative discussions with our partners and integrators. Therefore, we thought it was time to share these tidbits of information with you. We spoke with our host of the podcast, Kate Sunol, Product Marketing Manager, Business, who shared the intention behind the new audio medium. "We have such a wealth of knowledge across our property management community so the podcast is a great way to share those meaningful conversations, the tips and tricks, and new ideas to inspire our practice as Property Management professionals. We've kept the episodes under 15 minutes so they can be a short intro to team meetings or played on your travel to and from inspections. And when you want to put the tips into practice we have resources from each episode available on our blog" states Kate.
We've met with industry experts such as Hermoine Hart from Sidekick and Kristine Porter from O*NO Legal. We've had a fantastic time engaging in uplifting and thought-provoking conversations, and cannot wait to share them with you! Keep your eyes and ears peeled.
LINK Living case study
It was evident that we couldn't quite get enough of the Queensland sunshine, as we headed up to Brisbane at the conclusion of AREC 2023 on the Gold Coast. The reason for the trip being the opportunity to film a new case study with the team at LINK Living. The team at LINK Living were extremely inviting and made us feel at home for the day. We must also add that we walked away from the day with serious office inspiration, as their office is a haven of colour and creativity. We cannot wait to share this case study with you, so watch this space!
Christening the new office
In mid-May, we moved from our flagship office in Circular Quay to an upgraded office in Darling Harbour. The new office space signifies our growing team, consistent emphasis on innovation and facilitation of a hybrid work model. To celebrate the move we held a party in the new office space and can confidently say multiple jaws dropped as our team were greeted by the sweeping sunset views.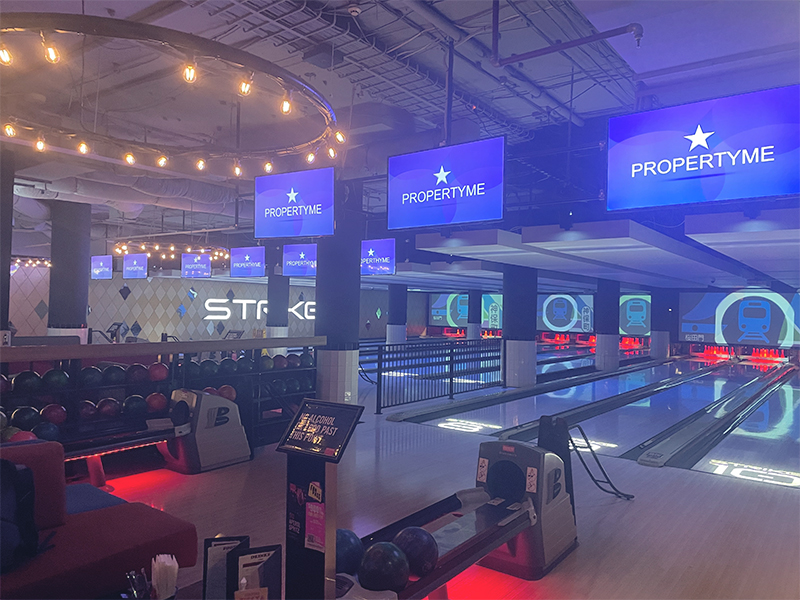 The party was a fantastic chance for the team to get together, welcome new team members, and celebrate our accomplishments over the past six months. We can safely say we christened the new space, with our pop-up cocktail bar and impromptu dance floor before heading over to Strike Bowling, to engage in some old-fashioned, bowling fun. Bowling was the highlight of many team members' night, as it facilitated team building and allowed some secret champs to unveil their killer skills. It's always a pleasure catching up with the team at large, and we're so thankful for our PropertyMe family.
Welcoming new starters
As we briefly touched on, we welcomed new team members in May. We're constantly growing and evolving, but it was an added bonus to bring in new team members during a month that was filled with so much excitement. So we just wanted to take a quick moment to welcome, Delainey, Rory, Putu, and Glen.
Glen joins the team as Head of Service working across all of our customer-facing departments to ensure that we provide you with the top level of service possible. Putu joins us as a member of our ever-growing Onboarding team. Rory joins us as a valued member of our Support team. Finally, Delainey joins us as an experienced Business Analyst in the product team. Welcome to the team!
Changes to the way you contact support
Lastly, May brought forward some changes to the way you contact support. To be more specific, we have implemented an online chatbot to ensure that you are receiving constant around-the-clock support. The use of a chatbot provides you with the benefits of 24/7 support, faster answer times, no queue time and a consistent experience. However, if for whatever reason the chatbot cannot aid you with your query, you will be connected with our evergrowing support team to receive 1:1 assistance. For more information click here.
Thank you for taking the time to read about May at PropertyMe, we look forward to sharing new updates with you again next month!
Let us know your thoughts on our peek into the month of May at PropertyMe by emailing [email protected]