August provided us with a taste of warmer weather, with glimpses of sunshine, our heaters returning to semi-retirement, and hayfever presenting for some. The sun setting later allowed us to get out of hibernation and enjoy the outdoors once again. It also proved to be a month of extremes. Extreme weather changes, moments of extremely hard work, and plenty of extremely joyful moments. We've left the month feeling extremely grateful and can't wait for the onset of Spring! With that being said, take a look at what we got up to over the month of August.
STAFFLINK Conference 2022
In mid-August we had the pleasure of heading up to the aptly named Gold Coast for two days of conference fun in the sun with STAFFLINK. Held at the JW Marriott Bonvoy the conference felt like a comforting breath of fresh air, and we were overjoyed to be included as sponsors.
The conference lineup included speakers like John McGrath and Jacqui Cooper, who left us feeling inspired and optimistic for the future to come. We also enjoyed spending time with new and long standing community members alike, handing out candles and other goodies. It was a wonderful opportunity and a sign that the property management industry is returning to its pre-COVID self. We can't wait to see you all again in the future!
Owner mobile app release
As mentioned previously, August was also a month of hardwork as we buckled up to get our Owner mobile app out to you all. We are extremely passionate about the new release, and have been overjoyed by the positive feedback we've received. We want to thank you all for your continued support and feedback!

The PropertyMe Owner mobile app is a continuation of our pre-existing Owner Access, allowing your owners to access their property information at any time and from anywhere. The app will save you hours in communication time by providing a centralised location for owners to access relevant information related to their rental property, such as upcoming jobs and the ability to download and share documents. Download the PropertyMe Owner mobile app from the App Store or the Google Play Store from today!
August Lunch & Learn
In true PropertyMe fashion we also held a Lunch & Learn to discuss our new Owner mobile app as well as updates to our Key Management feature. The livestream was held by Christina and Peter, and included demonstrations of our new app and features. We received a large number of questions from our community that were explained in detail by the team. 

If you haven't already, we urge you to watch our August Lunch & Learn here and follow us on Facebook so that you're notified in future!
August Birthdays & Anniversaries
Our monthly Birthdays & Anniversaries presentation is a long-standing tradition at PropertyMe, getting us through lockdown last year and now allowing us the opportunity to celebrate existing team members and welcome new ones.
This month's presentation was particularly exciting as we got to welcome our new Business Development Manager for WA, SA and NT, John. Additionally, we also welcomed our new Chief Technology Officer, Nick. Both John and Nick have hit the ground running and proven to be exciting new additions to our team.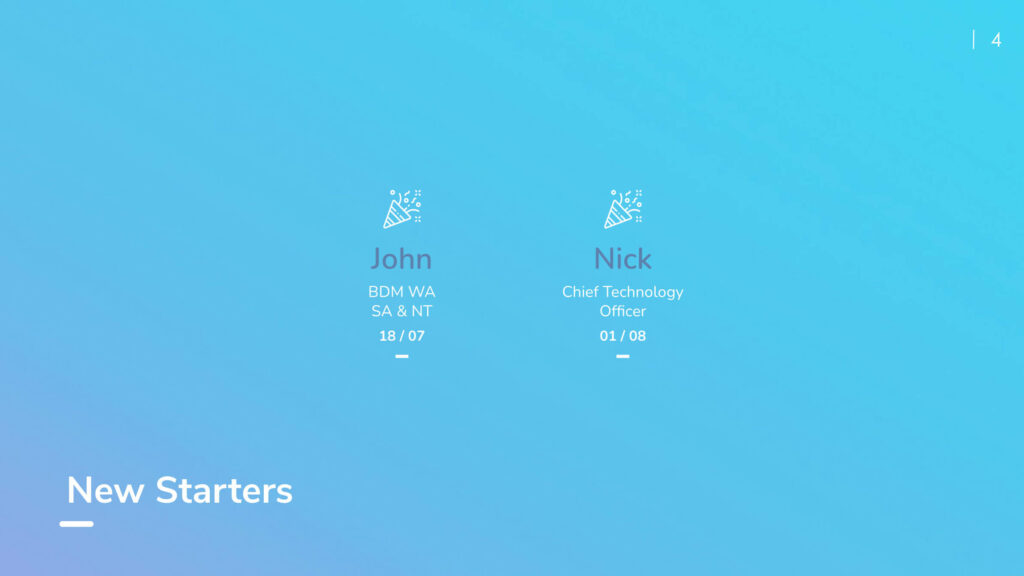 Thank you for taking the time to read about August at PropertyMe, we look forward to sharing new updates with you again next month!
Let us know your thoughts on our peek into the month of August at PropertyMe by emailing [email protected].