Moving home is a stressful process at the best of times, let alone during a global pandemic. If you are considering moving home during the COVID-19 pandemic, here are some key ways to mitigate risk as well as follow public health directives when moving.
Inspect via virtual tour where you can
The Australian Government announced in late March that auctions and open house inspections for large groups were no longer permitted. Even as restrictions begin to ease, you can mitigate potential risk by inspecting via virtual tours or private inspections where possible.
Agencies across the country have adapted to either uploading virtual tours or conducting inspections by private appointment of one party only. Realestate.com.au has created a digital inspections tool whereby agents can upload video tours of properties.
This allows prospective tenants and buyers to get a better look at the property from the comfort of their own homes. Agencies allowing private inspections are advised to enforce strict social distancing, ensure hand sanitizer is available and implement a 'no-touch' policy.
Take a virtual stroll to check out local amenities
Half the fun of attending open homes is going for a casual stroll around the neighbourhood afterwards to scope out new local parks, restaurants, schools and coffee spots. There's no reason to miss out on that!
Take a virtual stroll on Google Maps using satellite mode. It will automatically suggest amenity categories to choose from, simplifying the process that bit extra.
Minimise contact with service providers
Cleaners, removalist services, real estate agents and even the odd handyman all facilitate a normal move. Small steps can be taken to minimise contact with people who require access to the vacant property.
Removalist company Chess Moving, have put in steps to facilitate a contactless move, encouraging customers to put tape on the floor or provide a map to indicate where people would like their items to be placed. Cleaners can be arranged to attend after the property has been left vacant along with any repair people who must attend to fix any repairs.
Pack your belongings yourself
Most removalists can complete the moving process from start to finish, from packing your belongings to moving them into your new home. During this time, it's best to pack your belongings yourself to minimise contact and stay safe.
If a removalist has been engaged, divide items room by room and pack everything in labelled boxes. Store boxes and unassembled furniture in one large room within the house, to minimise removalists moving between several different spaces to collect furniture. If you are using a removal service, pay with a card instead of cash.
Pre-pack meals for moving day
The process of moving home requires a lot of energy so it's really important to make sure you are fueling your body during the move to keep on track. Have a think about pre-making easy snacks for the move and storing them in a cooler bag to keep them fresh. This is not only easily accessible on the day, but also minimises contact with people at cafes or restaurants.
Keep record of repairs as you see them
When renting, it can be easy to forget to complete your ingoing inspection report. As furniture and belongings begin to be moved in, if you notice any maintenance issues, be sure to note them down on your phone.
PropertyMe's Tenant Access feature allows tenants to report repairs directly to the property manager, making it easy to keep track of the condition of the property from move in.
Don't move if you're feeling unwell
The Australian Government continues to recommend staying home if you are showing signs of coronavirus. So if you're feeling unwell, be sure to stay at home. Your immediate health, your family's health and the health of your service providers is dependent on it.
To sum it all up…
Here are seven tips for moving home during COVID-19. Feel free to save the image below and share it with those around you.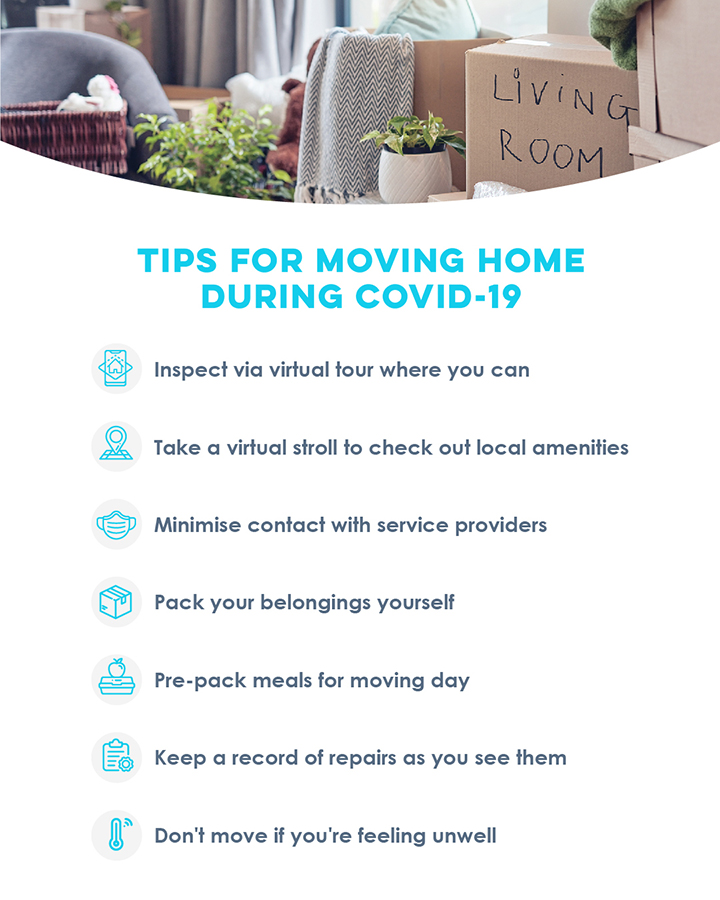 Thanks for reading this blog on tips for moving home during COVID-19! You might also be interested in:
Please let us know your thoughts on 7 tips for moving home during COVID-19 by emailing [email protected].