The coronavirus pandemic is rapidly changing the way that real estate businesses operate. It has forced many agencies to adopt work from home policies, turn to virtual tools and bring forward their digital transformation timelines to ensure business continuity.
As the real estate industry continues to navigate the challenges and impact of coronavirus, know that we are all in this together. We will update this article as new initiatives are rolled out across the industry.
Without further ado, here's how the real estate industry is responding to COVID-19:
Real estate agencies and bodies
Here's how real estate agencies and bodies are responding to the COVID-19 crisis:
LJ Hooker is turning to cloud-based technology such as their Vendor App, Microsoft Office 365 and Workplace by Facebook to streamline communications and continue operating.
EYS Auctions, Harcourts Rata & Co and The Bisi Agent have switched to online auctions via video conferencing app Zoom and streaming and bidding platform Anywhere Auctions.
Ray White Tea Tree Gully and Ray White Canberra have also turned to online auctions to sell homes.
Harcourts have been quick to adopt online auctions and virtual inspections.
McGrath Estate Agents has turned to live-streaming auctions and conducting virtual inspections using Facebook and Instagram Live.
McGrath CEO Geoff Lucas and the board of directors will take a pay cut and there will also be a 30% reduction in all salaries over $70,000 per year for staff in May, June and July 2020.
BresicWhitney has turned to auction app Gavl for live-streaming auctions.
First National Real Estate has created a COVID-19 support directory for tenants.
Ray White Manly carried out more than 1,000 courtesy calls to elderly people in the local community.
Novak Property is creating 360 walk-through tours for prospective tenants and conducting open for inspections via FaceTime.
Mavin Real Estate is promoting the benefits of DocuSign to its clients and has made hand sanitiser available at private inspections.
McGrath Geelong has sold a property via online auction platform Openn Negotiation for $110,000 above vendor expectations and Innov8 Property is also using the same platform.
Mint Real Estate is using DocuSign for digital contacts and signatures.
Alliance Real Estate is offering FaceTime and Whatsapp video appointments to qualified buyers.
McGrath Port Macquarie is creating 3D interactive property tours using Matterport technology to market properties.
Jellis Craig Boroondara Group has leveraged technology to transact property sales digitally.
Ray White Surry Hills-Alexandria and Ray White New Farm have switched to conducting remote inspections via Facebook Live and are filming virtual open home tours.
Many real estate agencies have now transitioned to working from home with the help of cloud-based technology.
Real estate agencies that haven't transitioned to working from home yet have implemented precautionary measures such as entry by appointments only and hand sanitiser to keep their employees and clients safe.
The Real Estate Institute of Australia (REIA) is urging the Fair Work Commission to vary the Real Estate Industry Award 2020 to keep as many real estate salespeople employed as possible.
40% of ActivePipe survey respondents said that they were using more online and virtual channels to interact with clients and 50% said that they are looking for innovative technology to better serve their clients while working remotely.
:Different have moved to private viewings by appointment only and have suspended routine inspections.
PropTech companies and partners
Here's how PropTech companies and partners across Australia are responding to COVID-19:
PropertyMe
PropertyMe has rolled out a suite of resources and initiatives to help agents mitigate risk and ensure business continuity and brought on additional support and onboarding team members to better assist customers during these unprecedented times.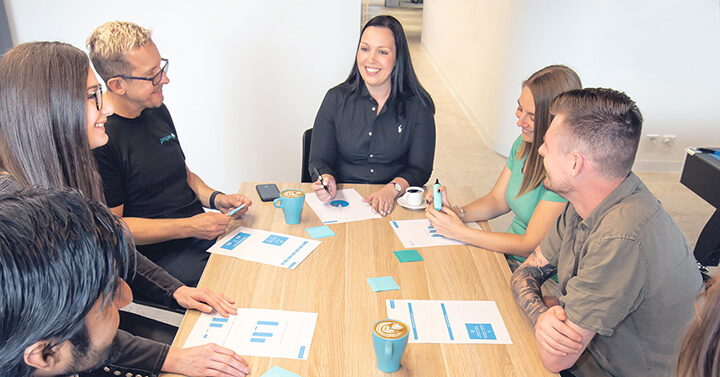 We have also guaranteed subscription prices, waived fees on merging rent rolls till 30 June 2020 and waived onboarding fees for customers who have needed to cancel their subscription and want to re-subscribe before 31 October 2020.
Furthermore, we understand that the best way to help you during this time is to continue delivering features that simplify your day-to-day. Please take a few minutes to fill out this two-question survey about what features would be most useful during the COVID-19 crisis.
Company culture
As more and more real estate agencies and PropTech companies transition to working from home, they have sought out new ways to retain the strong company culture that they've worked so hard to build up.
Here are some examples of what businesses around the world are doing to keep their company culture alive:
Thanks for reading this blog on how the Australian real estate industry is responding to coronavirus. We will continually update this article with new initiatives that agencies and PropTech companies are rolling out during the COVID-19 pandemic. If we missed your initiative, please reach out to [email protected] to let us know.
If you enjoyed this blog, you might also be interested in Coronavirus Preparation Ideas for Property Managers, Best Virtual Inspection and Auction Software and 7 Work From Home Tips to Supercharge Your Productivity.
Let us know your thoughts on How the real estate industry is responding to COVID-19 by emailing [email protected].